Parc de la Ciutadella
(Park)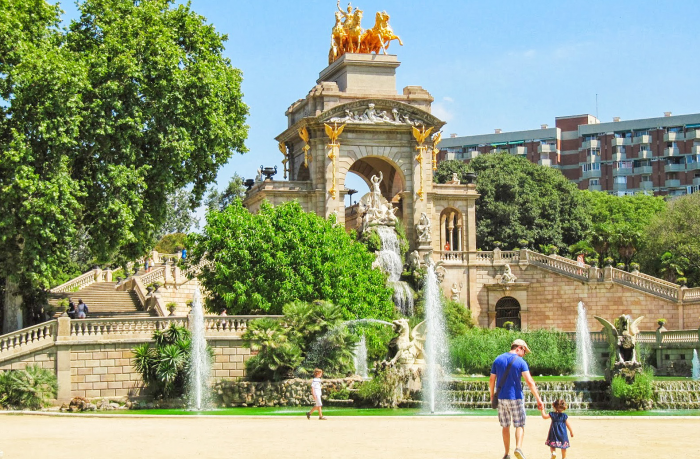 Parc de la Ciutadella is one of the largest parks in Barcelona. The park has a total area of about 17.42 hectares. It's located in the district of Ciutat Vella, between Francia station, Arc de Triunfo, and Villa Olímpica. It's also near paseo Pujades, paseo Picasso, and calle Wellington.
If you come to visit the capital of Catalonia, ​​we will help you to find the best apartment in Barcelona. We offer apartments of different types, renovated and well furnished in all areas of Barcelona!
It was constructed in 1872 on the former grounds of the fortress of the city (which is where the name Citadel comes from), before being renovated in 1888 for the Universal Exhibition. Many of the sculptures are in the style from the century before, so in a way are slightly misleading pieces of art.
The park is home to:
The Catalan Parliament Building
The Museum of Zoology
The Museum of Geology
You can row around on a boat upon the lake, play table tennis, or simply stroll among the fountains, sculptures, and greenery as you enjoy the tranquility of this park. There is also a giant statue of a mammoth which is climbable!
This park has a lot of birds (over 100 species) and it's also rich in plant-life with many plants being placed at the end of the nineteenth century.
The most significant part of the park is definitely the huge monumental fountain, which was designed by Josep Fontseré in 1875, and opened in 1881.
Excursions in Barcelona
To make the most of Barcelona and fill your trip with unforgettable experiences and emotions, we offer you the excursions through the Catalan capital organized by our friends - the GetYourGuide team. Choose your excursion and fall in love with Barcelona:
Information
Opening hours: 10:00 until 8pm (until 7pm in March and November, and until 9PM from May to September)
How to get there?: Metro: Jaume I (L4) or Ciutadella Vila Olimpica (L4)
Other images
Other attractions in Born
Picasso Museum

The Picasso Museum is one of the most visited art museums in the world.

Santa Maria del Mar

The basilica of Santa Maria del Mar is a great example of the Catalan gothic architecture.

Palau de la Música

Considered one of the main exponents of the Catalan Modernism
Do you like this post?
Click here!

0/5 - 0 vote
Share your thoughts
Apartments in Barcelona
Related articles
Tired of reading about Barcelona? Find an apartment and stay there!