Vegetarian or Vegan? What's the difference.
Though many people already know the difference between the two, it's understandable if you've never had it explained to you that you wouldn't know they are two separate things. Vegetarians cut meat from their diets - usually on the principal of avoiding anything that would result in the death of an animal - but that doesn't rule out animal derivatives like honey, milk, eggs and so on, this can extend to clothing (e.g. wool [no-slaughter] vs leather [slaughter]) and other products. Vegans avoid all kinds of products associated with animals, including derivatives, this is usually on the principal that animals shouldn't be farmed or the conditions that they are farmed in can leave a lot to be desired, this again extends to clothes and other products.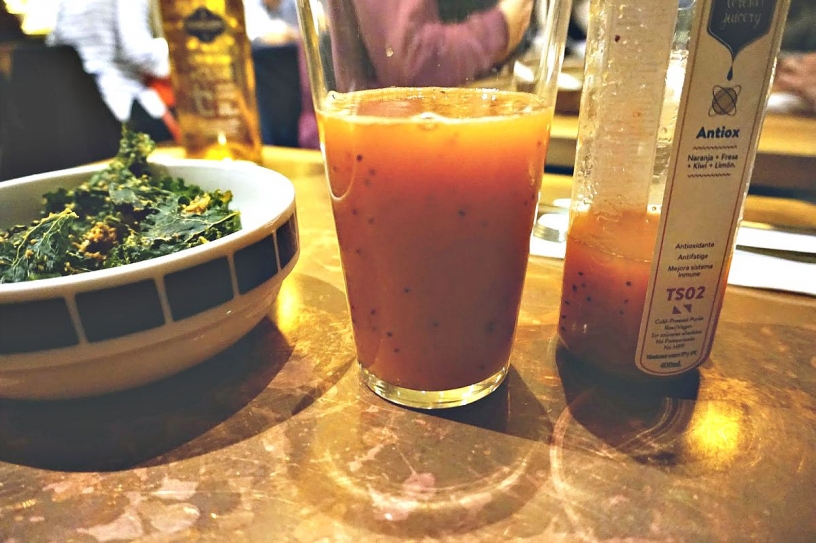 Healthy vegetarian food in Barcelona
Many foods can be replaced; if for example you want to avoid milk, you can buy almond, rice, or soy milk; if you want to avoid butter, there's extra virgin olive oil. Cheese is replaced with tofu or various nut pastes. If you want to make a basic "omelette", just use chickpea flour with a little water and oil, and you're done! ;)
If you're one of those that thinks vegetarian or vegan food is dull or bland, you couldn't be more wrong, for you see when you're constantly searching for alternatives it instigates creativity making vegan and vegetarian food especially tasty and innovative. You could never imagine such a wide range of beautiful dishes, but then again you don't have to, just visit one of these restaurants...
In the Old City
Between the Gothic quarter, Raval and Born you can find a majority of the restaurants. There's lots of variety and so it's hard to choose, but there's really only one you need to keep in mind...
1. Cat Bar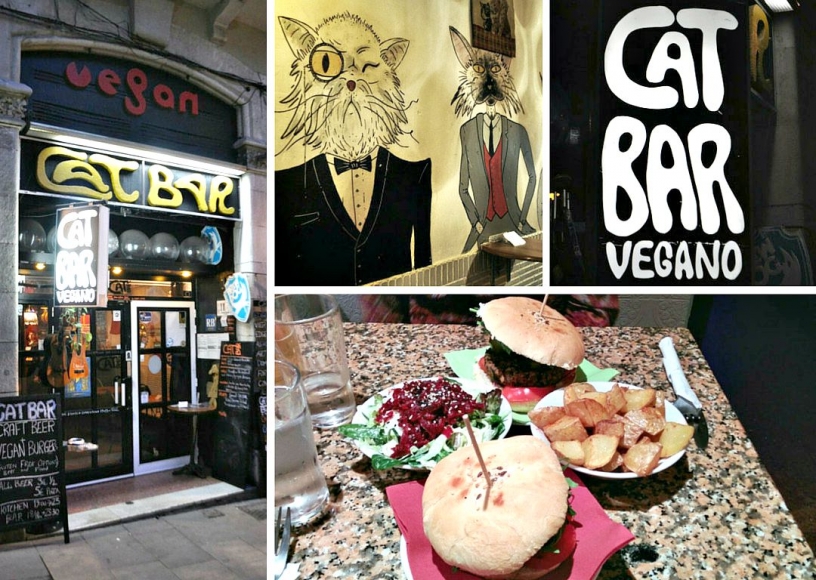 Cat Bar
Cat Bar is a charming vegan bar-restaurant in the Born neighbourhood on Carrer Bòria, 17 (not far from Via Laietana). It can be described as having a punky style with the protagonists being the cat decorations. They serve both vegetarian and vegan food as well as artesian beers. There's also a midday set-menu. With that said though, you can't really miss the vegetarian hamburger. The bar is open from Monday to Saturday from 13:00 - 23:00. A meal here comes in at round €15.
2. Flax & Kale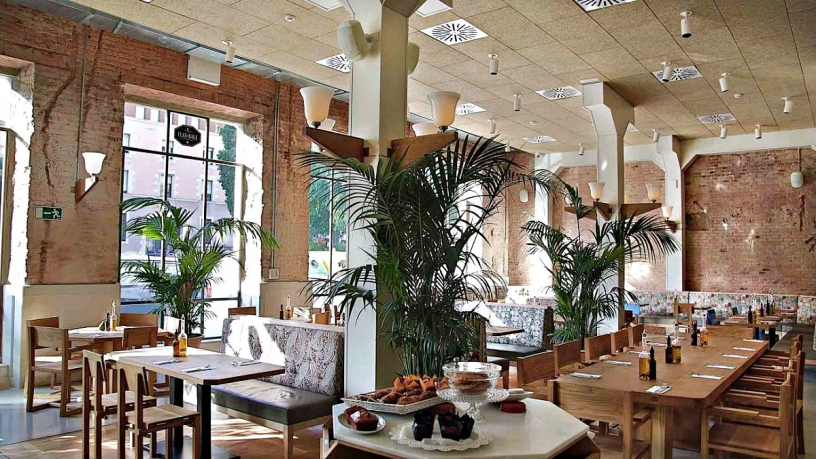 This place can be found on Tallers, 74. Aesthetically speaking, this place is fabulous and the food even more so. Here the dishes are prepared for vegetarians, vegans, and flexitarians, which is to say - vegans and vegetarians who occasionally give into the temptation to eat fish, not a frequent pescatarian diet. Fish is as far as it goes though, of course you can avoid it if you object to that. The menus are marked clearly for allergens, including gluten and lactose. There are also 100% natural juices that are very refreshing, if a tiny bit overpriced.
It's open from Monday to Friday from 12:00 - 17:00 and 19:00 - 23:00; Thursday and Sundays from 19:00 - 23:30. Eating here will cost between €15 - €20 depending on whether you opt for a juice or not, it's worth going. Take a look at their menu on their website.
It's also worth knowing that there is another older restaurant from the same group called Teresa Carles, which was founded in the 70s! There's no fish here like a Flax & Kale as it's all vegetarian.
If you come to visit the capital of Catalonia, ​​we will help you to find the best monthly rentals in barcelona. We offer apartments of different types, renovated and well furnished in all areas of Barcelona!
3. Vegetalia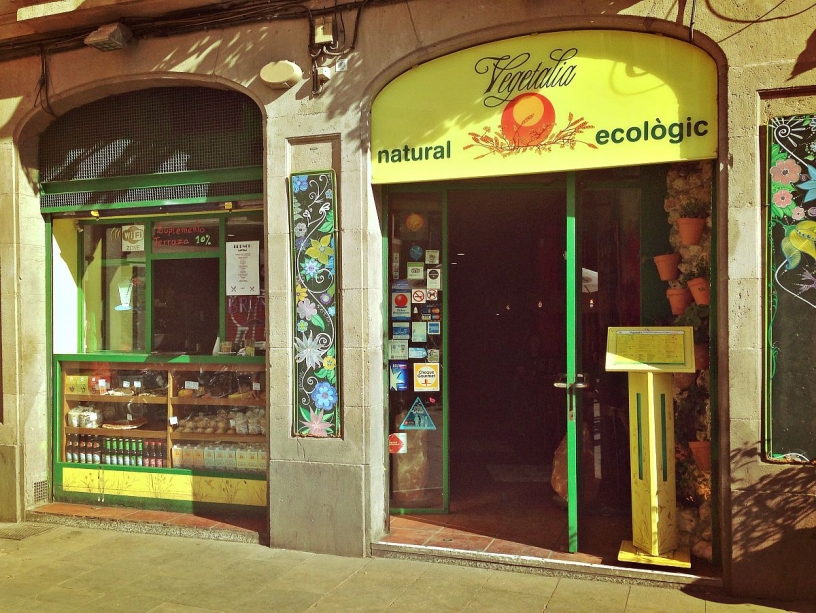 This restaurant has 3 places around the city. One in the Gothic quarter (C/Escudellers, 54), Raval (Pl/ Emili Vendrell, 1), and Born (Pl/Fossar de les Moreres). Open everyday from 11:00 - 00:00.
Vegetalia started producing and distributing natural and organic produce, but in 2007 opened their first restaurant in the city. In the 3 locales you can expect creative vegetarian dishes with 75% of the ingredients coming from their own garden in the town o Mas Montserrat.
Here there is a wide choice of dishes from around the world including marked dishes for celiacs. Prices are good with the daily set-menu costing €9.90€ - €10.90: A la carte is on average €15. Try the hot or cold soups, they're amazing. You can take a look at their menu here.
4. Biocenter
This place can be found on Carrer Pintor Fortuny, 25 in Raval, by Las Ramblas. Open Monday to Saturday from 13:00 - 23:00. It's one of the most pioneering restaurants in the city as it opened way back in the 80s. More than just a vegetarian restaurant, it's a place for everyone to come and eat well, healthily, and abundantly. The dishes are huge and there are many to choose from including soups, salads, and desserts. You can visit their website to see the menu.
At night, you can choose a la carte (for an average cost of €18) or set menu for €15. During the evening you can also catch some good music ... Go there for dinner to celebrate something!
Beyond the city centre
Leaving the historic city centre, there are still restaurants as far as the eye can see. From to coast right up to the Gracia neighbourhood or the many avenues of Modernist Eixample...
5. Amaltea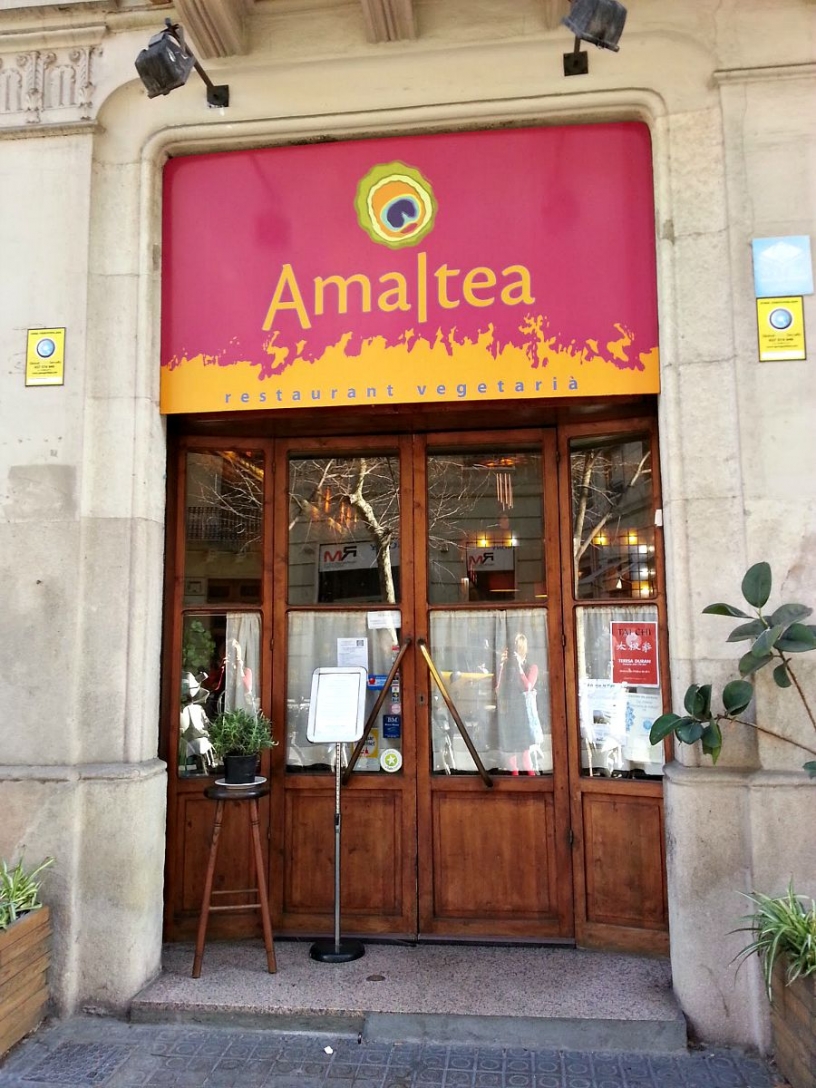 This restaurant is located on Diputació, 164 in Eixample Esquerre. It was opened in 1998 and is a well-known vegetarian restaurants in Barcelona. Open Monday to Saturday from 13:00 to 16:00 and 20:00 to 23:00 with a a wide range of creative dishes, that feature simple and natural flavors like seitan, kefir, tofu, bean sprouts and other biologically sourced cereals. There are also excellent desserts! Overall though, they don't cater that well to celiacs or people with intolerances.
You can choose from the menu or the set-lunch-menu which includes 2 dishes + drink + dessert for €10.70; though if you skip the dessert it's only €8.70. During the evening and Saturdays there is a set-dinner-menu for €15.50 with 2 dishes + drink + dessert. Take a look at the photos on their website, maybe it'll get your tastebuds going.
6. Arco Iris
This small family restaurant is located on Roger de Flor, 216 in Eixample Dret, not far from the Verdaguer - L4 Metro station. Decór wise it can be described as hippie, and in terms of food offers simple but tasty vegetarian dishes. It is open from Monday to Saturday from 13:00 to 16:00, but closed throughout August and public holidays. For lunch, you can order from a set-menu with three dishes and dessert. The average cost is low at €9 - €10 . It's great for a good meal before visiting the Sagrada Familia! ;)
7. Veg World India
This restaurant located in the neighborhood of Gracia on Carrer de Bruniquer, 26 . It's famous locally for the way it combines vegetarian dishes with Indian flavours. It offers typical local dishes of Rajasthan made from natural bio products with exotic spices for that unique exotic touch.
It's open Tuesday to Sunday from 13:00 - 16:00 and 20:00 to 00:00 . It's closed on Mondays. The average price of a meal in the evening is around €20 , but for lunch there is a buffet menu that lets you choose between different types of dishes for €13.95.
BONUS: Want to try macrobiotic cuisine?
Why not? Macrobiotic cuisine actually forms part of a way of life based on the concept of harmony and achieving a balance of spirit, mind, and body. The food here plays a critical role for mental and physical balance.
According to the Macrobiotic diet, foods are divided into two different groups linked to the forces Yin and Yang. While the Yin group has acidic foods like milk, cereals, and olives ; the Yang group covers alkaline foods like lentils, apples, and asparagus.
8. Macrobiotic Zen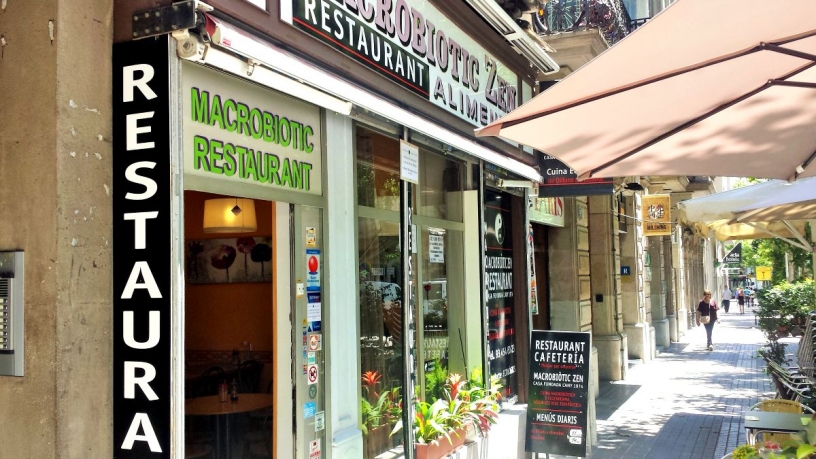 If you want to experiment with this cuisine you can visit Macrobiótic Zen. This place was founded in 1974 and is found on Carrer Muntaner, 12, which is not too far from Plaza Universitat. Here you will find a variety of delicious, organic, and natural foods. They also have cooking classes. It's exclusively a set-menu with a choice for each course, including drinks (refillable). It totals at €10.50. Read more in our article about macrobiotic and vegan restaurants in Barcelona.
Reader recommendations
Our readers also have their own recommendations about where to eat without meat in Barcelona:
I'd also add La Cerería Cooperativa. Restauración Vegetariana. (Tienda de Instrumentos Musicales Baixada de Sant Miquel, 3, 08002 Barcelona, Spain) near placa Jaume in gotico. Heard good things about Veggie Garden [Carrer dels Àngels, 3] in universitat too.
- Gareth Thomas Sewell
I also would recommend Bar Celoneta, on the Carrer Sevilla, 70 and Hummus [Valencia, 227]
- Annoesjka Natascha
Gopal [Carrer dels Escudellers, 42]! I've been to probably every vegan place, haha
- Sophia Jumatate
Rizoma [Carrer Grassot, 72], delicious food made by a vegan blogger. And for a quick bite: Gopal [Carrer dels Escudellers, 42] . Another nice place is Cafe Camelia (Verdi 79). Cute and cozy place.
- Michiel Van Deursen
Aguaribay in poblenou, Ramon turro con Rambla poblenou [Carrer de Ramon Turró, 181]
- Alexandra Le Crouerour
L'Hortet (Raval) [Carrer Pintor Fortuny, 32]. Frequented the place for many years without considering myself vegetarian. It's 80% full of the same locals everyday. Run by two super-friendly sisters. Just don't expect good English.
- Matt Gibbons
The list could go on forever ... Barcelona is full of restaurants of all kinds, a lifetime is not enough to try them all! But I invite you recommend any yourself; do not hesitate to write and comment! Bon profit! ;)
Map of mentioned restaurants
Excursions in Barcelona
To make the most of Barcelona and fill your trip with unforgettable experiences and emotions, we offer you the excursions through the Catalan capital organized by our friends - the GetYourGuide team. Choose your excursion and fall in love with Barcelona: