Where to stay if visiting Barcelona for an Easter Procession?
Imagine it now, the streets filling up… The crowds gather in anticipation for one of the most somber events of the year, emotions will be high, and some people may even be crying as the image of Jesus during the passion passes slowly through the streets to the steady and trance-inducing beat of the drum. You're not amongst the crowd though, rather you have the best view and can see everything from above… From your balcony!
Santa Anna Catalunya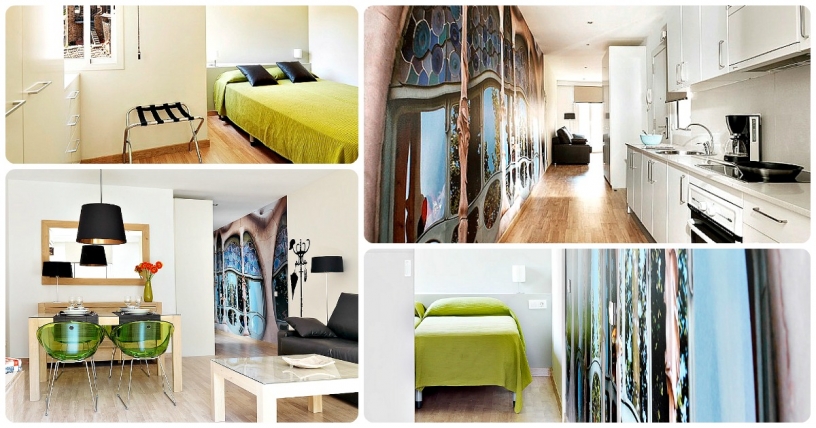 Santa Anna Catalunya 1-1 is a city centre apartment with a very chic wall motif
This modern apartment found on Carrer del Pi overlooks not one, but both Good Friday processions that take place in Barcelona. It has two single beds (which can be placed together to form a double), and a double sofa-bed. There is a prominent and staggering motif of Casa Batlló that joins up the various spaces of the flat. With everything you need for a comfortable time in Barcelona for Easter, there's no reason not to stay here!
Boqueria Rambla V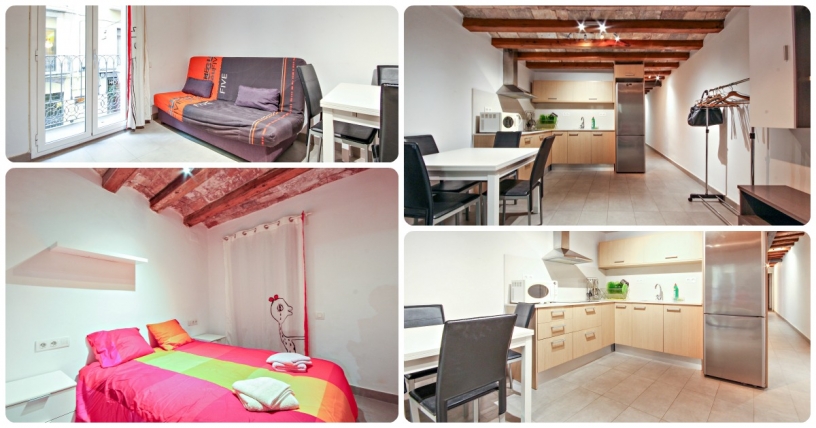 Boqueria Rambla V is a monthly rental with charming wooden beams
Most people love the rustic charm of wooden beams, but even more people love the seductive lure of a good bargain. This long-term rental is available through April and again from June onwards. It's also right by San Agustin Church where the procession of "Nuestro Padre Jesús del Gran Poder" (Our father Jesus of the Grand Power) launches from, so you are right in the midst of the action.
Ferran 3-1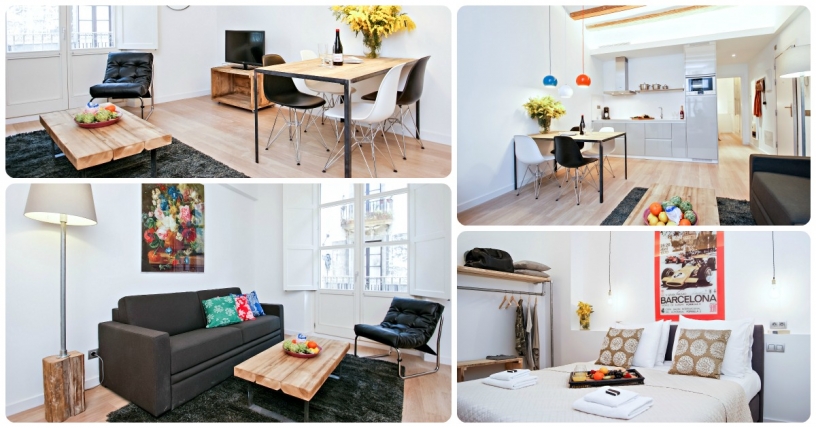 Ferran 3-1 is where modern meets the past in this tourist apartment
More wooden beams! This modern and air-conditioned apartment is available during the Good Friday procession of "Nuestra Señora de las Angustias" (Our Lady of Sorrows), and it even has an elevator (a boon in the Old City Centre of Barcelona). It's perfect for couples, who will appreciate the elegant double bedroom with flat-screen TV, but another 2 people can stay here thanks to the double sofa-bed.
Where to stay if visiting Barcelona for an Easter Mass?
Apart from processions, another important part of Easter in Barcelona are the masses, especially if you're lucky enough to be able to attend one in a place as special as Barcelona Cathedral or the Sagrada Familia (places are limited). Even so, the atmosphere in these locations as they prepare for the big days is a brilliant experience for anyone visiting the city especially for Easter, so here are some nice apartments available throughout the whole of easter week near Barcelona Cathedral and the Sagrada Familia, and a long-term flat if you want to live here!
Boqueria Rambla I by Barcelona Cathedral - Monthly rental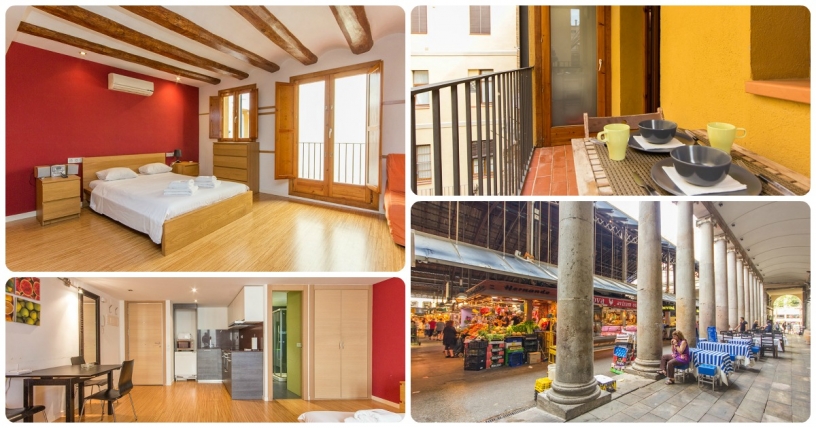 Boqueria Rambla I - Cosy studio for long-term stays
This monthly rental is just a short walk from the Cathedral, located right next to La Boqueria Market and Liceu Metro station. Another apartment with pretty wooden beams to give you that authentic feel of Barcelona's Gothic Quarter, but with WiFi internet access already set up to keep you grounded in the modern world. The kitchen is modest, but still equipped with everything you will need (oven, microwave, fridge, etc). Eucharist at Barcelona Cathedral will take place at 9:00. There will be an unmissable blessing of palm leaves celebration outside the cathedral 11:00!
Julia Portet Ramblas by Barcelona Cathedral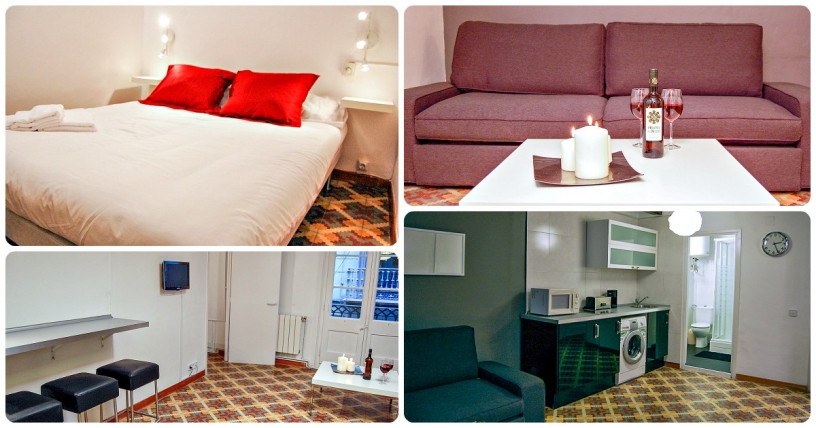 Julia Portet is close Barcelona Cathedral
Another accomodation available near the Cathedral, but this time ideal for tourists! It's on the same street as the café that Picasso used to frequent (part of our free to follow Picasso Route in Barcelona). It has gorgeous tiled floors, air-conditioning, and free WiFi access for guests. It's also a short walk from many attractions and the trendy Born district ;).
Marina Sagrada by Sagrada Familia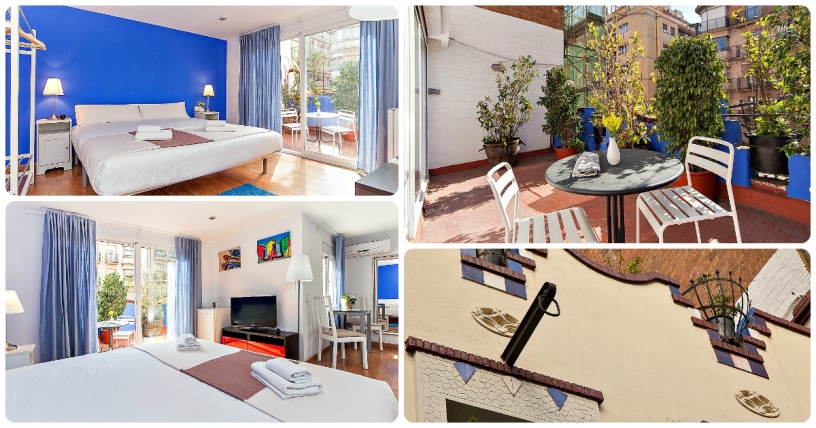 Marina Sagrada near Sagrada Familia is available throughout easter
This fantastic apartment works out at €115 per night for two and it's the closest you can get to the Sagrada Familia during the entire week of Easter in Barcelona. It's very well-equipped, with WiFi, air-conditioning, heaters, a kitchen with modern appliances, and more - all included in the price. One palm Sunday, the Mass will take place between 9AM and 3PM, but you can certainly visit straight after! Unfortunately (or fortunately if you're attending) the blessing of the palm leaves takes place inside this iconic building. There is also another similar apartment available on the top floor of the same building!
Six fantastic places to stay depending on how you want to experience Easter. If you want to learn more about easter in Barcelona, then be sure to check out our article about what's going on in the city for Easter.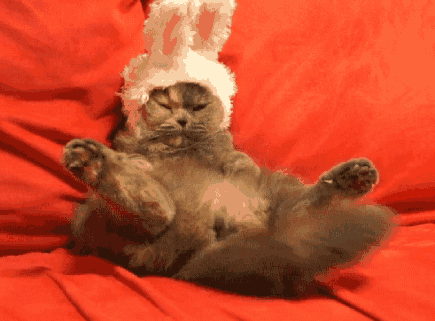 "Meow meeeoow" - Cat is telling you to book your Easter apartment while you still can.