Diagonal Mar
(Districts)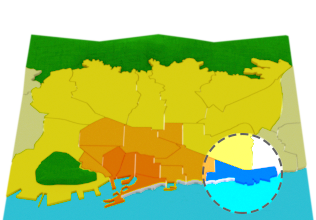 Diagonal Mar — The Forum and a huge shopping centre in a modern neighbourhood
Diagonal Mar is, so far, the newest area of Barcelona, ​​and to some extent is still in the process of formation and consolidation. It's the most eastern part of Barcelona's coastline and is where they held the Forum of Cultures in 2004. What was once an industrial area has been transformed into an area of ​​residential complexes, upscale hotels, office buildings, conference centres, designer parks, a huge shopping centre and the newest urban beach.
In this article we show you a video in which you'll discover Diagonal Mar's neighbourhood by the hand of its neighbours. We also tell you why to stay here, its attractions to visit, and the best places to eat and go shopping. If you're a student you'll also be interested in learning about libraries, green areas and places to practise sports.
Video presentation of Diagonal Mar
If you come to visit the capital of Catalonia, ​​we will help you to find the best apartments for long term in Barcelona. We offer apartments of different types, renovated and well furnished in all areas of Barcelona!
In this video you'll discover the different neighbourhoods of the Sant Martí district, including the Diagonal Mar neighbourhood.
Why Stay Here?
The type of people who live in the Diagonal Mar area are generally upper and middle class. Many of the homes in the zone are spacious and luxurious with stunning views over the mediterranean and the local park. If you like how this neighborhood looks, you can take a look at our monthly rentals in Barcelona.
It's a neighbourhood that's right by its very own beach and is well-connected via public transport with the city centre. People are attracted by its wide streets, its proximity to the sea and the attractions of Parc Diagonal Mar.
Attractions

The Fórum Building
The Fórum Building is a triangular structure that remains in the area after being built for an international symposium. In 2011, it was used as the headquarters for the Barcelona Museum of Natural Sciences. Today it hosts a number of exhibitions all year around as well as some of the most famous music festivals in the world, like Primavera Sound.
Another point of interest is Plaça Fotovoltaica, a huge structure with solar panels, which now forms part of the city skyline. In addition, there's the Banys del Forum: a pool of salt water enabled for the bath during summer.
And let's not forget El Parc Diagonal Mar, where a majority of visitors will head to. It is a work of art that combines nature with architecture and is a great place to sunbathe, read a book, or let your children play.
Information for students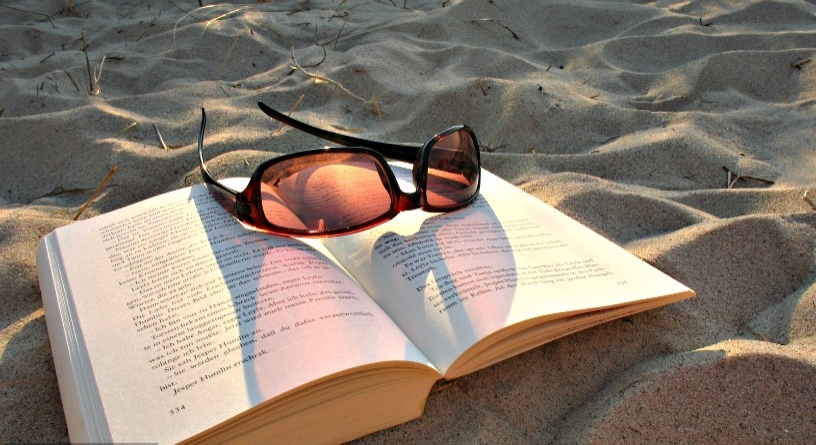 Read on the beach, a classic in Barcelona
Being one of the most recent neighbourhoods in Barcelona, Diagonal Mar doesn't yet have a tonne of facilities and infrastructure for students. You won't find any university here, but there's the Col.legi Oficial d'Infermeres i Infermers de Barcelona (Official College of Nurses of Barcelona) with its library that's ideal for studies.
What this neighbourhood offers, apart from its modern structures, are spacious green areas and a beach. Diagonal Mar park is one of the largest in Barcelona and even has lakes. It's there that you can practise sports whenever you want, as well as on the Nova Mar Bella beach that also has a football pitch next to the complex Mar Bella Sports Complex. If it's your thing to be away from home while taking advantage of the sunny days outdoors, check out our selection of student accommodation in this neighbourhood.
Where to Eat

The Sagardi Restaurant
Diagonal Mar isn't for dining out and sampling traditional Catalan food, but it's the area where you'll find the most modern bars and restaurants, especially in the shopping centre. The majority of locales here are franchises, but there's still no shortage of choice for classier establishments like Sagardi, La Casa del Pesacado, e@t22, to name a few.
If you're searching for a romantic place, then try L'Escola, where the culinary students demonstrate their talents.
Shopping

Diagonal Mar Shopping Centre
The Shopping Centre Diagonal Mar is the largest in Barcelona and 10th in Spain. It's a unique space where you'll find everything, from "day to day" products to the latest in fashion and design (Zara, H&M, Miss Sixty, and Desigual). There're plenty of places to eat at and you can catch the latest films at the cinema (but only in Spanish). All right beside the sea and connected with the luxury Hotel Princesa!
Most of the centre is closed on Sundays, but the restaurants and entertainment areas are open every day.
Excursions in Barcelona
To make the most of Barcelona and fill your trip with unforgettable experiences and emotions, we offer you the excursions through the Catalan capital organized by our friends - the GetYourGuide team. Choose your excursion and fall in love with Barcelona:
Getting Around
L4 - The Yellow Line
Although Diagonal Mar is quite away from the centre of the city, it's a zone that's well-connected thanks to public transport. To get around, you can use:
Metro Stations - Selva de Mar, Maresme/Forum and Besòs Mar. Any of these will take you to the city centre.
Buses - 7, 36, 41 and 141 (among others) will take you around the district and neighbouring areas.

The Tram line T4 will take you all the way to the end of Avinguda Diagonal. 

The whole of Diagonal Mar can easily be discovered on foot. The planning of the streets is just like that of Eixample, so it's practically impossible to get lost.There're plenty of pleasant walks and cycling paths at the park, which will allow you to appreciate the tranquillity and laid back atmosphere of Diagonal Mar.
Attractions in Diagonal Mar
Mar Bella

The beach of Mar Bella in Barcelona features a nudist area and is well-equipped to boot.

Nova Mar Bella

The beach of Nova Mar Bella is more quieter than the others and serves Diagonal Mar.

Llevant

Llevant beach is the newest and probably most calm beach in the city.
Do you like this post?
Click here!

5/5 - 2 votes
Share your thoughts
Related articles
Tired of reading about Barcelona? Find an apartment and stay there!