Creu Coberta I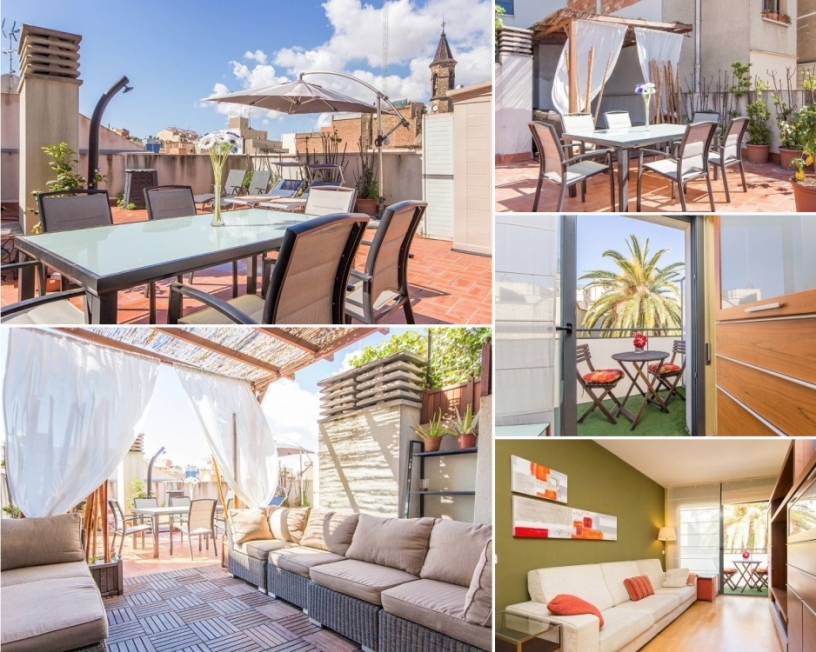 The most fully equipped summer terrace you could ask for!
Ask yourself; what do I want from a summer apartment in Barcelona? Barbecue? Yes. Canopy and chill-out area? Yes. Huge amount of space? Of course. Fully furnished with table and sun-loungers? You know it. An outdoor shower? Not sure why; maybe to keep cool, but you have it anyway! That's not all though, there is a balcony flanked by a palm tree for that extra summer feel. Inside we have a fully ventilated air-conditioned contemporary apartment with two bedroom and two bathrooms. We're just getting started.
Passeig Gracia I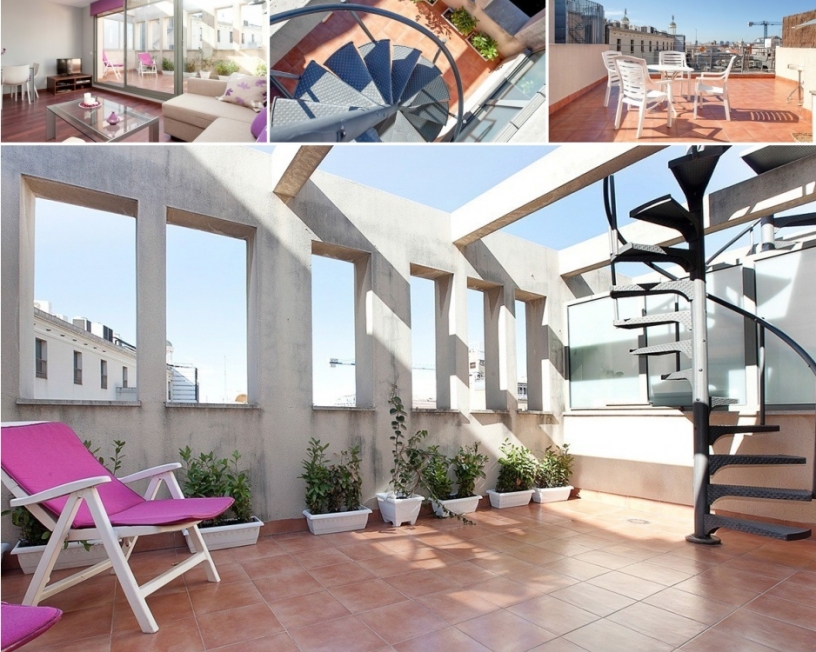 Why have one terrace when you can have two?
Continuing with another one of our most stunning summer apartments is this place right in the centre of Barcelona next to Plaça de Catalunya. However, not only that, the private terrace is not your standard one in that it is a spacious sunny duplex terrace with a spiral staircase connected the two levels. This fully air-conditioned apartment itself is nothing short of brilliant either, as a modern space with internet access, a double bedroom and a twin bedroom - making it ideal for families taking advantage of the summer holidays.
Fira Montjuic V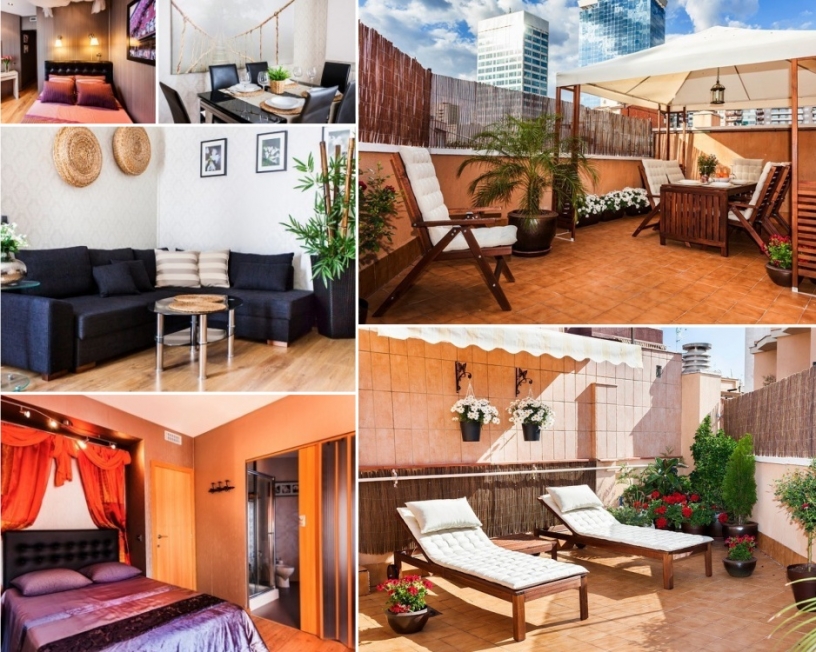 The owner calls the style "Russian", we just call it gorgeous :)
Though the terrace of this apartment isn't necessarily the largest of the list, but we've included this one because apart from being fully air-conditioned inside, the design and decor is spectacular. A mix of modern and vintage, with straw ornaments, retro images, plenty of plants, drapes across the bedrooms. The terrace is still fantastic though, fully furnished with sun-loungers and hardwood patio furniture under a lovely canopy.
Bilbao Beach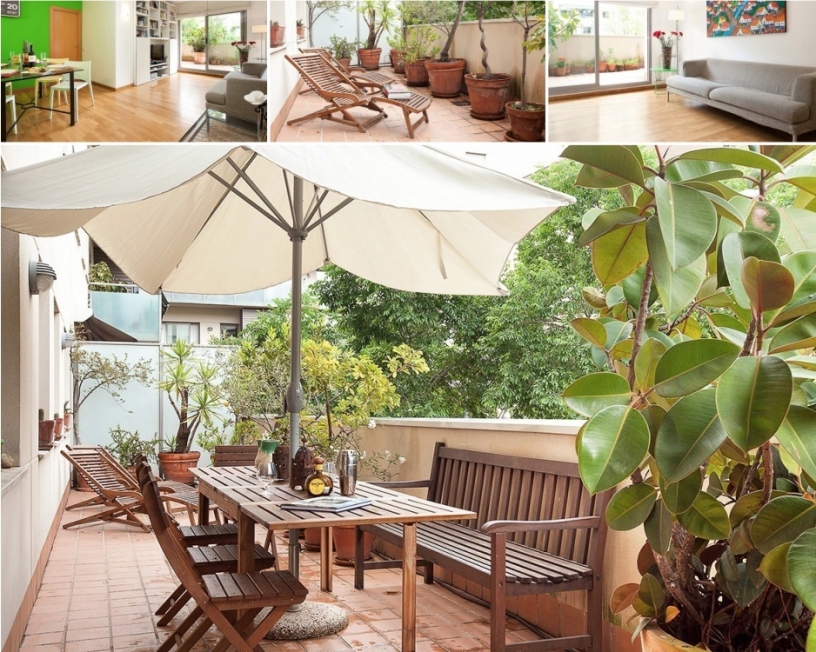 Terrace + Beach = Summer fun
This wouldn't be a list of summer apartments if it didn't include one by the beach. It's within a few minutes walk away from Mar Bella beach and up to 6 people can stay here with 4 single beds and 1 double bed; there are also two bathrooms. If you're looking for a sunny summer flat that's ideal for groups of friends visiting Barcelona, then you need not look further. The terrace is furnished with a shade, dining table, bench, and is full of plants - the perfect place to chill out with your friends and take in this wonderful city's atmosphere.
Cartagena Sagrada Familia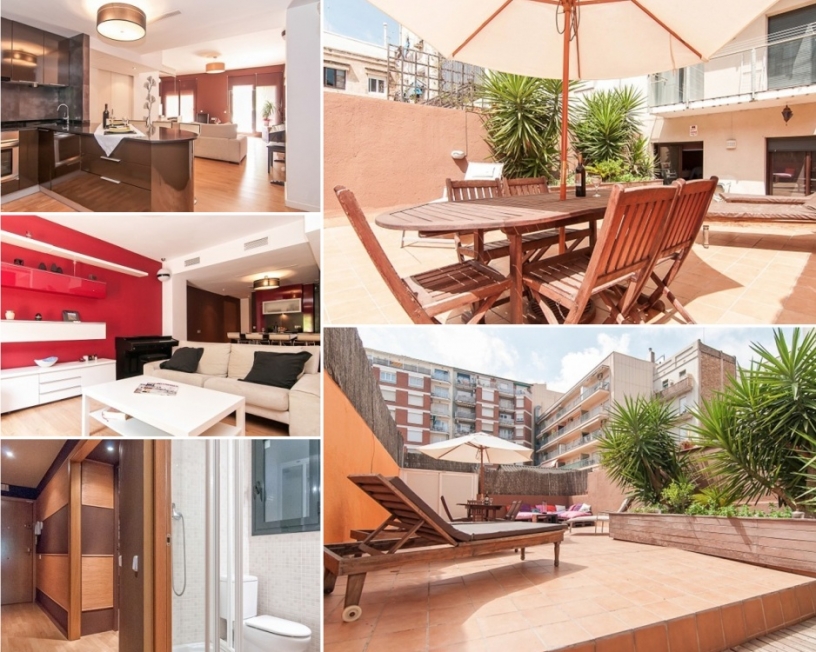 So much space to chill out or socialize in. You won't want to leave.
This apartment totals at 120 square metres, with two double beds (one within the living room separated with a blind, and another independent double bedroom), full air-conditioning, and a completely-equipped modern and open kitchen so that you can prepare meals to enjoy on the terrace that is fully furnished and even includes a place to relax and socialize with a drink on the cushioned benches in one corner. It's the most spacious terrace on the list so the most ideal for inviting over visitors over during your stay - great if you love to meet the locals.
Portaferrisa 1-1-4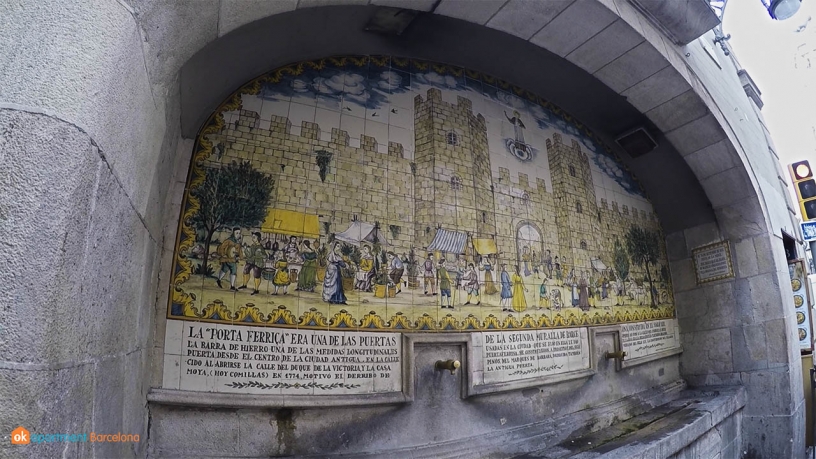 Unbeatable views over Barcelona's Gothic Quarter? Yes please!
If you want views over Barcelona's old city - the most central part of the city - then it is on the rooftop terrace here that you will see the beautiful spire of the cathedral peeking over the low-rise buildings within close proximity. In the other direction there is the gorgeously green Montjuic. It all makes for a picturesque setting while you either loosen-up with a delicious meal or calmly sunbathe and soak up 100% of the Catalan sun. Like the previous apartment, this penthouse has a double bedroom and a studio bed (this time a double sofa-bed). It's fully modernized despite being in the old city, and the building even has an elevator - something that's not so common in this part of town. The following haiku links to the apartment and sums it all up pretty well:
Of course, a great summer apartment is made better with great company, so whether it's with your friends or your family; get your bags packed, book your accommodation and we'll see to it that your stay in Barcelona this summer is an unforgettable one! If none of the apartments listed here make you feel like busting out a deck chair, well that's okay because we have a full list of over 60 similar places in Barcelona that you can choose from over on our list of summer apartments.