Eixample Dret
(Districts)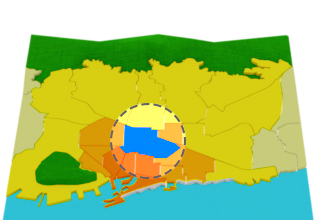 Eixample Dret houses some of the most famous landmarks in the city, like the Sagrada Familia.
In the early nineteenth century, the walls of Barcelona could no longer contain the growing population, so the city had to expand. Eixample, which literally means "Extension", was a new district and a solution to the problem. It was carefully planned out with an organized grid structure and at the time the biggest architectural trend was modernism, so lots of buildings incorporate this amazing style. It's a central district with class, full of shops, restaurants, and attractions. If you want to stay here, then take a look at the selection of apartments rentals in Eixample Dret.
Video presentation of Eixample Dret
Why Stay Here?
Staying in Eixample Dret is an option with many advantages, but perhaps the most obvious is its ideal and central location. The type of accommodation in this zone are classy high-ceiling flats in buildings that feature grandiose entry halls and hints of modernism. There is no better place to discover Barcelona's modernist architecture and you can even stay in a modernist building here. It has long been the home of Catalonia's middle-high class who enjoy a good standard of living with many bars and restaurants on every corner. It's also the perfect location for families visiting Barcelona.
If you want to stay in a zone with good public transport, that's quite peaceful, and is safe at night, well then you might just want to stay in Eixample Dret.
Attractions

Casa Batlló and Casa Ametller
Eixample Dret is a neighborhood bursting with artistic modernism represented by such prominent buildings such as La Pedrera, Casa Batllo, and Casa Ametller.
Strolling through the zone will put you face to face with many points of interest; like the central Plaça Catalunya, the Sagrada Familia, and Passeig de Gràcia, which is considered one of the most beautiful avenues in Europe.
Eixample Dret is home to various UNESCO World Heritage declarations made in 1984: The first is La Pedrera by Antoni Gaudí . Another is Hospital de Sant Pau,, which is located close to yet another World Heritage Site called the Sagrada Familia. This basilica is one of the most famous in the world, and more than 3,000,000 cross through its doors every year, this makes it the most visited tourist building in Spain.
One attraction that's usually overlooked in the area is the Monumental Arena. This was where the last ever bullfight was performed in Catalonia before the long-overdue ban. There are also other hidden gems, like the Egyptian Museum that features artifacts from ancient Egypt.
Where to Eat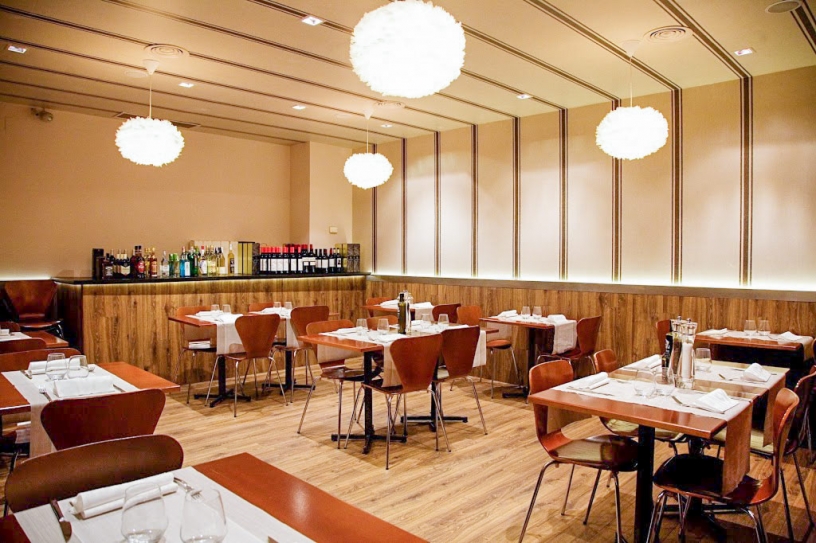 La Garriga
There are a lot of restaurants in this area that offer cuisine from around the world. We recommend visiting Garriga, which is a place that specializes in artesian Catalan produce. You can also always try Cerveceria Catalana, a popular tapas restaurant. Just make a reservation first because it's almost always full.
If you like pizza, then El Racó has plenty of Mediterranean offerings that will appeal to all tastes. The quality-price ratio is surprising for these simple and healthy dishes.
You can always try something a little different by visiting Café Laie, a library with a café and terrace on the upper floor. Healthy food with a Mediterranean spin.
Shopping

Mango on Passeig de Gràcia
If you love high-street shopping then you're going to fall head over heels in love with Passeig de Gràcia, where you can find all sorts of designer brands, including Chanel, Tiffany, Burberry, Vinçon, Adolfo Dominguez, and Loewe. There are also more affordable options, like Zara and Mango.
If you're looking for food, then there are various Mercadona supermarkets around. You can find a wide range of products, for example if you have food intolerances, there are many gluten-free and lactose-free products.
There are many specialist shops in the area too, from butchers to sweetshops. For that extra special something, visit a gourmet shop like Colmado Múrria with its beautiful Modernist style.
Getting Around

L4 - The Yellow Line
Eixample Dret is easy to access on foot or by public transport, there are options to take you to practically any point in the city.
L1 red line at Catalunya, Urquinaona, Arc de Triomf, or Marina will take you to Plaça d'Espanya close to Montjuïc.
L2 purple line at Passeig de Gràcia, Tetuan, Monumental, or Sagrada Familia can take you between the Sagrada Familia and the city centre.
L3 green line at Catalunya, Passeig de Gracia, or Diagonal will take you up to Park Guell or down to the sea.
L4 yellow line at Urquinaona, Passeig de Gracia, Girona, or Verdaguer will take you to the beach.
L5 blue line at Diagonal, Verdaguer, Sagrada Familia, and Sant Pau/Dos de Maig will take you to Sants Train station.
Eixample Dret is especially recommended for those who choose to arrive by from Girona airport, the bus that connects the airport to Barcelona departs and arrives at Estació del Nord, which is right next to the Arc de Triomf.
Other images
Attractions in Eixample dret
National Theater

The Catalan NATIONAL THEATER, built by the architect Ricard Bofill, is covered by a c...

Casa Batlló

Casa Batlló is located on the prestigious Passeig de Gracia. It was designed by Gaudí.

La Pedrera

The CASA MILÀ, better known as "La PEDRERA", was built by Gaudí between 1906 and 1910.
Do you like this post?
Join over 5000 subscribers and receive our posts delivered straight to your inbox. It's free :)
Share your thoughts
Select the area and discover the benefits of staying there




























Related articles
Tired of reading about Barcelona? Find an apartment and stay there!