1. Take a bath... In wine!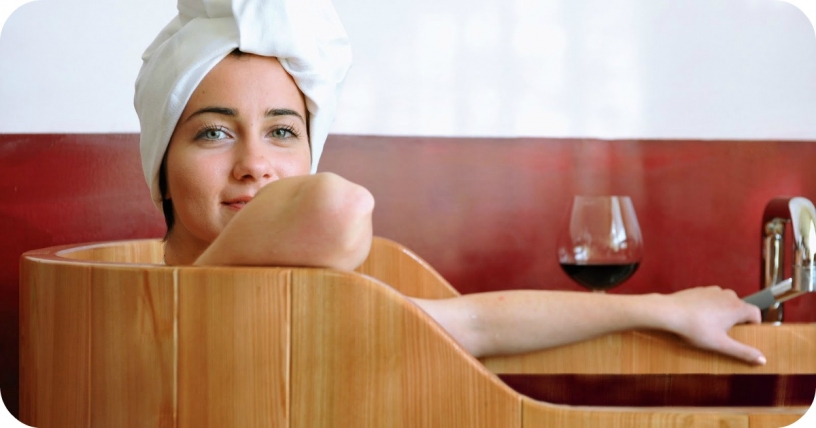 Intoxicate yourself with pleasure
Spanish people love their wine and Catalans too. So much so of course that you'll find an emerging trend of "Vinoterapia" or Wine Therapy. Though Wine Therapy might sound like a term an alcoholic might use as an excuse to drink wine, in Barcelona it's an actual thing, at least at the Aqua Urban Spa on Gran de Gracia, 7 in the northern part of the city.
A wine therapy at this spa will get you full body peel mask made from grape seeds and a wine bath, and a wine-massage with a wine-based oil. Apparently it's good for your skin. Salut!
If you like spas, don't miss our article on the Top spas in Barcelona.
2. Appreciate chocolate... and then cover yourself with it.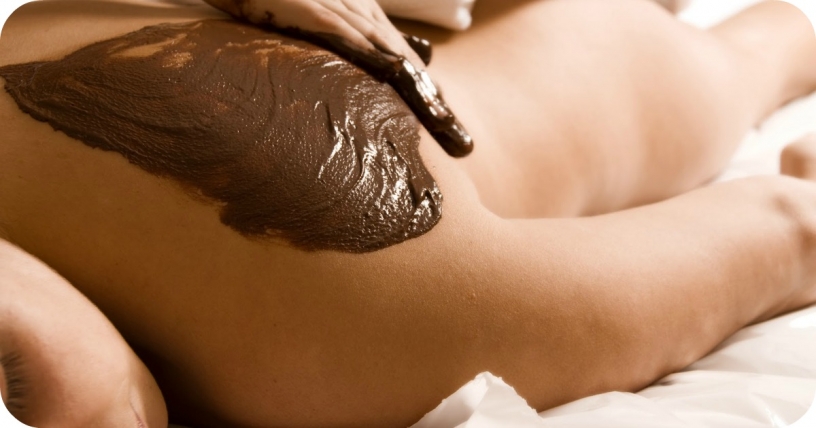 You won't know whether to eat or relax...
Much like wine, there is a love for chocolate in Catalan culture. This comes apparent when you find that there is an entire museum dedicated to the foodstuff. The Chocolate Museum in Barcelona gives visitors an insight into the history of this luxury good. There are experiences there like chocolate and wine (again) tasting.
Entry to the museum is by a chocolate ticket and there's nice looking stuff to buy in the shop. Crazy chocolate sculptures and a bit on the history of chocolate in Spain and Latin America, but the place doesn't have much else. Good for a quick escape from the heat, we went as we have a real chocaholic in our...

Kittalyn – August 3rd 2013
After that, don't forget to stop off at a spa like K B Centers on Carrer de Mallorca, 180, where they'll cover you in a relaxingly warm chocolate, but not just any old chocolate, no, one that's adapted to your skin. It's full of anti-oxidants, great for your cutis!
If you come to visit the capital of Catalonia, ​​we will help you to find the best apartment in Barcelona. We offer apartments of different types, renovated and well furnished in all areas of Barcelona!
3. Fly like Iron-Man across the Mediterranean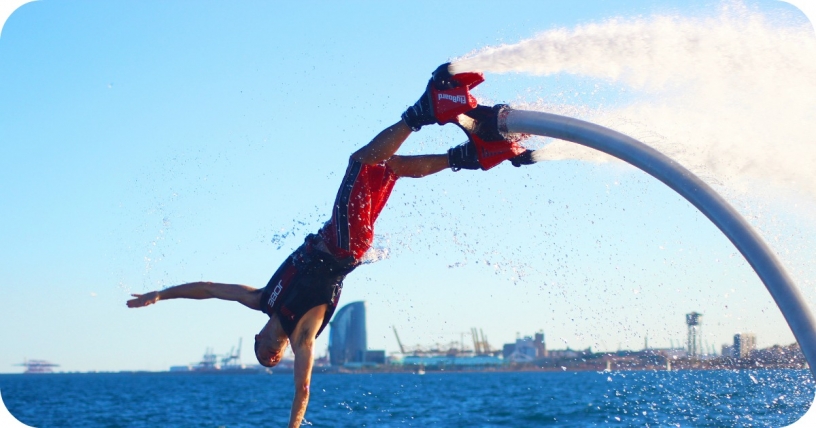 Fly with a Flyboard!
Everyone has thought about or at least dreamed about being able to fly at some point. If you're in Barcelona though, you can experience the joys of flight with a unique water activity called FlyBoarding. Soar above the sea using this unique device, or dive under the surface and navigate like a dolphin. It's an activity that's relatively new but has already taken the city by storm. Make sure to visit the official Flyboard Club Barcelona website where you will find more information about the sport and be able to reserve your space for a session.
4. Discover Spain's star dish at the Jamón Experience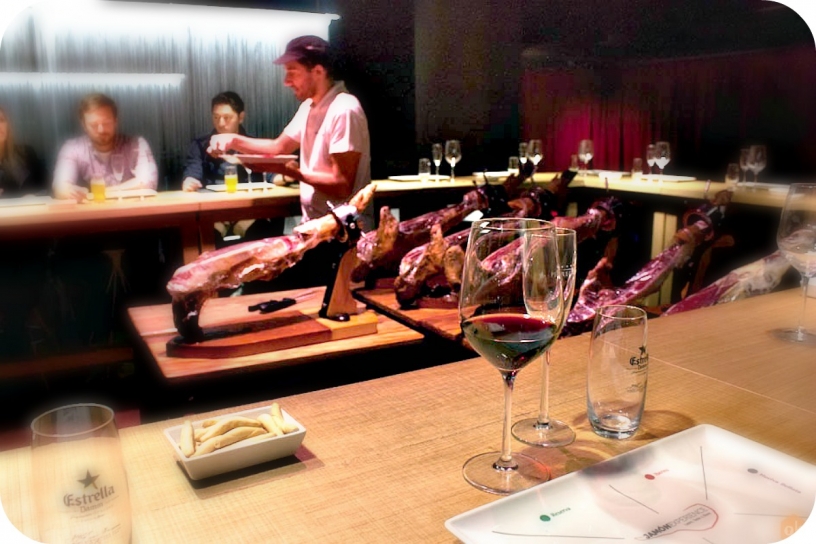 Mmmm, Iberian ham... ;)
Yes, folks. It was about time for Barcelona to create its own Ham Museum. If you like Iberian ham and you've always been curious about the process of preparing of one of the best hams in the world, then head on down to number 88-94 on Las Ramblas via Metro Station Liceu (L3 - green) and visit the Jamón Experience.
The experience consists of an audiovisual tour in which you will discover the secrets of how Iberian ham is procured, in addition to a tasting of 6 different Iberian hams cut by a professional, accompanied by wine, cava, or beer . In addition it also has a huge store where you can find all kinds of Iberian delicacies. All in all it's an experience that gourmets and Iberian ham fans will never forget.
5. Anti-Karaoke!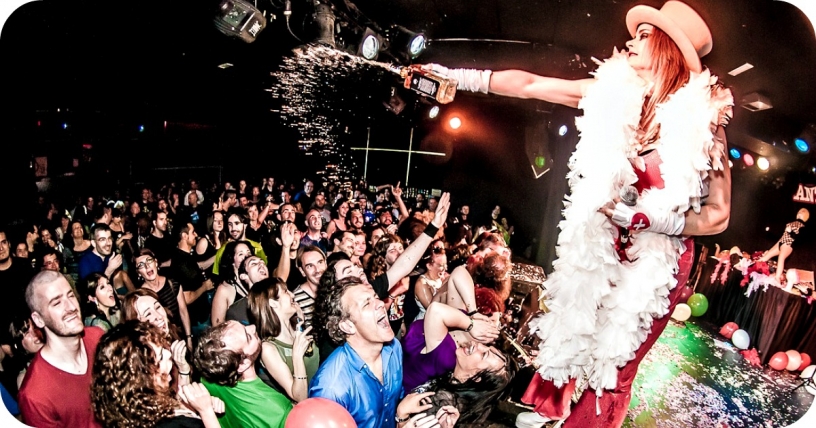 Crazy shenanigans at Barcelona Anti-karaoke!
Show your disdain for traditional Karaoke by taking part in, well, Karaoke! Every Thursday, at 10PM in the Apolo club, Barcelona; visitors will be able to take part in one hell of a party, which on the crazy scale is sort of comparable to spending a night in an asylum. With singers and comedians in costumes (and often a lack of them), over 500 anthems from Sinatra to the Sex Pistols, it's like a concert and musical that involves the audience in one crazy party.
6. Cook up a meal... blindfolded. Dine in a restaurant... blindfolded!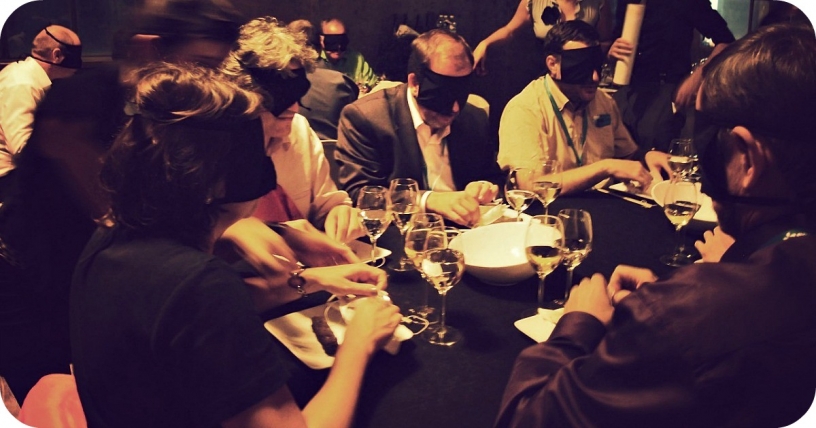 Dans Le Noir Experience
Maybe it's just because locals like to be blindfolded a lot, but there are two unique blindfold-based culinary experiences to be had in Barcelona. One cooking school in Barcelona has set themselves apart from conventional cooking classes. Espai Boisa in Barcelona hosts blindfolded cooking classes where you must rely on the expert advice of your cooking partner who will have to keep their hands in their apron at all times. It's great for friends or businesses looking for team activities. The classes are offered in English, Spanish, and Catalan, so you'll need to know one of those languages to take part. If you're reading this, you're probably doing okay though.
If eating somebody else's food is more your thing then you'll want to visit the Dans Le Noir restaurant, where you can do anything but look at the food in front of you. You will be forced to use your sense of smell and taste to experience the food. It's a unique experience with a focus on taste, where even the waiters are blind.
My two girlfriends and I went on a trip to Barcelona and wanted to try something DIFFERENT for a meal. This was exactly what we wanted. I cannot say enough how amazed I was that the waiters were blind- they did not make mistakes and were very professional and fun. The food was delicious and also different. I will say...

BaileyFam2005 – July 25th 2013
7. Visit the Funeral Carriage museum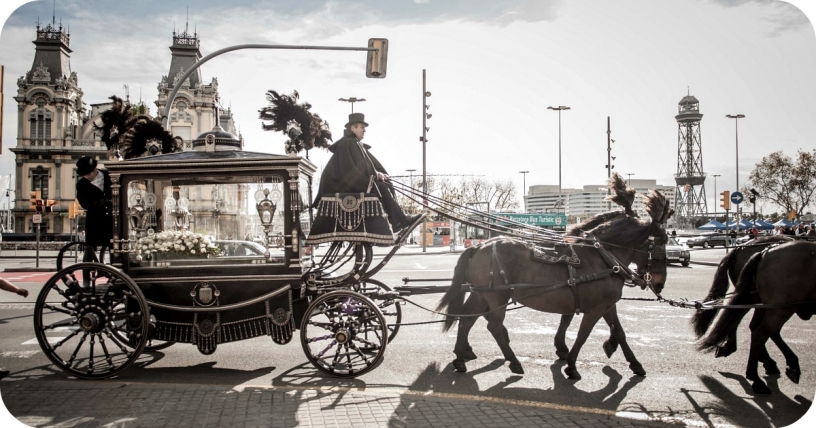 It wasn't my funeral carriage. It was hearse!
It sounds a bit morbid, and it pretty much is, because the Funeral Carriage Museum (or Museu de Carrosses Funebres) is exactly what it says on the tin. If that wasn't actually creepy enough, someone decided it would be a good idea to put life-size mannequins of people dressed in costume that would historically accompany the carriage. However, don't worry, no one is going to make you pay for the experience, you can visit for free this collection... Why not... I mean... You can't spell funeral without fun, right? It's appropriately located close to the cemetery of Montjuïc, Barcelona's main cemetery.
Of course there are more unique things to do in Barcelona, this is a selection to get you started, but if you know of any weird places yourself, or you've actually been to one of the locations above, we'd love to hear from you! Drop us a comment!
Excursions in Barcelona
To make the most of Barcelona and fill your trip with unforgettable experiences and emotions, we offer you the excursions through the Catalan capital organized by our friends - the GetYourGuide team. Choose your excursion and fall in love with Barcelona: