Here are the different marathons and races around Barcelona in chronological order:
1. Sitges Half Marathon (January) 
The town of Sitges holds a Half Marathon in which you can can participate in two ways: the Half Marathon (13 miles) and the Quarter Marathon (6.6 miles). Are you ready to get into shape after Christmas?
When: Mid-January 
Distance: 13 miles or 6.6 miles
If you come to visit the capital of Catalonia, ​​we will help you to find the best vacation rentals in barcelona. We offer apartments of different types, renovated and well furnished in all areas of Barcelona!
2. Sant Antoni Run (January) 
As usual, the Sant Antoni Run kicks of the year of athletic events in the city of Barcelona in the Sant Antoni neighbourhood, with a distance of 6 miles. A good opportunity to redeem any sins from the past year :)
When: Mid – End of January
Distance: 6 miles
Registration: Here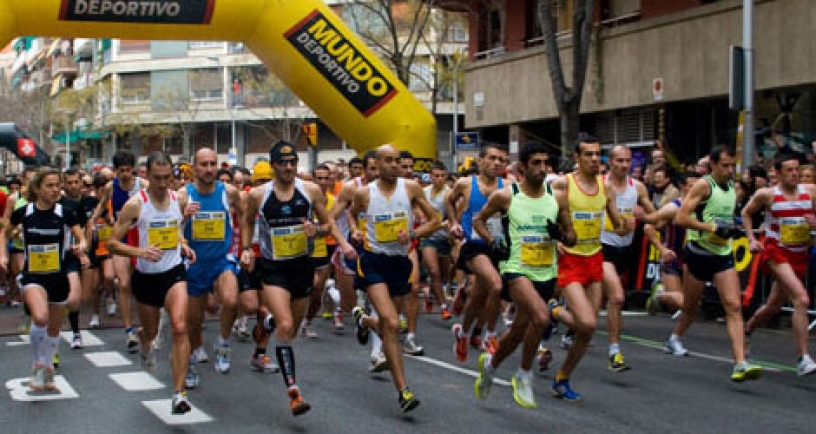 Sant Antoni Run
Excursions in Barcelona
To make the most of Barcelona and fill your trip with unforgettable experiences and emotions, we offer you the excursions through the Catalan capital organized by our friends - the GetYourGuide team. Choose your excursion and fall in love with Barcelona:
3. Barcelona Half Marathon (February)
Anyone can participate in this run of 13 miles. The competition kicks off on Passeig de Pujades close to the Arc de Triomf and goes to the Forùm passing by the beaches.
When: Mid-February
Distance: 13 miles
Start Time: 8:45am
Registration: Here
4. Barcelona Marathon (March)
The Zurich Barcelona Marathon is an important international event that reached 20,000 runners in 2014 and 2015, making it the fourth largest marathon in Europe.
When: Mid-March
Distance: 26 miles
Registration: Here
5. Firefighters Run (April)
Firefighters organise this particular run of 6 miles which passes many emblematic places in the city. Don't miss the opportunity to run together with more than 16,000 runners, admiring the beauty of the city.
When: April
Distance: 6 miles
6. Ironman Triathlon (May)
This triathlon is called Ironman because its two modalities are for "People of Iron: 146 miles or 70 miles". In the Barcelona Triathlon in October, you can do 8 miles, 16 miles or 31 miles.
When: End of May
Distance: 146 miles or 70 miles
Registration: Here
Ironman
7. Curse de la Mercè (September)
The Mercè Run is one of the most popular activities in the city and is celebrated around the time of La Mercè – a popular event in Barcelona. It is also for charity, working with various organisations such as UNICEF and associations who conduct research to find cures for diseases…
When: September
Distance: 6 miles
8. Barcelona Triathlon (October)
Swimming, cycling and running. Are you ready?
When: October
Distance: 32 miles, 16 miles or 8 miles
9. Buff Epic Run (December)
This is the craziest run in Barcelona. Runners who participate in this event will run 5 miles and will face various obstacles… dressed up! Think of an original and comfortable outfit because there are prizes for the best costumes!
When: Mid-December
Distance: 5 miles
10. Colour Run
This is race in which the goal is not to excel, but to have fun and enjoy it. 3 miles of laughter, paint and music.
When: Depends on the year
Distance: 3 miles
You can also go running on your own. Barcelona is full of nice place to run (Park Güell, Ciutadella, Montjüic…) or the beach (Barceloneta, Puerto Olímpico...)