Waking up in a city of culture and fun: Breakfast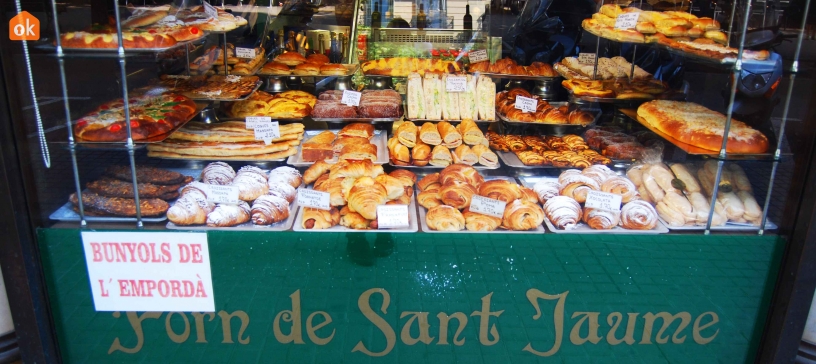 Forn Sant Jaume
If you happen to be staying in a holiday apartment in the city centre, you'll certainly wake up more eager to discover the city because places like Forn de Sant Juame, on Rambla de Catalunya 50, will never be more than a brisk walk away. The smell of croissants floating through the morning breeze will get you buzzing to tour Barcelona, from the city centre bustle to the beautiful and unique Park Güell, which is absolutely unmissable.
Lunch on the streets of Gracia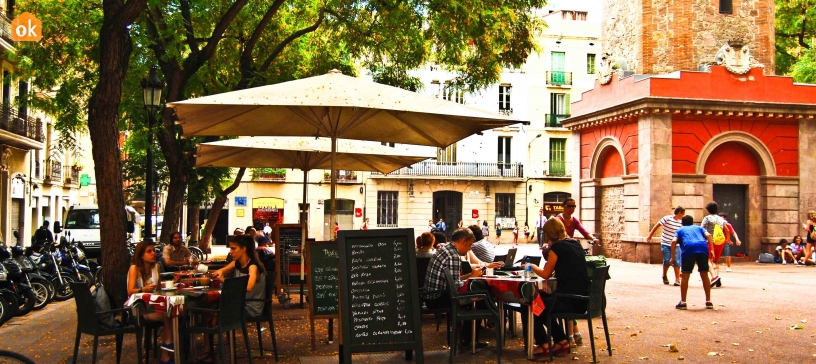 Grácia Bars
After visiting Park Güell, you might as well take advantage of the fact that you're in the district of Gracia. It may not have the glitz and glamour of the city centre, but you'll be amazed by the colour, vibrancy, and all round good food here. It's a unique place to experience everyday life of the city, which consists of small shops, boutiques, and modernist apartment blocks, the same style that Gaudí is famed for.
The easiest way to experience food here is at one of the many bars that can be found along the main street; Gran de Gracía, but the entire district is full of them and the prices are always low. For specific names, take a look at the two mentioned in this post and if you don't know which dish to pick, this post about Top 10 Catalan Starters will get you... well... started!
Still hungry for food and culture? Take a tour with Barcelona Eat Local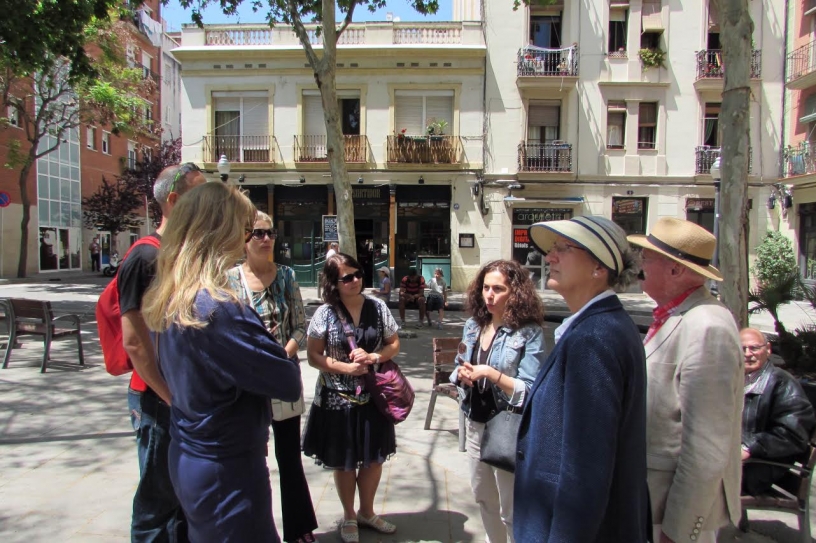 In the midst of a tour with Barcelona Eat local
Head on down to Barcelona's city centre in the areas of Sant Antoni and Poblesec and you'll find gastronomic tours from Barcelona Eat Local. Run by a team avid about discovering food through an experience of the local culture, sampling day-to-day tastes of the city's gastronomy scene, learning its centuries of history and connecting to passionate restaurateurs, while uncovering marvelous modernist architecture beyond typical touristic circuits.
Plus they only work with family own establishments, some have been in business for more than 150 years. The restaurants on this tour use locally sourced ingredients and fresh products, because they simple taste better... And that's what matters!
If you come to visit the capital of Catalonia, ​​we will help you to find the best vacation rentals in barcelona. We offer apartments of different types, renovated and well furnished in all areas of Barcelona!
Dinnertime! Late like the locals because Barceloneta never sleeps
Dinner deserves a trip to another district, this time a much more famous part of the city that's full of restaurants, nightclubs, and bars. None other than beachside Barceloneta, which is essentially the place to be when the sun goes down.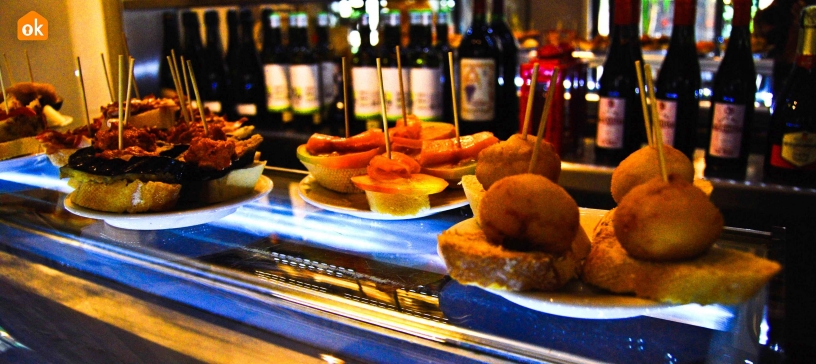 Tapas in Barceloneta
Here are three great places where you can enjoy dinner at your country's dinnertime... and then again at Spanish hours!
Can Paixano, also known as La Xampanyeria ("The Champagnery") is infamous amongst locals and tourists alike and can be found on Reina Cristina street. It's doing so well that they can even afford to close at 22:00... So get there early! It's hard to miss, just look for the local with people bursting out from the door, narrow, bustling, and without seats. Okay, this description might not be selling it to you, but have a little faith, because it's like this for a reason. You can sample lots of different Cavas (Catalonia's answer to Champagne), accompanied by ham and cured meats, and other types of tapas, and all this for bargain prices.
If you're up for some shots, or chupitos the Spanish called them, you can head to the Chupitería ("The Shotery?!") on Passeig de Colom, 8. Here, you'll fall in love with the menu of chupitos with prices at €2 per hit. So urrm, drink with moderation.
Not tired yet are you? The night is still young here in BCN and the Ovella Negra awaits. A short walk to Calle de Zamora will put you in front of a 78 year old building where the unique and quirky style of the locale will welcome you way until the early hours of the morn'. The beer and sangria at affordable prices is a delight in a multicultural atmosphere, in a place where you'll share the long wooden table with complete strangers. A table service isn't included though, so you´ll have to ask to be shown the goods. Use the moment to ask for some patatas bravas or a sandwich. Dynamic and forever-changing Ovella organizes live music evenings and big screen events like football matches. There's no better way to celebrate the night with some friends.
What are you waiting for? Let yourself be captivated by the Catalan cuisine in Barcelona. If you're into vegan and vegetarian food, you won't be left our either, because there are also macrobiotic restaurants that you won't be able to resist ;). You might not have thought about it, but you can share you love of food to make a great souvenir from Barcelona too!
Otras fotos
Excursions in Barcelona
To make the most of Barcelona and fill your trip with unforgettable experiences and emotions, we offer you the excursions through the Catalan capital organized by our friends - the GetYourGuide team. Choose your excursion and fall in love with Barcelona: