Catalonia is a land wedged between the sea and the mountains, and it's reflected in the dishes you can find. Catalan cuisine is defined by products from both of these terrains, with a variety of ingredients that make it a natural and healthy diet that's rich in history and tradition, so the city is ideal for a culinary tour.
In Catalan cuisine, starters play an essential role. Vegetables, legumes, mediterranean oils, fish... These all combine to get the most delicious entrees to start your meal. Here are the best Catalan starters so that you can savour only the most authentic flavours when you visit Barcelona. If you're more into main courses, then take a look at the best dishes to sample in Barcelona (though not all are strictly Catalan).
Top 10 Catalan Starter Dishes you must try
Samfaina

This is a Sofrito of courgette and aubergine, with garlic, onion, chopped tomatoes, and olive oil. The term Samfaina comes from the ancient greek word sumphōníā, because it's music for your tastebuds!

Rovellón, guíscano or níscalo

These are very typical mushrooms, which are cooked in garlic and parsley. Can be enjoyed alone or as a garnish, above all with meat. Very typical of autumn and a real treat!

Escalivada

A very Catalan starter dish that consists of strips of aubergine, red peppers, and onion. All baked in an oven with olive oil. It's usually prepared with anchovies and can also be an accompaniment to meat or fish.

Escalivada

Catalan salad

A typical Catalan salad is made with tomatoes, lettuce, onion, and olives. You can add other ingredients like strips of peppers and "embutidos" (cured sausages like salami and chorizo). The most popular embutido to add is a Catalan one called Fuet.

Cod fritters

These are cod mixed with a paste created from a base of water or milk, flour, and eggs that are rolled into the characteristic ball shape and fried. Nice. Kids seem to love them, so it's a great way to get them to eat fish.

Snails

Yes. Catalans eat snails too, which has something to do with the proximity and historical links to France.. These are very typical of Catalonia and are usually served in a sauce, simply baked on and served "a la llauna". A llauna (Y-ow-na) is a special type of backing tray, much like a Paella is a special type of pan.

Caragols a la llauna

If you come to visit the capital of Catalonia, ​​we will help you to find the best monthly rentals in barcelona. We offer apartments of different types, renovated and well furnished in all areas of Barcelona!

Coca

It has nothing to do with cola! Rather, it's a pastry dish, usually sweet, but there are also savoury varieties. Savoury ones can work very well as a starter dish. However, most commonly they are mainly desserts eaten on set dates around the year.

Bread with tomato or pa amb tomàquet

It might be simple, but it's so authentically Catalan. Just take a tomato, slice it in half and rub it across your bread before adding some olive oil and salt. Works especially well on toasted bread and you can use them as sandwiches too, adding ham or fuet. Some people like to rub a garlic clove on first, but that's up to you!

Pa amb Tomàquet

Embutidos

Some typical Catalan sausages that you should look our for are butifarra, fuet, espetec, and longaniza... They're some of the most consumed in the region. Expect to see "Tabla de Embutidos" on the menu at some restaurants, which come with a selection accompanied by Pa am Tomaquet.

Esqueixada

A salad that comes with hand-torn cod, onions, black olives, dressing, tomatoes, and hard boiled eggs. More ingredients can be added, creating new kinds of esqueixadas with different names. It's a refreshing, delicious, and perfect for the summer.

Esqueixada de Bacallà
Bonus: Gazpacho Andaluz
Sure you're visiting Catalonia, but a bit of Spanish culture can't hurt either! Andalusian Gazpacho is enjoyed here and as the name suggests it comes from Andalusia! It's a cold soup made from a bsae of tomatoes, onion, peppers, and cucumber.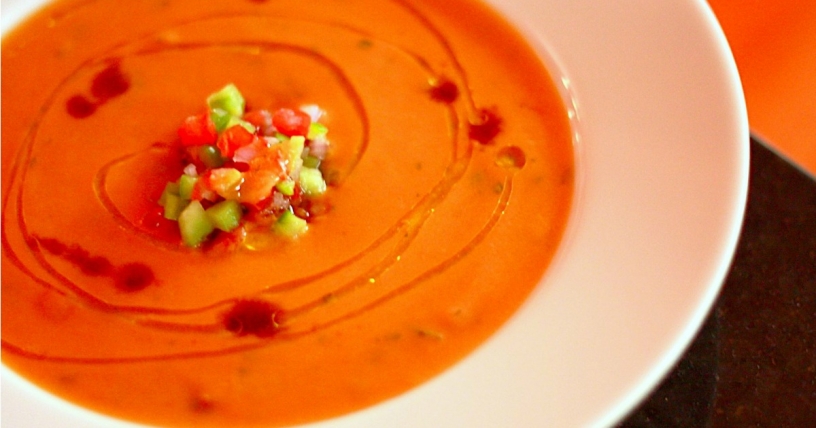 Gazpacho andaluz
It's very easy to make and won't take more than 10 minutes! Healthy and delicious with a very unique flavour. Want to know how to make it for yourself? Just watch this easy to make Gazpacho recipe and see how the people react who have never tried it before!
How to make a delicious gazpacho in just 10 minutes
This is where we part for now. Are you hungry already? If you can't get enough of Catalan gastronomy then you'll surely like this gastronomic tour of Barcelona.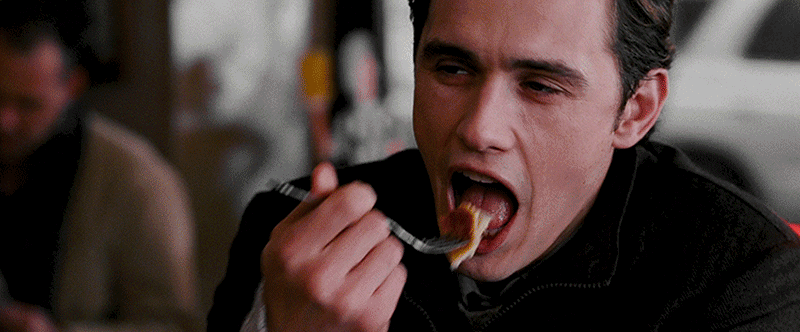 Delicious!
Excursions in Barcelona
To make the most of Barcelona and fill your trip with unforgettable experiences and emotions, we offer you the excursions through the Catalan capital organized by our friends - the GetYourGuide team. Choose your excursion and fall in love with Barcelona: