Raval
(Districts)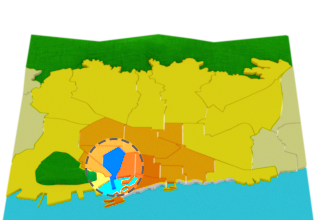 The Raval district is in a constant state of urban and cultural transformation.
The word 'Raval' comes from Arabic and means "neighbourhood". A long time ago it was the area for hospitals and convents. This area borders with many main streets, like Rambla del Raval, Avinguda del Paral·lel, Carrer Pelai, and Ronda Sant Antoni. There was a time when people wouldn't consider Raval as a suitable place to work or live in, let alone visit, but today the neighbourhood has been completely renovated and has thrown a large part of this reputation behind it. It's now a multicultural dynamic part of the city and you can stay here in one of our apartments in the Raval neighbourhoood.
Video presentation of the Raval neighbourhood in Barcelona
Why Stay Here?
Raval is located right by Las Ramblas, so if you're looking for a centric location it's ideal. The neighbourhood is full of life and there's always something to do.
You'll find people from all walks of life here; students, immigrants, middle class families... It's a strong multicultural medley that sounds through these streets, giving it an authentic feel. Another great advantage is that although it has a central location, it's not very expensive at all. You can find apartments here for a very good price. For this reason, it's very popular amongst younger travellers.
Attractions
MACBA
Raval has lots to see. To start, one cannot miss out on visiting two of its museums; MACBA (The Museum of Contemporary Art Barcelona) that exhibits works from the second half of the twentieth century, and the CCCB (Centre of Contemporary Culture Barcelona) that organizes exhibitions, debates, festivals, and concerts.
The Hospital of Santa Creu is worth a visit, as it is a good example of modern architecture in Barcelona. However, one attraction that's truly unmissable is Palau Güell, one of Gaudí's not so visited oriental style masterpieces.
Where to Eat

Maharaja Restaurant
There are a number of different places to eat in Raval. For example along Rambla del Raval there are lots of places to stop for a rest with terraces. One great locale is the Maharaja Restaurant, which specializes in Hindu cuisine. There is a large range of dishes to choose from with very good prices and the menu of the day (a set 3-course meal and a drink each day) is only €8 per person. A fast service and friendly waiting staff.
For the vegetarians, on the Carrer Pintor Fortuny, there is Biocenter. With natural and biological cuisine at a good price. A mid-day buffet is only €6 per person! That is in addition to many other vegan/vegetarian restaurants in Barcelona. Read more in our article about vegan and vegetarian restaurants in Barcelona.
Then there's Nasia, a typical Barcelonian locale. The tapas are delicious and you should definitely try out the 'Patatas al Chorizo', which are totally yummy!
Nightlife

Bar Nevermind
Raval is home to a number of bars to grab some drinks. It's an all-round great place to spend the night at some of the many locales in the zone. You can visit nightclubs to hear live music, but if you're looking for a place with class, then you'll love Rita Rouge, whether it's to dine out or just to relax with a drink.
The Marmalade Cocktail Bar. It's ideal for enjoying all kinds of cocktails as well as a good old-fashioned whiskey.
There is definitely something for everyone. If you like a more rocking environment, then Nevermind is where it's at. The beers are going for just €1 before 8PM, and there's even a skate park inside. Gnarly.
Shopping

Arkhampan Shop
In this neighborhood, there are all kinds of shops, especially informatics and technology. But the place is also great for finding cheap stuff in thrift stores.
If you're looking for fashion, the type of fashion that people will ask you "Where did you get that?!" and you can reply "In a small and trendy shop in the backstreets of Barcelona ;)" then you can find that here in Raval.
There's a ton of bookshops too, as many in Catalan and Spanish as there are in International books. Comic stores are also popular. Examples of both are the Librería Casa del libro Árabe and Arkham Comics.
Are you into Vinyl records and collectible music? Raval is paradise. There are many shops that specialize in this, but be sure to look out for Cd- Drome andEmporium.
Getting Around

L3 - The Green Line
To get to Raval is simple, you have the following Metro stations nearby:
L1 - Red Line at Universitat will take you to Plaça d'Espanya (Espanya) in under 10 minutes, from here you can catch the Aerobus straight to the airport.
L2 - Purple Line at Sant Antoni will take you to the Sagrada Familia in about 10 minutes
L3 - Green Line at Drassanes, Liceu, or Paral·lel will take you to the stop for Park Güell (Lesseps) in under 15 minutes
Raval also makes good use of Bicing, a city bike rental scheme, with stations all over the area.
Attractions in Rambla - Raval
CCCB Cultural Centre

The CCCB is a cultural centre dedicated to the contemporary culture of Barcelona. It ...

MACBA

MACBA is one of the most important contemporary art museums in Barcelona.

La Boqueria Market

An explosion of colours and flavours in one of the most famous markets in Europe!
Do you like this post?
Join over 5000 subscribers and receive our posts delivered straight to your inbox. It's free :)
Share your thoughts
Select the area and discover the benefits of staying there




























Related articles
Tired of reading about Barcelona? Find an apartment and stay there!