Exhibits and Free Museums

MNAC, Nits dels Museus
Once per year in Spring, Barcelona celebrated the Night of the Museums. From 19:00 until 01:00, many of the museums open their doors completely free. But even on other days, many museums in Barcelona open for free on Sundays in the afternoon, and more on the first Sunday of each month. If that's not enough then some places in Barcelona even offer free temporary exhibits from time to time.
Discover Montjüic

Montjuïc, Barcelona
If you like nature and are prone to a bit of a very light hike from time to time, then take a look at this tour through Montjuïc complete with photos. You'll see that this mountain is simply full beauty. You can start from Plaça d'Espanya and on your way to the mountain see sights like the Venetian Towers and the Columns of Montjuic. On your way up you'll see Poble Espanyol, but it's a paid attraction, there is also the Olympic Village where there are free attractions like the Olympic Ring and Stadium. The route is full of gardens and forests, as well as a picnic area, and a stunning viewpoint overlooking the city. If you time your visit to the view point as the sun sets, then by the time you return to the bottom the Magic Fountain of Montjüic will be displaying its show of lights and music.
Parks

Parc de la Ciutadella
The many parks and green areas in Barcelona will let you get in touch with nature without leaving the big city and they're an oasis for relaxing and fun for all ages. No one can come to Barcelona and leave without first visiting Parc Güell, a farfetched world created by Catalan architect Antoni Gaudí. Though be warned it won't be free forever, so visit while you can!
(UPDATE: As of October 2013, Park Güell is no longer free. If you register for Gaudir+BCN membership at Citizen Service Office at Plaça de Sant Miquel, you will be permitted free entry for the year starting seven days later)
Parc de la Ciutadella is another famous park in Barcelona of great interest and beauty, located close to the Arc de Triomf and is home to Barcelona Zoo (paid entry for the zoo). In Plaça d'España you'll find Joan Miró Park featuring a sculpture by the famous artist. If you want total peace and tranquility, then visit the completely romantic Parc Laberint d'Horta, which is free to visit on Wednesdays, it features wildlife like peacocks and swans, and has a labyrinth at the centre of the grounds.
The Markets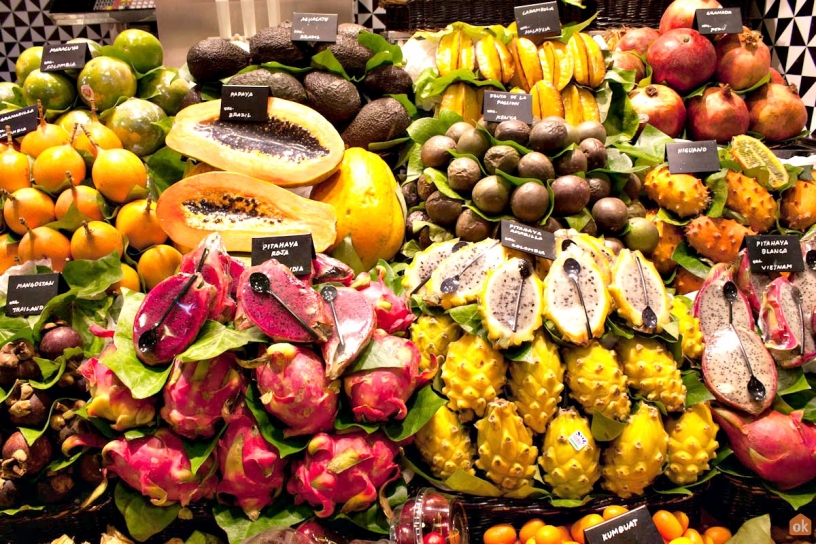 Boqueria
The Boquería Market is one of the most known in Barcelona. In addition as a great place to sample some tasty local delights, some people just come to bathe in the atmosphere and take some good photos as it's a unique and picturesque market, located by Las Ramblas. On the other hand Plaza de Pi is home to the "Fira Artesana" where you will be able to see much more homemade products, like cakes, cheeses, and honeys. Finally, each Sunday, around the Sant Antoni a market with lots of books, games, and various other antique knick-knacks can be found. There are many other local markets in Barcelona too.
Stroll and Discover

Port Vell
The streets of Barcelona are ideal for long walks and discovering hidden corners. It's practically essential for any visitor to walk down Las Ramblas with its jovial and colourful atmosphere. Another idea is Passeig de Gracia, where in addition to the many shops, you'll find famous modernist buildings like Casa Batlló and Casa Milà (La Pedrera). Wander the Olympic Harbour or Port Vell, before taking a dip on Barceloneta Beach!
Outdoor Cultural Activities

Festa Major de Gràcia
Discount Cards
Though it's not strictly 100% free as you have to pay for the card itself, certain discount schemes in Barcelona such as the BarcelonaCard will give you free entry to a number of attractions in the city. For some people they can save a lot money and for others not so much, it depends what attractions you were planning on visiting anyway. The question is then: Are you sure you're saving with the Barcelona card?
Miscellaneous activities
Throughout the entire year, Barcelona hosts many outdoor activities for the public to enjoy, like open air cinemas, concerts, theatre, and festivals. One example is the Festival of Gracia that takes place in August, when the locals transform their streets into themed areas, like Jurassic Park or a Pirate ship, using recycled materials. There's the open air cinema of Montjüic during the summer, and the Grec festival featuring works of theatre. Another big event is the Mercé. For a free fun night out, you can learn to salsa dance for free at various clubs around the city. For more ideas, just take a look at the OK Community Barcelona - Events section, where some listed events are free to visit.