Les Corts
(Districts)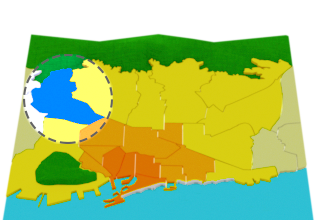 Les Corts — Home to FC Barcelona's Camp Nou stadium
Les Corts is located in the west of the city. It is known for business, research, and of course the famous FC Barcelona's Camp Nou stadium. The Catalan Polytechnic University also gives life to the area, filling it with students. In this article we'll show you the district of Les Corts in a video where we interviewed its inhabitants. Here you can see the reasons why you might like to stay here, its attractions to visit, the best places to eat and go shopping and where to practise sport. If you're a student you'll also be interested in knowing where to find the universities, campuses, libraries and green areas.
Presentation Video
If you come to visit the capital of Catalonia, ​​we will help you to find the best vacation rentals in Barcelona. We offer apartments of different types, renovated and well furnished in all areas of Barcelona!
Why Stay Here?
The district of Les Corts obtains its borders from the most central and oldest part of the town that was there before it, which became part of Barcelona in 1897. During the day there are many people, but in the evening most of the people who are here leave after their work shifts, so the neighbourhood is very peaceful. It's a middle class neighbourhood in the upper and middle part of the city, so has many advantages when it comes to location.
If you're looking for a safe and residential part of the city to stay in, with public transport connections, or if you love football and want to be near the famous Camp Nou stadium, then take a look at our monthly rental apartments in this neighbourhood.
Attractions

Camp Nou
In the district of Les Corts you will find the stadium of FC Barcelona's Camp Nou, which is ideal if you want to attend one of Barça's heated matches, or if you want to get to know the stadium and the museum. It's one of the most famous stadiums in the world and many tourists will come to see it, even just from the outside.
La Plaça de Concordia along with the Church of Maria de Déu del Remei and its 40 metre tall bell is a peaceful retreat. This location also serves a meeting point for local, because it's often host to special events such as concerts, markets, and other community activities.
You can also visit the Monasterio de Pedralbes, an incredible convent, the greatest exponent of the Catalan Gothic style. In addition, if you like the works of Antoni Gaudí, go to Palau Reial of Pedralbes, where you can see one of his initiations: La Fuente d'Hércules.
Information to students

It's always a good idea to study in groups
Les Corts is the student district par excellence. Here you'll find the university area of Barcelona, with practically all of Barcelona universities, including La Politécnica, La Autónoma, Universitat de Barcelona, Ramon Llull and more. So, if you want to lodge near your university, you can check out the student accommodation that we have in the area.
In addition to being within a complete university environment, you can enjoy all the facilities that campuses and colleges have available for practising sports, in addition to the municipal sports centres such as the Pistes Poliesportives Municipal Jardins Infantes, Centre Esportiu Municipal Arístides Maillol and Centre Esportiu Municipal Les Corts.
To study you have the university libraries, apart from the other very good ones like Les Corts – Miquel Llongueras Library and Can Rosés Library. Don't forget that Les Corts has many green areas (more if you go to the north of the district) to relax, study or go running in.
Where to Eat

Negro Rojo Restaurant
Les Corts has a wide variety of restaurants. You can sample Catalan cuisine in the famous restaurant La Tertulia. A cozy, rustic restaurant that offers a very healthy cuisine with Catalan roots. In summer you can enjoy lunch and dinner in the square where its located, which is always a real delight. On Friday and Saturday nights there are performances of live music.
Another restaurant worth visiting is Negro-Rojo, which combines international and Japanese cuisine across two distinct floors noted for their stunning design. In addition, morning breakfasts and dinners can be extended in length by relaxing with a soothing cup of tea. Reservations can only be made at Black.
Nightlife

Club Bikini
If you want to find one of the best places in Barcelona to have a drink and watch a match with your mates, then the Red Lion Pub is the place to go. As the oldest Irish pub in Barcelona, it has a variety of beers and lagers, as well as big screens for watching the footy.
If you're more of a clubber, then head on down to Bikini with its two distinct club floors, one with Latin-American music and the other with commercial/electronic anthems. They also have concerts and shows there. Another famous place is the Kahala, a Hawaiian bar with some exotic cocktails.
Shopping

L'Illa Shopping Centre
Les Corts is a location that's great if you're a shopper. Though if you look hard enough you can find some small boutiques, this zone is paradise if you're into massive shopping centres, because Les Corts has three; L'illa, Pedrables Centre, and El Corte Ingles. In these centres you can find the most recognisable brand names in Spain, like Tous, Armani, Zara, Mango, and more. There are restaurants for all tastes, and shops for all departments, like groceries, clothes, shoes, accessories, perfumes, and home decor.
Excursions in Barcelona
To make the most of Barcelona and fill your trip with unforgettable experiences and emotions, we offer you the excursions through the Catalan capital organized by our friends - the GetYourGuide team. Choose your excursion and fall in love with Barcelona:
Getting Around

L3 - The Green Line
The public transport connections from Les Corts to the rest of the city are very good.
Take the Green Line (L3) of the Metro and you can reach the city centre around 10 minutes.

Apart from the Metro, you can take the tram that runs along the Avinguda Diagonal and reaches the outskirts of the city.
It´s also easy to discover the district on foot, after all, it's the third smallest in the city. Walking you can reach the famous Plaça de España and the Magic Fountain in 25 minutes, the Royal Palace and its gardens in Pedralbes are only 20 minutes away.
Other images
Attractions in Les Corts
Camp Nou

Camp Nou stadium is the biggest of its kind in Europe and home to FC Barcelona.

Pedralbes Monastery

Pedralbes Monastery is a jewel of Gothic architecture in a peaceful setting.
Do you like this post?
Click here!

5/5 - 1 vote
Share your thoughts
Related articles
Tired of reading about Barcelona? Find an apartment and stay there!