Barcelona Public Transport
Let's take a look at the various transport lines across Barcelona as well as the main saver tickets to travel cheaper around the city.
If you come to visit the capital of Catalonia, ​​we will help you to find the best long term rentals in barcelona. We offer apartments of different types, renovated and well furnished in all areas of Barcelona!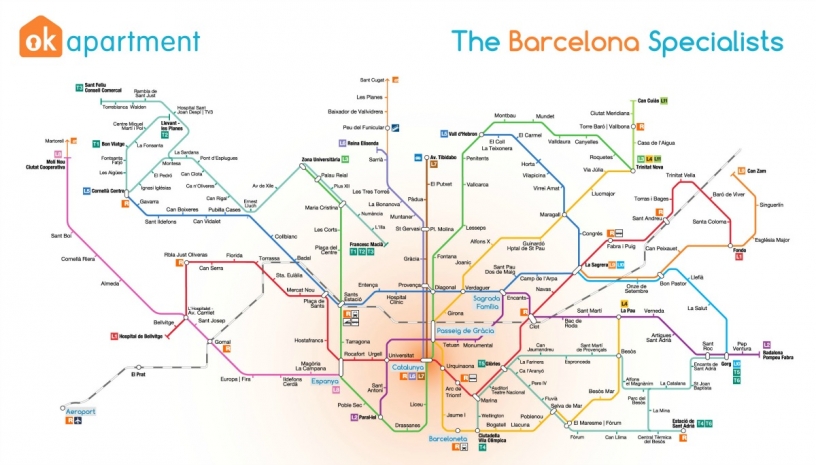 Barcelona Metro Map
Tickets and Prices
If you're coming to Barcelona for a vacation, then you'll have a large selection of tickets to available for you. You can always buy a single ticket to hop on a bus or the metro, but that's not going to be very economic. Each ticket costs €2.15 (Zone 1 only - prices increase in the outer zones) and is only valid for one journey without an interchange. Wherever you're travelling in Barcelona, children under 4 travel free. Anyway, there are better options than a single ticket for exploring the city and its surroundings.
Hola BCN!
Barcelona have designed a travel card specifically for tourists. It's not that impressive because there are very few cases where it will work out to be economic. The "Hola BCN!" cards are ideal in the unlikely scenario that you're travelling solo and you plan on using the metro more than 10 times in 2 days, more than 20 times in 3 days, or more than 30 times in 4-5 days. If that's so then by all means, you'll probably save a few pennies with these cards. If you get one of these cards and you're going to be hopping on and off transport like a yo-yo, this works out well. Note: You can't share these tickets between various people.

Hola BCN! logo
T-10
A much better option - especially if you're travelling as a family - is the T-10 ticket. It's this type of ticket that the locals are using because it usually works out the cheapest for standard travel. One ticket includes 10 journeys and once you clock the ticket, you have 1 hour and 15 minutes of journey time around the city, to interchange between rail, bus, or other modes of transport for free. If 2 people use the ticket, then both people can interchange in this time. The price per journey works out at half that of a single ticket.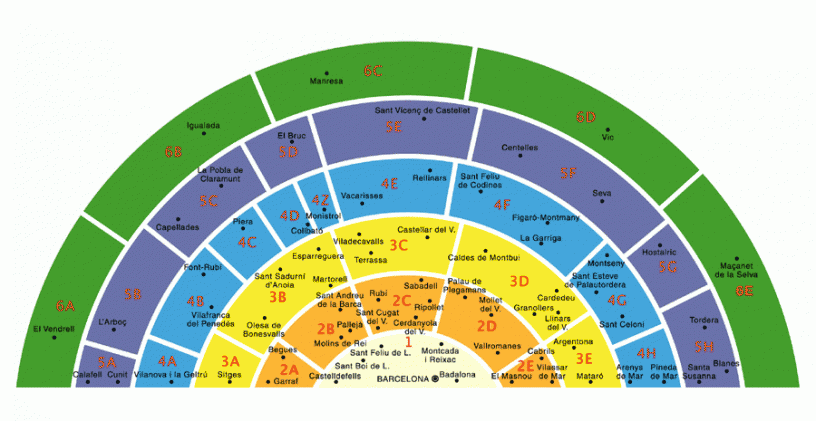 Barcelona trasport zones
Excursions in Barcelona
To make the most of Barcelona and fill your trip with unforgettable experiences and emotions, we offer you the excursions through the Catalan capital organized by our friends - the GetYourGuide team. Choose your excursion and fall in love with Barcelona:
Pets
As of 2014, dogs are now allowed to travel with owners on the Metro system. There are some basic rules to follow (like a muzzle and non-extendible lead outside of peak hours). For more information, take a look at our guide to pets in Barcelona.
Now you're ready to explore Barcelona with complete freedom. If you're moving to Barcelona to work or study, naturally you might be interested in other cards, like the monthly T-Mes travel-card, T-50/30, T-70/30, or the T-Trimestre. You can see all the options on the TMB Website.
Remember: For a comfortable journey you can try to avoid rush hour and take pay attention for any pickpockets. You can check for any lines that are down due to incidents or construction using the Official TMB app or other transport apps listed in this article on useful mobile apps in Barcelona.
You can even go beyond the city of Barcelona, take a look at these day-trips you can make outside of Barcelona with public transport.
List of Barcelona's Metro, train, and tram lines.
Metro
Hospital de Bellvitge / Fondo
Paral·lel / Badalona Pomepu Fabra
Zona Universitària / Trinitat Nova
La Pau / Trinitat Nova
Cornellà Centre / Vall d´Hebron
La Sagrera / Can Zam
La Sagrera / Gorg
Trinitat Nova / Can Cuiàs
Rail (FGC)
Plaza Catalunya / Reina Elisenda
Plaza Catalunya / Av. Tibidabo
Plaza España / Molí Nou Ciutat Cooperativa
Plaza Catalunya / Terrassa
Plaza Catalunya / Sabadell
Plaza Espanya / Can Ros
Plaza Espanya / Olesa de Montserrat
Plaza Catalunya / Sant Cugat - Rubí
Plaza Catalunya / Universitat Autònoma
Tram
Francesc Macià / Bon Viatge
Francesc Macià / Llevant - Les Planes
Francesc Macià / Sant Feliu - Consell Comarcal
Estació de Sant Adrià / Ciutadella Vila Olímpica
Glòries / Gorg
Estació de Sant Adrià / Gorg
If you prefer to avoid the Metro (and even buses, trams and trains), residents can access the local cycling initiative called Bicing - read about accessing this service in our article about Bicing or you can drive around in a car and find free parking in the city .