This left me thinking… Some people are coming to Barcelona and not getting the full experience that you can read about all over the interwebs, so in order to ensure that you gain the full Barcelona travel experience, I've put together the essential guide on How to get pick pocketed when you visit Barcelona.
If you come to visit the capital of Catalonia, ​​we will help you to find the best vacation rentals in barcelona. We offer apartments of different types, renovated and well furnished in all areas of Barcelona!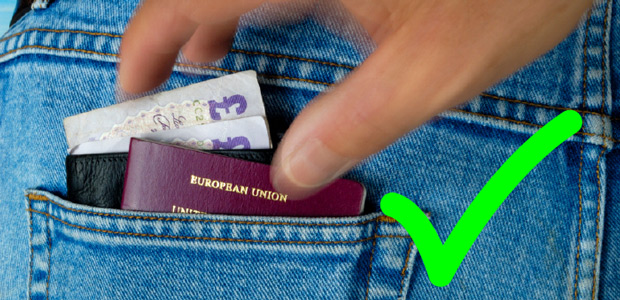 Here we go…
Let to world know you're on vacation
This one is easy. Try to talk as loudly as possible on the the Metro or in a touristic area, and throw in as many keywords as possible, like Parc Güell, Sagrada Familia, beach, Gaudí, tapas… If you're feeling lost on the metro, don't just send one person to find the route using the map, they'll just blend in on their own! Get everyone in the group gather together and argue about how to get there! Most visitors do these sorts of things without realizing it though, so no need to put too much effort into it.

Groups
The bigger your group is the easier you make it to become a target. More people means a crowd to mask robberies and large groups are usually louder, drawing more attention to themselves, like in the first point. Therefore spreading out into smaller groups of friends is a bad idea because you'll get less attention.

Dress appropriately
Definitely try to wear clothes that will make you easier to spot. You can try dressing as many of your group as possible in hats (the larger the brim, the more exponentially your tourist factor increases), FC Barcelona shirts/souvenir clothing, and croc sandals. Short shorts and very low-cut clothing helps make you stand out, but mainly when you're away from the beach. The group effect plays a vital role here too, if you copy and paste each of your group into similar clothing, the target effect increases dramatically. Don't forget to accessorize, flaunting a map and backpack always helps.

Excursions in Barcelona
To make the most of Barcelona and fill your trip with unforgettable experiences and emotions, we offer you the excursions through the Catalan capital organized by our friends - the GetYourGuide team. Choose your excursion and fall in love with Barcelona:
Photos
Taking photos plays a natural part of any vacation, but try to make sure that you keep your camera on show when you're not using it and not in a secure bag. Some camera thefts are sort of "hit and run", so try not to make sure someone is there to keep watch while you snap a photo. Super tip: To make yourself stand out over other targets; don't just take pictures of attractions, take pictures of absolutely everything, like your friend at a vending machine or that time you both walked up some stairs in Barcelona.

Suspect no one and remain constantly unaware
If anyone gets to close to you, anywhere, try not to look too aware of what's going on. Remember that anyone can be a pickpocket no matter how they look, so there's no use trying to get a certain "look" to target you. Letting someone rub that mark off you is a classic way of getting robbed. Large crowds on the Metro and at attractions are good places to stop being aware of thieves, but the best places to get pick-pocketed are where you least expect it, for example at a restaurant a thief may pretend to be a waiter, a beggar in crutches may walk into you, petitioners might act a distraction, or you may even find a scammer dressed up as an authority like a policeman to demand documents, now you can hand them over with a sly wink because you know what's actually going on.

Bags and belongings.
Carry as many bags as possible, the less you can keep track of, the better. Alternatively, you can pack one unwieldy massive bag (or 5). The more valuables you carry the better. Don't take a bag that you can keep in front and in sight at all times, and when you sit down put your belongings on the floor or beside you, not on your lap. Some people avoid the full experience by bringing a decoy wallet full of useless stuff with valuables hidden elsewhere, like in a concealed money belt, but that's cheating.


These are the basics of getting pick-pocketed in Barcelona. Of course, there will be people who don't want to follow this guide or get robbed, and will end up getting robbed anyway, which is very saddening as it's a horrible way to have your holiday ruined. For those people, I recommend trying to do the opposite of what is laid out in the guide, hopefully it too will improve your holiday experience. If you have already been pickpocketed, then we also have a useful guide on what to do if you've been robbed in Barcelona.
Have you been robbed in Barcelona or do you have any pointers to add to the guide? Make sure to share below, we'll be giving away prizes from a draw, like a weekend stay in Barcelona to those who drop a comment!