Eixample Aribau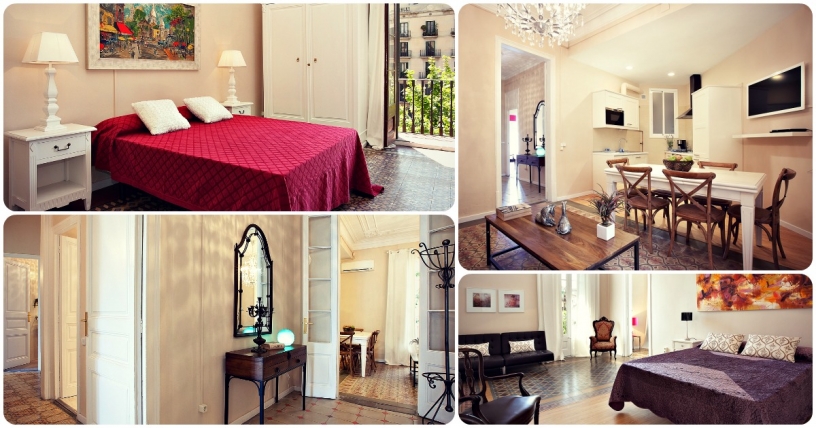 Eixample Aribau - Affordable Luxury
We start with the most affordable luxury of the selection! It might be the smallest apartment at 120 m² (1300 ft²) - which is big by Barcelona's standards - but it's by no means without elegance. This flat is adorned with sensational paintings throughout, and it features beautiful modernist style tiled flooring. There are 4 bedrooms, but the master bedroom is particularly spacious and inviting. All this and just a few steps away from the city centre - Plaça de Catalunya, with climate control, WiFi, and fully-equipped modern kitchen and bathroom. You couldn't ask for more. Oh wait you could; just €31 per person per night at full capacity.
Mas de Roda Loft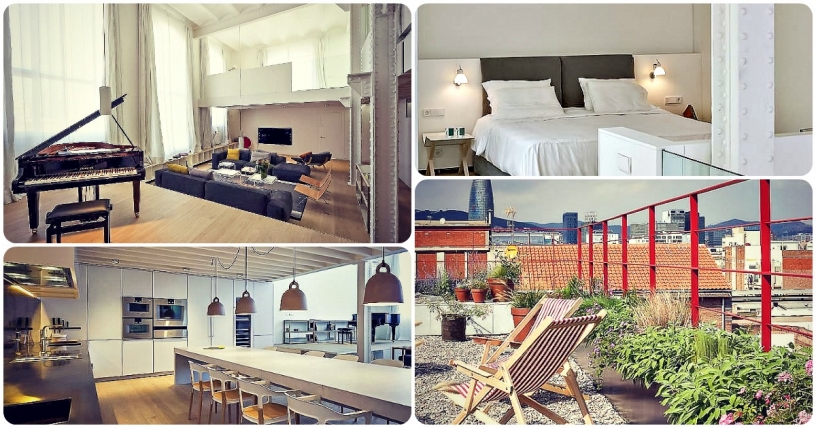 Mas de Rosa - The grand piano is only the start
From smallest to largest with this next accommodation, measuring at a staggering 234m² (2500 ft²). This is also the best value in terms of pure quality luxury to price ratio, so it would definitely be wise to book this one before the proprietor realizes just how good their offer is. This modern and designer duplex has its own terrace with views of both the Mediterranean sea to the right and the iconic Torre Agbar to the left. It has full climate control (heating and air-conditioning), WiFi, and is fully equipped. It also boats a gorgeous ebony Yamaha CX series grand piano (which sell for a minimum of $35,999.00… Just so you know), so clearly no expense has been spared for this breathtaking accommodation. From €71 euro per person per night at full capacity… We won't tell them that they should put the prices higher if you won't, deal?
Catalunya Batlló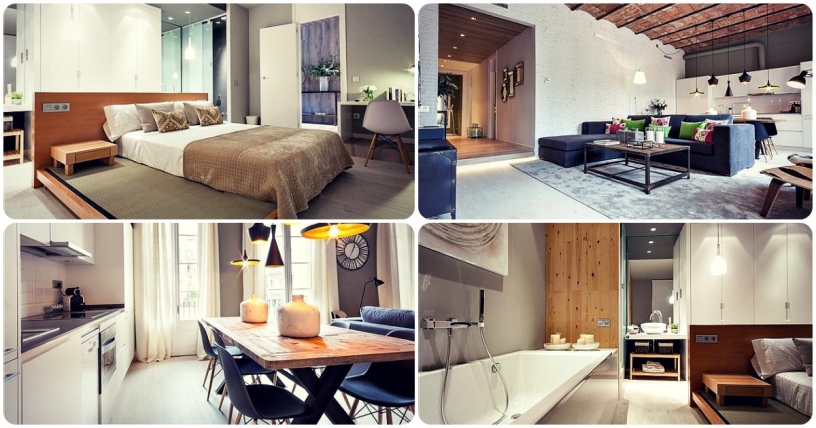 Catalunya Batlló - Exclusive views of Casa Batllo and jaw-dropping master bedroom
This next place is on the same block as Casa Batlló, in fact, if you step out onto the balcony you have views of the back of the famous and epochal Gaudí monument; privileged views that very few people will ever get to see! But let's just forget about that for a second, because words cannot describe how exquisite and drop-dead pulchritudinous (yes, that's a word - it means incredible physical beauty) the master bedroom of this accommodation is, at centre stage is the elevated master bed which is adjoined by an graceful modern bathtub adorned with crisp pine wooden panelling. The designer low-hanging lighting sits in front of the large wardrobe and modern shower.
It is the perfect place for enamored couples to blissfully spend hours on end, you simply won't want to leave. As you can expect, the design throughout the rest of the apartment is equally as stunning. Full climate control, lots of natural light, WiFi access, and exclusive and rare views of Casa Batlló. If you don't stay here, someone else will.
Llúria Gaudí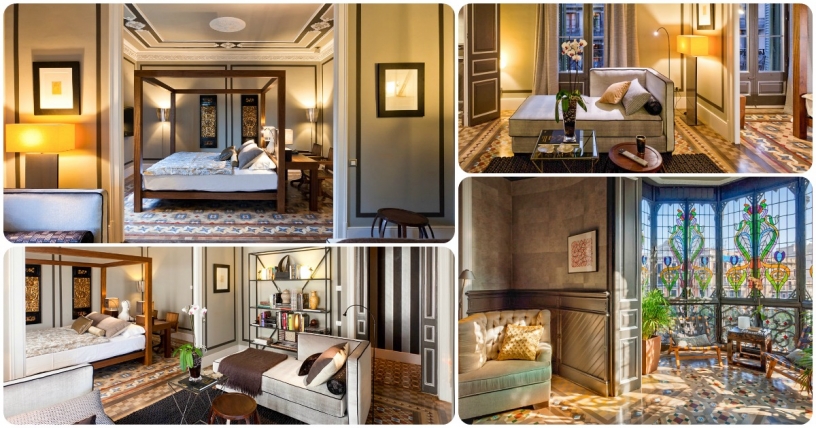 Lluria Gaudí - Stately and Modernist
Unadulterated modernist affluence in these two apartments that form together to make one huge accommodation. That's 2 fully-equipped kitchens, 3 bathrooms, 1 huge master double bedroom suite in addition to 2 double bedrooms. There is a fantastic bay-window with colorful and lavish stained-glass. The faint swarthy décor combined with the soft and warm lighting makes this one of the most stately and cosy places to stay; cosy definitely not being a euphemism for small as this place measures in over 220 m² (2350 ft²). This apartment also makes an appearance in our selection of modernist buildings that you can stay in.
Forum Beach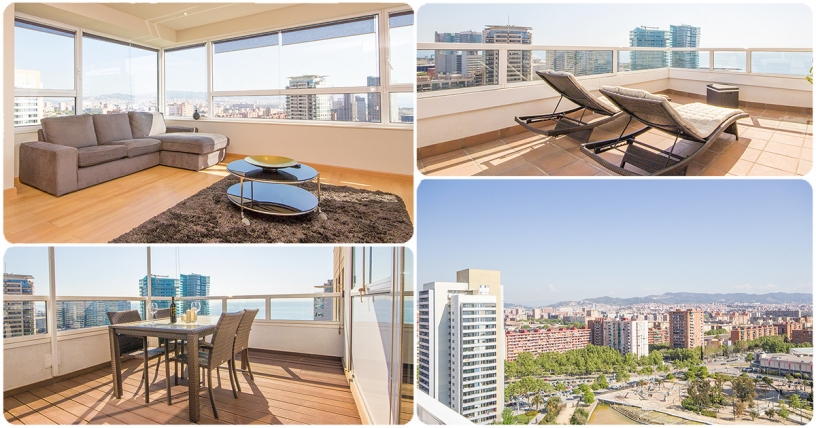 Forum Beach - Luxury for all types of travellers
Enjoy the maritime-essence of Barcelona with this duplex apartment, high up in a sky-scraping building. It's fresh and modern throughout and features a two terraces with both an area to sunbathe and an area to dine. It is suited for the stylish business travellers, especially since its right by district 22@ - the start-up centre of Barcelona. The living dining room is huge and features a large flat-screen TV. The apartment has full climate control, fully equipped bathroom and kitchen, and WiFi included. It's a robust accommodation that's perfect for practically all types of discerned travellers, and the best part is that it's only a short walk from the beach.
Bonus accommodation: Alella Towers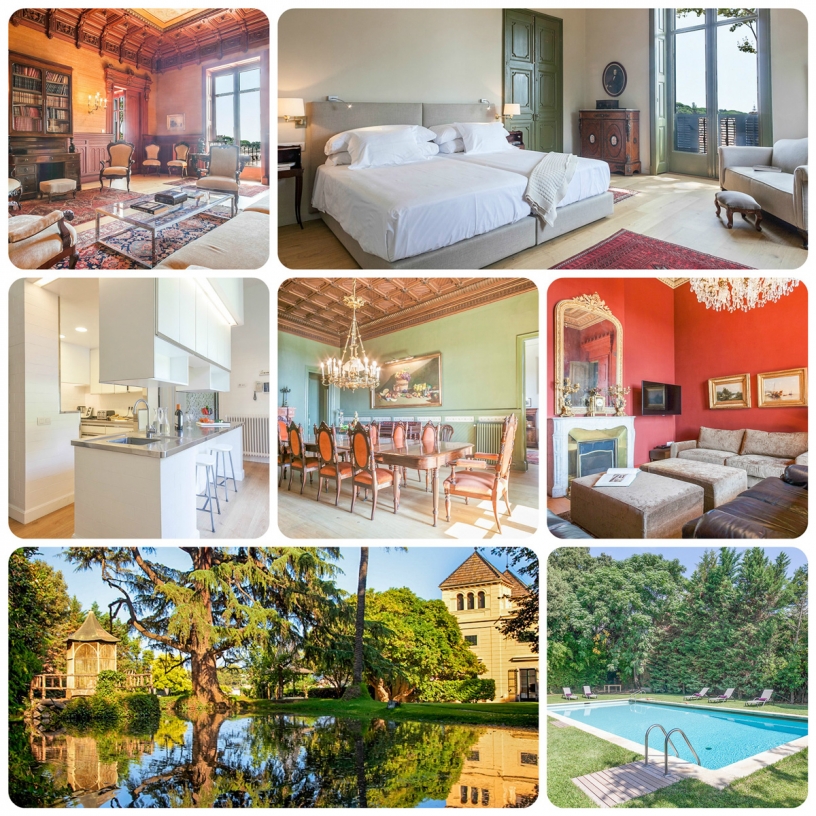 Alella Towers - For the absolute elite
If none of those accommodations impress you, then you're most likely some sort of millionaire (welcome :)) who expects only the most elite of the elite. The 5-star-5-star experiences. Hello Alella Towers. This incredible luxury estate has over 500 m² (5350 ft²) to discover, and that's not including the exterior land. This mansion flaunts 3 living rooms, a huge dining room with long table to seat up to 11 guests, a more intimate dining room for 4 guests, a renovated contemporary kitchen, a chapel, a terrace with stunning views of the Mediterranean sea and the surrounding landscape, private garden estate, a bandstand with barbecue by a private pool, its very own pond with a charming bridge, and of course - as you would expect - a coved cave.
However, this estate is very exclusive, so when you make a booking you will need to make a request with us for your stay through the accommodation's listing page. Don't forget to let us know if you need any extra requirements, like a chef, personal shopper, maid, or chauffeur. We will make it happen.
In conclusion, if you want to see our entire list of luxury apartments in Barcelona, you only have to click here, introduce your dates and choose the apartment that suits your tastes. ;)