The Gothic Quarter
(Districts)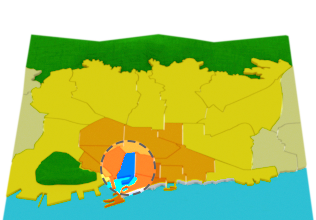 Discover The Gothic Quarter
The Gothic Quarter is the heart of Barcelona and contains the most important monumental and historic buildings in the city. Though it's not all principally gothic (unless you count neo-gothic), there are remains that pertain to eras as far back as the romans, when Barcelona was known as Barcino. It's characterized by narrow pedestrianized streets and plazas. It has an undeniable charm, making it one of the most visited areas by tourists. You can rent one of our apartments in the Gothic Quarter and let yourself be charmed by this gorgeous neighbourhood.
Video presentation of the Gothic Quarter
Why Stay Here?
The neighborhood is located to the right of Las Ramblas, which runs through the old town and down to the sea. It is a maze of narrow streets that take you on a journey through history. Always be on the look out here for something new because there are surprises around every corner!
If you're looking for a young and international atmosphere and you want to be located in the heart of the city, the Gothic Quarter is for you. The nightlife and the crowded streets make it slightly less family friendly than other neighbourhoods, but you'll be right in the city centre and just a few minutes away from... well... practically anything worth seeing!
Attractions

Bisbe Bridge
El Portal de l'Angel is a popular shopping and pedestrian street that leads to the spacious Cathedral Square , dominated by the remains of the Roman walls that protected the city at one point. If you're interested in roman history, then you can see plenty of remains in Barcelona, simply follow this Roman tour route through the old city.
One of the best attractions, located right in the heart of the neighborhood is the magnificent Cathedral, which has a beautiful courtyard full of greenery and 13 geese that live there. From the top of the neo-Gothic facade you can see many of the spooky gargoyles.
Behind the Cathedral you will find Plaça del Rei with its impressive Gothic buildings that show what an important cultural and economic role Barcelona played in the Middle Ages.
On Plaça Sant Jaume there is the City Hall and the Parliament of the Catalan Government. It's also the home of The Museum of History where you can see some roman ruins preserved in its basement.
Not far from there is Plaça Reial (Royal Plaza), a large square that's lined with palm trees, giving a strong Cuban feel. There are many bars and restaurants with terraces here, making it a relaxing place to stop and rest. It's also where you'll find one of Gaudí's first public projects; some lamp-posts he made for the city council just before graduating.
Where to Eat

Can Culleretes Restaurant
You're absolutely spoilt for choice thanks to the large quantity of bars and restaurants in the city centre, especially close to Plaça Reial that's always buzzing day and night. Carrer Ferran is right next to this plaza and is a great place to stop by to grab a bite. There are also a ton of vegan and vegetarian restaurants in and around this area, one that we recommend is Vegetalia.
Can Culleretes Restaurant is a highly recommendable place. It's the oldest of its kind in Barcelona, going strong since 1786. Anyone looking for Catalan cuisine will want to stop by here, but not without reserving beforehand. One of "the usuals" are the canelones, which are delicious rolls of pasta filled with mince meat.
If you're looking for something more along the lines of tapas then Bilbao Berria is more up your alley. Here, they serve the Basque version of tapas called Pinxos. It's all tasty though, so get in there.
Nightlife

Jamboree
Nightlife in the Gothic Quarter is lively and there's always somewhere to have a drink or dance. Warm up at Ryan's Irish Pub Paradise, with a good drink at good prices... Now that the engine has started up, you can get going.
One popular option is the Sidecar Factory Club, a place where some of the best live concerts can be found followed by fantastic after-parties. It's one of the oldest clubs in Barcelona with good vibes on every corner.
Another legendary option in the Gothic Quarter is Jamboree. Just like Sidecar, it has music, live performances, and after-parties with a dance-floor that's full of non-stop action.
Shopping

Tienda en barrio Gotic
Commercial activity is also bustling in the Gothic Quarter, with Portal de L'Angel being one of the most popular high streets of the city, with well known stores like Zara and El Corte Inglés, to all the little boutiques along Carrer Avinyó.
Getting Around

L3 - The Green Line
There are Metro stations accessible on both sides of the Gothic Quarter
L3 - Green Line at Liceu and Drassanes will take you to the station for Park Güell in around 10 minutes
L4 - Yellow Line at Jaume I and Urquinaona will take you to the beach in about 10 minutes, if you're in the north part of the district. You can easily walk there from the south part.
To the north, the Gothic Quarter extends to Plaça de Catalunya, the official city centre, and the most well-connected point of the entire city in regards to the transport with metro and train station, bus stops, taxis, and Aerobus.
Other images
Attractions in Rambla - Gòtic
Barcelona Cathedral

Barcelona Cathedral is neo-gothic building blended with traditional gothic styles.

Port Vell

PORT VELL means "old port", though today it has been fully refurbished and modernized...

Las Ramblas

Las Ramblas is a famous avenue that's an essential part of any Barcelona itinerary.
Do you like this post?
Join over 5000 subscribers and receive our posts delivered straight to your inbox. It's free :)
Share your thoughts
Select the area and discover the benefits of staying there




























Related articles
Tired of reading about Barcelona? Find an apartment and stay there!