Port Olímpic
(Harbour)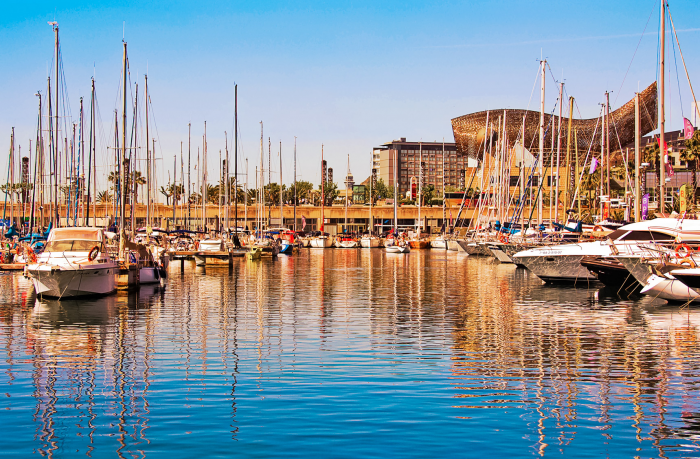 The Port Olímpic ("Olympic Port" in English) went through a major urban transformation triggered by the 1992 Olympic games that took place in the area, with the construction of the port itself and the regeneration of the entire surrounding coast.
If you come to visit the capital of Catalonia, ​​we will help you to find the best apartments for long term in Barcelona. We offer apartments of different types, renovated and well furnished in all areas of Barcelona!
The coastal renovation served for the sailing competitions and the housing and buildings in the area were used to house atheletes and sportsmen. Today the legacy of the games is reflected in this modern residential district on the waterfront, with pristine beaches for swimming and public use. The Marina has become the centre of a large area for entertainment and dining, a place where you can practice water-sports or simple go for a stroll along the beach. At the foot of one of the two towers that govern access to Port Olímpic, is the Casino de Barcelona.
Excursions in Barcelona
To make the most of Barcelona and fill your trip with unforgettable experiences and emotions, we offer you the excursions through the Catalan capital organized by our friends - the GetYourGuide team. Choose your excursion and fall in love with Barcelona:
How to get there
Metro: L4 - Ciutadella Vil·la Olímpica
Bus: 14 from Pl. Catalunya
Other attractions in Vila Olímpica
Nova Icària

Nova Icària Beach is easily the most family friendly beach in Barcelona.
Read more about Vila Olímpica ➯
Do you like this post?
Click here!

5/5 - 1 vote
Share your thoughts
Apartments in Barcelona
Related articles
Tired of reading about Barcelona? Find an apartment and stay there!