Plaça Sant Jaume
(Square)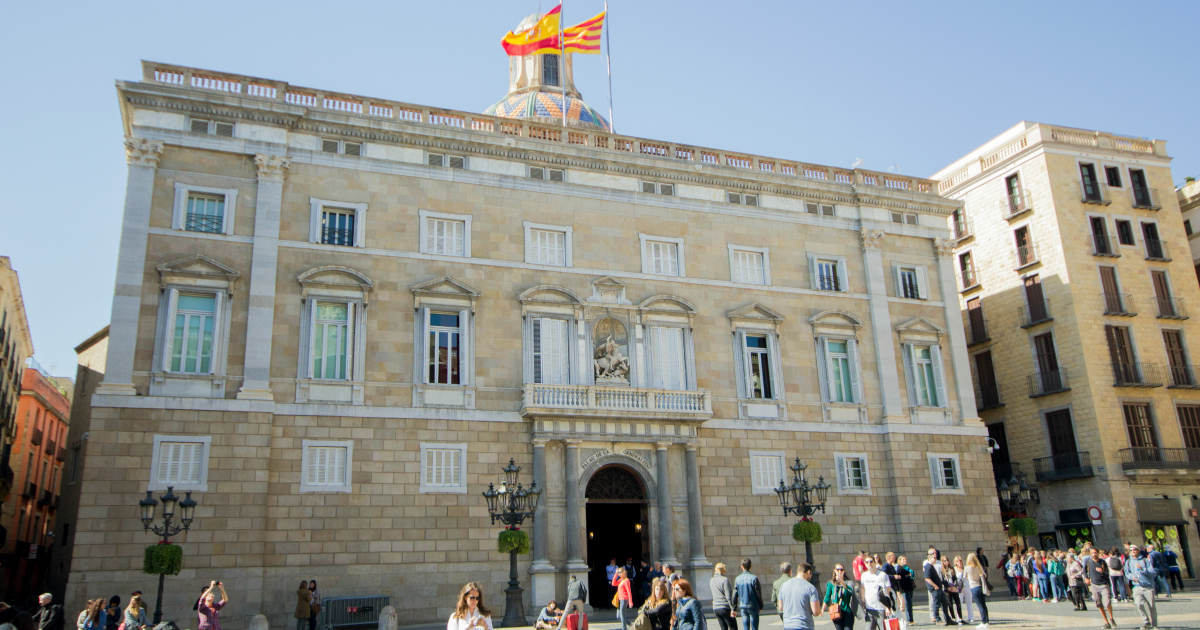 Description
On this huge square in the centre of the gothic quarter, you can find the two most important political buildings in Catalonia: The Ayuntamiento de Barcelona (Barcelona City Hall) on the south side and Generalidad de Cataluña (Parliament of Catalonia) on the north side, which is about 500 years old.
Plaça Sant Jaume is not only of political and historic importance, but also the location of cultural and public events such as concerts, expositions and celebrations of victorious football matches. Protected by policemen and soldiers, this place is often frequented by tourists, demonstrators and sometimes even Castellers.
Before and after
Plaça Sant Jaume before and after
In this picture you can see the Generalitat de Catalunya building in 1915. A major restoration on this building took place almost a century before this picture was taken — during 1823 — so we don't see much change apart from the new street lamps in front and some minor modifications on the windows. Also on the roof is a lot less cluttered.
History
When Barcelona was a Roman colony named Barcino almost 2000 years ago, this place was used as a forum to hold speeches and public debate. This square is named after the famous church Sant Jaume that was situated next to it until 1349 when it was moved to the street 'Carrer Ferran'. In 1823, it was reconstructed and renamed as Plaça de la Constitucio. In 1931, the Republic was announced on this place and in 1977 the former president Tarradellas announced his return from exile with the words "Ciutadans de Catalunya, ja sóc aquí" ("Citizens of Catalonia, here I am") as a message for regained Catalan autonomy rights.
Plaça de Sant Jaume Ayuntamiento Barcelona
Useful information
How to get there: Metro L3 (to Liceu), L4 (to Jaume I) Bus: 14, 45, 59, 91, 120, V15 and V17.
Price: Free of charge.
Opening hours: The square is open daily. Usually you can enter the two buildings on Sundays.
Other attractions in Rambla - Gòtic
Barcelona Cathedral

Barcelona Cathedral is neo-gothic building blended with traditional gothic styles.

Port Vell

PORT VELL means "old port", though today it has been fully refurbished and modernized...

Las Ramblas

Las Ramblas is a famous avenue that's an essential part of any Barcelona itinerary.
Read more about Rambla - Gòtic ➯
Do you like this post?
Click here!

0/5 - 0 vote
Share your thoughts
Apartments in Barcelona
Related articles
Tired of reading about Barcelona? Find an apartment and stay there!