Plaça del Rei
(Square)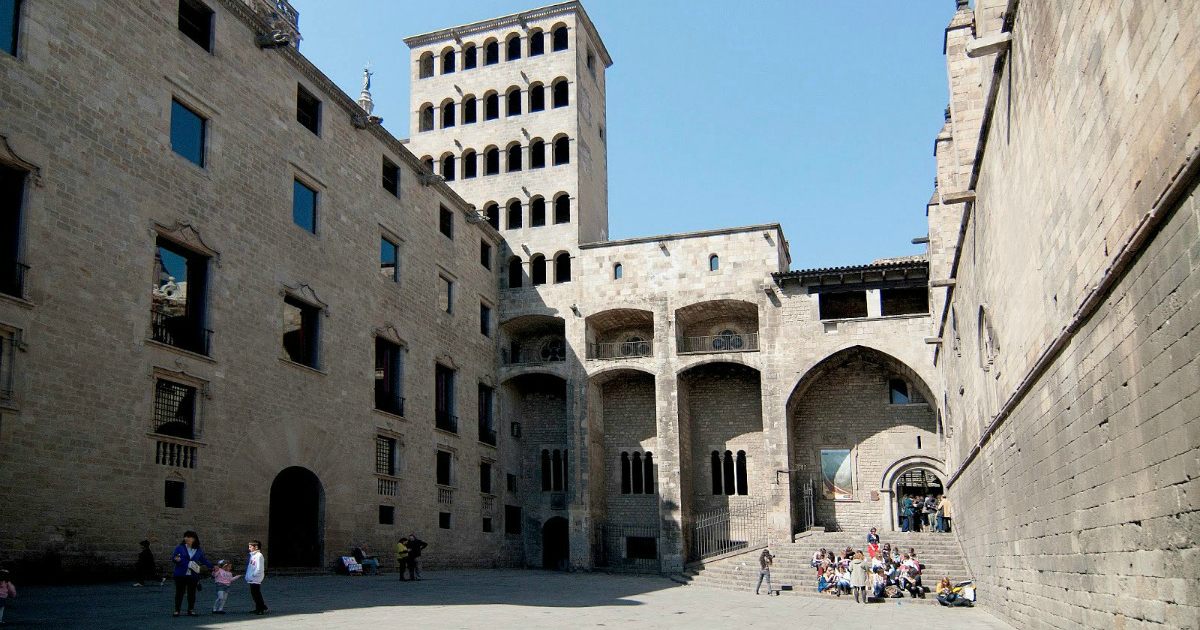 Description
If you come to visit the capital of Catalonia, ​​we will help you to find the best vacation rentals in Barcelona. We offer apartments of different types, renovated and well furnished in all areas of Barcelona!
Plaça del Rei is a rectangular medieval square situated in The Gothic Quarter at the heart of the Ciutat Vella district. Surrounding it, you can see historic buildings like Salón del Tinell (behind the stairs), Mirador del Rei Martí (tower in the back), Capilla de Santa Ágata (on the left side), Palacio del Lloctinent (on the right side) and Casa Padellas. The Gothic buildings reflect Barcelona's medieval past and are partially used for exhibitions that can be visited as a part of the Barcelona City History Museum (MHCB).
Before and after
The column you can see in the picture of 1916 is a remnant of the former Roman colony Barcino. This column was removed and eventually transferred to back to its original site at the Centre Excursionista de Catalunya. Also, some additions were made to the facade and parts of the walls were removed to restore buildings. Instead of the markets and tournaments that were held here back in the day, today you'll be able to sit on the terrace of a bar and enjoy the laid-back atmosphere. You could also attend a local event if there's one on.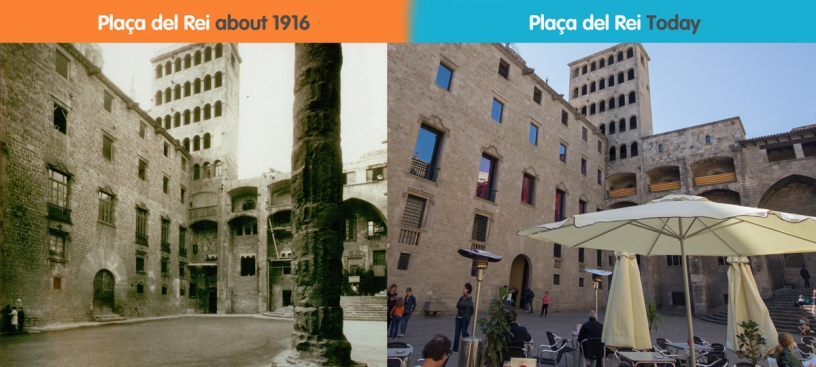 Before and after Placa del Rei
History
This noble square was once Barcelona's courtyard of the counts' royal palace and the Crown of Aragon. The rectangular shape occurred due to urban developments in the 14th century. At the time, King Martin I the Humane was king of the Crown of Aragon, Valencia, Sardinia, Corsica and Count of Barcelona. Tournaments took place in this square, but before that markets created a huge mess around this place. This was ultimately stopped and moved to another place by the king, allegedly due to the noise that kept him from having a restful sleep. It is said that Columbus was received here from time to time when he would lobby Isabella I and her husband, Ferdinand II of Aragon before discovering the Americas.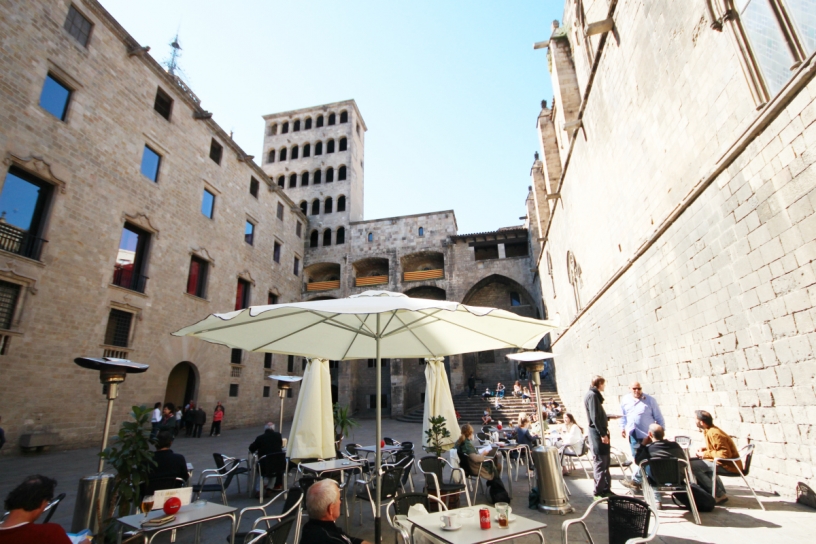 Plaça del Rei Terrace Bar
Excursions in Barcelona
To make the most of Barcelona and fill your trip with unforgettable experiences and emotions, we offer you the excursions through the Catalan capital organized by our friends - the GetYourGuide team. Choose your excursion and fall in love with Barcelona:
Useful information
Where: Plaça del Rei, 7, 08002 Barcelona.
How to get there: Metro L4 (Jaume I) | Bus 45, 120, V15 and V17.
Price: Free of charge.
Other attractions in Rambla - Gòtic
Barcelona Cathedral

Barcelona Cathedral is neo-gothic building blended with traditional gothic styles.

Port Vell

PORT VELL means "old port", though today it has been fully refurbished and modernized...

Las Ramblas

Las Ramblas is a famous avenue that's an essential part of any Barcelona itinerary.
Read more about Rambla - Gòtic ➯
Do you like this post?
Click here!

0/5 - 0 vote
Share your thoughts
Apartments in Barcelona
Related articles
Tired of reading about Barcelona? Find an apartment and stay there!