Poblenou
(Districts)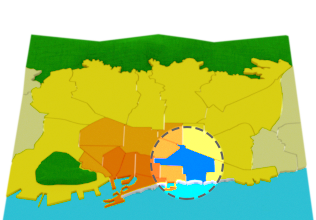 Poblenou — It has a well known cemetery and its own beach
Poblenou (New Town in English) is a neighbourhood that's located in the district of Sant Martí. At the end of the 19th century it was the centre of the Industrial Revolution for Barcelona and many referred to it as 'The Catalan Manchester'. It's no longer a factory area, instead it's a hotbed of creative ideas from businesses, thanks to the renovation the area due to the Olympic Games and its inclusion in Barcelona's 'District 22@' project.
We took to the streets of Poblenou to ask the local residents what they think of their neighbourhood. You'll find their answers in the video below. We also tell you about the reasons you'd want to stay here, local attractions, great places to shop and where to eat. If you're a student then you'll be interested to know where to find the local libraries, parks and places to play sports.
Video presentation
If you come to visit the capital of Catalonia, ​​we will help you to find the best apartments for long term in Barcelona. We offer apartments of different types, renovated and well furnished in all areas of Barcelona!
In this video we show you the different neighbourhoods of Sant Marti: Vila Olimpica, Poblenou, Sant Martì and Diagonal Mar.
Why Stay Here?
Poblenou's factories of old have been converted into lofts and galleries where artists and designers live and work, giving an air of creativity and productivity to the zone. If you are considering staying here, take a look at our selection of apartments close to the beach.
Not only is this zone part of Barcelona's coastline, it's located a few minutes (or five metro stops on the yellow line) from the centre of Barcelona. Staying in Poblenou is a great option, because you can enjoy all the benefits of a quiet neighbourhood when you need a break, visit the beach, and still benefit from being close to the city centre.
Attractions

Poblenou Cemetery
Although initially called Passeig de Triomf, everyone knows the main street of the neighbourhood as Rambla del Poblenou, so that's what stuck. It's a classic Catalan rambla and it takes you from 'Parc del Clot' right down to Bogatell beach. Ideal for a pleasant stroll.
Torre Agbar with its 38 floors, is located just beside Plaça de les Glories and marks the entrance to the 22@ project (an initiative from the City Council to turn an industrial district into a Modern Tech Hub) alongside the Design Hub building, which is the home of the Design Museum.
You can also visit the neoclassic cemetery of Poblenou, where you can find the particularly poignant sculpture; 'The Kiss of Death'.
There are two wonderful beaches that line the shores of Poblenou, they are Bogatell (popular amongst the older crowd) and Mar Bella (popular amongst the younger crowd). They are top quality beaches and many of the locals appreciate them more so than the famous and touristic Barceloneta.
The zone has two of its own parks; the original 'Poblenou Park' beside the coast and 'Poblenou Central Park'.
Excursions in Barcelona
To make the most of Barcelona and fill your trip with unforgettable experiences and emotions, we offer you the excursions through the Catalan capital organized by our friends - the GetYourGuide team. Choose your excursion and fall in love with Barcelona:
Information for students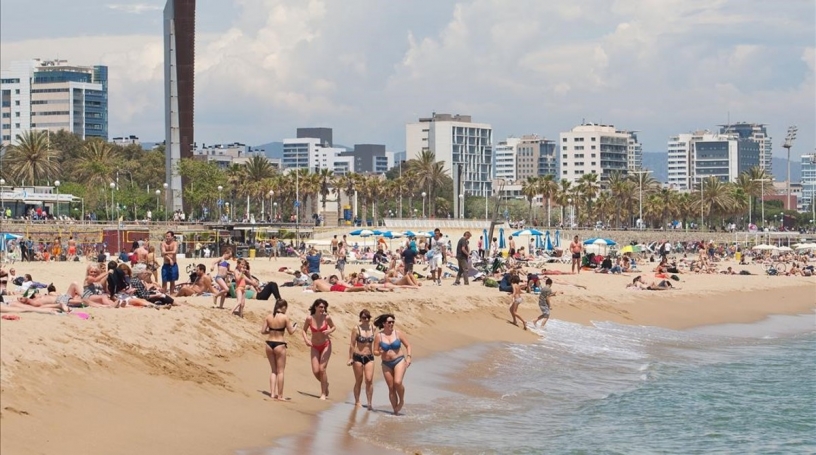 How about studying on the beach?
Poblenou is continuously garnering more attention from people looking to move to Barcelona; its renovation has attracted many new businesses and residents. Apart from being near the beach, it has various parks and green areas to enjoy, like Parc del Centre del Poblenou and Jardins de Gandhi.
If you're taking the Metro then it's only 10 minutes from the centre. So, if you're looking for a young neighbourhood that's close to good nightlife spots, we have cheap student accommodation in this zone.
It's home to the Escola Superior de Disseny (Superior Design School) from Universitat Ramon Llull and its library. There are public libraries too, like Poblenou-Manuel Arranz Library. You could also attend a language school to improve your Spanish or Catalan at The Urban School or Taller d'Idiomes i Informàtica.
For sport, you have all sorts of activities available, especially beach and water activities like volleyball and sailing. If you prefer to stay on terra firma, then you can always go to the Municipal Bogatell Sport Complex that's home to all sorts of sports — individual and team.
Where to Eat

Els Pescadors
The restaurants of the area offer succulent fish and seafood dishes, in fact, it's home to one of the best in the city; Els Pescadors. There is also the rather lengthily named 'Cervecita Nuestra de Cada Día', that's a local close to the Rambla and where you can find some refreshing craft beers made locally in Catalonia.
Can Recasens is a typical cellar of the neighbourhood that's perfect for a glass of wine complemented with a palette of rich cheeses and freshly cut meats. It's one of the most enjoyable and affordable places in the city.
Now, if you want something especially unique, take a look at Bharma on Carrer Pere IV. This bar is inspired but the TV series Lost, from the decoration to the beer. It's a tradition to screen series marathons here and episodes at night. The environment is unbeatable, and sandwiches and fries are their speciality.
For a quick bite to eat at any time of the day, take a stroll down Rambla de Poblenou, which is full of terraces
Nightlife

Razzmatazz
In the heard of Poblenou you can find the most famous nightclub in the city; Razzmatazz. It. Is. Massive. There are five different zones that can fit around 4,000–5,000 visitors. It's certainly one of the most wild clubs in the city and a great place to catch a live concert.
Just around the corner from Razzmatazz is Loft, which specializes in Techno and Electronic music. If you prefer live music though, there's always BeGood close to the Metro station Marina. La Ovella Negra is the perfect spot to go with your friends before a big night out... Order the infamous Five Litre Sangria to get things started!
Shopping

Mercado Encants
Les Glòries is a large outdoor shopping center where you can find over 150 stores, seven movie theaters, and numerous cafes and restaurants.
The Mercat dels Encants is one of the oldest in Europe, noted for its large selection of thrift goods.
Located by the Rambla is a supermarket called Mercadona, where you can buy all the food for your meals, including a wide selection of goods if you're sensitive to gluten or lactose.
Getting Around
L4 - The Yellow Line
Poblenou Metro station, with the Yellow Line (L4), will take you through the city centre in just 15 minutes.

There are two tram stations; Pere IV and Fluvía, which will take you up Diagonal Avenue.
There are also seven Bicing stations (the city shared bike scheme) and many bus routes passing through. For more information on accessing the Bicing scheme, read our article.
Look How the Area has Transformed!
Attractions in Poblenou
Bogatell beach

Bogatell became a high quality beach with the remodeling of Barcelona's seafront.

Torre Agbar

Torre Agbar is a characteristic part of the Barcelona skyline.
Do you like this post?
Click here!

4.4/5 - 5 votes
Share your thoughts
Related articles
Tired of reading about Barcelona? Find an apartment and stay there!