Poble Sec
(Districts)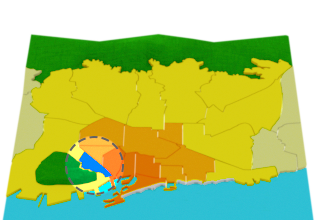 Poble Sec — A central neighbourhood with transport links to Montjuïc
The Poble Sec neighbourhood is part of the Sants-Montjuïc district, situated at the foot of Montjuïc. It's a very attractive area that combines the peacefulness of Montjuïc's large green spaces with the proximity of Barcelona's lively centre in less than 15 minutes between the two. Plus, you always have the option to enjoy the refreshing Mediterranean air along the Maritime Pass and Barceloneta beach.
In this article we show you a video in which you'll discover the district of Poble Sec at the hand of its neighbours. We also tell you the reasons why to stay here, its attractions, the best places to eat and where to go shopping. If you are student you will also be interested in learning about the libraries, green areas and places to practice sports.
Video presentation
Why Stay Here?
Poble Sec is only a 10 - 20 minute's walk from Las Ramblas. It's an ideal location if you're looking for somewhere that's close to the city centre, but not as noisy. You'll also be avoiding the stampede of tourists because this part of Barcelona is still unknown amongst outsiders. You can always check our selection of monthly rental apartments.
It has great public transport links and plenty of things to see and do nearby. The nearby Montjuïc has many attractions like the Joan Miró Foundation, National Museum of Art Catalonia and many more. There's also, the Raval area nearby which is known for its multi-culture and nightlife.
Attractions

Castle of Montjuïc
As mentioned, there is the wonderful Montjuïc hill right beside Poble Sec, so it's easy to access from here. Discover the Magic Fountain, Poble Espanyol, CaixaForum, MNAC, Greek Theatre, Joan Miró Foundation, the Olympic zone and the Castle of Montjuïc... And that's just the attractions on Montjuïc!
If you like to swim then there are the large Olympic swimming pools that are open for use.
There are also lots of theatres around Poble Sec. Many locals will tell you about El Molino, which was Barcelona's equivalent of the Moulin Rouge in Paris. The Greek Theatre isn't just a beautiful place to look at either, every year there are open-air performances there. For shows and performances in Barcelona, Poble Sec is the place to go.
Information for students

Student in a park
Poble Sec has an ideal location for students as it's not located in the most central and expensive area of ​​Barcelona but between Ciutat Vella and Eixample. The neighbourhood is suitable for those who enjoy a lively nightlife. It's also right by the Sants-Montjuïc district, which is a great area to meet up with friends or study at one of the public libraries.
Take a look at our selection of student flats in the area. Poble Sec has many places for playing sports, as well as libraries and green spaces to study.
Three language schools : Institut Obert de Catalunya, Chino Vidal Language School and Centre d'Estudis Aites
A music school: La Sala
A municipal library : Francesc Boix Library
Parc de Montjuïc: Climbing the hills of Poble Sec, you'll find green spaces where you can browse your notes or play sports at one of the outdoor facilities.
Two municipal courts: Les Xemeneies multi-sports area and Satalia Municipal Football Pitch.
Where to Eat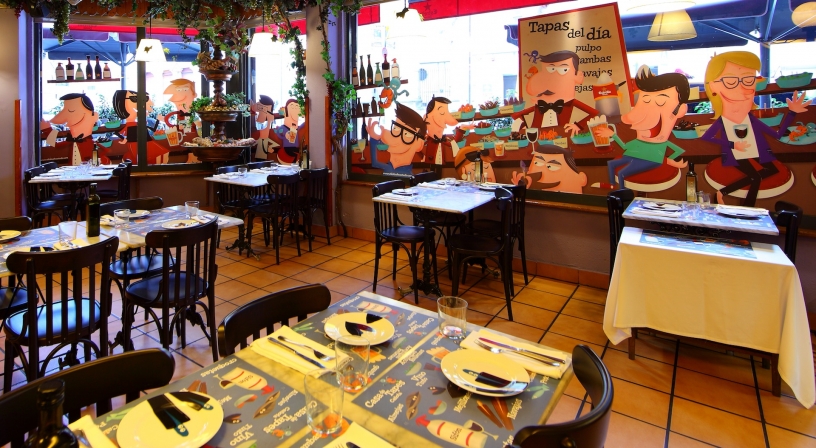 La Cañota
As small as it is, Poble Sec is full of shops, supermarkets, restaurants, bars and cafés with terraces. You might be overwhelmed with the amount of options you have when it comes to grabbing a bite to eat. The Plaça del Sortidor and the pedestrianized Carrer de Blai are two of the most popular zones amongst locals to go to eat Pinxtos with a beer for about €2 on the terraces.
If you fancy a paella, then why not try El Elche on 'Carrer Vila i Vila, 71' (Metro stop Paral.lel). For Mediterranean cuisine visit Las Rías de Galicia that features a menu with fresh fish dishes on 'Carrer Lleida, 7' (Metro stop Poble Sec or Espanya). If what you want is some tapas though, make a stop at Cañota whose menu was created by the brother of famous chef Ferran Adriá; delicious tapas with a creative design.
For the more prudent with money among us, La Bella Napoli is one of the best options, but just as good is Quimet i Quimet, with its cosy and rustic atmosphere. The tapas and wine are sublime.
Nightlife

Cabaret Molino
Poble Sec is home to one of the most famous nightclubs in the city; the Apolo club (which also hosts concerts from time to time). It is home to Nasty Mondays where the dance-floor becomes packed with both locals and tourists alike.
Life is a cabaret, old chum, and so is El Molino. To catch some live music, there is the Barts venue, with music ranging from jazz to electronic, you'll find something on to please you.
Getting Around

L3 - The Green Line
To get to and from Poble sec, there are two Metro lines:
L3 - Green Line at Poble Sec or Paral·lel will take you to Plaça de Catalunya in 5 minutes or the stop for Park Güell in under 15 minutes.
L2 - Purple Line at Paral·lel will take you to the Sagrada Familia in under 15 minutes.
At Paral·lel Metro station, you can also get the Funicular train that will take you halfway up Montjuïc. You can also catch the bus directly to the airport, the Aerobus, which stops nearby in Plaça d'Espanya.
Attractions in Poble Sec
Joan Miró foundation

The Joan Miró Foundation opened to the public in 1975 and is the home to the artist'...
Do you like this post?
Click here!

3/5 - 3 votes
Share your thoughts
Related articles
Tired of reading about Barcelona? Find an apartment and stay there!