Which one will you choose?
1. Catedral 2-1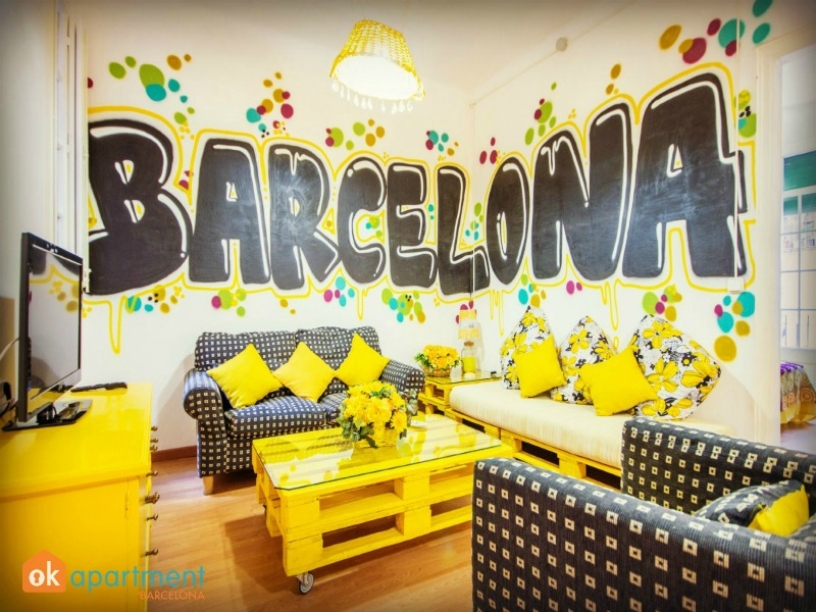 Catedral 2-1
This is one of our favourites and without a doubt is much loved by our clients. Modern decór, urban, and right in the city centre close to Barcelona Cathedral, and as an added bonus you have a constant reminder of where you are! Just so we're clear! More photos and details here.
2. Casanova Universitat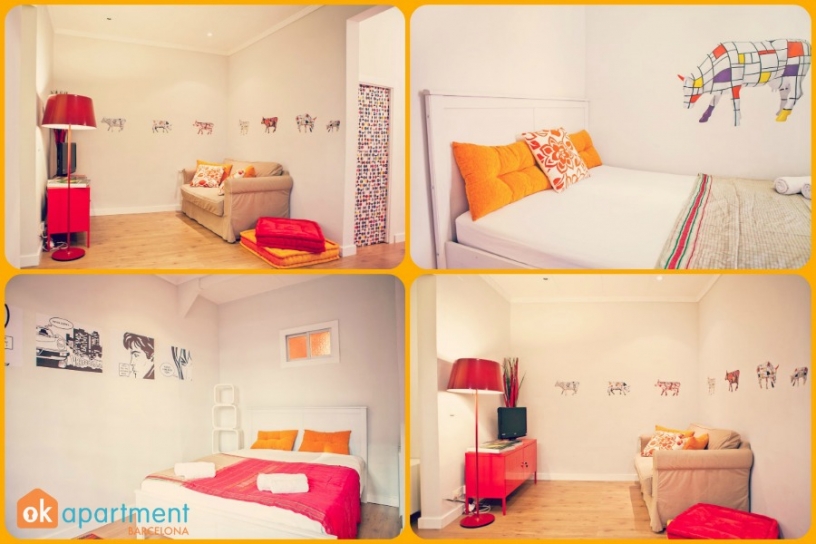 Casanova Universidad
This one can also be found in the city centre and is certainly a unique concept, combining comic book strips with... Cows! More photos and details here.
3. Fructuós Montjuic Dúplex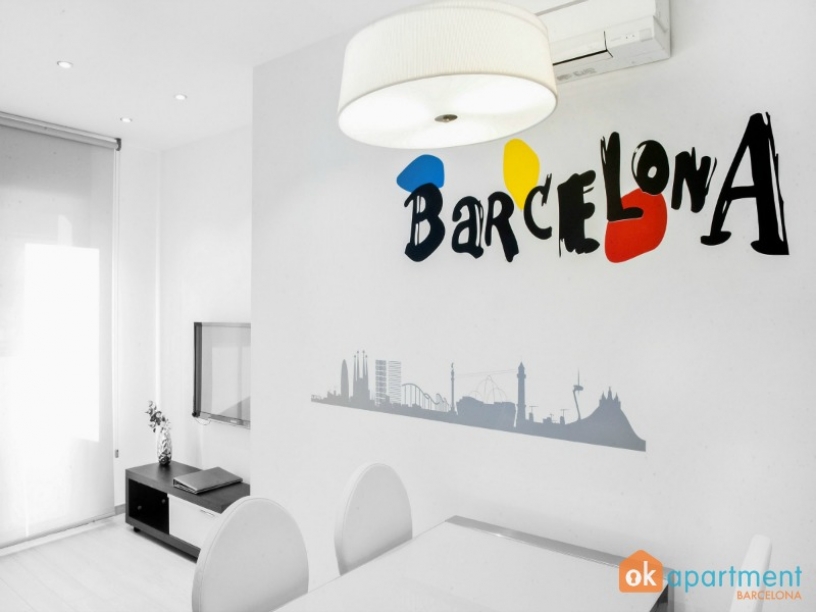 Fructuós Dúplex
Another representation of Barcelona, Joan Miró Style, an artist who had a close bond with the city and whose key colours were the blue, yellow, and red that can be seen here and in his works throughout the city! To accompany it all; a skyline of Barcelona. More photos and details here.
4. Gaudí II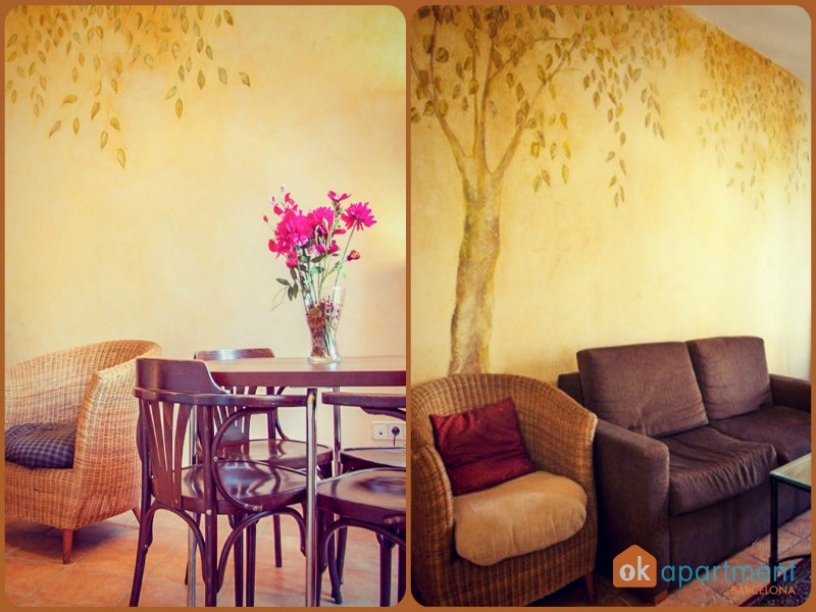 Gaudí II
Closer to nature now, this holiday apartment has a beautiful and magnificent tree that has been lovingly painted across the living room wall. It's a gorgeous apartment close to La Pedrera in the heart of the city and is both modern and rustic. More photos and details here.
5. Passeig de Gràcia Center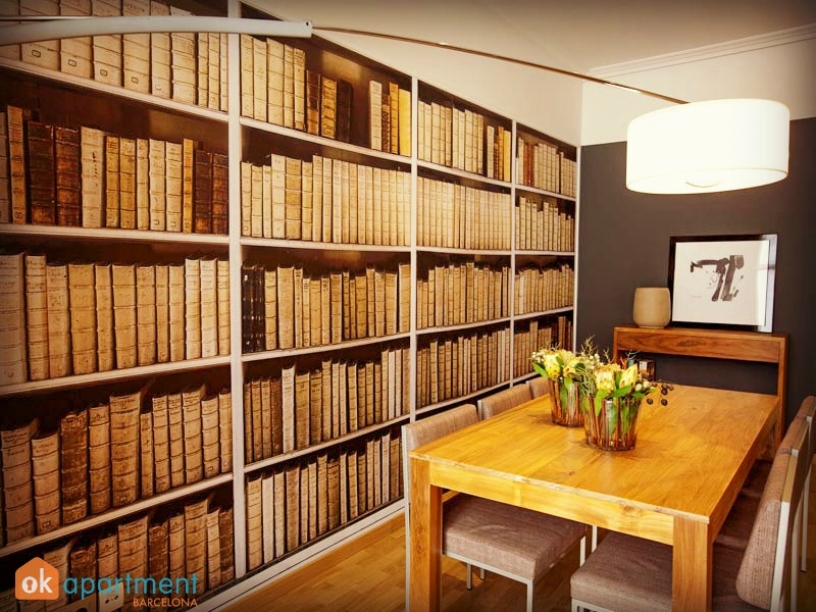 Passeig de Gràcia Center
As its name indicates, this luxurious flat can be found at the heart of Passeig de Gràcia. It's the ideal spot for lovers of culture and anyone who wants to make the most of their time in the city. It features a wonderful wall with faux books, just for good measure... and we love it :) . More photos and details here.
6. Concordia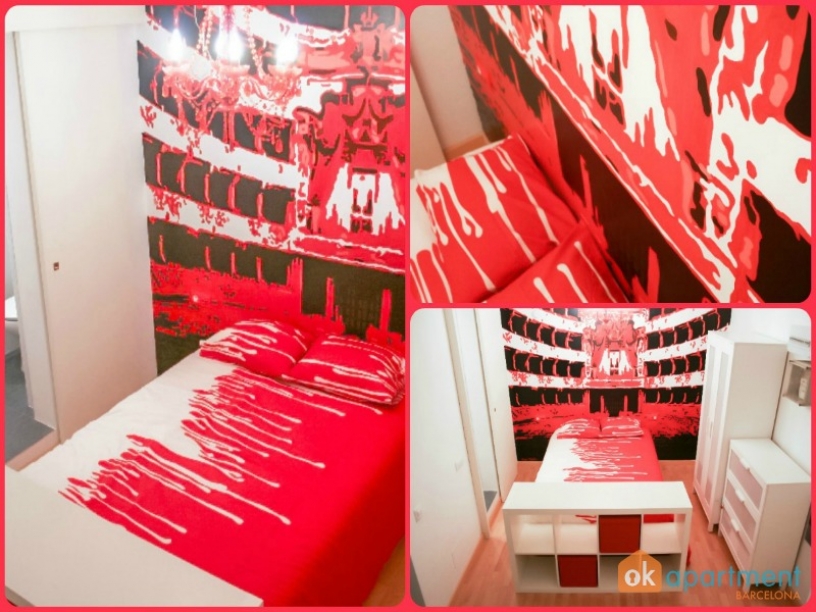 Concordia
Fan of the theatre? Well you'll feel right at home on stage here. With a strong red theme and hints of performing arts here and there, the bed takes centre stage of this theatrically themed apartment where you'll find a huge painting as if you're on stage looking out into a theatre hall. More photos and details here.
7. Bruc Gaudi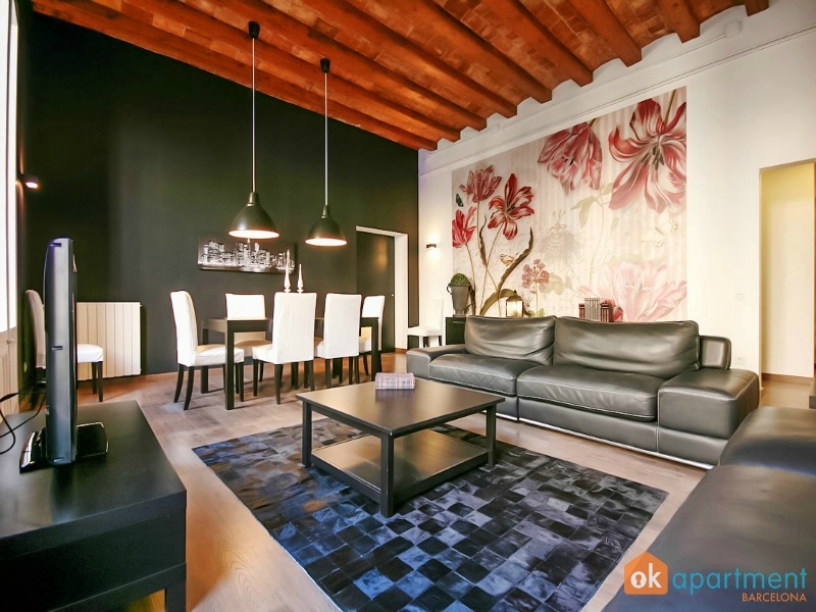 Bruc Gaudi VII
Back to a more classical theme now and in this apartment you'll find a huge and stunning set of magenta flowers on the wall, which jump out from the black and white surroundings. Beauty comes cheap! More photos and details here.
8. Tallers III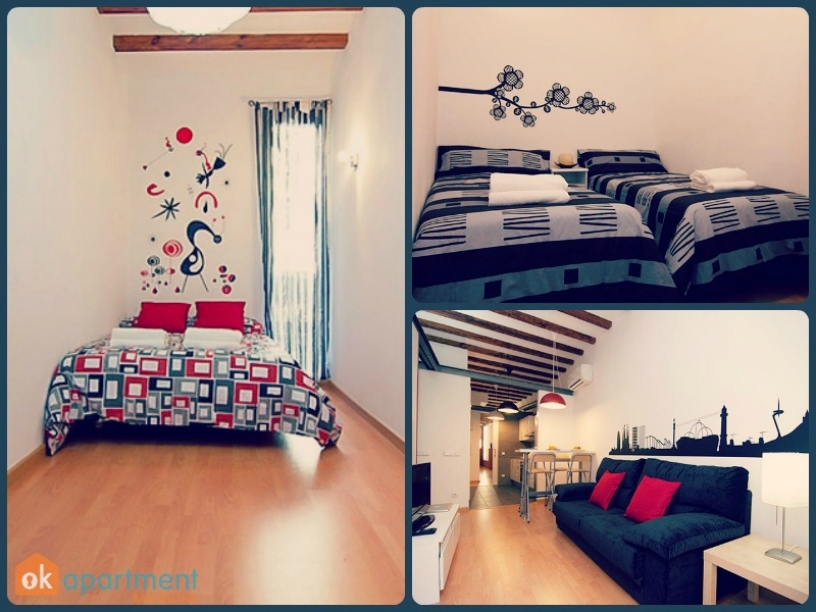 Tallers III
The skyline of Barcelona is a popular theme and also features in this apartment. A modern and youthful setting of black and red. The art doesn't stop in the living room though, nope. You can catch it in the bedrooms too, with Miró-esque forms and floral motifs. We like to imagine that you'll be spoilt for choice selecting your favourite room. Its one of our most popular places to stay in Barcelona, and you can find more photos and details here.
9. Pujades Ciutadella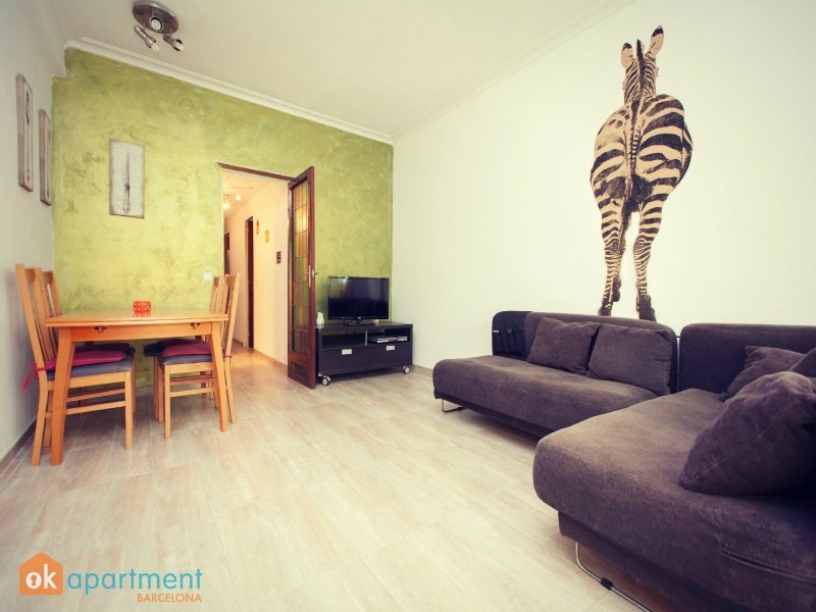 Pujades Ciutadella
It's one of our newer apartments and yes; there is a giant zebra bottom on the wall. There's a good reason for it though, you see, this apartment is located close to Barcelona Zoo and so the decorator seems to have taken this into account. A varied and modern design that will ensure any stay in Barcelona is untamed and full of adventure. More photos and details here.
10. Magalhäes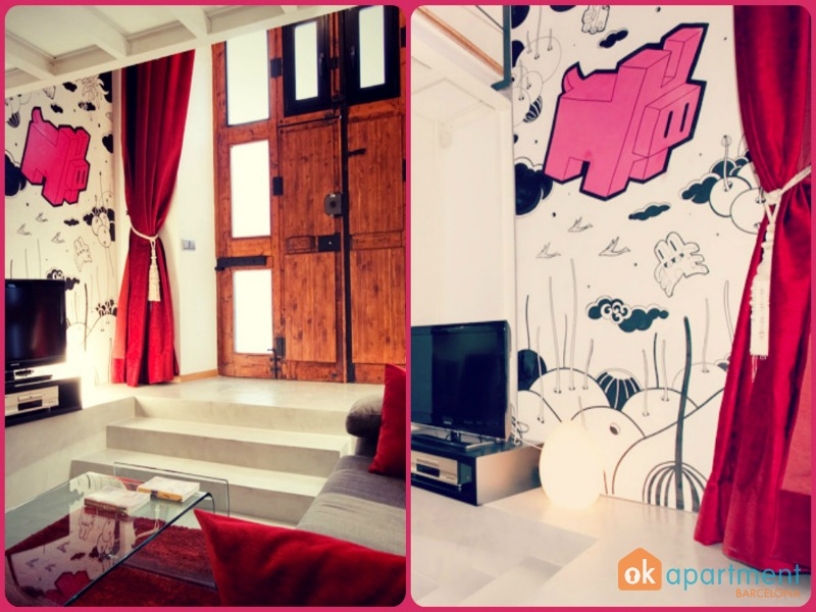 Magalhäes
Perhaps our favourite urbanistic apartment art is this one that can be found in an impressive duplex. With a oversized medieval style door, thick red theatre curtains that stretch from ceiling to floor and a unique and pleasing illustration across the wall... Well, let's say that we're just about ready to move in ourselves! More photos and details here.
If you enjoyed this article and want to know more of our hand picked apartments, then take a look at our Top 10 Monthly Rentals for those longer stays in Barcelona.