Visiting Barcelona for a specific treatment. Where should you go?
If you come to visit the capital of Catalonia, ​​we will help you to find the best long term rentals in barcelona. We offer apartments of different types, renovated and well furnished in all areas of Barcelona!
If on the other hand you are more in need of a diagnosis and opinion of a pediatrician, or want specialised preventive treatments, you should contact a specialist directly. For a list of specialist pediatricians in Barcelona, consult ours at the end of this article.
Hospital Sant Joan de Déu
Exterior of Sant Joan del Déu Hospital
Why should you treat your child here?
In the whole of Europe, Hospital Sant Joan de Déu treats one of the highest number of patients per annum, with 225,000 passing by for treatment each year. They have dedicated teams in a number of fields and offer extra services like teaching, an International adoption service - giving medical advice for adopting children in other countries and providing a medical assessment for adopted children - and rehabilitation. There is even pediatric acupuncture!
Here is the list of medical specialities of the hospital:
Neurology and Neurosurgery
Oncology
Infectious diseases (e.g. HIV)
Pneumococcal infections
Heart problems
Learning Disorders
Will my child feel safe here?
No amount of medical knowledge will help your child feel at ease if the surrounding environment isn't welcoming. One of the best parts of the Sant Joan de Déu hospital is the services to help patients feel relaxed, safe, and content. If your kid has autism, cerebral palsy, or depression (amongst other criteria) there is an in-house canine-assisted therapy service to help with the emotional aspect of hospitalization. There is also WiFi in the entire building, so you'll always be able to stay connected.
There are many more services too, like entertainment and schools. Here's the full list:
Canine-assisted therapy
Child life – A program to explain things to children through games and interaction
Entertainment and clowns
Music therapy and concerts
School to carry on studies
Youth council to give patients a voice on improving the hospital
Volunteer visits
Social work and care to treat patients outside of the hospital
Spiritual care to help deal with moral or ethical situations based on beliefs.
Gifts from donors
WiFi throughout the entire site
Playrooms
Library
Excursions in Barcelona
To make the most of Barcelona and fill your trip with unforgettable experiences and emotions, we offer you the excursions through the Catalan capital organized by our friends - the GetYourGuide team. Choose your excursion and fall in love with Barcelona:
Where is the hospital?
The hospital is located literally on the border of the city and is only 800 metres and a 15 minute walk from a metro station found in the Les Corts district. If you're staying in Sarría-Sant Gervasi it's just a short minute or two drive up from Avenida Bonanova, you won't be able to miss it.
Make a donation
You can make a donation to the hospital on this page
Find a Pediatrician in Barcelona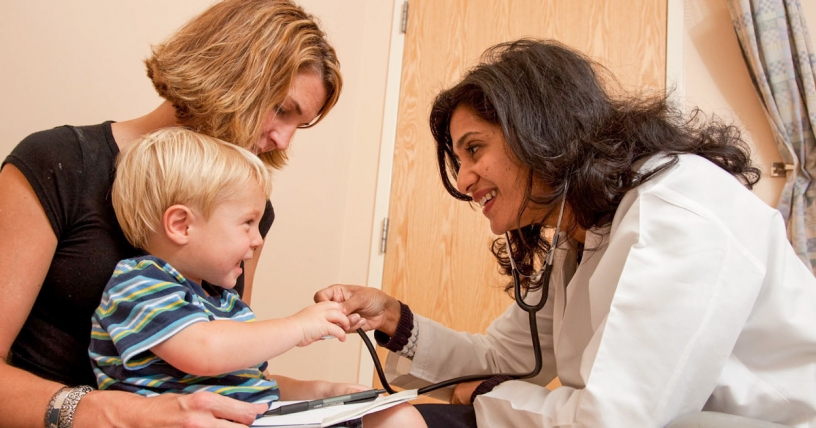 Pediatricians in Barcelona
You might need access to medication or a professional for your child when in Barcelona, whether on holiday or moving here for the first time, so here is a list of pediatricians located in Barcelona, along with their specialities.
Dr. Frank Thorsten Faust:

General pediatrics and Pediatric pulmonology (lungs).
Address: C/ Vilana 12, 08022, Barcelona
Contact details:

Phone:+34 933933150
Emergency contact – Out of office hours:+34 639734211
Email:info@drfaustinstitute.com
Website:Dr Frank Thorsten's Website

Dr. Xavier Carbonell-Estrany:

General pediatrics and Perinatology.
Address: C/ d'Anglí, 59, 08017 Barcelona
Contact details:

Phone:+34 932041963
Emergency contact – Out of office hours:+34 689500185
Email: carbonell@comb.cat

Dr. Maria Dolores Terradas:

Neo-natal, general pediatrics, home/accommodation visits
Address: Passeig de la Bonanova 69, S-11. Barcelona 08017
Contact details:

Mobile phone: +34 651747664

Dr. Marisol Florensa Brichs:

Chidrens' Nutrition, Neo-natal, Vaccination, Acute respiratory infections.
Address: C/ Sabino Arana 5-19, 08028 Barcelona
Contact details:

Landline Phone:+34 932274747

Dr. José María Cubells Fuentes:

Preventative and General pediatrics.
Address: C/ Anglí, 31, 2º, 08017 Barcelona
Contact details:

Landline Phone:+34 931549900