Horta-Guinardó
(Districts)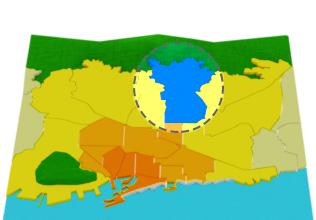 Horta — Where the Parc del Laberint is found
The district of Horta-Guinardó is located in the northeast of Barcelona, ​​between Gracia and Nou Barris. It is a largely enclosed zone that's surrounded by hills, mountains and valleys. To the north is Collserola Park. Originally, the centre of this district was the Vila d'Horta, which gradually grew with the urbanization of the area.
We tell you in this article the reasons to stay here, its attractions to visit, and the best places to eat and go shopping. If you're student you'll also be interested in learning about libraries, green areas and places to practise sport.
Why Stay Here?
If you come to visit the capital of Catalonia, ​​we will help you to find the best apartment in Barcelona. We offer apartments of different types, renovated and well furnished in all areas of Barcelona!
One of the biggest advantages of staying in the Horta-Guinardó is that in this part of town, the accommodation is cheaper. That's without mentioning also that it features some of the most peaceful parts of the city, yet still has good public transport connections. Does the idea of staying here call to you? Well if that's so, then take a look at our monthly rentals and use the filter to find one in the Horta district of Barcelona...
Despite the passing of time, the area has retained its village atmosphere and if you want to experience real life in Barcelona, Horta is perfect. Life here is calm, as most of the people living in the area are families.
Attractions

Parc Laberint d'Horta
The neighbourhood houses a building declared as an Artistic Patrimony of Humanity by UNESCO in 1984: the Hospital de Sant Pau, which is located next to the Sagrada Familia. While in Horta-Guinardó, don't miss a visit to Parc Laberint d'Horta, which will take you on a journey back to the innocent days of childhood when you could stroll through the park without a care in the world. The park has the oldest set of gardens in the city and there is beauty around every corner. Remember to bring a bottle of water if you're visiting on a hot summer day though, this way you'll have no reason not to enjoy this gorgeous part of the city.
The Barcelona Palau d'Esports and the Olympic Velodrome are also found in this zone, both of which deserve a visit.
The Turó de la Rovera viewpoint offers an incredible360º view of the entire city. A fantastic panorama of Barcelona and even more when the sun rises and sets. Whatever you do, don't leave your camera back at your apartment!
Information for Students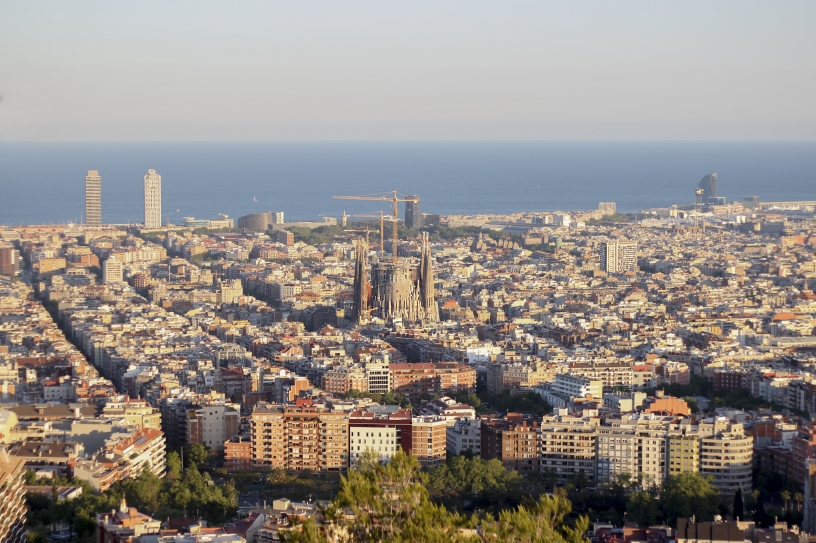 Carmel Bunkers, sea view
The district of Horta isn't very famous for its night life nor for its activity in its streets. In fact, it seems more like a quiet village with many natural spaces. To get away from the stress of studying, apart from Guinardó Park and Carmel Bunker (one of the best viewpoints in Barcelona), you also have the entire northern part of the district that is covered by a forest — an ideal place to breath fresh air and practise sport.
If you're looking for more physical activity, there are many football and basketball courts throughout the district. You also have public sports centres such as the Centre Esportiu Municipal Horta, Carmel Centre, Esportiu Municipal Olímpics Vall Hebron and Montbau Municipal Sports Court.
You can find the Education Campuses of Barcelona University and the Universitària d'Hostaleria i Turisme-CETT to the north of the district and to the south the Faculty of Ciències de la Salut Blanquerna - URL.
There are a few libraries so you can quietly study close to your student accommodation: Guinardó library- Mercè Rodoreda, Laboratoris Dr. Esteve library, El Carmel library - Juan Marsé, Horta library - Can Mariner and more.
You can also learn a language thanks to these language schools: Tecniber-5, Escola Oficial d'Idiomes Barcelona VI – Guinardó and Escola Oficial d'Idiomes Barcelona - Vall d'Hebron.
Where to Eat

Spanish Ham
In this district Los Noveles is always worth your time, tucked away on Calle d el Pájaro in the Carmel neighbourhood. Their anchovies are delicious and the frequents (a majority are locals) are simply charming as they put the world to rights whilst sipping on a glass of wine or brandy.
El Quimet d'Horta on Plaça d'Eivissa is the perfect place to savor in the juiciest sandwiches and the tastiest Patatas Bravas along with a nice glass of wine.
But if all you really want is something quick and cheap then visit Louise Se Va. The atmosphere; good. The food; fast.
Finally, to relax on a terrace, Plaça de Bacardí is perfect for any time of the day, for both food and drinks.
Excursions in Barcelona
To make the most of Barcelona and fill your trip with unforgettable experiences and emotions, we offer you the excursions through the Catalan capital organized by our friends - the GetYourGuide team. Choose your excursion and fall in love with Barcelona:
Nightlife

Bar cocktail
Horta-Guinardó isn't the district for big nightclubs and pounding soundtracks. Leave that ruckus to the southern part of the city. No, Horta is home to some top-notch bars, like El Desig, where you can grab a mojito and get to know the locals who'll be sure to take good care of you.
If you do want to dance a bit, then there is Samba Brasil. It's a small venue with a pleasant atmosphere and a good vibe. If you want to go out all night, there's a nightclub called the Kché open until 6 in the morning.
Getting Around
L3 - The Green Line
You can get to Horta via the Green Line, exiting at Vall d'Hebron, Montbau, Mundet or Valldaura, all in the north section of the city.
From the Metro station Horta you can get to the Sagrada Familia in 10 minutes.
You can get to Barceloneta Beach in around 20 minutes by getting the Metro from Maragall to Barceloneta. There is also many busses going to this area.
Attractions in Horta-Guinardó
Hospital de Sant Pau

Hospital de Sant Pau, is a magnificent modernist building with UNESCO world heritage ...

Parc Laberint d'Horta

The oldest and most romantic garden park in Barcelona will leave you lost... for words...
Do you like this post?
Click here!

1.5/5 - 2 votes
Share your thoughts
Related articles
Tired of reading about Barcelona? Find an apartment and stay there!