Christopher Columbus Statue
(Monument)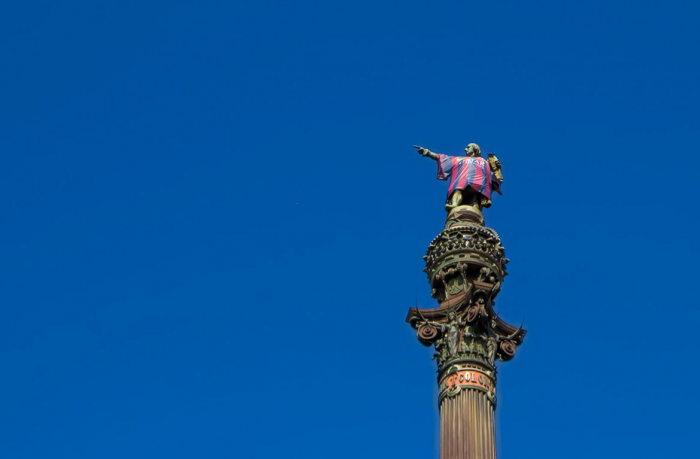 The Columbus Monument is one of the most famous statues in Barcelona. It can be found on Plaza del Portal de la Pau and was built to pay respects to the achievements of Christopher Columbus.
The monument was constructed on 1st June, 1888 in response to the upcoming 1888 Barcelona International Exposition. The statue measures in at a total of 60 metres in height.
The statue represents Columbus with his hand outstretched and the finger pointing towards the sea. Initially the idea was to have it pointing towards the Americas, however it would be pointing inland, which wouldn't make sense, therefore it points more or less in the opposite direction.
In the interior of the column there is an elevator that allows you to go up to just below the statue's feet, from here you can take in an excellent view of the city.
Information
Address: Plaza Portal de la Pau, 1, 08002, Barcelona
How to get there?: Metro L3 (Drassanes)
Other images
Other attractions in Rambla - Gòtic
Barcelona Cathedral

Barcelona Cathedral is neo-gothic building blended with traditional gothic styles.

Port Vell

PORT VELL means "old port", though today it has been fully refurbished and modernized...

Las Ramblas

Las Ramblas is a famous avenue that's an essential part of any Barcelona itinerary.
Read more about Rambla - Gòtic ➯
Do you like this post?
Click here!

5/5 - 2 votes
Share your thoughts
Apartments in Barcelona
Related articles
Tired of reading about Barcelona? Find an apartment and stay there!