Survey and infographics
Respondents mentioned the seven things they like most about Barcelona, which were Quality of Life (70%), climate (67%), culture (43%), Sea (42%), reception from the locals (30%), nightlife(17%) and food (12%).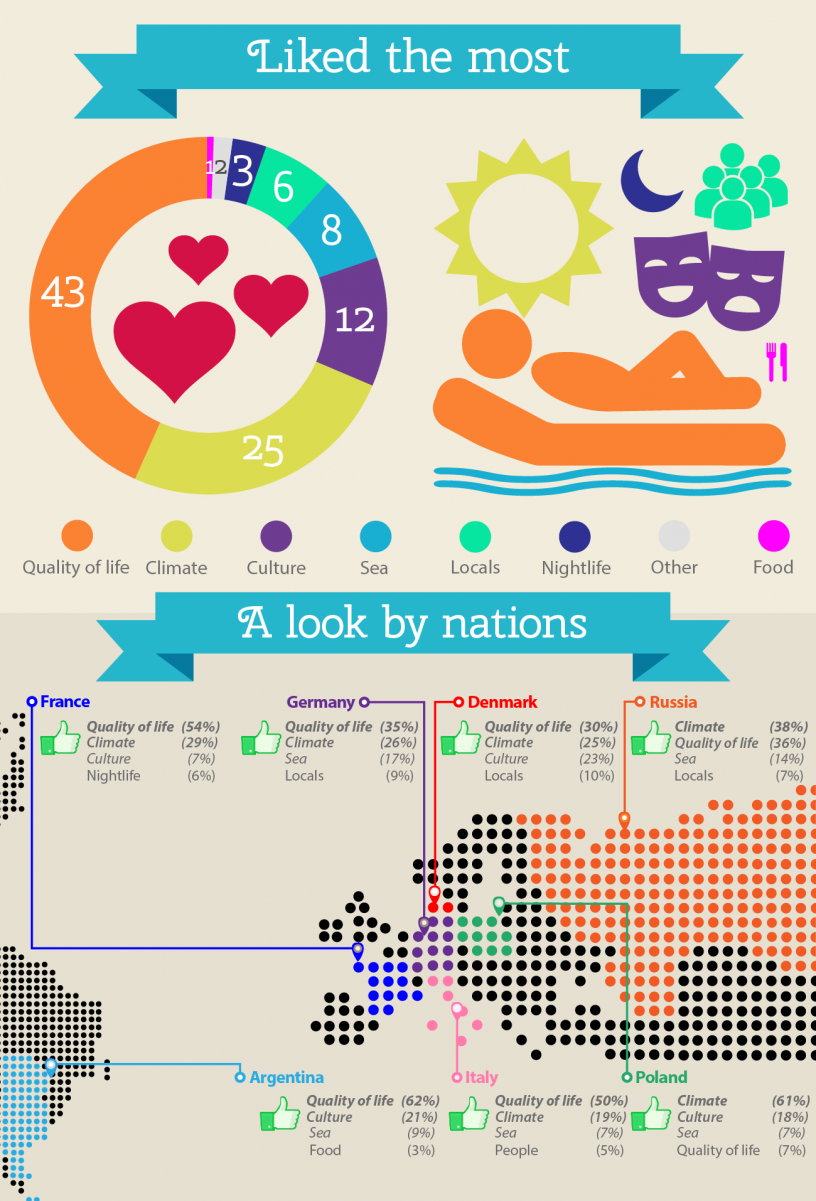 What is most liked about Barcelona
If you come to visit the capital of Catalonia, ​​we will help you to find the best apartments for long term in barcelona. We offer apartments of different types, renovated and well furnished in all areas of Barcelona!
1. Quality of life
Respondents rated quality of life as either Excellent (32%), Good (55%), Satisfactory (12%), Poor (1%) or Terrible (0%). Virtually all (99%) consider that the quality of life in Barcelona is either Excellent, Good, or Satisfactory. These results are consistent with those of the previous question asking what they like most about the city. If we analyze the responses by nationality we did not find significant differences, although the negatve responses came from respondents who before lived in Germany, Italy, and other parts of Spain.
Comments left by 8% of respondents help us better define quality of life:
"Optimal combination of climate, infrastructure, open-mindedness, and cultural offering." / "Perfect balance between the virtues of a mediterranean country and the organization of a north European country." / "Sea, mountains, and quantity of public transport..." / "A savoury blend of a cosmopolitan and international city, and a typical Spanish town with its customs and traditions" / "From the climate, to the international environment, leisure and unlimited number of restaurants." / "City always moving, pleasant climate, affordable food and always new places to discover."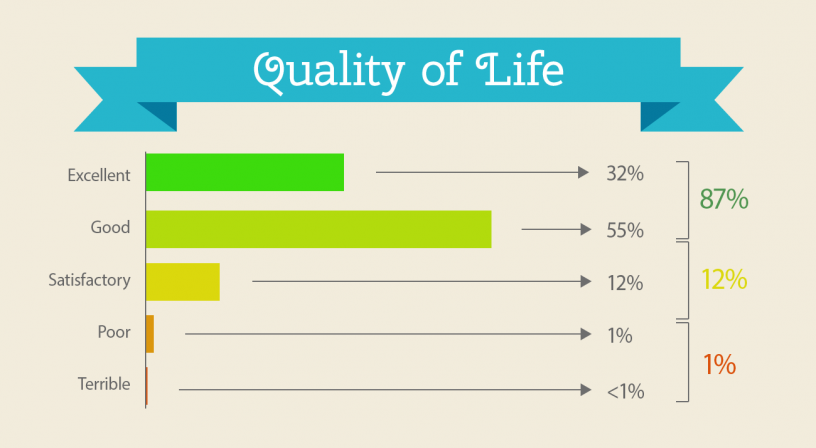 Rating the quality of life in Barcelona
Excursions in Barcelona
To make the most of Barcelona and fill your trip with unforgettable experiences and emotions, we offer you the excursions through the Catalan capital organized by our friends - the GetYourGuide team. Choose your excursion and fall in love with Barcelona:
2. Climate
The climate is one of Barcelona's best attractions, in fact, temperatures are generally pleasant and ideal to enjoy the city throughout the year if you dress well to match. You can find many apartments that have terraces and are ideal to enjoy the weather. The city also has many cafes with terraces, which are filled with customers throughout the majority of the year.
Spring: The climate is ideal for sightseeing, as temperatures are not too high to enjoy the many attractions of the city. Barcelona is a city that can be seen comfortably by foot, so it is more pleasant to walk when temperatures are not as high. However you may experience a little rain, especially during the month of April. The average temperature is around 17°C.
Summer: Temperatures rise and the climate becomes warm and humid. During this season, residents, expatriates, and tourists can take advantage and enjoy the many beaches of Barcelona. The average temperature is around 27°C.
Autumn: The high temperatures are decreasing and the weather becomes more pleasant to visit and walk around the city once again. The temperatures are still high enough to enjoy the beach, although there are chances of some precipitation. The average temperature is 20°C.
Winter: Winters here are short and mild. You still need to keep warm, and it is normal to have the heating on during this season. The average temperature is 10°C.
3. Culture
Catalan culture differs from the Spanish culture and has its own set of very typical traditions, particularly public celebrations. The most known are the following:
Sant Jordi, held on 23 April. On this day - St George's Day - throughout the city there are many books and roses stalls as well as many other activities. Also, you can taste a typical sweet or savoury cake called a coca, which is a traditional Catalan bread.
Castellers is also a very popular tradition. "Castell" means castle in Catalan, while the participants are "Castellers". In this cultural event, the aim is to build a human castle. To form this tower, there are three essential parts: The "pinya", the "trunk", and the "pom de dalt".
Correfocs is a fireworks tradition in Catalonia. You can see people dressed as devils and demons running with fireworks, dancing to music, or even swallowing fires.
National Day of Catalonia is celebrated on 11 September. Each year the Catalans commemorate the loss of political independence of Catalonia in 1714. It has been a holiday since it was proclaimed as the "National Day" in Catalonia in 1980.
Caga Tió is a anthropomorphic yule log of about 30 centimetres made of 2 or 4 pieces of wood that serves as its hands and legs, alongside a red wooden nose, hand-painted face, and traditional clothing of red and black colors.
Castanyada is a popular festival on the night of 31 October and is celebrated in Catalonia with much more importance than Halloween. This tradition has preserved the culinary customs of time, in fact, on this day the Catalans usually eat high calorific seasonal produce like nuts and sweet potato.
The Sardana is a Catalan group circle dance. It has Mediterranean origins dating it back to the first century. Sardana is a dance in which the dancers move in a circle and hold hands.
Sant Joan is on the night of 23 June and is celebrated each year. It was originally a pagan festival. Catalan cities and neighbourhoods are transformed to celebrate the arrival of summer with fireworks, bonfires, and firecrackers.
Finally, the Annual neighbourhood festivals or Festes Majors take place throughout the year. The Festival of Gràcia, or in Catalan "Les Festes de Gràcia" is one of the most famous and takes place in mid August.
In our community you can find many more articles about Catalan culture.
4. The sea
Barcelona beaches extend over 5 km and are ideal for enjoying the sun and Mediterranean sea. The beaches pass through several districts of Barcelona, which allows you to stay in the city centre, more lively and touristy; or stay on the outskirts, which are quieter. Here we have the most popular:
Sant Sebastià beach: This is the oldest beach and one of the largest in Barcelona, with the presence of the flawless Hotel W. Here you will find many restaurants and activities to engage in.
Sant Miquel beach: This beach was developed here during the eighteenth century and was named after the church of Sant Miguel del Port, located a few minutes away. This is one of the most lively beaches of Barcelona for its proximity to the city centre.
Barceloneta beach: It was once a fishermen's quarter, but now you will find volleyball courts, playgrounds, table tennis, and more. One of the landmarks of this beach is the four-tiered cubes sculpture, called Estel Ferit designed by Rebecca Horn.
Bogatell beach: Renovated in the 90s, this beach is located in the heart of the changes made during the Olympic Games in 1992. You will find a middle-aged population who enjoy the sports areas with activities such as volleyball and table tennis.
Mar Bella beach: Here you can enjoy a sports area with volleyball courts, a skate area, and a basketball court. There is also a nudist area.
Nova Mar Bella beach: Located next to Mar Bella beach. Here you can enjoy a "Beach Library" for all your literary needs. It is quite central and frequented by young people.
In our community you can find many more articles on the beaches of Barcelona.
5. Reception from locals
In our survey, we asked respondents How would you rate the reception from the locals? Four out of five respondents (79%) consider it to be either excellent, good or satisfactory. Though One in Five consider it poor or terrible. The results to this question were as follows: The reception has been Excellent (13%), Good (37%), Satisfactory (29%), Poor (18%) or Terrible (3%).
Respondents also answered a question from another survey, which was "What do you like least about Barcelona?". The most named is mass tourism (34%), followed by the local character (26%), pollution (19%) and the economy (16%).
Although 26% of the respondents defined the local character as a defect of the city, that does not necessarily contradict the 79% who say they felt at least okay with their reception from the locals.
Here are some comments:
"Since the beginning I have [had] a fantastic reception (despite only speaking Spanish at first). Warm character and welcoming." / "The people are very closed off and it's a struggle to enter their circles. Once in, they open up, but it's very difficult." / "I've never had any bad experiences with Catalans" / "It can vary a lot. Some Catalans are actually hostile to newcomers and tourists." / "I came 15 years ago to a Catalan college and I was received like a princess!!"
Reception by the locals
6. Nightlife
Barcelona has become a big player in this field. Each year, millions of young tourists come to enjoy the many bars and clubs of the city. In each district, you'll find bars with a different atmosphere. Most are in the city centre. The crowd is young and you can find all kinds of music.
Amongst the most famous nightclubs that are located by the beach is Opium , for example. You'll find all kinds of music and lots of tourists. The advantage is that these clubs are right by the beach. There is also the W Hotel, which has a disco in one of its top floors, with a truly cool view of over Barcelona.
Around Parallel you will find Apollo, a concert hall where many events are organized. Here you can listen to electronic music.
In Poble Nou, you have Razzmatazz, featuring various types of music in their many halls. This club is also known because it offers electronic music and many famous DJs spin here.
Gothic has many bars and restaurants, especially on Plaça Reial where you will find clubs like Jamboree. Here there are concerts on before it launches into an all nighter club .
The neighbourhood of Gràcia is quite lively at night. One of the most famous clubs in the area is Otto Zutz.
The bars are plenty, for all tastes and styles. The best way to find the one you like most is to start discovering the charming streets of Barcelona.
7. Gastronomy
Catalan cuisine has complex roots and has survived throughout the centuries with various influences, from the passage of the Greeks, Romans, and later Italian and French influences. For this reason it includes ingredients that are common in other Mediterranean cuisines, which are famous for their healthy character. It combines produce from the sea, mountains, and earth , with each region boasting its own gastronomic offerings, depending on the area.
There are though, common dishes typical throughout the region like xató, empedat, and escalibada. In addition Catalonia stands for desserts such as panellets, tortells, and the very famous crema catalana (Catalan cream). If we talk about the cuisine along the coast, a dish worth mentioning is the esqueixada, which is a fish based salad consisting of escarola, cod, and Romesco sauce. We can also find the suquet de peix, a mix of seafood and fish served in a broth. As for mountainous dishes, Catalan cuisine has the olla aranesa, a vegetable broth garnished with meatballs.
In our community you can find many more articles on the Catalan cuisine.