1. Booking the Flight
The first thing you need to do is get to Barcelona, and for that you're going to need a plane (or perhaps it's cheaper to buy a plane ticket). Barcelona is a very touristic destination so tickets aren't necessarily cheap, but if you plan correctly you can quite easily find a ticket for around €50 - €80 with any low-cost european airline. It can be even cheaper if you fly in during the low season and book your tickets in advance by a few months.
If you are coming to study in Barcelona we advise you to look at our student accommodations in Barcelona.
2. Finding Accommodation
Even though it may seem expensive when you visit as a tourist, Barcelona is among some of the cheapest cities in Europe when it comes to housing market rental prices. Especially if you choose the right neighbourhood to stay in the city. learn catalan for free
The option of a student residency or even a hotel is quite expensive, at least when it comes to the value for money you get for the cost (issues of privacy, freedom, and personal space). The normal option for living in Barcelona is renting an apartment by the month like the ones that you can reserve on our website. There are plenty to choose from and on our website they start from as little as €395 a month. Take a look at a selection of our cheapest apartment rentals (ideal for students) here.
Take note: If you're going to be staying in Barcelona for more than 6 months, then you're going to need to register for the Empadronamiento in Barcelona.
Excursions in Barcelona
To make the most of Barcelona and fill your trip with unforgettable experiences and emotions, we offer you the excursions through the Catalan capital organized by our friends - the GetYourGuide team. Choose your excursion and fall in love with Barcelona:
3. Shopping and Groceries
Living in an apartment means you can prepare your own food. There are plenty of supermarkets to choose from and some are more expensive than others, so be on the lookout for the cheapest, which are Mercadona, LIDL, and Carrefour. Depending on what you eat and which offers you take advantage of, the weekly shopping will come out around €20 per person. Another way to save is to find bargains at one of the local markets in the city.
Of course, if you don't feel like cooking some days, eating out in Barcelona is always cheap because every single restaurant features a set lunch menu called a Menu del Día that can commonly be found from between €7 - €10. Secret Tip: Where there are Universities, there are cheap restaurants nearby.
4. Getting Around the City
A single ticket for a bus or Metro trip in the city is €2.15 and it doesn't work out as the cheapest option. Instead you can buy a "T-10" ticket, which is 10 single tickets in one. A T-10 costs €10.30, (€1.30 per trip). If you travel 2 ways each day (including the weekends) it will work out cheaper to get a T-Mes, which gives you unlimited travel for a month at €52.60 (€0.87 per trip if travelling twice each day). If you're under 25, you can save with the T-Jove for 90 days at €105.00 (€0.58 per trip if travelling twice each day).
A more economical and ecological option is to navigate the city on bicycle. The city is small, so it will hardly ever take you more than 30 minutes to get anywhere on two wheels. If you don't want to buy a bicycle (and let's face it, Barcelona is infamous for bike thieves) you can use the Bike sharing service called Bicing, for €47.16 per year. The subscription means that you can always use a bike for free 30 minutes each time. You'll need a NIE to get this though, which you can find out how to get here
That's about it for now. All that remains is to say "Welcome to Barcelona"!
How Does the Cost of Living in Barcelona Compare with Other European Cities?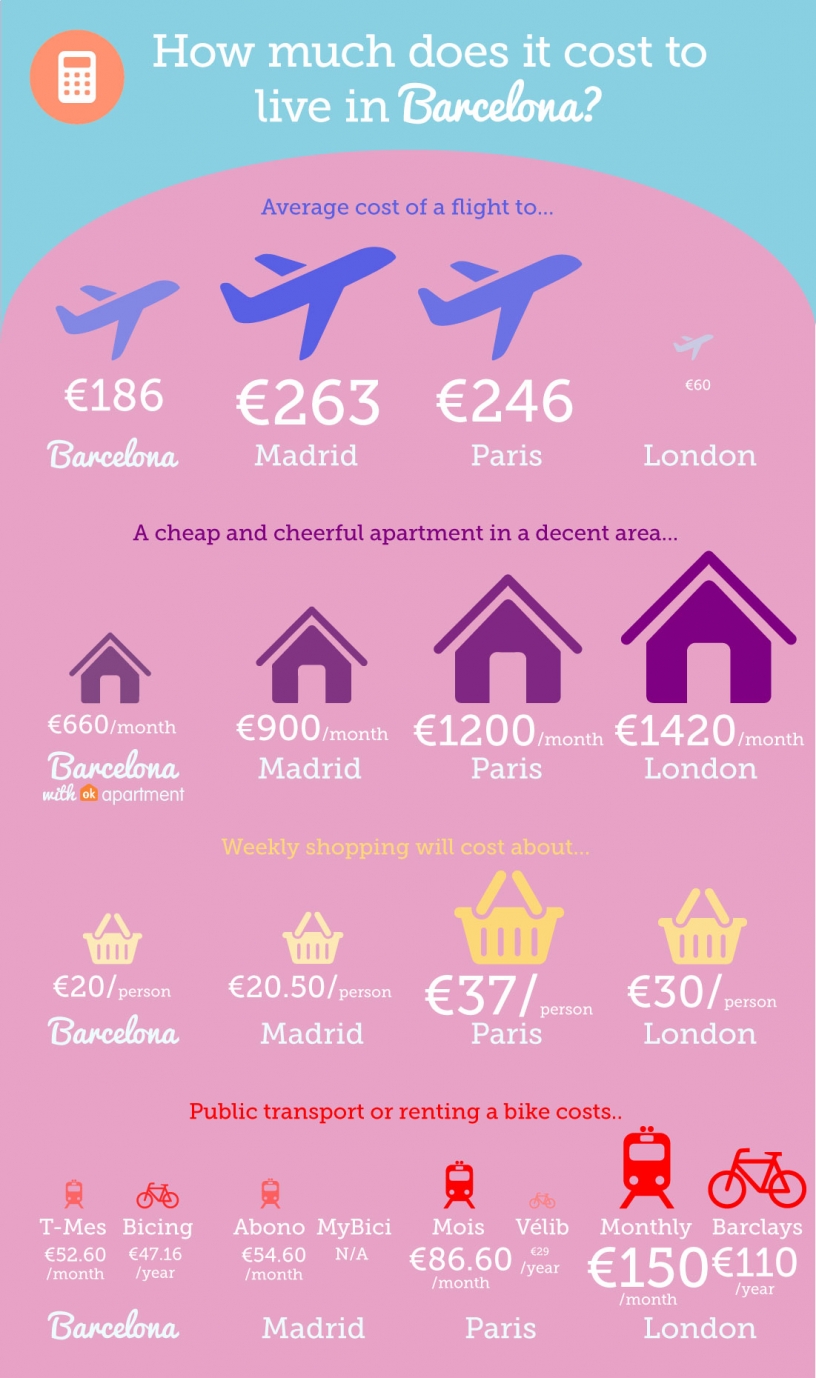 Cost Compaison
Want to share this Infographic on your blog or website?
Just copy and past the following code to your site: