Arriving and moving around the city
If you come to visit the capital of Catalonia, ​​we will help you to find the best long term rentals in barcelona. We offer apartments of different types, renovated and well furnished in all areas of Barcelona!
Barcelona and its metropolitan area have many public transportation options.
Arriving from El Prat Airport: Barcelona's very own airport complies with all the accessibility requirements in its infrastructure, installations, and services. In addition, it also offers a free service for attending passengers with disabilities. You can make a request by filling out the form on the website of the airport at least 48 hours in advance, to ensure everything is prepared.
You can also request assistance at the airport, but try to arrive earlier for this. There are various points around the airport with an intercom. These points have text written in Braille - Castilian and English. The airport company AENA also has an information line and telephone services for passengers with hearing and / or speech impediments.
Metro, FGC, and Tram: Metro Lines L2, L9, L10, and L11 have fully adapted stations for disabled users. That is to say they should require no assistance between platform up to street level. Many are partially adapted, meaning you can get around with the assistance of a companion. The latest trains of the Metro and FGC network also have spaces reserved for wheelchair users on each carriage, with lowered safety belts and buttons. Guide dogs are welcome at all hours for blind users and stations have tactile paving throughout from platform to street level.

Guide dog

Buses: Barcelona has more than 1000 adapted buses across the entire city. The system combines with the metro and trams so practically the entire city is accessible. Even night buses. They have lower platforms and deploy embarkment/disembarkment ramps. There is a wheelchair area. Seating is reserved for blind users and anyone with reduced mobility.
Taxi: Any driver with a taxi is obligated by law to accept guide dogs and without any additional charge. It has been this way in Barcelona since 1993. There are also official taxi companies in the city that have specially adapted cars, like Taxi Amic.
So what are the weak points that you should know of? Mobility scooters are 100% banned from all public transport in Barcelona, with the local government citing health and safety issues. Secondly, information given about disabled facilities on the Metro can be inaccurate because the adaption process is still being carried out, albeit rather slowly. If a lift to street level were to break down or the lift itself is not accessible, where would that leave you? That depends on how empathetic and far the staff will to go to help you to get to street level. Try to consider these things before travelling, you shouldn't have to make a plan B (like going to the next station), but unfortunately it is best practice right now. Barcelona is better than most cities in Spain, but it can go further.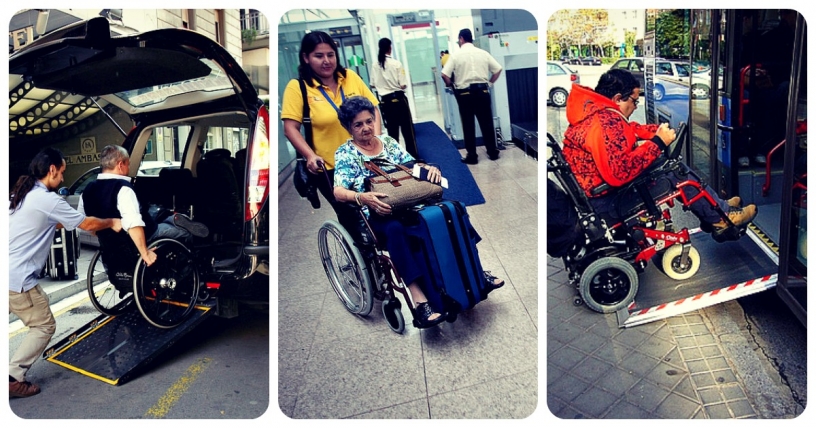 Adapted vehicles
Excursions in Barcelona
To make the most of Barcelona and fill your trip with unforgettable experiences and emotions, we offer you the excursions through the Catalan capital organized by our friends - the GetYourGuide team. Choose your excursion and fall in love with Barcelona:
Things to do - Adapted attractions
In Barcelona many of the attractions are accessible for many kinds of disabilities. There are museums, parks, beaches, monuments, and more. Here are some examples of things you can visit in Barcelona.
Visual impairments:

Park Güell. At two of the park entrances (Calle Olot and Carretera del Carmel), there are information panels in Braille (though it's not clear which languages). There are also tours available especially for visually impaired visitors and audio descriptions. There are many tactile elements, like the mosaic dragon sculpture. All in all it is a pleasant walk amongst nature with pleasant sounds and there are discounts for disabled visitors with a free companion. Take a look at this article for Barcelona visitors with visual impairments.
MACBA: One month ago MACBA (Museum of Contemporary Art Barcelona) opened an exhibition with blind visitors completely in mind. They offer guided routes and commentaries from educators across a series of work that can be touched in addition to information panels in braille throughout. They also encourage dialogue and reflection, as visitors are invited to ask the guides about any doubts about the works. If you need to see an Optometrist or technician during your time in Barcelona, you can consult this list of centres.

Sign language

Hearing impairments: La Pedrera. Visitors can request a pack in various languages which includes a transcript of the audioguide, and an easier to understand version for individuals with reading problems. You'll need to pick this up at the audioguide counter. Temporary exhibits offer commented visits with lipreading and sign language. Consult the dates on the website of each specific exhibition at the website of La Pedrera. If you need to see an Otolaryngologist or for technical issues with a hearing aid during your time in Barcelona, you can consult this list of centres.

Accessible beaches

Motor impairment: All of the city's beaches - which total more than 4.5 kilometres - are spaces free from architectural barriers. In addition two beaches in particular -Barceloneta and Nova Icària, in addition to some bathing areas in the Fòrum area, offer a service of assisted swimming for people who cannot enter the water by themselves. If you need to see an Orthopedic or technician during your time in Barcelona, you can consult this list of centres.
For more information about attractions, restaurants, and activities for visitors with reduced mobility, you can read more in this article
We hope that this post has been useful, and if you have any feedback for us then please leave a comment. If you need a place to stay that's fully adapted to the needs of wheelchair users and physically impaired individuals then take a look at our selection of holiday accommodation for disabled visitors. Remember, this is just an introduction for the series, there will be more articles on the way about Barcelona for disabled visitors. Subscribe to our newsletter to stay up to date!