We've always tried to be considerate towards the needs of disabled visitors here at OK Apartment, but it's hard to admit when we began we thought we only needed to list apartments with "disabled access". While sufficient in certain circumstances, we eventually learnt we could go further… One day, a solo-travelling disabled client reached out to us asking if we had any fully adapted holiday apartments in Barcelona, he wanted accommodation where he could go about fully independently. When we scoured the database it became clear that despite having the largest selection of Barcelona apartments of any agency, we had nothing to offer with adapted bathrooms, railings, and on-call assistance. We realised that for ages we were offering apartments to people for the freedom they give, but we weren't offering that freedom to everyone.
Since then, we have actively searched and made partnerships with providers of fully adapted accommodations. One of the biggest partners we have owns an apartment complex that has every single apartment adjusted for disabled visitors. There are 4 different types of apartments based on capacity, which we visited ourselves to verify and take the photos you see on their respective webpages. All the beds can be electronically positioned for comfort. Here is some more detailed information on the four main kinds of apartments on offer:
Tres Torres I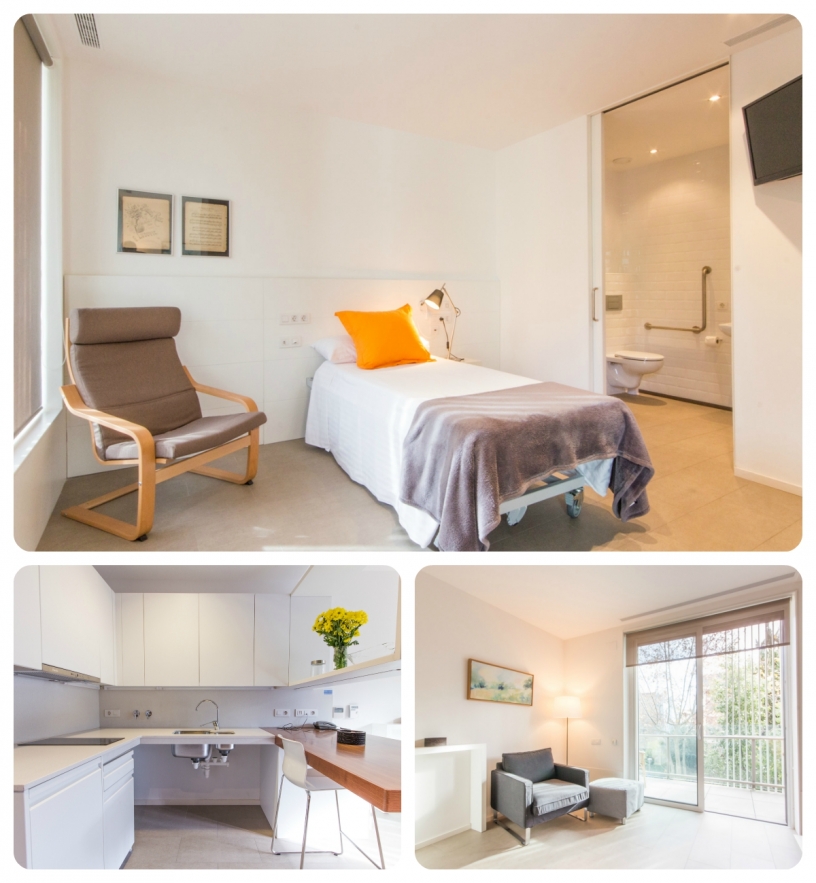 Tres Torres I is great for solo travellers
These 40 m² apartments are air conditioned throughout and in addition also feature under-floor heating. There is a flat screen TV both in the living room and the bedroom with single bed. It is open-concept with the kitchen bar elevated without legs, low cupboards and light switchers, and sliding doors throughout. There is a balcony that overlooks the street which you could also access in a wheelchair.
Tres Torres II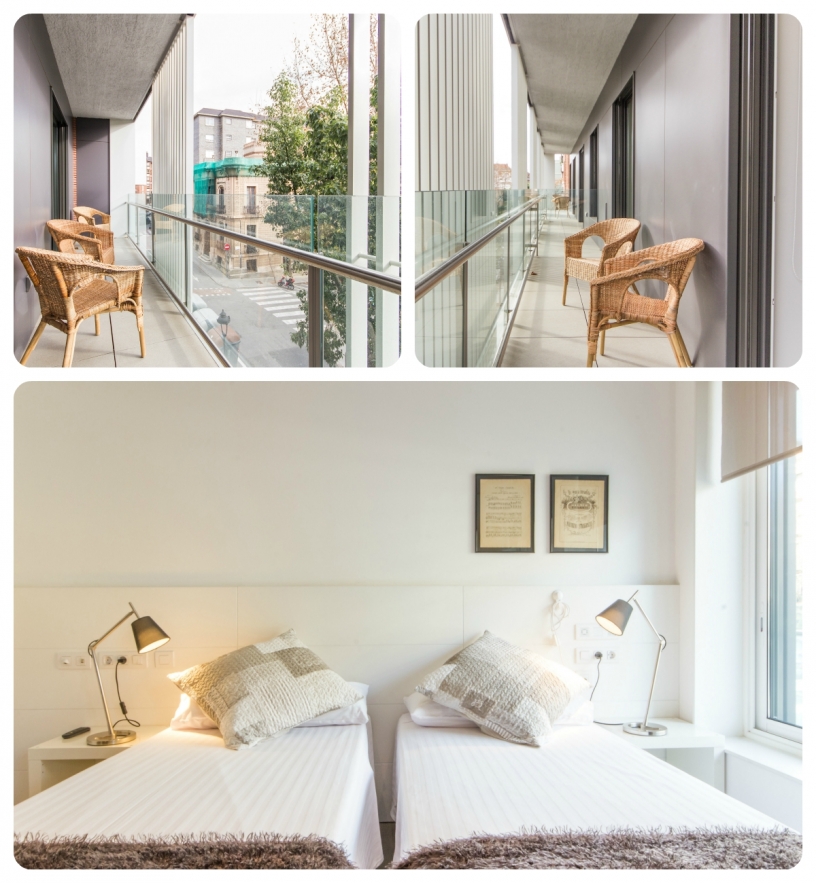 Tres Torres II is a good option for couples
Apartments for two people with around 58m². Like the other rooms these also have air conditioning and heated floors. The kitchen has a dishwasher and the bedroom has two single beds. The beds are slightly separated but can be pushed together if needed to form a double. There is one bathroom with integrated shower chair and rails as well as a lowered sink. There is also balcony access.
Tres Torres III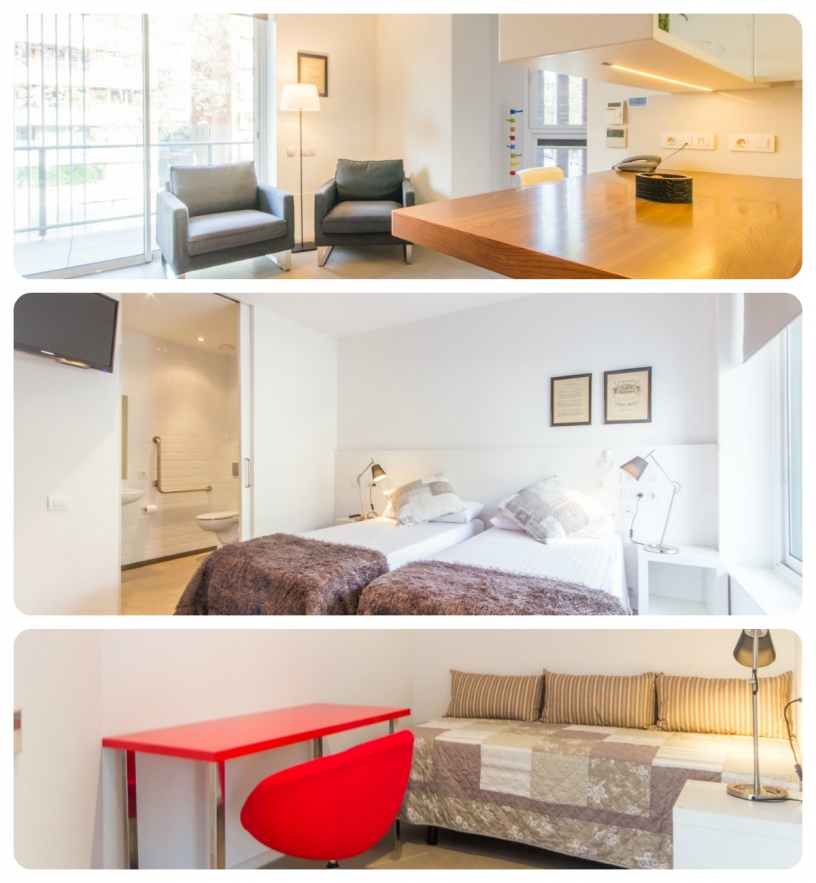 Tres Torres III has a capacity for 3 visitors
These apartments have around 71m². There are two bedrooms, the first has two single beds (they can be pushed together to make a double) with a flat-screen TV, the second is a single bed with a desk. The bathroom is located en-suite to the twin bedroom. The kitchen is fully equipped with easy to access dishwasher and fridge.
Tres Torres IV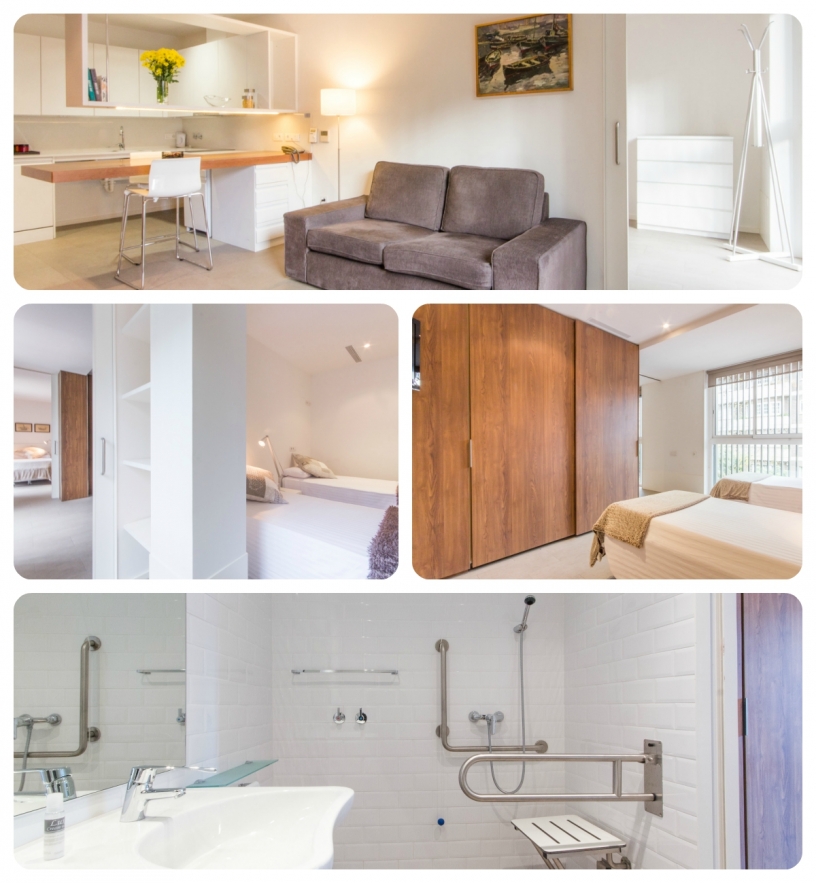 Tres Torres IV with 4 beds is ideal for families
Like Tres Torres III, these apartments also have two bedrooms, but both with two single beds instead of one. The master bedroom has a large wardrobe with sliding doors as well as a flat screen TV (in addition to the one in the living room). The other bedroom has a dresser to store clothes instead. There are also two ensuite bathrooms, one for each room, but the master bedroom has the adapted one. The living room has climate control for the whole apartment and a nice wooden backdrop.
Included in all these apartments are access to wheelchairs (electronic or manual), pressure relief cushions, cranes and trapezes, railings, and shower seats. They are cleaned daily and there's also on-call assistance service available all day and night. The building itself also includes a laundry room, adapted gym, pool, community space, and restaurant.
There are also some extra services, for instance a constant carer or assistance out and about in Barcelona (if you need both, it is possible, but you will need to consult beforehand). There are also nurses, physiotherapy, and transportation management available.
Of course, we are still searching for more partners that offer truly accessible apartments. During our search we have seen many that claim this but fall short in certain aspects (inaccessible showers, impractical cupboards, narrow hallways, etc). If you've stayed in Barcelona in an adapted apartment or you own one yourself, let us know, you can contact matthew@okapartment.com, we would be more than grateful as we would love to expand our selection further! For more information on our disabled-friendly apartments contact info@okapartment.com.