In Barcelona particularly, the food is a worthy reflection of its lively spirit - coloured and oh so Catalan. Imagine, this was the first non-French city to receive the title of gastronomic Capital!
With so much delicious food to try on your trip, which ones are essential during your visit to the city? Well here is a selection of 10 types of dishes you can get here.
1. Paella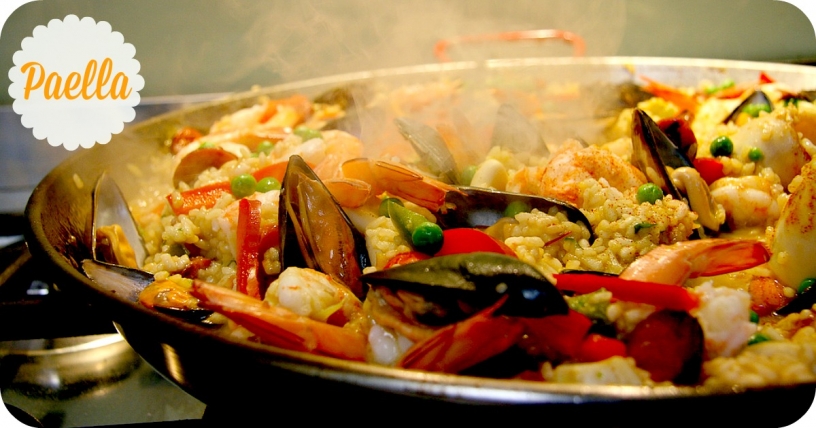 Paella
We'll just get the elephant in the room out of the way first. Spain is the home of Paella, so it's only naturally that it has formed part of culture in this region. Though it was created in Valencia, you'll easily be able to find it in Barcelona, so there's no reason why you shouldn't try some. Try to find a place not on the tourist route, regardless of what part of the city you're in, otherwise you'll probably end up with a frozen one. It traditionally goes with rice, meat (e.g. rabbit) and saffron of course there is also Paella de Marisco, a seafood version... For a quick low-down on the types of Paella you can read this article.
2. Tapas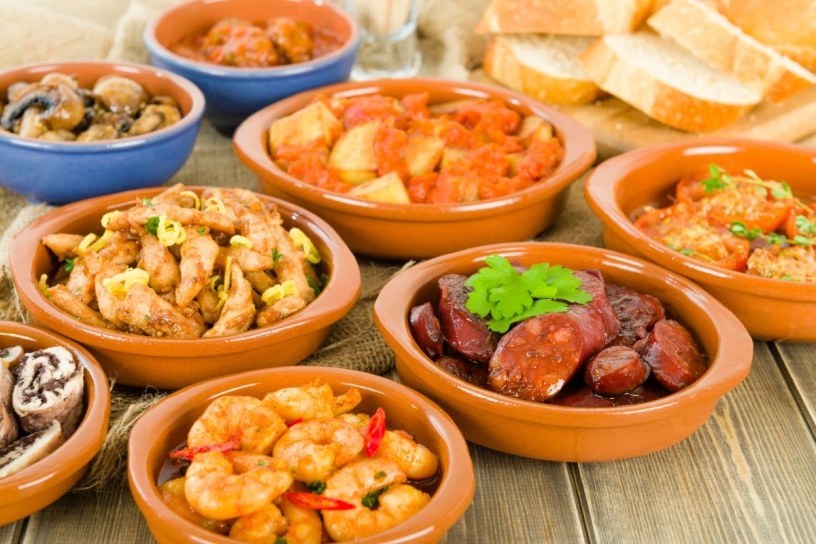 Tapas
Tapas. The unmissable appetizer. There are many stories about the origin of tapas, but it's most likely frequenters of bars would cover or "tapar" their snacks, and thus the appropriate name came to be tapas. Served hot or cold, each region has its own types. The most common are boquerones (anchovies in vinegar), queso manchego (goat cheese), bacalao (salted cod usually served with bread and tomato), banderillas (skewers with fish, vegetables, eggs, or olives), patatas bravas (fried potatos with a spicy sauce), ensaladas de pimientos rojos (a salad of red peppers), chopitos (fried calimari), gambas salteadas (Sautéed or grilled prawns), brocheta de carne (tender meat pieces), tortilla española (Spanish omelette), etc.
If you don't know where to get some tapas in Barcelona then read this for a selection of the Top 5 Catalan Tapas Restaurants or this for where to find free tapas with your drinks!
3. Crema Catalana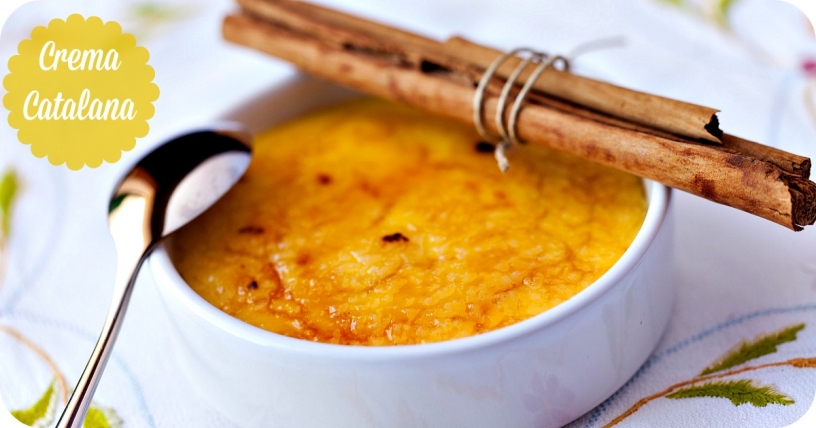 Crema Catalana
It's certainly a favourite amongst many! It's a Catalan Cream... As the name indicates. The origin is disputed but the Catalans have certainly made it their own. An authentic Crema Catalana differs from a creme brûlée in that it is caramelized with an iron broiler rather than a direct flame, it is also flavoured slightly with citrus and cinnamon and has milk. Catalans say that their dessert outdates that of their neighbour's over in France. That might be true according to current evidence; the first known reference to creme brûlée was at the end of the 1600s, whereas the first to Crema Catalana appeared in the one of the first known recipe book in the Iberic peninsula - "Llibre de Sent Soví" in 1324 - which featured Catalan cuisine.
If you come to visit the capital of Catalonia, ​​we will help you to find the best long term rental barcelona. We offer apartments of different types, renovated and well furnished in all areas of Barcelona!
4. Pa amb Tomaquèt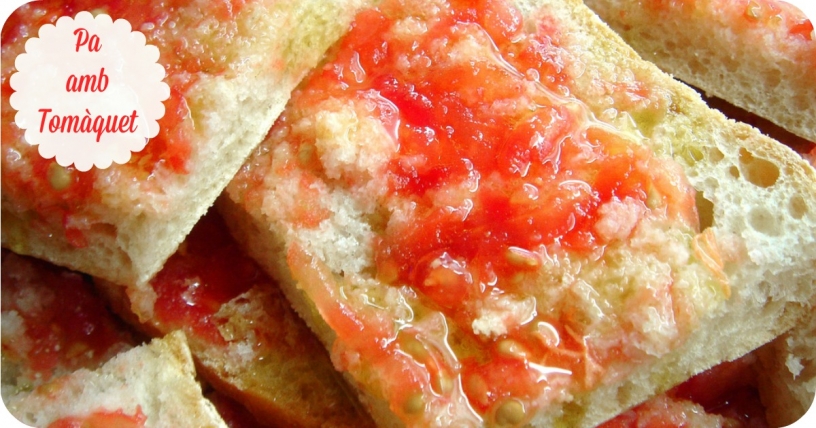 Bread with Tomato
Perhaps the most simple dish in Catalan cuisine; take a toasted piece of bread, cut a ripe tomato in half and rub against the bread so it absorbs all the juices, add salt next, and then finish it off with some Olive oil. You've just made Pa amb Tomaquèt. Lovely on its own, but if you're inclined to add some cheese, no one will stop you ;)
5. Botifarra amb Mongetes Seques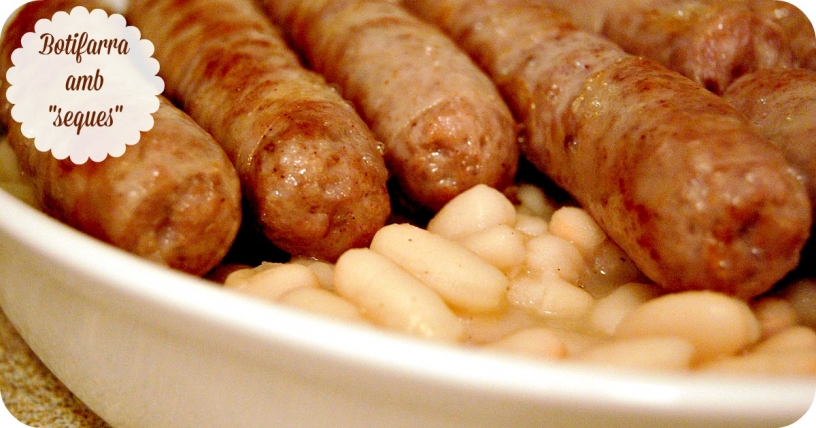 Botifarra amb mongetes seques
Botifarre is a Catalan sausage, and can be anything from a traditional sausage to a black pudding. Cooked on a grill and accompanied by dry or white beans. In general it's also accompanied in a Escudella, a soup made of rice, cabbage, and carrots.
6. The sauces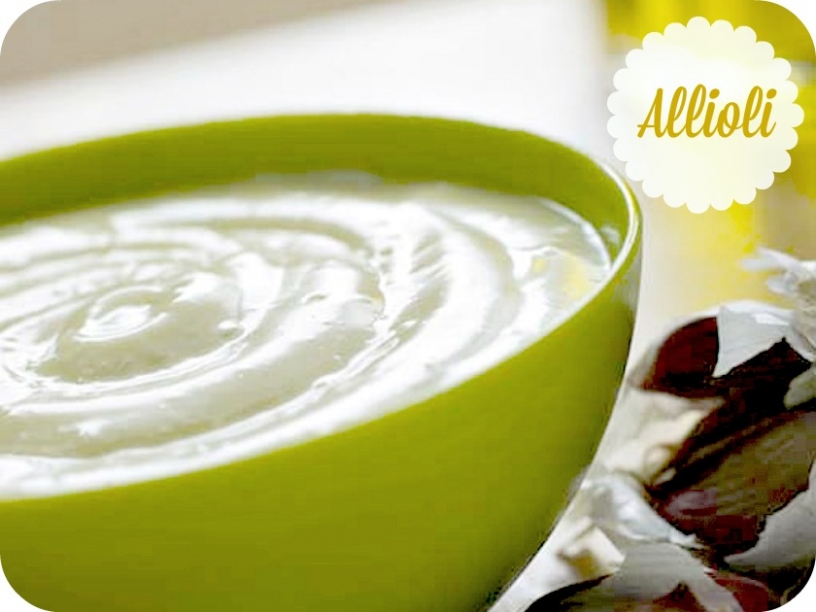 Salsa allioli
For many, a meal is nothing without a sauce, and in Catalonia each one is delicious and special in its own right. There is picada/romesco (toasted almonds, cinnamon, pine nuts, parsley and saffron), sofrito (garlic, olive oil, onion and tomato), allioli (simply garlic and olive oil, or with egg as a thickener) amongst many others!
7. Arròs Negre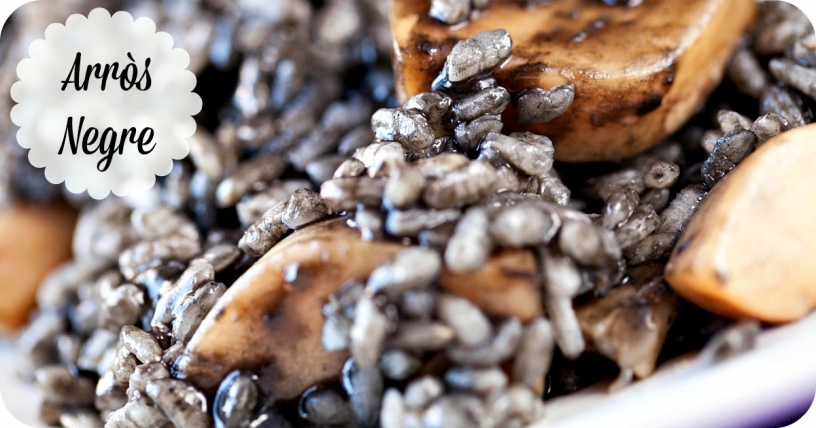 Black Rice
An alternative to Paella in Catalan cuisine is Arròs Negre (or Black rice), especially along the Costa Brava: rice, squid, fish, seafood, onion, garlic, and tomatoes seasons with olive oil and squid ink, giving it the characteristic colour.
8. Zarzuela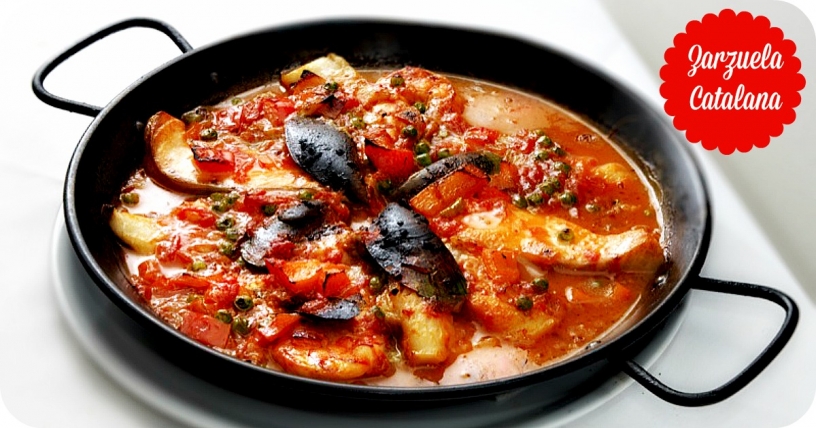 Catalan Zarzuela
For those in the know, the name comes from a type of lyric-dramatic musical genre that's popular in Spain. It is a dish in which all fish of the region are mixed together. It is served in traditional clay pot.
9. Catalan Grilled Chicken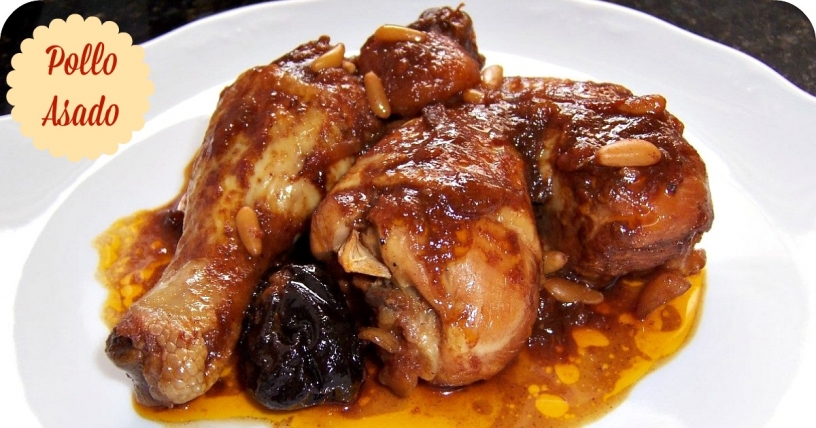 Catalan Grilled Chicken
This delicious dish is served with dried fruits like prunes and raisins. It's a perfect Sunday dish and if you're lazy can be bought pre-made in more stores. Delicious.
9. Embutidos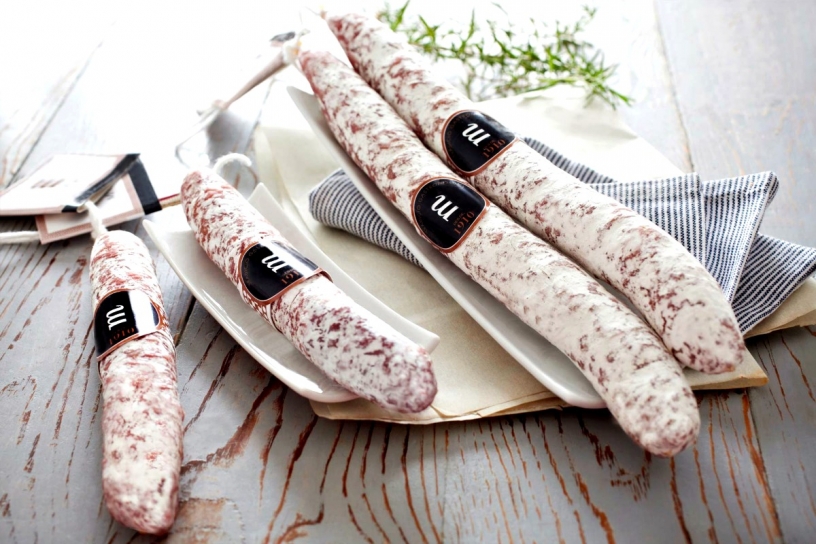 Fuet de Vic
For meat-eaters, embutidos are one of the best parts of tasting Catalan cuisine. Catalonia the proud home to fuet de Vic, a flavoursome dry cured meat that will leave you wanting more.
Feeling peckish now? Grab a bite to eat and then come to Barcelona to really satisfy your hunger. Just follow this gastronomic tour and you'll be able to enjoy all the delicious offerings that can be found here.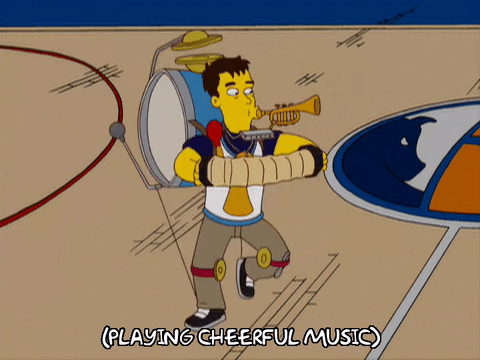 Jess just loves Catalan food.
Excursions in Barcelona
To make the most of Barcelona and fill your trip with unforgettable experiences and emotions, we offer you the excursions through the Catalan capital organized by our friends - the GetYourGuide team. Choose your excursion and fall in love with Barcelona: