Horta - Guinardó
(Districts)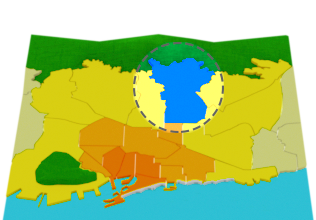 Horta in 5 minutes
The district of Horta - Guinardó is located in the northeast of Barcelona, ​​between Gracia and Nou Barris, a largely enclosed zone that's surrounded by hills, mountains, and valleys. To the north is Collserola Park. Originally, the centre of this district was the Vila d'Horta and gradually grew with the urbanization of the area.
Why Stay Here?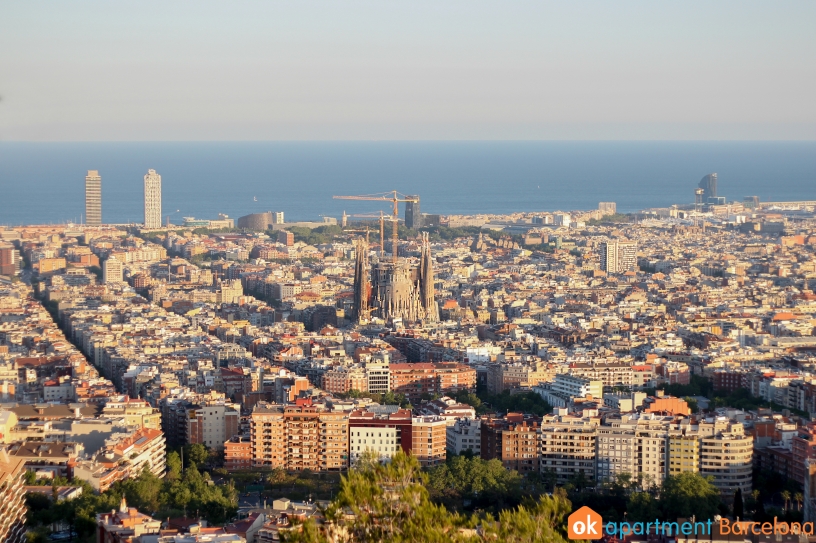 Views from the Old Bunkers of Carmel
One of the biggest advantages of staying in the Horta-Guinardó is that in this part of town, the accommodation is cheaper. That's without mentioning also that it features some of the most peaceful parts of the city, yet still has good public transport connections.
Despite the passing of time, the area has retained its village atmosphere and if you want to experience real life in Barcelona, Horta is perfect. Life here is calm, as most of the people living in the area are families.
Does the idea of staying here call to you? Well if that's so, then take a look at our list of apartments in the Horta-Guinardó district of Barcelona.
Attractions

Parc Laberint d'Horta
While in Horta-Guinardó, don't miss a visit to Parc Laberint d'Horta, which will take you on a journey back to the innocent days of childhood when you could stroll through the park without a care in the world. The park has the oldest set of gardens in the city and there is beauty around every corner. Remember to bring a bottle of water if you're visiting on a hot summer day though, this way you'll have no reason not to enjoy this gorgeous part of the city
The Barcelona Palau d'Esports and the Olympic Velodrome are also found in this zone, both of which deserve a visit.
The Turó de la Rovera viewpoint offers an incredible360º view of the entire city. A fantastic panorama of Barcelona and even more when the sun rises and sets. Whatever you do, don't leave your camera back at your apartment!
Where to Eat

Jamón español
In this district Los Noveles is always worth your time, tucked away on Calle d el Pájaro in the Carmel neighbourhood. Their anchovies are delicious and the frequents (a majority are locals) are simply charming as they put the world to rights whilst sipping on a glass of wine or brandy.
El Quimet d'Horta on Plaça d'Eivissa is the perfect place to savor in the juiciest sandwiches and the tastiest Patatas Bravas along with a nice glass of wine.
But if all you really want is something quick and cheap then visit Louise Se Va. The atmosphere; good. The food; fast.
If you want to try the famous Spanish "Iberian Ham" then there's a perfect place in Horta. Pass by "Es Bandoler" and give it a try. A word of warning though your mouth will be left watering for more.
Nightlife

Bar cocktail
Horta-Guinardó isn't the district for big nightclubs and pounding soundtracks. Leave that ruckus to the southern part of the city. No, Horta is home to some top-notch bars, like El Desig, where you can grab a mojito and get to know the locals who'll be sure to take good care of you. For some cool bars with terraces take a look at this article about the nicest terraces in Barcelona
.
If you do want to dance a bit, then there is Samba Brasil. It's a small venue with a pleasant atmosphere and a good vibe. You can forget your troubles and bounce around to some Brazilian music.
Getting Around

L3 - The Green Line
You can get to Horta via the Green Line, exiting at Vall d'Hebron, Montbau, Mundet or Valldaura, all in the north section of the city. You can get to Vallcarca or Lesseps, the Metro station for Park Güell in 10 minutes or the city centre in around 20 minutes.
From the Metro station Horta you can get to the Sagrada Familia in 15 minutes.
You can get to Barceloneta Beach in around 20 minutes by getting the Metro from Maragall to Barceloneta.
The district is also well served by buses. /p>
Attractions in Horta-Guinardó
Hospital de Sant Pau

Hospital de Sant Pau, is a magnificent modernist building with UNESCO world heritage ...

Parc Laberint d'Horta

The oldest and most romantic garden park in Barcelona will leave you lost... for words...
Do you like this post?
Join over 5000 subscribers and receive our posts delivered straight to your inbox. It's free :)
Share your thoughts
Select the area and discover the benefits of staying there




























Related articles
Tired of reading about Barcelona? Find an apartment and stay there!