Before arriving
Investigate the cost of living in Barcelona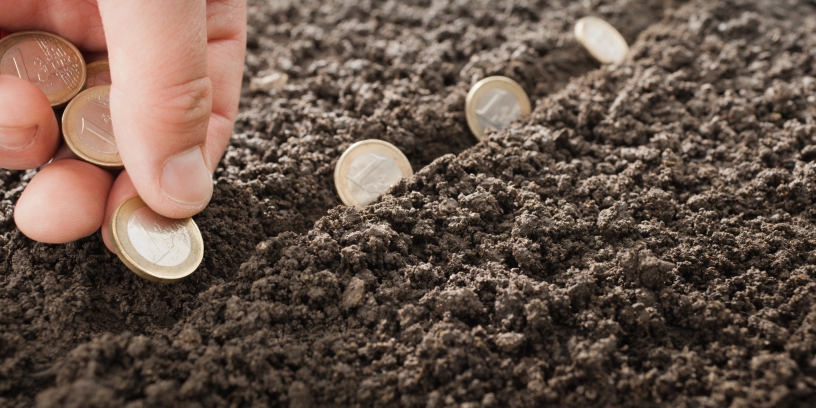 If only it worked like this...
The first step in preparing your trip to Barcelona is to get a general idea of the city. For that, you'll need to know the average cost of living, that is to say the average price of rent, daily purchases, public transports and other leisure activities like going for dinner or having a drink.
Monthly rent (room): About €400
Monthly shopping: €140
Public transport: From €105 (less than 25 year old)/€142 if you get a quarterly pass. If not, a ticket with 10 trips —called the T-10 — costs €9.95
Leisure: Going out / dining once a week, would cost about €100 per month
In total, with between €800 and €1000 per month you can live more than comfortable in Barcelona and enjoy an active social life. Take a look at this article that shows how to live here without spending too much in Barcelona.
Find your home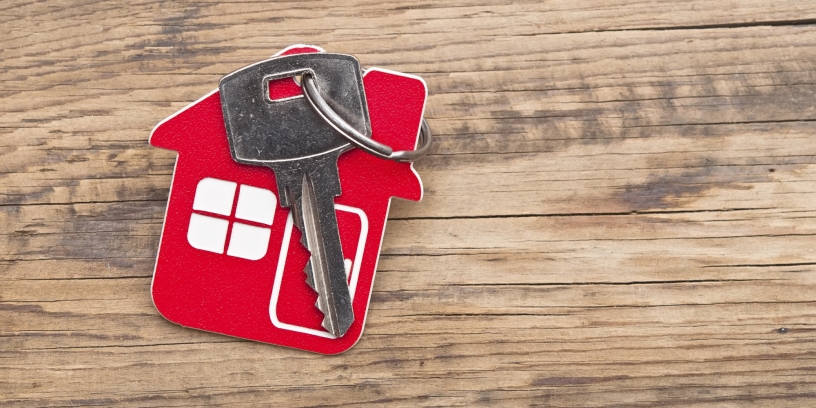 Looking for a flat in Barcelona
Okay, you've already decided that you want to live in the incredible "Catalan Capital". Now let's talk about another primordial part of your trip preparation, the search of your future accommodation. At this point there are two questions to ask. In what type of neighbourhood do you want to live and what type of accommodation are you looking for (shared apartment or live alone)?
To answer the first question we have an infographic that may be very useful to discover the neighbourhood that suits you most. It shows us which neighbourhoods are the most in demand, best communicated and most authentic... Here you can find 3 recommendable areas, depending on what you're looking for:
If you want to live in an area with a lot of diversity and real nightlife — Raval, Gotic and Born.
If you want to live in a university area close to campuses — Zona Universitaria, Les Corts.
If you're looking for a central residential area, well connected with public transport — Eixample.
If none of these are for you, here you have the infographic with the best neighbourhoods according to the residents of Barcelona: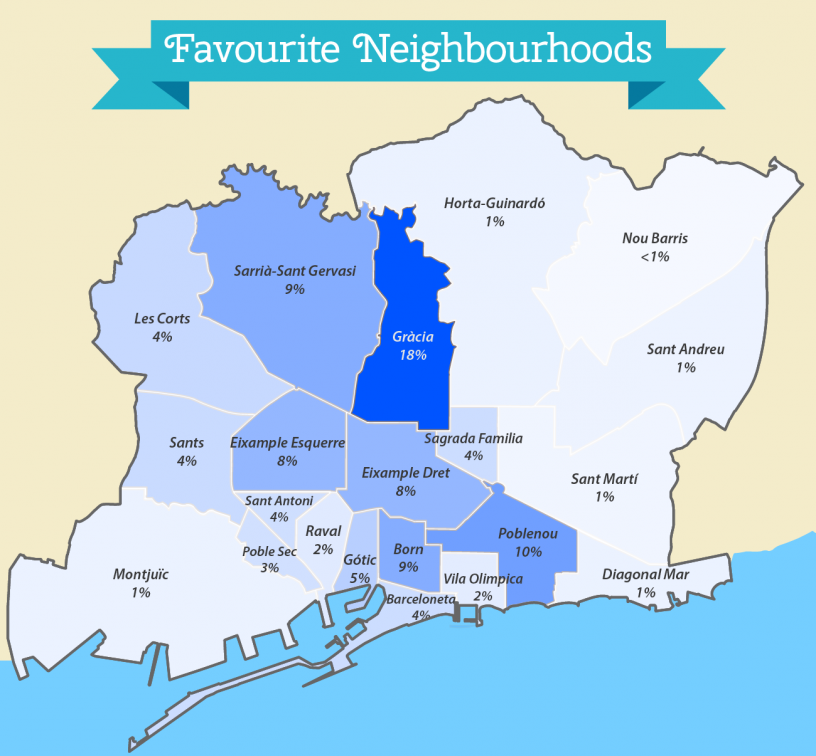 Once you choose an area, get ready to search an accommodation:
If you're looking for shared flats or rooms, there are several websites where you can go like idealista, easypiso, uniplaces and more ...
If you are looking for a private comfy apartment in good condition and reasonably priced… Here we are! We have monthly rentals throughout the city.
Once you've made a selection of the apartments you like, be prepared to visit them with a comfortable pair of trainers, backpack with all your documents, lots of questions and positive energy. It's not easy, as the demand far exceeds the supply of flats in Barcelona. Here's an article that summarizes the most frequently asked questions and answers when looking to rent an apartment in Barcelona.
Administrative measures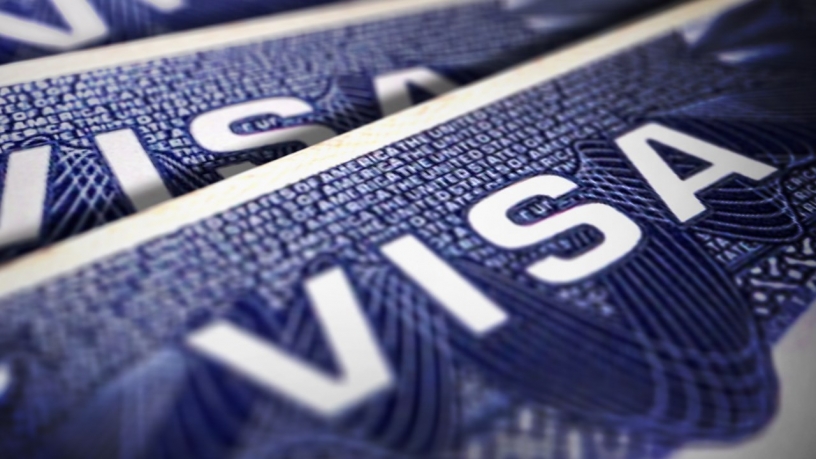 Paperwork...
At this point you're ready to start your new life, but there's one last step before you can book your flight and relax. Managing the administrative paperwork.
If your nationality is part of the Schengen zone, you'll only need to make your Número de Identidad Extranjera (NIE) to be able to stay more than 90 days in Spain. Here's an article with all the steps to follow to get that document.
If you come from a country outside the Schengen zone, you'll need a visa upon arrival or at most after 90 days on Spanish soil. There are two types of visas depending on what you're going to do in Barcelona — Student Visa and Work Visa. You must process this visa in your country of origin at the Spanish consulate. Here you have an article explaining the procedures and documents necessary to get a Spanish Visa.
Like any administrative procedure, it usually takes quite some time to get your NIE or Visa. Remember beforehand to anticipate by preparing the necessary documents, checking your current ID documents are not expired or will not expire soon, and looking for information on the official page of the Spanish Consulate in your city of origin.
Once arrived
You're already installed in Barcelona! Now you have to know the best ways to enjoy life in the city, how to get around, and find its best areas and events.
Move around the city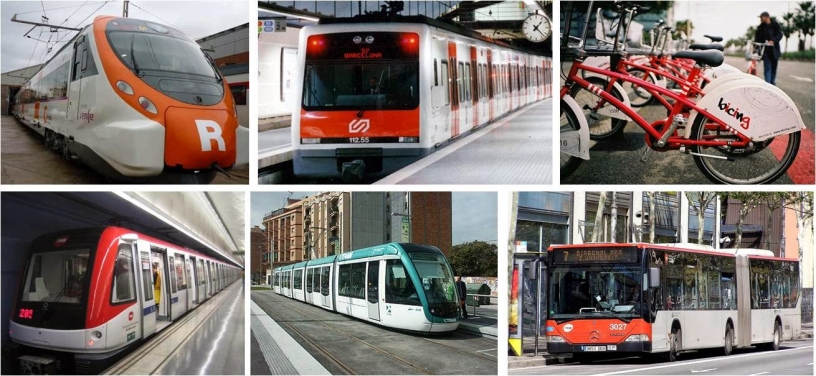 All Barcelona's public transportation
First you'll have to be able to navigate the public transport network that Barcelona offers. The quality and punctuality is generally very good and everything is very well signposted. The only thing is that the prices of travel passes are relatively expensive compared to the rest of Spain.
If you're going to use the Metro or bus to go to work or to university, it's recommend that you buy the quarterly travel card for €105 (less than 25 year old). With this pass you can use the Metro or buses for 90 days, as many times as you want.
If you live near your workplace or university, it's simply recommended to go by foot or buy a Bicing subscription, the Barcelona public bikes network that has an annual subscription free of €47. Then, if you need to take the metro from time to time during the weekend, the T-10 card gives you 10 trips for €9.95, which at €0.99/trip is the most economical method.
If you have to make interchanges between public transport types remember to pass your ticket whenever you enter; it will not count as additional trip if no more than 75 minutes have elapsed between your first entry.
Meet new people

New friends, new adventures
Unless you already have friends in Barcelona, be attentive to groups on Facebook that propose group activities. These communities are usually very active and hang out in bars or play sports together, with people who want to meet other new people. While you can easily make many foreign friends in expat groups to discover the city together, there is nothing better than a Catalan friend who'll help you to discover the non-touristy places of Barcelona.
Take advantage of these groups to ask about events and festivals in Barcelona. You can't imagine the number of festivals and concerts that are held throughout the year!
Learn a language (or two)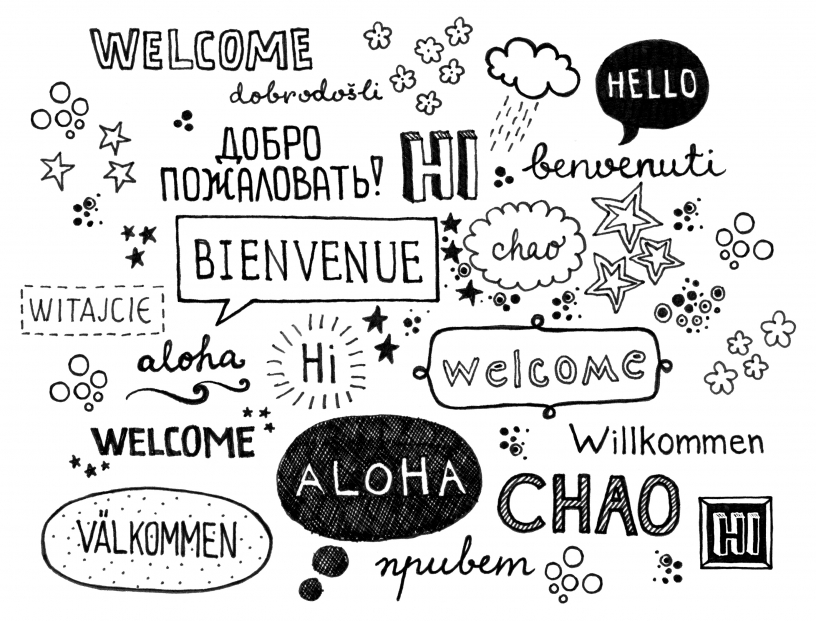 Learn any language in Barcelona!
Attracting so much diversity of people and nationalities, Barcelona is an ideal city to learn a new language, especially Spanish or Catalan. You can do it yourself through Facebook groups where people propose language exchanges or by going to one of the dozens of language schools in the city.
If you're more interested in the first option, then you just have to log on to Facebook and browse the groups in Barcelona. Most of them propose meetings where a specific language is spoken.
If you prefer the more traditional way to learn Spanish, we recommend you to go to a local language school. Here you have an article about these schools.
If you mastered Spanish or are interested in merging completely into Catalan culture, then you can learn Catalan in the same way. Here you have a website created by the Generalitat with all the information needed to learn Catalan in Barcelona.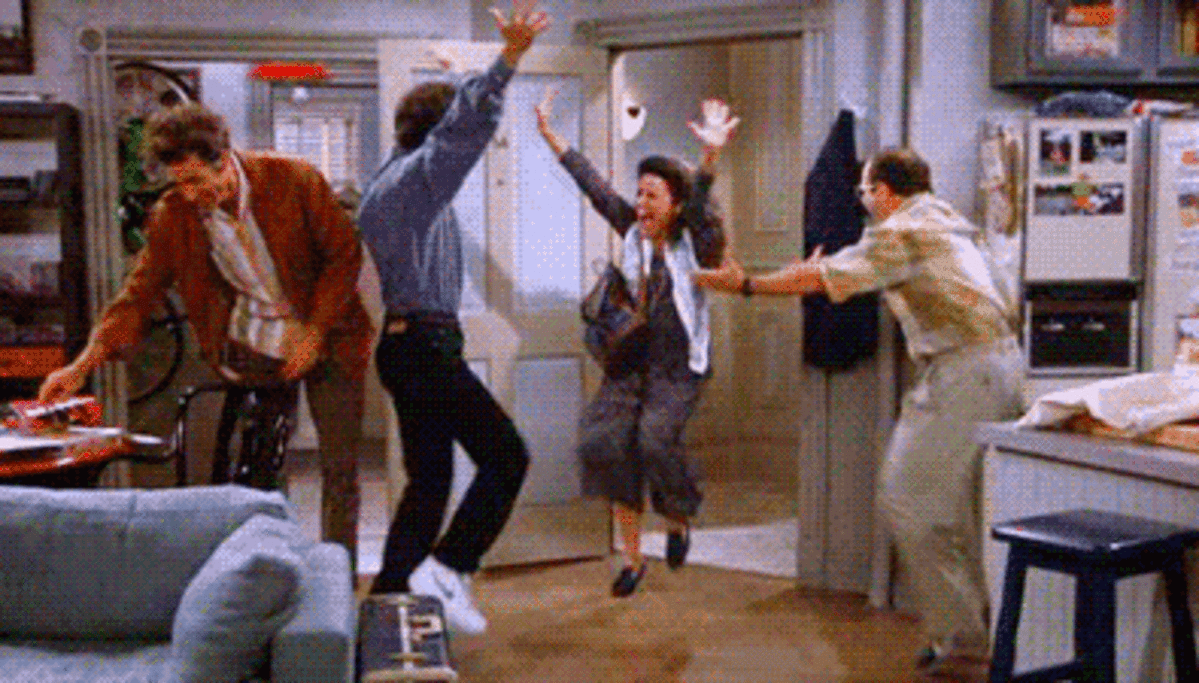 Above all, don't forget the most important thing!