Find your Dream Team
Your next teammates
If you come to visit the capital of Catalonia, ​​we will help you to find the best apartments for long term in barcelona. We offer apartments of different types, renovated and well furnished in all areas of Barcelona!
Obviously if you've just arrived and aren't lucky enough to have an old friend or acquaintance in Barcelona, then playing football is a bit complicated. At this point, you have two options. The first is to just kick the ball against a wall. The second is to get out there and try to find your next "Dream Team". In this section, we'll deal with the second one.
Dive right in and kick off
The first and simplest option is to go to the nearest park from your new apartment — ball under arm — and wait to meet people who play football. The problem with this is that results are totally random, you can immediately find people of your level with a missing player, but you can also spend several evenings without meeting anyone or people who simply aren't looking for new partners...
Facebook groups
If you haven't been very successful with or don't like the uncertainty of the first option, then Facebook is a very good tool to find friends or players. There are many groups of people made to organise football games in every city in the world. Try to write "Barcelona football" or "playing football in Barcelona" in the search bar and choose one to get in (… or register in several so you have more options). You may see a few scams, or conversely, very rigorous and serious groups when it comes to organise matches. Try not to overestimate your level or you'll end up running after the ball for 90 minutes without even touching it. 
Specific websites
Perhaps the most recommendable option and the best way to find your ideal field and team is via websites made for this. There are, like Facebook groups, people who have decided to create specific sites to search for players and pitches available to play upon. The difference with these websites is that they seek to establish a fixed community of people motivated to play regularly. Here is a list of the three best websites to find your new team:
Excursions in Barcelona
To make the most of Barcelona and fill your trip with unforgettable experiences and emotions, we offer you the excursions through the Catalan capital organized by our friends - the GetYourGuide team. Choose your excursion and fall in love with Barcelona:
Public fields
1. Parc de la Ciutadella Football Pitch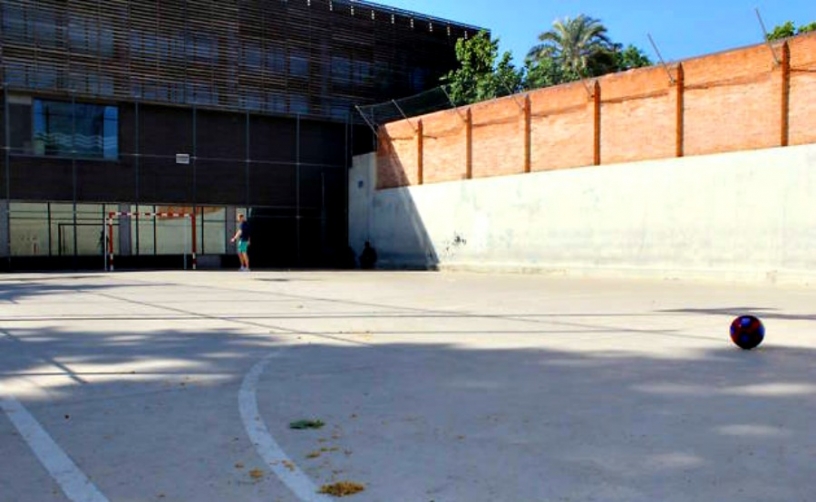 Parc de la Ciutadella Football Pitch
This park is located right next to Parc de la Ciutadella on the Passeig de la Circumval·lació. It's a concrete field bar none, with old cement, worn lines and goals without nets. Here, many kids and adults meet to play, so don't be shy and join the game. Watch out for sunny and warm days since there are no trees nor ways to find shade nearby.
2. Parc de la Maternitat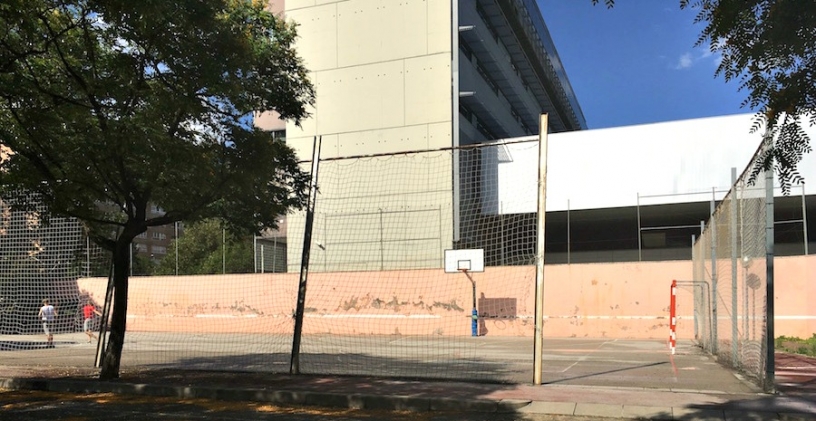 Parc de la Maternitat pitch
Another interesting field is the at Parc de la Maternitat as it seems totally out of place. Despite the name, you won't see pregnant or postpartum players running behind a ball... But there are two proper goals and even a basketball hoop. In addition to being in a super quiet area (which you'll awaken with your football fervour), it has a cage around the whole field in case you miss your shot.
3. Parc del Clot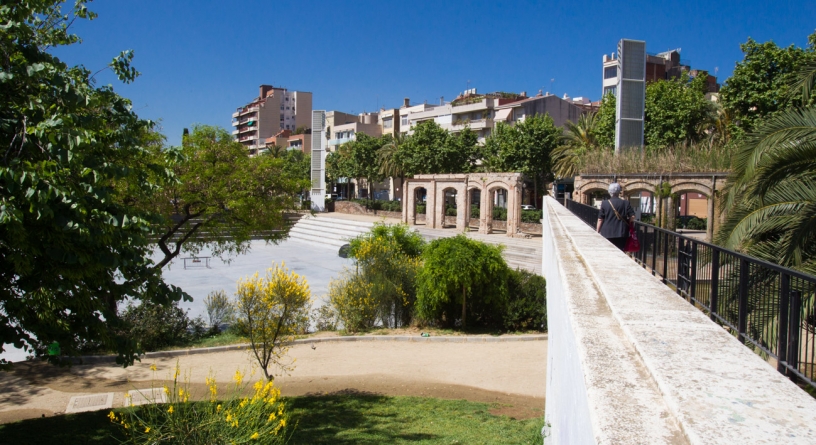 Parc del Clot and its tucked away pitch
This stadium is possibly the largest free concrete pitch in Barcelona. It's so large you can play 7-a-side and full-on 11-a-side football easily. The only thing is that this great-sized pitch in the Sant Martí district of Barcelona has a peculiarity — there are three goals! Two in front of each other and another one to the side. A layout that's a little peculiar but sufficient to let several groups play. In addition it has an area for spectators to enjoy the games.
4. Campus of the Industrial School of Barcelona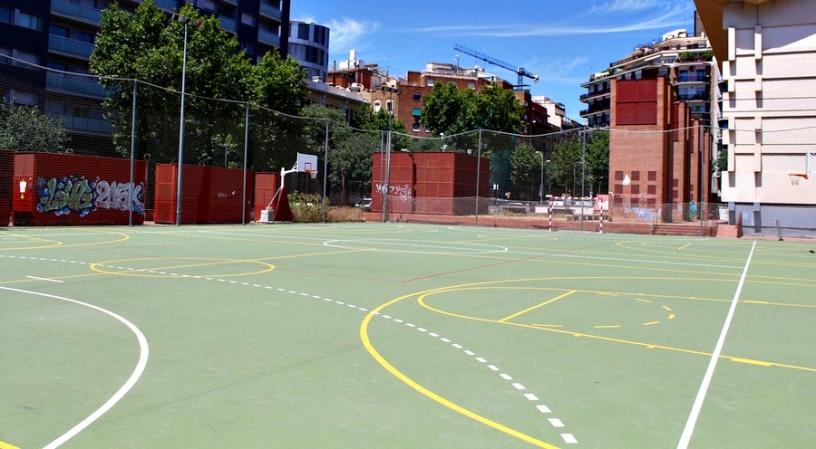 Public field of the Industrial school
At first glance you'll see an artificial grass field, but don't get too excited... This field is paid and must be booked in advance. Cheer up though, there's another one with a green floor right next to it. Open the metal gate, take a sip from the fountain at the entrance, then enjoy the legendary red and white goals in a good game between mates.
5. Parc de la Trinitat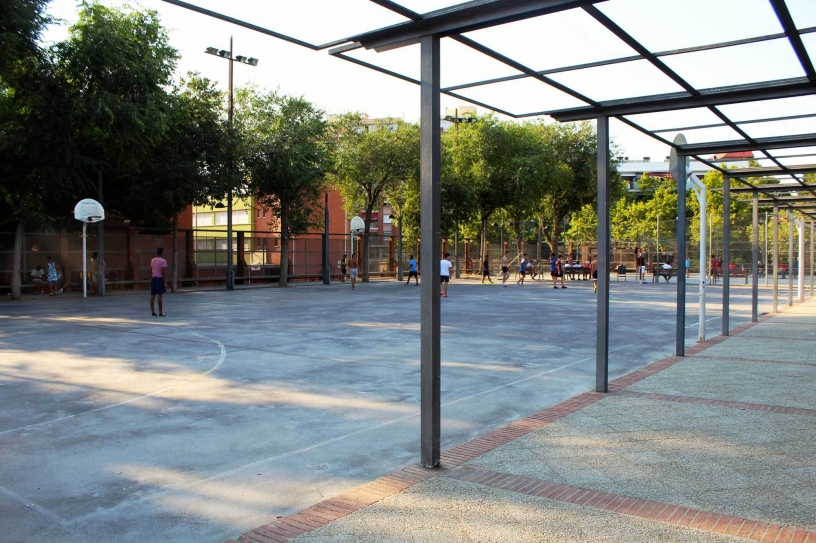 Parc de la Trinitat pitch
On this pitch there's also room for other sports apart from football, such as basketball, tennis and fronton. Here they didn't go through too much trouble to take advantage of the space. Set up the goals — two sticks and a crossbar by a blue wall — then it's time to play. And look around when you're there, this park has an advantage over others — not that it has better equipment or anything related to football — but it has barbecues! So, play hard and refuel.
So that's the list of pitches where you can meet when you want to play football with your dream team. However, in case you want to innovate, just below you'll find two other options where you can play football, but in a different way.
Alternatives ways to play football in Barcelona
Bogatell Beach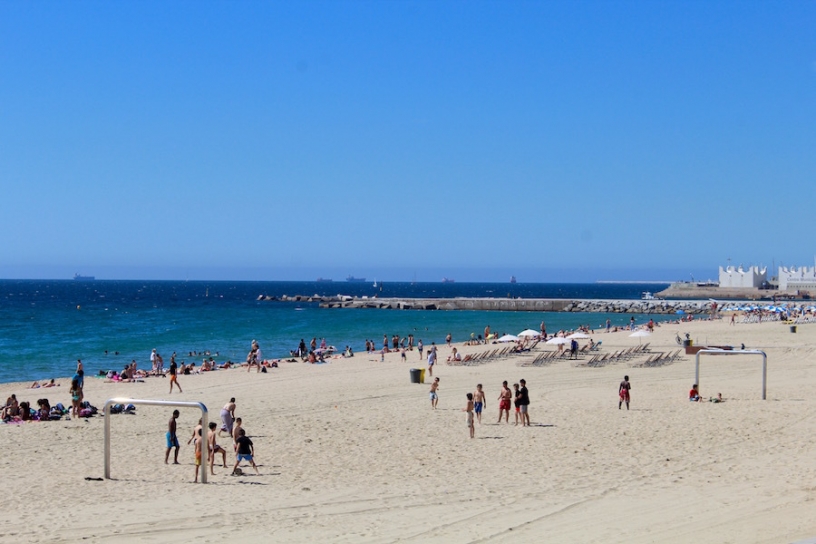 Football on Bogatell beach
For lovers of sea air and beach football, Bogatell beach offers a special area to practise this sport that's completely public. Obviously forget about trainers, they'll bother you more than anything else with the sand. You'll find two metal arches that make the goals. There are enough people during the day that we'd recommend you to go later in the day, after people have left the beach.
Futtoc in Plaça Gloriès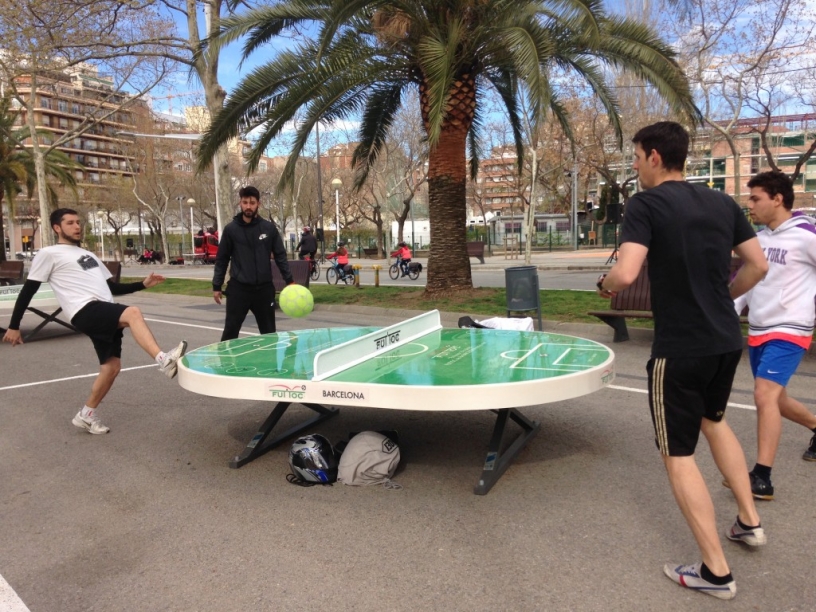 Futtoc in Plaça Gloriès
What is futtoc? 
It's a recently developed sport that fuses football with table tennis, created in Barcelona, Catalonia. It uses a special table called a Futtoc Table, with specific dimensions and a short solid barrier in the middle that you'll need to return the ball over. It's a game that can be played in singles, doubles, and even triples.
What are the rules of Futtoc?
>The rules allow players to briefly mount the side of the table and return the ball powerfully to finish the round. If it's a doubles game, only one at a time.
Just like in football, you can use any part of your body except your hands or arms.
You cannot touch the ball more than once each round. If it's doubles, you can pass the ball once.
Games are played up to 11 points (21 in doubles). If both players reach 10 points (20 in doubles) then the winner will be the first to get 2 points ahead. If the score is 19–19, then it will be the player that reaches 20.
The first to win 5 or 7 games, wins the match.
In Plaça de les Glories, there's a public area where you can see a sort of giant ping pong table with a low net. You're looking at a Futtoc table — designed to be used as a fusion between football and table tennis. The robust table is bigger and, as aforementioned, the game consists of getting the ball to the other side of the table with any part of the body (minus the hands) without dribbling more than once. Fun, right? Just know that if at first it seems quiet, we assure you that it's actually quite intense.
Map of free football pitches in Barcelona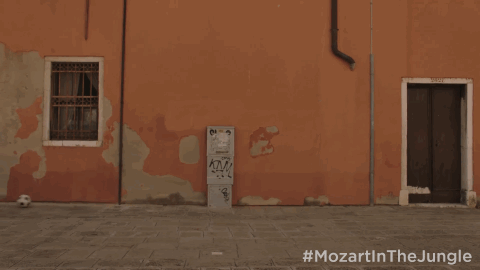 Let's play!