1. CHRISTMAS MARKETS IN BARCELONA
Santa Llúcia Market
This is the most famous Christmas market in Barcelona. It's sheltered under the cathedral of Barcelona and is the the oldest christmas fair of all celebrated today in the city. This year it celebrates its 230 anniversary (almost nothing). It has 300 stalls where you can find decorations, Christmas trees, nativity figures and gifts of all kinds. Most of the products you'll find are handcrafted.
From 25 November through 23 December, 10:30 AM to 8:30 PM
Sagrada Familia Market
Another Christmas market, though smaller than the previous one. It has been going for 60 years and is right next to the famous Sagrada Familia basilica built by Antoni Gaudí. Handcrafted products are also on offer here. Usually busy with a lot of entertainment. Here you can enjoy wine tasting, as well as cakes.
From 25 November to 23 December, 10 AM to 10 PM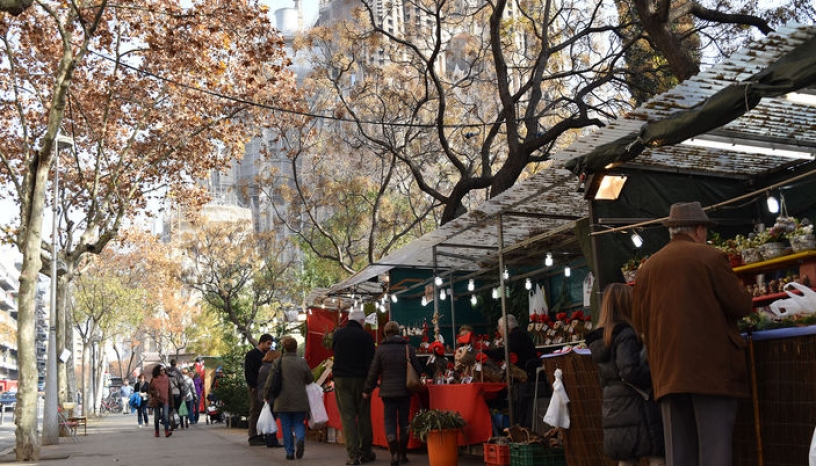 Sagrada Familia Christmas Market
Feria de los Reyes, on the Gran Via
It is a Christmas market that dates back to 1877. It is made up of around 200 stalls where they are sold from jewels and clothing to ceramics and decorative objects. You can enjoy it accompanied by a walk and a hot chocolate with churros. This market is between Urgell and Munater streets.
From 21 December to 6 January, 11 AM to 10 PM
2. ICE SKATING
Bargelona: The Christmas ice rink in Barcelona
It's used to be found on Plaça de Cataluyna, but this year they moved it to a bigger venue at a shopping centre in l'Hospitalet de Llobregat Its on Carrer Barcelona, 2 and the closest FGC station is Sant Josep. An unmissible activity for the Christmas holidays as this rink is one of the largest in Europe (1650m2) . The ticket costs 8 euros for an hour. There's another ice skating rink on Passieg de Sant Joan as well as another at Pedralbes shopping center.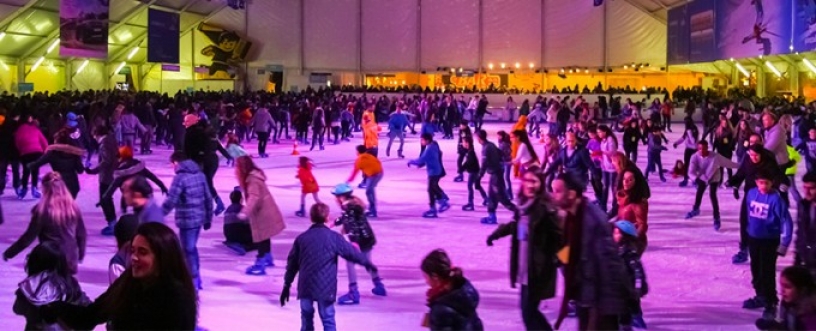 Bargelona, ​​the Christmas ice rink in Barcelona
3. WALKING IN THE CITY
Christmas days bring us back to childhood. Young people and adults alike love to see the Christmas lights. Take a stroll through Barcelona and enjoy this city on the days that it shines more than ever. Don't miss the video of Santa Llucía Market earlier in this article as it will surely give you one more reason to book and to stay in Barcelona!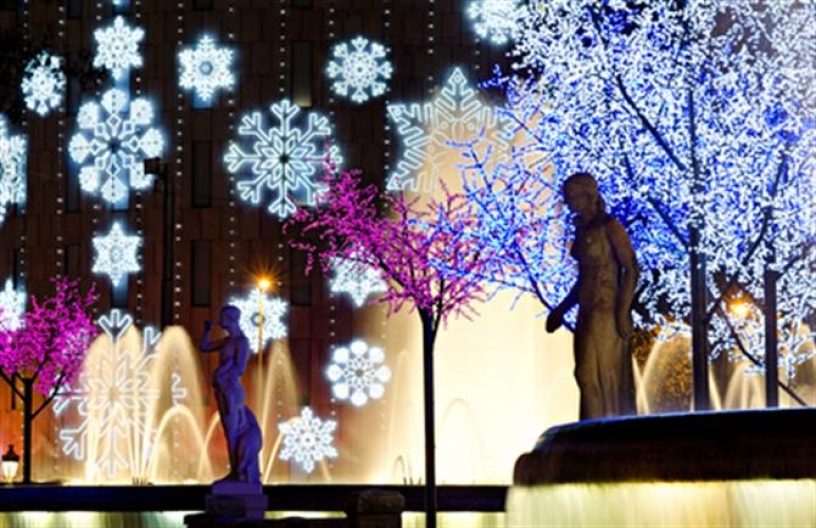 Lights in Barcelona
Catalan traditions
The Caganer
The Caganer is a feature of the nativity scene you'll probably only see in Catalonia. Traditionally, it's a figure of a person in typical Catalan clothes, with his trousers around his ankles and... well there's no real easy way to say this... he's pooing...
The theory is that his poo brings good luck, because it fertilizes the earth to ensure a good harvest next year. Of course, it might just be that the theory is a load of...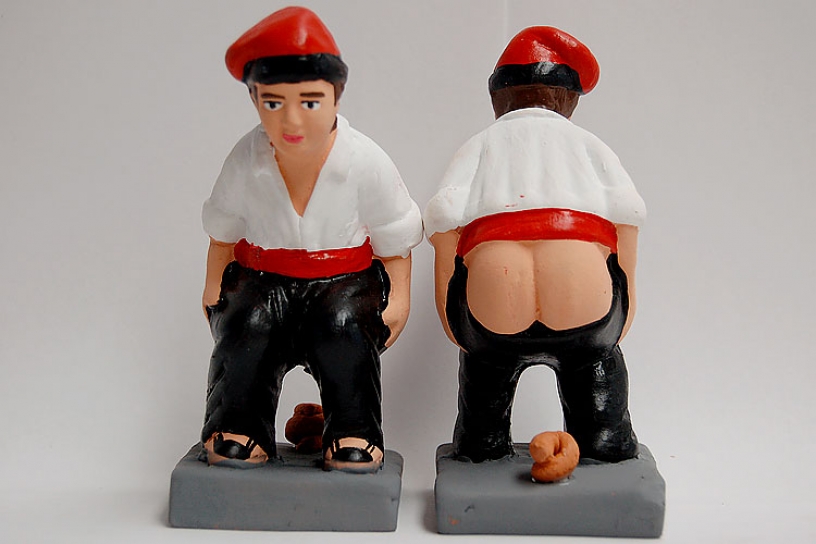 Caganer
Caga Tió
The Caga Tio also comes out on December the 8th and continues the light-hearted Catalan fascination with excrement. This is a log with a seemingly innocent smiling face on it and a traditional Catalan hat, called the Barretina. Children have to look after him by feeding him and keeping him warm with a blanket.
On Christmas Eve, after days of caring for this quirky creature; children hit Caga Tio with a stick, sing a special song and he poos out lots of treats. Caga Tio means "Pooing Log" in Catalan, just so you know. So if you get a crap present from a Catalan, now you know why!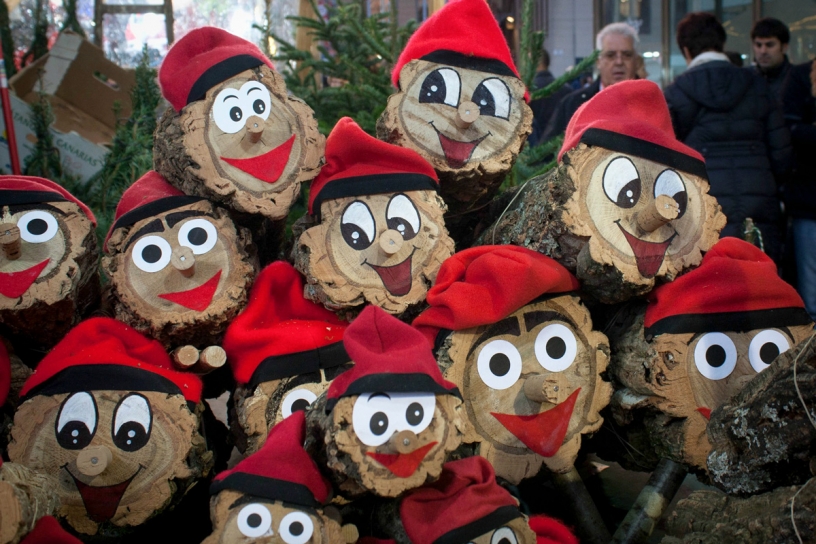 Caga tio
Catalan Christmas Cuisine
A tradition dish in Catalonia for christmas is called 'escudella i carn d'olla', and it's a slowly cooked stew full of meat, vegetables, and pastas. It's mainly a christmas thing. Different types of meat are generally used, like chicken, pork, lamb, and beef. Catalan Christmas desserts are delicious too, serving a selection of cakes and sweets, like marzipan, nuts, and turrón.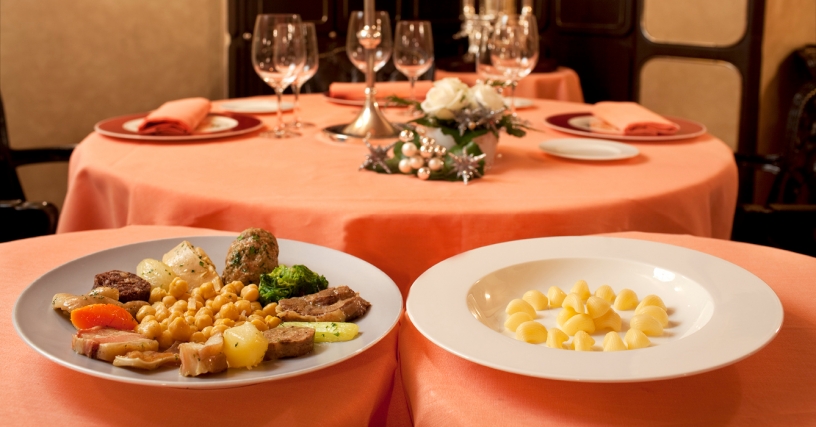 Escudella i carn d'olla - Christmas dinner in Catalonia
Turrón
One of the stars of Christmas, which we yearn for so much during the year and that comes at a time to increase the size of both our hearts and trousers. Turrón is a Spanish variant of nougat that's the typical Christmas sweet here. They are traditionally made with almonds and honey but also come in all sorts, like chocolate, fruit, praline, without almonds, rice, soft, and hard... Try them all!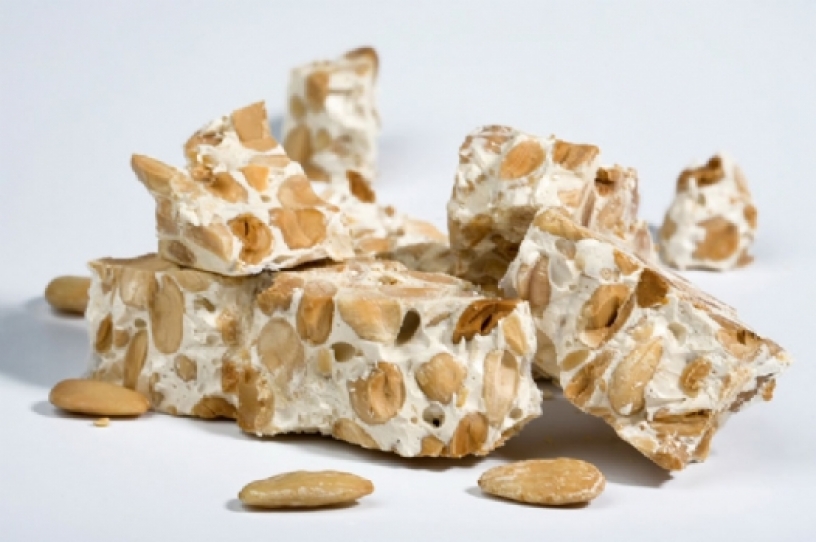 Turrón
5. THE CHILDREN'S FESTIVAL
From 27 December to 4 January, Barcelona celebrates something called Festival de la Infancia. For 9 days, a wide variety of activities will entertain the litte ones. Concerts, workshops, crafts and sports activities for the whole family. There will be face painting workshops, music, cooking classes, and even a few fun conferences about healthy eating.
The Festival emphasizes the importance of food quality through fun workshops and games with the aim of educating children. There are also sometimes Olympic Games and Barcelona Football Club players who visit to brighten the kids' days.
If you visit Barcelona from 1 December, we wish you good weather and a very Merry Christmas. You can also take a look at the best plans to celebrate New Year's Eve here .
You could also read this article about all the kinds of activities that you can do during autumn and winter in Barcelona. Take a look and choose the ones that best suit you!