Sant Antoni
(Districts)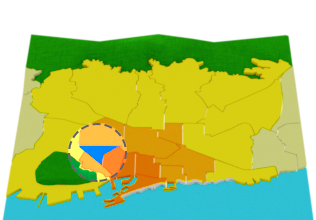 Sant Antoni is within walking distance from the city centre, Raval, and Montjuïc zones
Sant Antoni is part of the Eixample Esquerra district and can be found just west of Plaza Catalunya and just east of Plaza Espanya, meaning it's within walking distance from many majors parts of the city, like Las Ramblas, Paral·lel, and Montjuïc. If you'd like to discover Barcelona on foot then Sant Antoni is ideal, because practically everything is within reasonable walking distance. You can either look for an apartment in the Sant Antoni Neighbourhood of the Eixample Esquerra district.
Video presentation of Sant Antoni, Barcelona
Why Stay Here?
Sant Antoni is perfect for anyone who wants to stay around the city centre but without the restless nights that usually entails. If you're looking for a lively time though, you don't have to look far, because you can simply walk to a neighbouring area, like Raval or the northern part of Eixample, where you'll find lots of exciting places to spend the night. The zone is full of life, yet at the same time simple.
What to see

Sant Antoni Market
The most famous attraction in the area is Sant Antoní Market, which was created by Antoni Rivera i Trias in 1882. It has been undergoing renovations for a number of years but it's still possible to admire its architecture from the outside. The stalls from the market are still in the area too. Many sell clothes and accessories, but there are also groceries with fresh local produce. Basically everything you need at a good quality with a good price.
As mentioned earlier, the Sant Antoni market is a great place to shop, but not only that, because on the sundays there is also organized a Traditional market of books and stamps where fans can exchange or sell their collections with other collectors.
Where to Eat

Cervecería Moritz
The district is also characterized by the presence of many small bars, some of tapas, from the most traditional to the most alternative. Here's a selection of the ones we think are the best:
Bar Tickets
The Adrià brother's Bar Tickets is ideal for a drink with friends. With a modern style, it offers four different sections where you can try seafood, grilled dishes, desserts and appetizers. The restaurant is very pretty with a good atmosphere. The tapas are very elaborate. The price is a bit higher than average, but you won't be disappointed.
Bar Ramón
This is the ideal place for those who want to sample healthy and creative tapas, there are all kinds for all tastes and at a good price with excellent music.
Federal Coffee
If you want to try something different, Cafè Federal is definitely a great choice. Created by two Australians, the menu includes a wide variety of proposals to eat at any time of the day. The waiters are very friendly, food is delicious and its atmosphere is particularly welcoming.
Babelia Books & Coffee
Though, if we talk about places to spend an afternoon in the company of a good book, we cannot fail to mention Babelia Books & Coffee where you can choose from an infinite number of books and a wide variety of teas and coffees. It's a colourful and relaxing environment in which to spend a few hours immersed in reading or chatting with friends.
Florida
Florida has a restaurant with a refined relaxed atmosphere. Perfect for a lunch or dinner between colleagues thanks to its extensive menu and a large selection of international and Spanish dishes. The staff is friendly... And the tiramisu is really something wonderful!
Tarannà
This place is full of the "alternative" vibe that practically defines the neighbourhood of Sant Antoni. It's a cozy corner to have a coffee with friends and enjoy the typical products of the season, or perhaps drink a good wine. If only a little bit "hipster".
Sirvent
Sirvent is not just one of the most famous horchaterias in the city (a horchateria is where you can grab a local drink called "Horchata"), recently it has also lent its name to a large and bright restaurant that's right in the heart of the neighbourhood. The restaurant is the ideal meeting place to have a good lunch with business colleagues thanks to its large selection of sweet and savoury products. We warn you though, their stuffed croissants could become an addiction...
Bar Calders
One of the most historical places in Barcelona, ​​without a doubt. In the evening you'll see it become animated with lots of people who have come to enjoy a snack with a good ole vermouth on the outdoor tables.
Moritz Brewery
Last but not least, the king of the neighbourhood is the renowned Moritz brewery. Not only is it a great place to enjoy modern tapas along with a wide selection of beers, but it also has a museum inside with a small merchandising store. Parties and events can be arranged here too. It's a good place to have a lunch and eat great food.
Shopping

Sant Antoni Sunday Book Market
If you are looking for furniture shops, you'll love Vanolt, where you can find very elegant objects and antique furniture. There are also many clothing, accessories and shoes shops scattered throughout the area. Among other things, the neighbourhood is also known for its large selection of technology and I.T. stores that offer better prices than many of the big stores.
In addition to the presence of almost all supermarket chains, the area also offers a very large quantity of colour through its fruit and vegetable stores that stock high quality seasonal produce at very competitive prices. A treat for both the eyes and the tastebuds.
There's not only fruits and vegetables in local bio shops like Monônes. You'lll also find many natural and environmentally sustainable products including grains, milk, meats, breads and more.
Getting Around

L2 - The Purple Line
It's very easy to get around the city from Sant Antoni. In this area alone you have a choice of Metro lines 1, 2 and 3.
Sant Antoni
Universitat
Paral·lel
Depending on which part of the neighbourhood you're staying in, it will only take 10 - 15 minutes to reach Plaza Catalunya or Las Ramblas on foot.
Other images
Do you like this post?
Join over 5000 subscribers and receive our posts delivered straight to your inbox. It's free :)
Share your thoughts
Select the area and discover the benefits of staying there




























Related articles
Tired of reading about Barcelona? Find an apartment and stay there!