Sant Antoni
(Districts)
Sant Antoni is within walking distance from the city centre, Raval, and Montjuïc zones
Sant Antoni is part of the Eixample Esquerra district and can be found just west of Plaza Catalunya and just east of Plaza Espanya, meaning it's within walking distance from many majors parts of the city, like Las Ramblas, Paral·lel, and Montjuïc. If you'd like to discover Barcelona on foot then Sant Antoni is ideal, because practically everything is within reasonable walking distance. You can either look for an apartment in the Sant Antoni Neighbourhood of the Eixample Esquerra district or near las ramblas
Video presentation of Sant Antoni, Barcelona
Why Stay Here?
Sant Antoni is perfect for anyone who wants to stay around the city centre but without the restless nights that usually entails. If you're looking for a lively time though, you don't have to look far, because you can simply walk to a neighbouring area, like Raval or the northern part of Eixample, where you'll find lots of exciting places to spend the night. The zone is full of life, yet at the same time simple.
Qué ver

Sant Antoni Market
The most famous attraction in the area is Sant Antoní Market, which was created by Antoni Rivera i Trias in 1882. It has been undergoing renovations for a number of years but it's still possible to admire its architecture from the outside. The stalls from the market are still in the area too. Many sell clothes and accessories, but there are also groceries with fresh local produce. Basically everything you need at a good quality with a good price.
Where to Eat

Cervecería Moritz
For such a small neighbourhood it's full of fantastic little bars and restaurants. There is certainly a lot to choose from. For a quick snack, check out Bar Tickets from the world famous Adrià brothers. It's a modern locale and a unique concept that offers 4 different bars; seafood, grilled food, sweet stuff, and snacks. All in all an attractive place with a good atmosphere and an elaborate tapas selection. As you might expect from world famous chefs though, the price is above other places in the area... But you won't be disappointed!
Bar Ramón offers tapas that's as much creative as it is nutritious. There is a grand variety and at decent prices too.
Café Federal is an amazing place to grab a coffee! Created by two australians, it features authentic Australian coffee with fresh milk. The food is just as good and the staff are both helpful and charming.
Also famous amongst locals is the Cervecería Moritz, where the Catalan Beer 'Moritz' is brewed (you can see it being made if you head downstairs). It's a great place to celebrate with friends.
Shopping

Mercado Sant Antoni
The aforementioned Sant Antoni Market is great for some day to day shopping as well as good value fashion. Every Sunday there is also a books and stamps fair, where enthusiasts and collectors can find rare tidbits to take home or even sell and trade with the vendors!
For home-ware, Vanolt has a wide selection, from vintage to modern, and trendy to elegant. The neighbourhood is also known to its large amount of technology and I.T. stores that offer prices better than many of the big stores.
Getting Around

L2 - The Purple Line
It is very easy to get around the city from Sant Antoni. In this area alone you have a choice of Metro lines 1, 2 and 3.
Sant Antoni
Universitat
Paral·lel
Depending on which part of the neighbourhood you're staying in, it will only take 10 - 15 minutes to reach Plaza Catalunya or Las Ramblas.
Other images
Do you like this post?
Share your thoughts
Explore other districts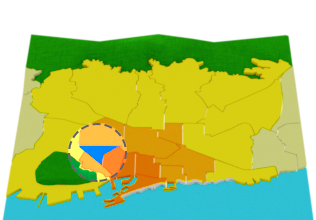 Select the area and discover the benefits of staying there




























Participate. Share. Win.
Tweets by @Ok_Apartment
Related articles