Sagrada Familia
(Districts)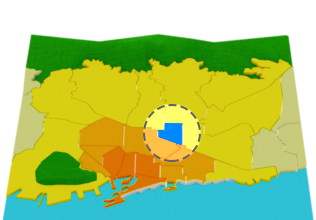 A typical Example neighbourhood with wide streets and a grid layout.
The Sagrada Familia area was once known as Poblet in the mid-19th century and was an area of small country houses and farmland, located around Carrer de Valencia. In 1897 the are became part of Barcelona's official borders. Work on the famous Sagrada Familia had already begun in 1882, which back then was isolated and away from the city. Check out this section of long term monthly rentals and explore the Sagrada Familia
Video presentation of Barcelona's Sagrada Familia neighbourhood
Why Stay Here?
The residential streets are very peaceful, and more than half of the residents there were born in Barcelona. This typical Eixample style neighbourhood has a highly structured grid layout. The area has an aging population without many students, nor is there much ethnic influence here when compared to the rest of the city. It is full of wonderful architecture.
If you're looking for a relatively central area with great artistic and commercial attractions, as well as brilliant public transport options for navigating the city, the Sagrada Familia neighbourhood is ideal. It's without a doubt one of the most pleasant residential zones in the city. You can always count on taking a pleasant walk through this neighbourhood.
Attractions

Hospital de Sant Pau
Of course, the neighbourhood gets its name from the world famous Basilica, the Sagrada Familia from Gaudí. It is one of the most important architectural works in the world and a prime example of the Catalan Modernisme artistic movement. 3 million people visit the Sagrada Familia each year, making it the building that attracts the most tourists in Spain. Construction began in 1882 by the architect Francesc de Paula Villar, and it wasn't until 1884 that Gaudí took over. It's still unfinished, but those in charge of its construction say it should be done within 20 years.... Probably!
Avinguda Gaudí(or Gaudí Avenue) is one of the roads linking the Sagrada Familia to another modernist masterpiece; Hospital de Sant Pau. Both buildings have earned the title of UNESCO World Heritage Site and the walk between them is where many locals dine out and go shopping. One point in particular along the avenue to pay attention to are the modernist lamps that line the path.
The Hospital de Sant Pau is a modernist structure designed by Lluís Domènech i Montaner. It is notable for its impressive halls and the towers adjourned with sculpture, mosaics, stained glass, and wrought iron.
Where to Eat

La Avinguda de Gaudí
The Avinguda de Gaudí is the perfect place to grab a bite to eat. Visit one of these lovely restaurants tapas; Tapas Gaudí, la Llesca, or the pizzeria La Piazzenza. Another restaurant near La Sagrada Familia is La Paradeta, a unique seafood restaurant. You get decide how much seafood you eat, how it's prepared (grilled or breaded), and make any combinations that you prefer.
If you prefer something fancy while you're on holiday, then don't miss Alkimia. Chef Jordi Vilà has certainly earned his Michelin Star, preparing extraordinary and adventurous dishes for guests. The price is around €100 per person and its necessary to book well in advance.
Shopping

Sweet Shop - Bombonería
The Sagrada Familia neighbourhood isn't home many fashion shops, souvenir trinkets, or typical downtown stores. Instead, you will find a wide selection of stores specializing in delicatessen, from sweet shops to butchers. One sweet shop is called Bombonería, attracting visitors through its doors with a delicious smell and colourful shop displays. You can also go to "Catanias" to purchase delights like toast and caramelized chocolate covered almonds, they all make for brilliant and unique souvenirs.
If you want to get to know an authentic Barcelona market then visit the Mercado de la Sagrada Familia, where you'll find a large variety of fresh produce like fruit, fish and seafood, meat, cheeses, deli, and more.
Getting Around

L2 - The Purple Line
This neighbourhood boasts a variety of bus and Metro options.
Stations; Sagrada Família, Hospital Sant Pau, Encants and Glòries. You can reach the city centre in around 10 minutes with this line getting off at Universitat.
This line will take you across the lateral length of the city.
You can also discover the neighbourhood on foot, which isn't a problem. The layout of the streets means it's practically impossible to get lost!
Attractions in Sagrada Familia
Sagrada Familia

The Sagrada Familia is the most visited attraction in Spain and a must-see for any vi...
Do you like this post?
Join over 5000 subscribers and receive our posts delivered straight to your inbox. It's free :)
Share your thoughts
Select the area and discover the benefits of staying there




























Related articles
Tired of reading about Barcelona? Find an apartment and stay there!