Barcelona's exceptional traditions
Christmas in Barcelona is a great experience, because there are many traditions specific to the Catalan region. Generally speaking, locals consider December the 8th as the day when Christmas begins. It's when they celebrate the celebration of the Immaculate Conception. Christmas lights though, can go up as early as October in some parts of the city... Officially however, this year they will be set up from 27th November. Talk about dedication!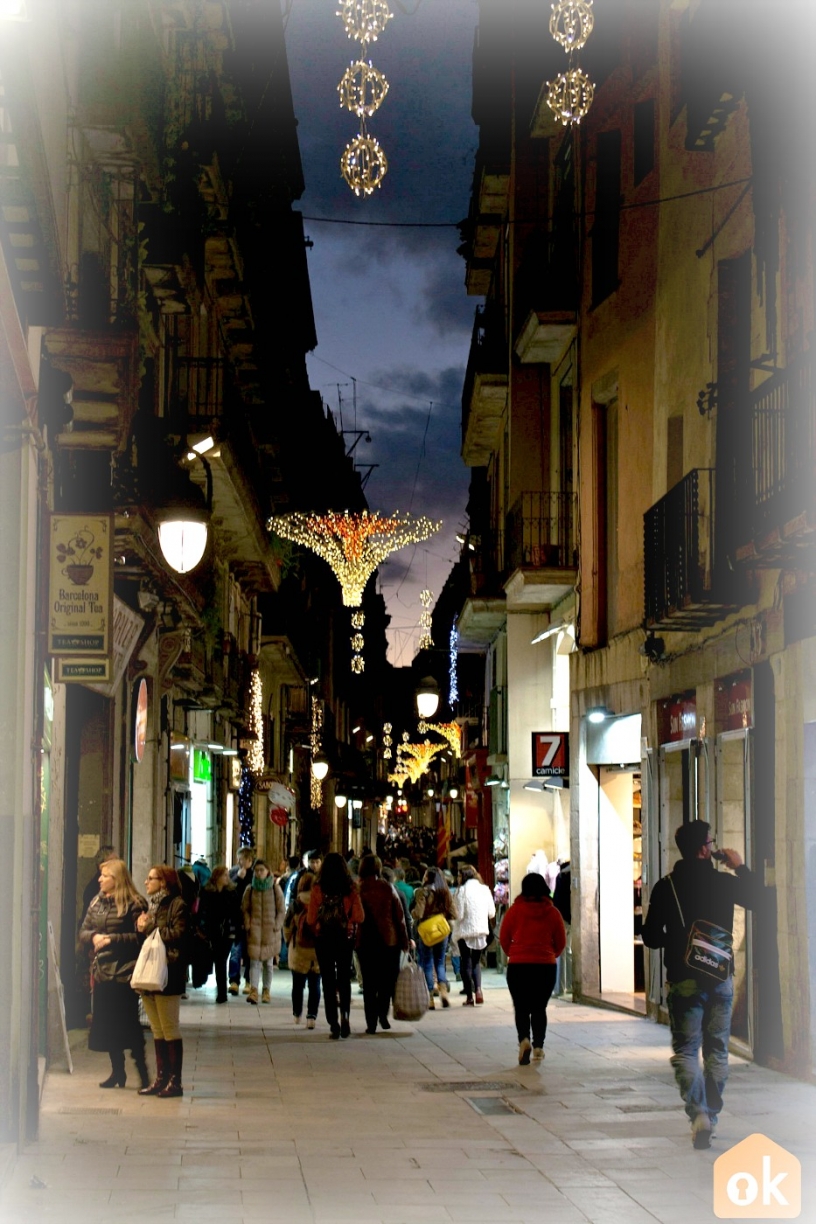 Christmas lights in Barcelona's Gothic Quarter
The Caganer
The Caganer is a feature of the nativity scene you will likely only see in Catalonia. Traditionally, it's a figure of a person in typical Catalan clothes, with his trousers around his ankles and... well there's no real easy way to say this... he's pooing...
The theory is that his poo brings good luck, because it fertilizes the earth to ensure a good harvest next year. Of course, it might just be that the theory is a load of...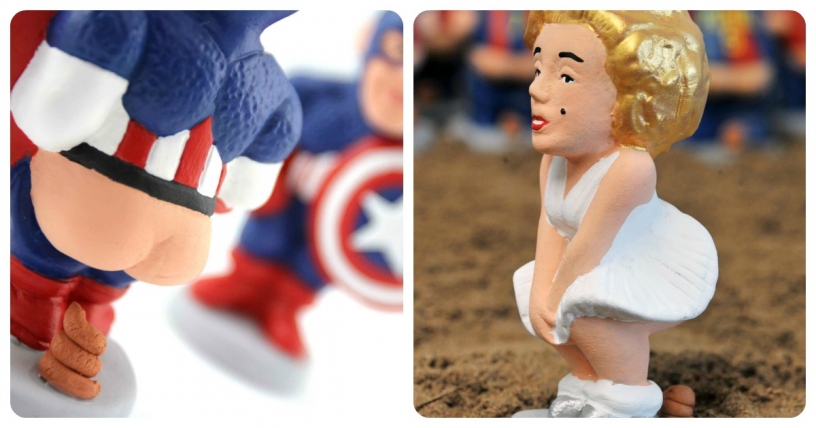 From Captain America to Marilyn Monroe, nobody can escape becoming a Caganer
Caga Tió
The Caga Tio also comes out on December the 8th and continues the light-hearted Catalan fascination with excrement. This is a log with a seemingly innocent smiling face on it and a traditional Catalan hat, called the Barretina. Children have to look after him by feeding him and keeping him warm with a blanket. All nice right?
Not quite! On Christmas Eve, after days of caring for this quirky creature; children hit Caga Tio with a stick, sing a special song and he poos out lots of treats. Caga Tio means "Pooing Log" in Catalan, just so you know. So if you get a crap present from a Catalan, now you know why!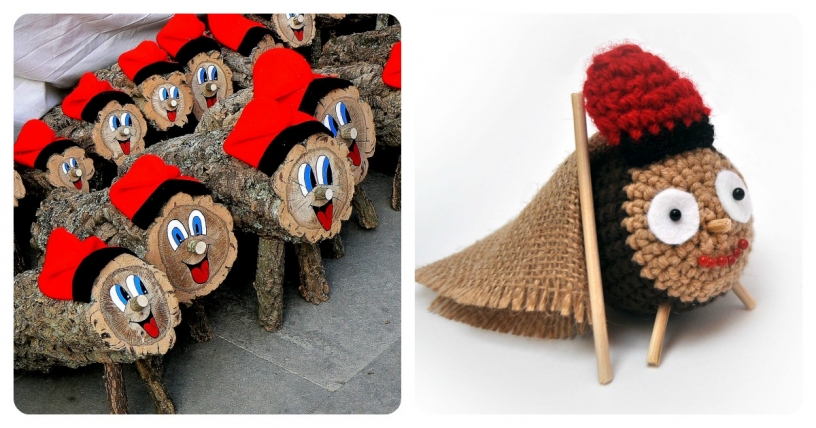 How would you like yours? Wooden or knitted?
Catalan Christmas Cuisine
Say that title ten times fast after drinking too much egg nog. No Christmas is complete without Christmas dinner! Many restaurants offer special menus for Christmas, but it's recommended to go to their website and make a reservation in advance because they tend to get fully booked for one of the most important days of the year.
A tradition dish in Catalonia for christmas is called 'escudella i carn d'olla', and it's a slowly cooked stew full of meat, vegetables, and pastas. It's mainly a christmas thing. Different types of meat are generally used, like chicken, pork, lamb, and beef. Catalan Christmas desserts are delicious too, serving a selection of cakes and sweets, like marzipan, nougat, and turron.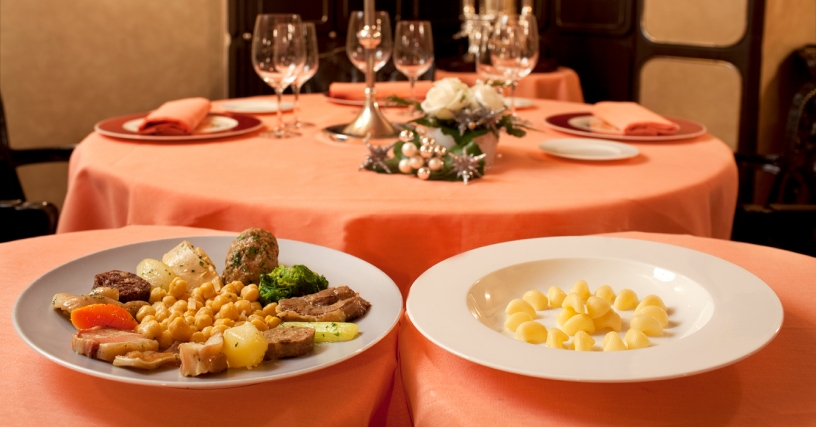 Escudella i carn d'olla - Christmas dinner in Catalonia
The Three Kings
This is a tradition is like a second Christmas. Just as the Three Kings are mentioned bringing baby Jesus gifts in the Bible, parents tell children that they also bring gifts to open on 6th January. A tradition around all of Spain that has also maintained in Catalan culture. It's generally much more popular than the idea of Father Christmas, something you only have to look at the large-scale street parades to notice. These parades see the arrival of the Three Kings with impressive floats that fill the streets with excitement and sweets for the little ones. These parades take place around Barcelona the day before on the 5th of January in the evening.
Snow in Barcelona
Right. If you're looking for a snowy Christmas in Barcelona, the chances of that happening are pretty slim. The last time there was major snow in Barcelona was in March of 2010. Although the snow remained on the street for just one afternoon, the usually reserved Barcelonians started dancing in the street and even started playing curling.
But... Barcelona's awesome during Christmas
The city is decorated all over with Christmas lights, especially the most famous street, Las Ramblas, which is especially cosy for tourists at this time of the year. For Christmas shopping it's highly recommend to visit to the largest and most popular Christmas market, called Fira de Santa Llúcia. The market is in front of the Cathedral in the heart of the Gothic Quarter.
This yearly market has been going since 1786 and there are many handmade decorations and beautiful gifts. And of course, this is the place to buy yourself a funny Caganer figure to take home.
In addition to this, at the end of November until the beginning of January, Plaça de Catalunya will host its own responsible commerce marketplace with stalls and activities for families. The famous annual ice-rink is a thing of this past here, as it has been moved to the Farga precinct in L'Hospitalet. There's another in the Pedrables Shopping Centre and also at Camp Nou!
What are visitors saying about visiting Barcelona for Christmas over on TripAdvisor?
Spend your holidays with style and cheers! There is a lot to do and enjoy during Christmas. Enjoy spanish music, concerts, tours, museums, cathedrals

Stephan on Trip Advisor
Whether or not you're visiting Barcelona in December, we wish you a great Christmas and a happy New Year. If you're looking for more things to do during this period in this city, look no further than our article on fun things to do in Barcelona during Autumn and Winter.
Speaking of which, if you're also in the city for the transition to the new year, why not read more about it in our New Year's Eve article?.