Badalona
(Districts)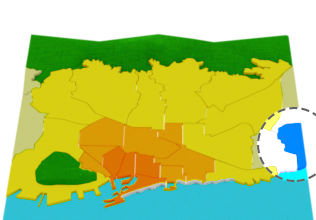 Badalona is a fun, diverse, and multicultural city.
Badalona is a fun, diverse, and multicultural city. It's located on the Mediterranean coast and is the third largest city in terms of population in Catalonia. It was the summer of 1992 that the city of Badalona modernized as a result of the Olympic Games of Barcelona, because it held the basketball and boxing parts of the event.
Why Stay Here?
Badalona features low property prices due to "not quite" being Barcelona, and it has a young and sporty atmosphere.
It's categorized by a close-knit community of citizens that are always looking to make it a better place to live. Also keep in mind that Badalona is one of the industrial centres of Catalonia and has almost 220,000 registered citizens.
If you want a deeper insight into the type of city that Badalona is, you can read one of our guest writer's travel stories about Badalona. Of course you can always stay there yourself! Take a look at our list of holiday apartments in Badalona.
Attractions

Petroli Bridge
The city has several pleasant areas to stroll, but those that stand out are La Rambla, Carrer del Mar, Millenium Park, and Montigalà Park as well as places of history like Can Solei and Ca l'Arnús, both located in the district of Casagemes.
Another place that attracts people, especially athletes, is the Parc Fluvial de Besós, a nice place to spend the day and unwind. This park has 9 km just for walking, biking, or having a picnic.
Badalona Beach is one of the main attractions of the city with over 5 km of beautiful sandy and rocky plains to relax under the Mediterranean sun, which are a lot less crowded compared to the beaches of Barcelona.
The symbol of the city is Pont del Petroli or "Petroli Bridge", an old construction that has a length of 250 metres of which 210 are over the sea. It offers a wonderful panoramic view of the city and Barcelona.
Even though Badalona is technically a metropolitan city it's full of interesting places like the old town, where the Roman city baths can be found, the Roman house on Carrer Lladó, The San Jerónimo de la Murtra Monastery , and the Church of Santa Maria, which is home to sacred artworks, like those of Antoni Viladomat and an image of Saint George which dates back to the 15th Century.
Where to Eat

Grilled Meat
The Volcànic restaurant lives up to its name by giving away volcanic and tasty meat dishes that promise to satisfy carnivores. Caruso has lighter dishes where you can try 100% authentic Italian cooking, with a fresh pasta menu that includes dishes made by hand, and dishes like Caprese Salad. The desserts are delicious and the staff simply make the overall experience all the more pleasant.
Another place work visiting is El café de les Antípodes. Upon entering you will find an impeccably decorated local, in a rustic and cosy style with strong earthy colours with hints of red and stones... New with old... You won't help but fall in love as you walk in.
Nightlife

El bar 4 Pedres
To get the party started you should visit El bar 4 Pedres. It's a tavern where you're going to taste some good beers accompanied by tasty montaditos (sort of like sandwich tapas). All wrapped up and packaged with soft music and a friendly atmosphere.
If you want to spend all night dancing, go to Keloké Disco Club. There are rounds of tropical shots just waiting for you!
Shopping

Màgic Shopping Centre
Badalona has various commercial zones. But perhaps the most important is El Centro Comercial Calle del Mar or "High-street del Mar". This commercial street is the most traditional of the city and you can find all sorts.
Màgic is another new shopping center in Badalona. It is built next to the highway and is distinguished by a huge basketball that you see from far away. This is a sports and entertainment center. It has many shops, especially fashion, with big brands like Zara, Bershka, and many more.
Getting Around

Línea lila
Badalona borders with Barcelona so has lots of transport options into its neighbouring city as well as the airport.
L2 - Purple Line at Sant Roc, Gorg, Pep Ventura, or Badalona Pompeu Fabra will take you to Barcelona's city centre in about 20 minutes
L10 - Light Blue Line at Llefià, La Salut, or Gorg will take you to the Sant Andreu district of Barcelona in about 15 minutes

The T5 - Tram at Sant Roc or Gorg will take you into Barcelona in about 20 minutes. You can then catch the T4 to reach the city centre in 10 minutes.
There is a RENFE train station in the city too which can take you to other regions or into Barcelona
Other images
Attractions in Badalona
Badalona beaches

Badalona - the neighbour city to Barcelona - has a selection of beaches!
Do you like this post?
Click here!

3.67/5 - 3 votes
Share your thoughts
Related articles
Tired of reading about Barcelona? Find an apartment and stay there!