1. How to avoid being robbed?
If you come to visit the capital of Catalonia, ​​we will help you to find the best apartment in Barcelona. We offer apartments of different types, renovated and well furnished in all areas of Barcelona!
The first step is of course, to not get robbed. This isn't so helpful if it has already happened to you, so feel free to skip the step or perhaps read on to learn how to reduce the chance of being robbed again. The easiest thing you can do to reduce your chance of being robbed significantly is don't dress like a tourist. Avoid large strange hats, large backpacks, cameras around the neck, FC Barcelona shirts outside of match days, and carrying maps/guides of Barcelona around; especially in crowded places. If you need to navigate the city, it's much more inconspicuous to use an app like the ones you can find in our Barcelona apps guide.
Always try to carry your most important documents or wallet in an inside pocket with a zip or in deep pockets, but never ever in a back pocket, bag, or backpack, this is especially important in places like Las Ramblas, the beach, or Raval. It's safer to leave your travel documents like passports at your accommodation (in a safe if available) just in case. It will save you a lot of headaches should you be stolen from. Know which number from your bank that you should call should you need to cancel your card, many will have international numbers for this.
Keep a strong password on your phone and make sure your SIM card has a PIN code set up. Set data roaming to stop calls abroad - ideally from your phone service rather than the phone itself. If you absolutely need to use your phone, it's recommended switching to a pay-as-you-go service for the duration of your time in Barcelona if you are worried about being robbed. If you live here setting up roaming isn't an option, so absolutely make sure you have a different PIN than the default set up on your SIM card! You'll find out why further down...
Whenever you stop off somewhere, even if you think you're in a safe area, never ever leave your belongings on the floor or out of sight, if you can help it hold onto them. At the beach you should never leave your stuff unattended and then go swimming, because when you come back it will be gone.
Four common pickpocket techniques used in Barcelona
The four most common pickpocket techniques in Barcelona.
The first is "The Ronaldhino", which involves engaging with the mark in a "friendly and playful way" imitating a footballer before bumping into the mark 'accidentally' while vacating them of their belongings.
The second is the classic "Dirty-up Clean-up" routine of staining an unaware victim, drawing attention to the stain and proceeding to clean it off while stealing.
Third is when boarding or leaving public transport, a pickpocket (or group of pickpockets) will purposely block/crowd around the victim and use the struggle to distract and steal.
"Welcome to Barcelona" hugs when they pretend you are a friend they haven't seen in years and rob you secretly in the embrace.
There are many other ways to distract you; like pretending to help you, acting like a police officer and demanding ID, asking for directions, or showing you a fanned out bunch of postcards for sale while you're at a café, which conceals them taking your phone on the table from right under your nose. There are also techniques with no distractions needed like having an arm under a coat/newspaper while standing next to you and dipping a hand into your bag/pocket or taking valuables from your back pocket by stacking into you from behind at a turnstile. Simply be aware.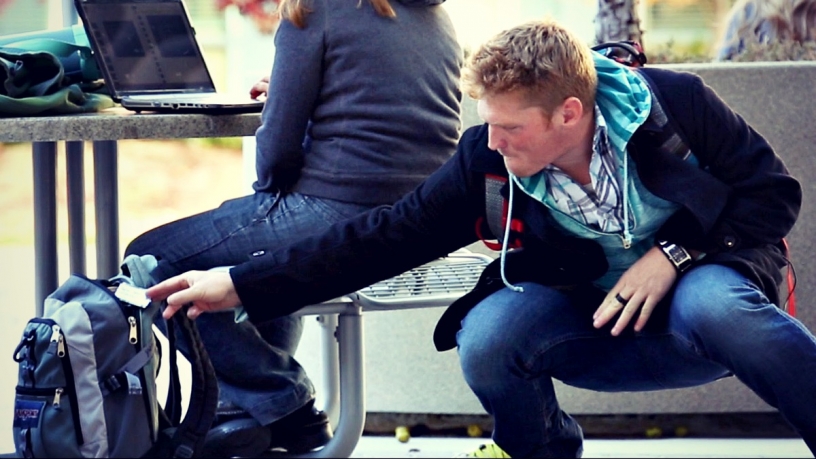 Never leave your belongings on the floor!
If you want to read more on how to avoid getting robbed in Barcelona, then take a look at this guide.
If you have already been pickpocketed though, here is what you will need to do:
2. What to do if you have been pickpocketed?
The first thing you should do upon being stolen from is cancel your bank cards. To do this you can call your bank (sometimes at a reverse charge depending on your bank), but if you don't know the number or your phone was taken too then get in touch with them by any other means possible; Skype, Twitter, online banking, mobile app, or anything you can think of, just don't put it off. If you are a local, then you should go to the nearest bank branch of your bank.
Pickpockets in Barcelona have also been known to target phones so that they can use them to call premium numbers which they have set up to turn a profit from. This can be done within the first hour, so it's important to act instantly. If you have put a strong password and your SIM card is protected with a PIN code, this gives you some time. If you have blocked calls from abroad or have a pay-as-you-go service, then it practically eliminates the risk of them robbing from your phone bill beyond any allowances you've made. You'll always still want to block the phone though.
To block your phone, you might have a security app to wipe and block it remotely, but you should still get in contact with your mobile service provider and inform them that your phone has been robbed. If you are a local and don't know the number, you can visit a shop from the company and they will help. This is in case any surprise bills do pop up, they won't be able to charge you for them after knowing the device has been stolen. Your phone service provider can also tell you the identification number of the phone, which you should use to report to the police so that in the event they find the device you can be notified. Your phone could be sold online through Spanish websites like Vibbo or more likely sold locally at a small mobile shop or markets like Encants. Most likely though, it will be stripped for parts.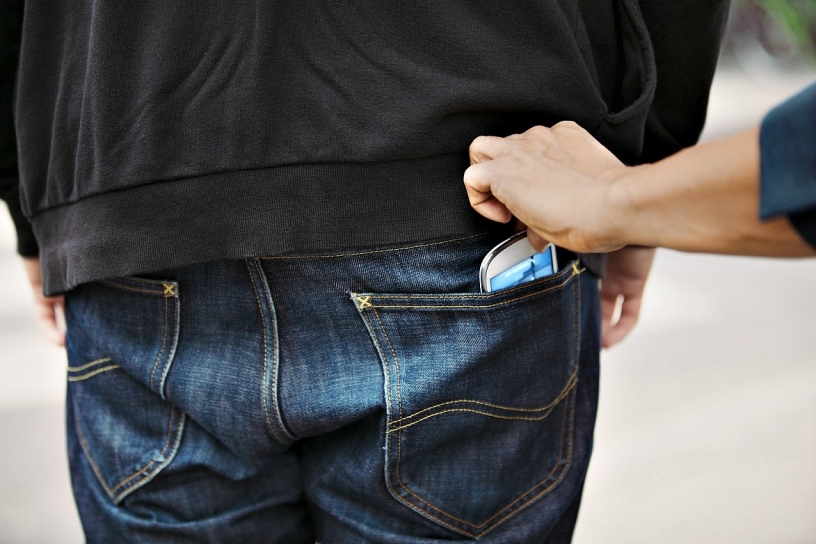 Avoid carrying valuables in your back pocket!
Once your phone and money are secured you should head to the Spanish police to denounce a crime and file a police report. You can usually be seen in English due to the experience dealing with tourists caught out by thefts but be warned that the translators work from 9:30am to 5:00pm! You will be allowed to carry on residing in Barcelona for a while without official papers. You can also obtain a temporary driver's license for two months. You don't necessarily need to go to a police station to begin the process as you can find a patrolling officer for help if you don't know where the nearest precinct is.
Unfortunately, there are a number of tales of police being reluctant to file police reports that imply this is so that they can keep crime numbers/costs/time down. If you find that you go to a station and for whatever reason your report won't be filed, you should visit the website to submit an online police report, which will have to be signed within 3 days of filing.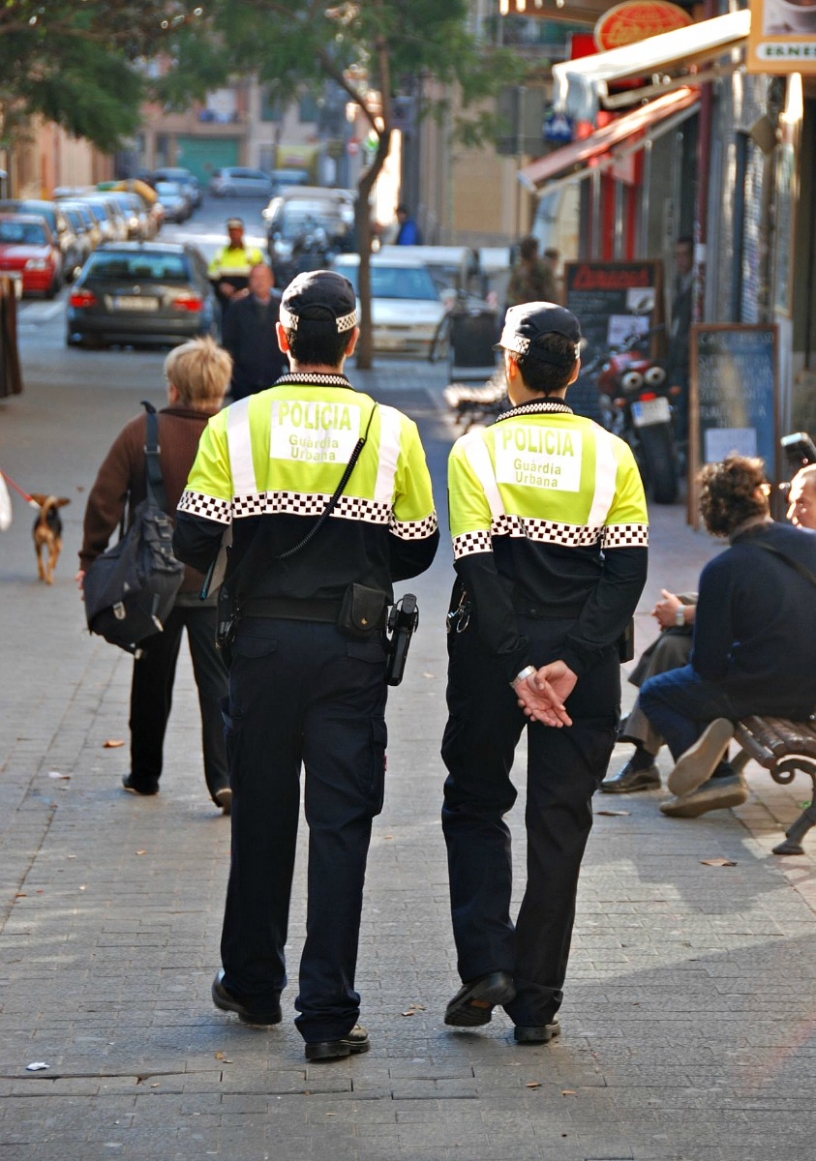 Guardia Urbana
To fly back to your country of origen, in some cases you can call your airline and ask if they can issue you a temporary passport, though they will need to see the police report to decide if you will be allowed. This is not commonly permitted with short-haul low-cost airlines, though airlines like British Airways have occasionally allowed this. More likely though you will need to visit the consulate of your country in Barcelona for an emergency replacement at a cost usually with a filled-out form, passport style photo, police report, and proof of travel plans (emails with booking confirmations, plane tickets, etc).
If you live in Barcelona, non-emergency passport replacement processes can be sped up by some consulates if you happen to keep a photocopy of the passport with your details and number. If your NIE was stolen, you will unfortunately have to restart the process for a new NIE.
Excursions in Barcelona
To make the most of Barcelona and fill your trip with unforgettable experiences and emotions, we offer you the excursions through the Catalan capital organized by our friends - the GetYourGuide team. Choose your excursion and fall in love with Barcelona:
Map of police stations in Barcelona
Your travel insurance will usually cover the costs, including replacing your documents if they were stolen directly from your person and not due to leaving them unattended. Always be sure to check the conditions before you choose an insurer.
Reader experiences
As mentioned before, it's not just tourists who get pickpocketed. Here are some experiences shared by some of our readers who now live in Barcelona that have had to go through the ordeal of being robbed. Some of them catch the thieves in the act, others aren't so lucky, but they explain their encounter so that you can avoid it happening to you!
Caught in the act - Susan C.:
I caught my pickpocket in the act because I had watched a Will Smith movie called Focus where Will teaches someone how to pickpocket. My thief used the bump past you on the opposite side distraction while he picked my phone out of my coat pocket. A gf had her phone stolen by a cyclist while she was trying to take a photo. She caught him too. Thieves - 0, Ladies - 2.
A costly nap - Robert D.:
I fell asleep in the metro (stupid I know) and when I woke up everything was gone, passport included. I need to bring a police report to the consulate for a replacement but they won't let me fill out a police report because I don't have photo ID, though you would think they'd let me off considering the report is about my only form of photo ID being stolen. Can't even buy a sim card without photo ID in Spain!
A variation on the Ronaldhino technique - Michael l.:
A guy tried to steal my friend's iPhone. He pretended to be a dance club promoter and tried to dance with her while his friend tried to steal her phone out of her coat pocket. Luckily she caught it in time. These guys prey on the friendliness of visitors. My friend was visiting from Denmark. I've seen a pickpocket happen in person. A guy behind a girl and unzipped her purse and it showed her wallet and phone. And he exited the metro the same stop she did and did the bump, hand in purse, wallet and phone gone.
It's always best to avoid being robbed to begin with rather than deal with the consequences, so hopefully you're only here to plan a "what-if" scenario. A pickpocket can be dressed smart, like a tourist, a man or woman, young or old. There is even the chance you will find child pickpockets. If you are aware of what's going on around you and never let anyone get into your personal space you should be fine. If anyone approaches you suddenly, your hands should go directly to your valuables and as you back off.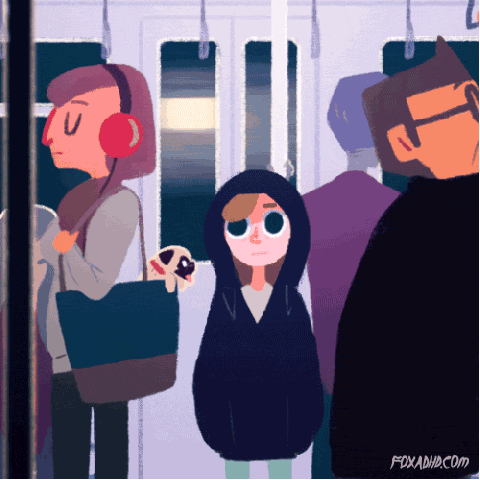 Be careful on Barcelona's Metro!