La Pedrera Tickets
Firstly, I am going to talk about the different types of Casa Milà tickets you can buy. There are 6 types of ticket in total. Personally, I did the La Pedrera Day and Night Tour. I loved my experience, however I don't think you need to do both the day and night tour. I didn't learn anything new on the night tour and the tour felt a little rushed. Although the rooftop was very impressive at night and the light show was wonderful to watch, I don't believe the night tour is worth double the price of the day tour alone. 
Therefore, I would recommend the day ticket alone, as you can walk around at your own pace, listen to the free audioguide as many times as you want and learn more information about the history of the building and the creator - Antoni Gaudí. You will be able to see a lot more of the building on the day tour, such as the rooftop, attic, the apartment and the exhibition area. On the night tour, you will only get a short tour of the inner courtyard on the ground floor, one part of the attic and the rooftop.
However, this is just my personal opinion! Take a look at all the tickets available so you can make your own mind up! 
You can buy any of these tickets on the oficial site of La Pedrera.
La Pedrera By Day
This is the basic ticket for a daytime visit with an audioguide included. You can book your tickets for any time between 9:00 h - 20:30 h. Last entry is at 20:00 h.
General - 22,00 €
Children (7-12 years) - 11,00 €
Children (0-6 years) - Free
Student - 16,50 €
Disabled - 16,50 €
Senior (+65 years) - 16,50 €
Catalonia residents - 12,00 €
Resident children (7-12 years) - 6,00 €
La Pedrera By Day Premium
If you're not sure which day or time you want to visit Casa Milà, this ticket is for you. It allows to buy the ticket then visit whenever you want within six months of the purchase date. You can avoid waiting in the queues by entering immediately through the main door, which is reserved for Premium visitors only. This tour includes the audioguide and a visual guide of the building. This tour takes place anytime between 9:00 h - 20:30 h. Last entry is at 20:00 h.
General - 29,00 €
Children (7-12 years) - 11,00 €
Children (0-6 years) - Free
La Pedrera Night Tour
Gaudí's Pedrera: The Origins allows you to take a guided tour in a small group with a show on the rooftop, a glass of cava and with audio-visual screenings. The night tour takes place between 21:00 h - 23:00 h.
General - 34,00 €
Children (7-12 years) - 17,00 €
Children (0-6 years) - Free
Catalonia residents - 20,00 €
Resident children (7-12 years) - 10,00 €
La Pedrera Day and Night
Can't decide whether to see this impressive Gaudí work during the daytime or at night? With this ticket, you don't have to decide! You can do a tour during the day then come back for the night tour. You can do your night tour on the same day or up to three days before or after you arrange your daytime tour.
General - 41,00 €
Children (7-12 years) - 20,50 €
Children (0-6 years) - Free
L'altra Pedrera
On the first Saturday of every month at 12:15 h, take this special guided tour full of anecdotes and stories about the Gaudí work. This tour is in Catalan.
The Awakening of La Pedrera
Do you want to see this masterpiece before anyone else? With less people around, you can properly explore Casa Milà and take the best photos! On Thursdays and Fridays at 8am, take a guided tour in English before it opens to the public.
General - 39,00 €
Children (7-12 years) - 19,50 €
Children (0-6 years) - Free
How to prove you are a resident of Catalonia
If you live in Catalonia and want to benefit from the discounted ticket, you must submit your DNI or NIE number. If the address on your identification is not in Catalonia, you must also present proof of address, such as a household bill.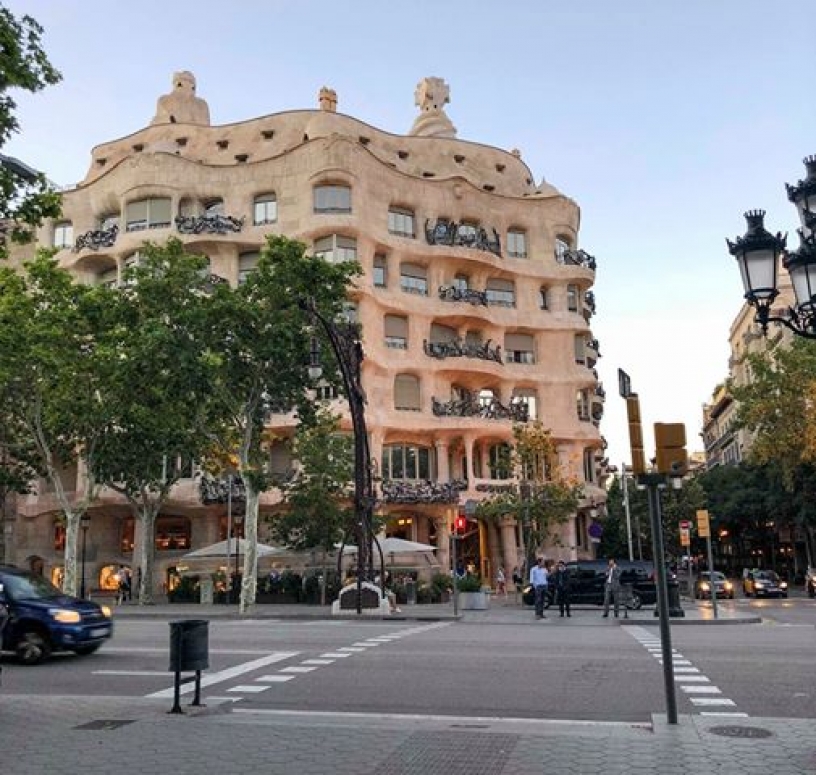 La Pedrera - Casa Milà
If you come to visit the capital of Catalonia, ​​we will help you to find the best holiday rentals in barcelona. We offer apartments of different types, renovated and well furnished in all areas of Barcelona!
Before Your Visit
In this section, you will find how to prepare for your visit so you can truly make the most of it on the day! Find information about before, during and after your visit.
Casa Milà Interior and Exterior
Before you get ahead of yourself, I would suggest reading a bit about the Gaudí work before your visit. If you go with a little prior knowledge, you are sure to get more out of your visit. If you want to be prepared, read the following article and educate yourself on the architecture and of La Pedrera.
La Pedrera Hours
1 March - 4 November
From Monday to Sunday: 9:00 h - 20:30 h
Night Tour: 21:00 h - 23:00 h
5 November - 28 February
From Monday to Sunday: 9:00 h - 18:30 h
Night Tour: 19:00 h - 21:00 h
26 December - 3 January
From Monday to Sunday: 9:00 h - 20:30 h
Night Tour: 21:00 h - 23:00 h
You will probably spend between 2 hrs to 2 hrs 30 mins in Casa Milà, maybe even more. Watch out! The upper floors close 15 minutes before the building closes!
Skip the Queue
I strongly recommend that you buy your tickets online. By doing this rather than purchasing them at the ticket office, you will:
Avoid long waits and queuing
Avoid processing fees (€3/ticket)
What is the best time to visit La Pedrera?
Generally the least busy times are in the early morning (between 9:00 h and 10:00 h) and in the afternoon (after 16:00 h). If you can, it's better to go when it's quieter as you can take a more relaxed tour of the building with better photo opportunities.
Contact Details
You can contact La Pedrera Monday to Friday from 9am - 6pm and on weekends and holidays from 10am - 2pm.
+34 93 214 25 76
info@lapedrera.com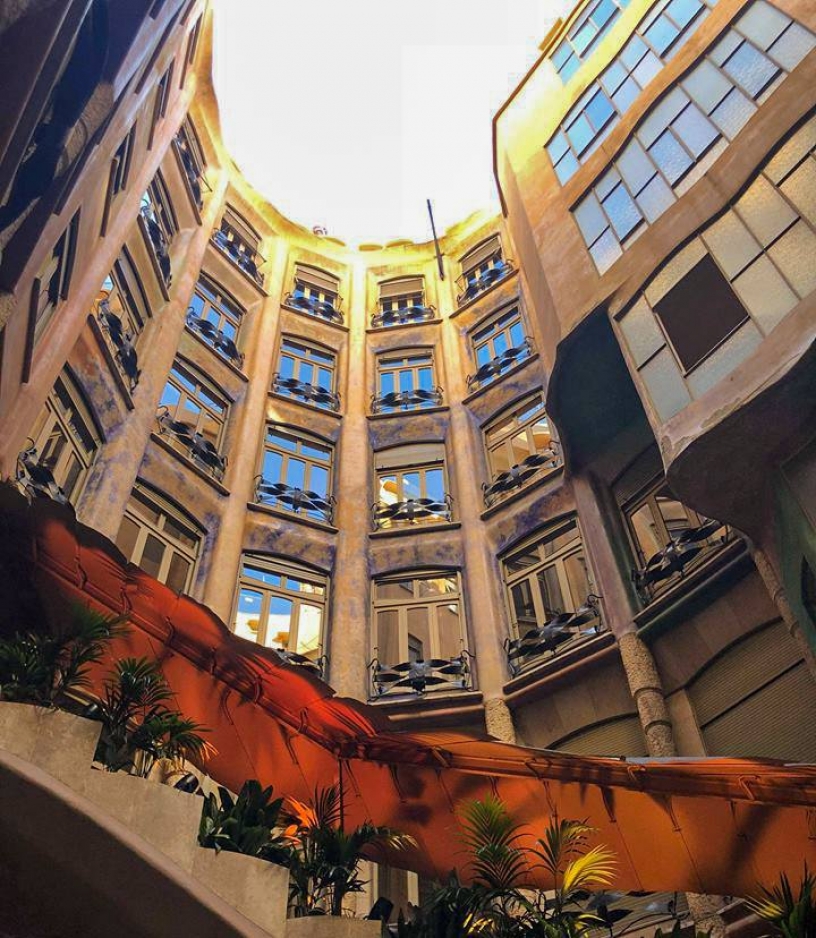 Inner Courtyard of Casa Milà
During Your Visit
No matter what ticket you decide to go for, you will be provided with an audioguide and free wifi to provide you with an invaluable experience. You will learn about things you won't be able to find on the Internet, so taking a tour is definitely recommended!
Services
Carrying around a lot of stuff? Don't worry, La Pedrera has a luggage room where you can leave any belongings that you don't want to drag around on the tour. Things you can leave here include backpacks, suitcases, prams, etc. The building is equipped with lifts to make the tour more comfortable.
Accessibility
Apart from the roof, the rest of the building has been adapted and made accessible to wheelchairs. Unfortunately, the roof terrace is not suitable for wheelchairs as Gaudí built it with constantly changing levels and lots of steps. However, so you don't miss out completely, a platform has been built at the lift exit so you can still view the rooftop. If you have any queries about this, you can send an email to: accessibilitat@fcatalunyalapedrera.com
There is also a free wheelchair loan service for people with reduced mobility. You will need to book this in advance by emailing: accessibilitat@fcatalunyalapedrera.com
Audioguide
As you walk around this impressive building, the audioguide will provide you with valuable information about the different spaces, the main characteristics of the building and about the architect, Antoni Gaudí.
The audioguide is available in 11 languages: Catalan, Chinese, English, French, German, Italian, Japanese, Korean, Portuguese, Russian and Spanish.
After Your Visit
Restaurant La Pedrera
If you fancy a snack, you can head to El Café de La Pedrera, where you can grab a coffee and a bite to eat. It can be easy to miss so keep your eyes peeled! The café has a separate entrance next to the main door, as you can see in the following image.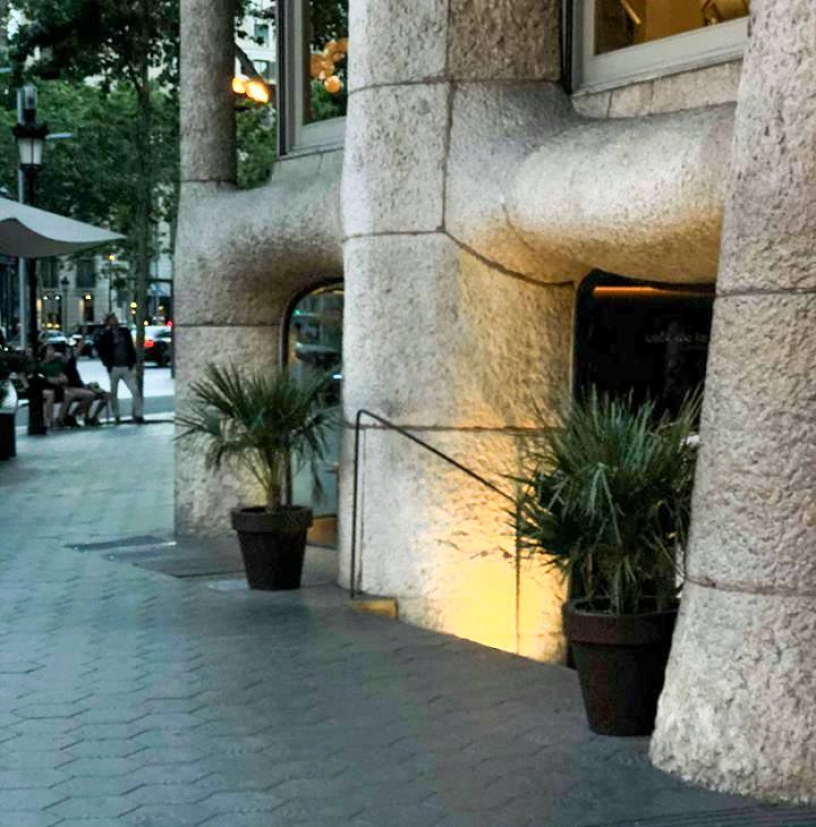 El Café de La Pedrera
Prefer to eat some traditional Catalan tapas? Take a look at this article to find out about the typical dishes and where to go to eat the best tapas after your tour!
La Pedrera Gift Shop
If you want to make your visit to Casa Milà even more memorable, head down to Laie Bookshop where you can buy yourself a Gaudí inspired souvenir.
How to get to La Pedrera
Casa Milà is located on the famous Passeig de Gràcia so is easy to get to.
Bus 
V15, V17, H10, H8, 7, 22, 24, 6, 33, 34
Metro 
Line 3 (green) and Line 5 (blue). Station Diagonal
Train 
Station Passeig de Gràcia
FGC 
Station Provença - La Pedrera
Casa Milà Barcelona Map
The address for La Pedrera is Passeig de Gràcia, 92, 08008, Barcelona. Take a look at the map below to plan your route:
What is Casa Milà used for now?
La Pedrera is not just a tourist attraction, it has a number of other uses. Currently, the building has incorporated five spaces:
Tourism usage
The building is a major tourist attraction in the city.
Cultural and social usage
It is a cultural centre that hosts exhibitions, conferences and other activities. You can find the schedule of exhibitions here.
Residential usage
There are a number of rented residential apartments in the building.
Administrative usage
The building is the headquarters of the Catalunya La Pedrera Foundation, which manages the visits to the building, exhibitions and other cultural and educative activities in the building.
Commercial space
Space hire, company offices and shops on the ground floor.
Similar attractions in Barcelona
After your visit to La Pedrera, why not make a day of it and visit other similar attractions in the city? Gaudí has many masterpieces dotted around the city. Casa Batlló is just a 5 minute walk away and is also on Passeig de Gracia, making it the perfect destination for your next stop. If you would like to know more how to get tickets for Casa Batlló and other visit tips, read the following article:
Your third stop should be one of the most famous attractions in the world and the symbol of Barcelona: La Sagrada Familia. You can't come to Barcelona and not visit one of the most beautiful basilicas in the world, so read this next article for information on tickets and other things you will need to know before your visit.
Sagrada Familia Tickets

This article gives a clear overview of the different Sagrada Familia Tickets and corresponding ...



Excursions in Barcelona
To make the most of Barcelona and fill your trip with unforgettable experiences and emotions, we offer you the excursions through the Catalan capital organized by our friends - the GetYourGuide team. Choose your excursion and fall in love with Barcelona: