Now I will introduce you to four different styles and matching studios that specialise in it. Also check out my helpful tips before getting a tattoo, which should always be carefully considered ...
Tips before getting a Tattoo in Barcelona
Dotwork / Mandala / Geometric
What does this tattoo style look like?
One style that is currently very popular is the dotwork style. The design is created from countless dots and classic outlines are almost completely omitted.
If you were uncool in your childhood, you probably painted mandalas, but today we are tattooing them on our skin. Mandalas are symmetrical, round and centred. Also these types of tattoos are often done using the dotwork method.
Geometric: Symmetry also plays an important role in this style, and most artists combine these three styles together. Studios offering this kind of art in Barcelona are for example Ondo and Steelworks.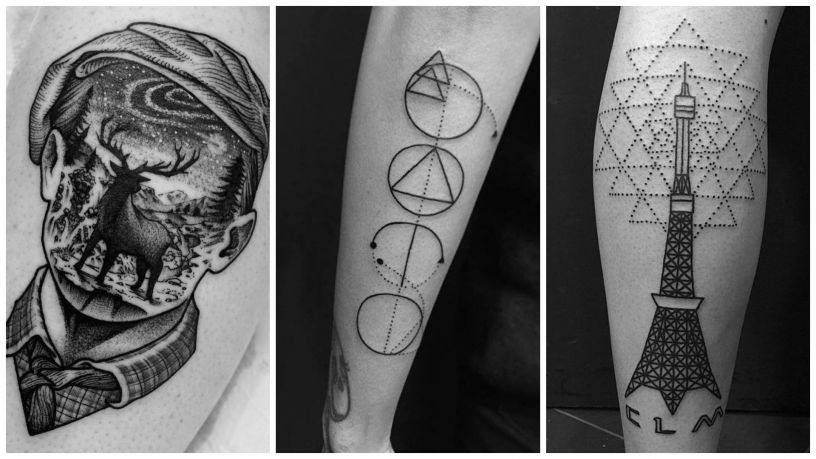 Blackwork
Tattoo Shop Ondo Barcelona
Tattoo Shop Ondo was founded in 2014. Meanwhile, 13 tattoo artists are working there, each one has their own style, but mainly dot and blackwork. Prices start at about 100 € (£ 88), price per hour is about 100-150 € (£ 88-130), but this varies depending on the artist and their experience. Walk-in's are possible. For a fixed appointment you have a waiting time of 3 to 4 weeks.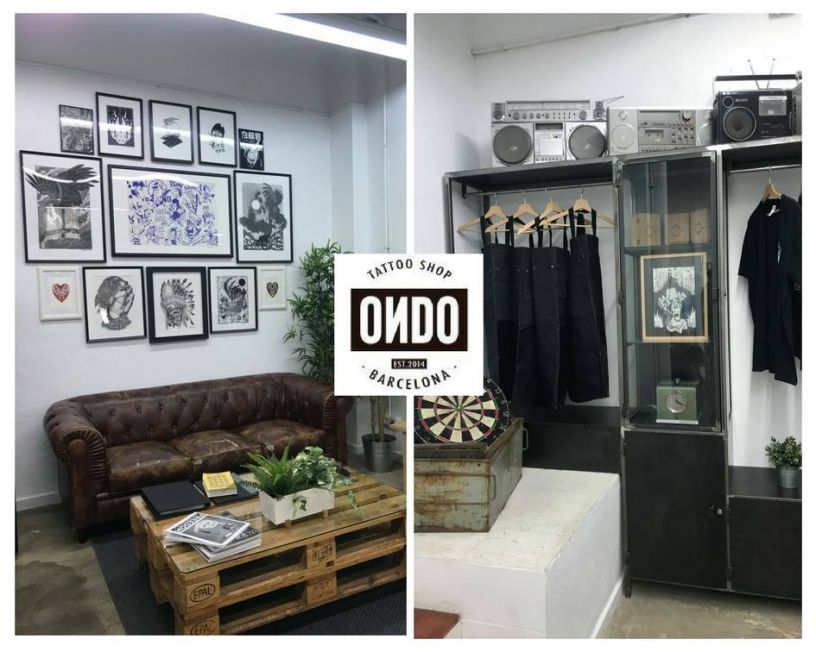 Tattoo Studio Ondo
Steelworks Body Piercing & Tattoo Studio Barcelona
This is a small, cute studio in the middle of the Gothic Quarter. Tattoo artist Santi Cuevas specialises in Geometric Styles and Mandala and his work is very fine, with great attention to detail. The price starts at 60 € (£ 53), then 120 € (£ 106) per hour. Walk-in's aren't possible, but for an appointment you don't have to wait longer than 4 weeks.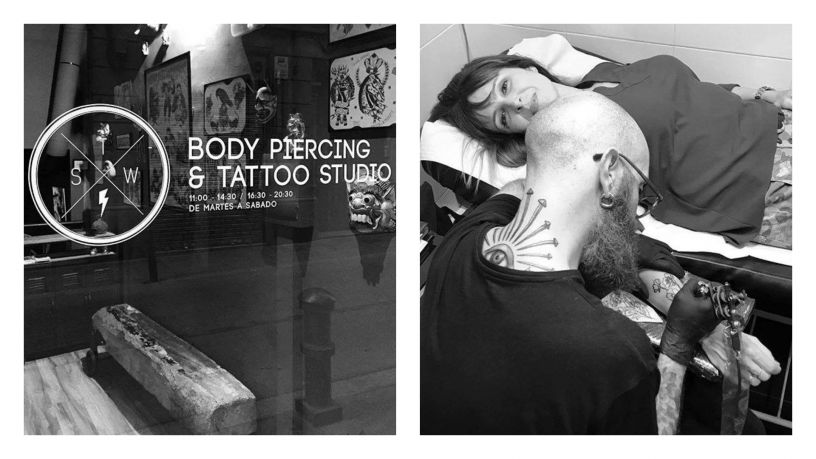 Steelworks at work
New School / Neo Traditional
What does this tattoo style look like?
There is only a small difference between these two styles. That's why most tattoo artists can do both. New School is characterised by their colourful designs, which sometimes borders on cartoon style.
Whereas Neo Traditionals combine modern designs with the traditional colours of the Old School style. New School and Neo Traditional are both characterised by the thick black outlines.
Are you looking for a studio which specialises in one of these styles? Then check out the work of Saudade or Gypsy Garden.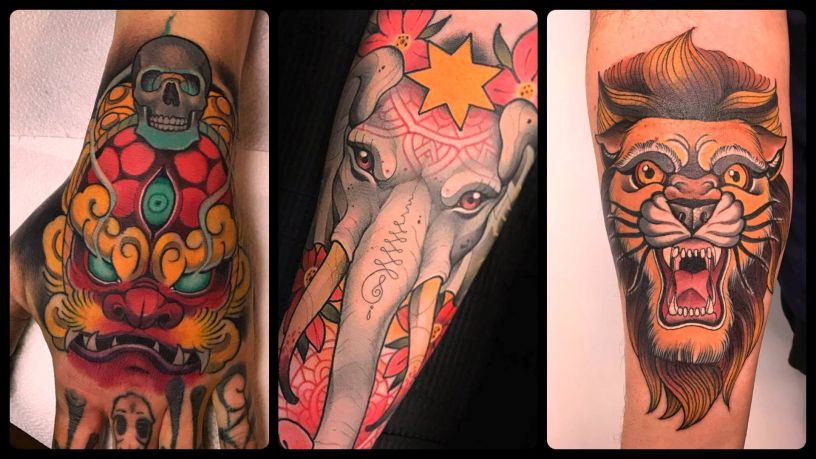 Different Neotraditionals made by Saudade and Gypsy Garden
Tattoo Saudade Barcelona
This studio is tucked away and hidden in a quiet corner, so there are less walk-in customers. Here you should stop by in person and make an appointment. Walk-in's are possible, but the tattoo artists prefer to get to know you and your idea first. The waiting time for an appointment varies depending on the artist, but is about 1-2 months.
Minimum price is 80 € (£ 70), then it will be about 100 € (£ 88) per hour. For big tattoos a fixed price is always set before, so there won't be an unpleasant surprise in the end! Personally, I can say that only professionals who know their job are working here!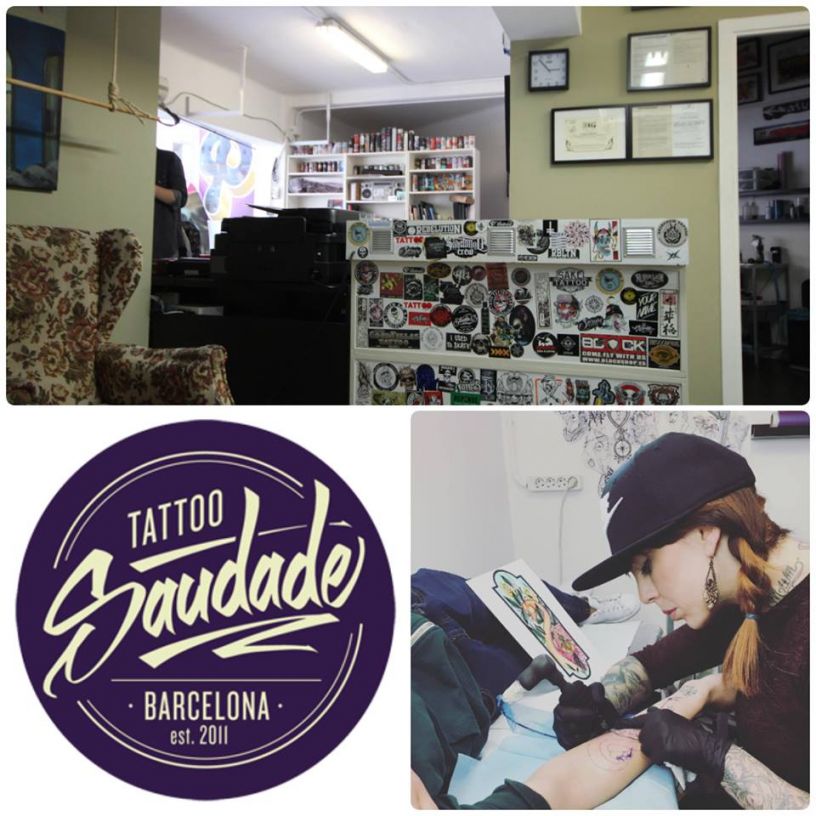 The Tattoo Studio Saudade
If you come to visit the capital of Catalonia, we will help you to find the best apartment in Barcelona. We offer apartments of different types, renovated and well furnished in all areas of Barcelona!
Gypsy Garden Tattoo Barcelona
In the area of Sants you will also find one of the best places to get a New School or Neo Traditional. Very clean work, with prices starting at 60 € (£ 53), then you'll have to pay about 100 € (£ 88) per hour. Walk-in's are not offered, you have to make an appointment first.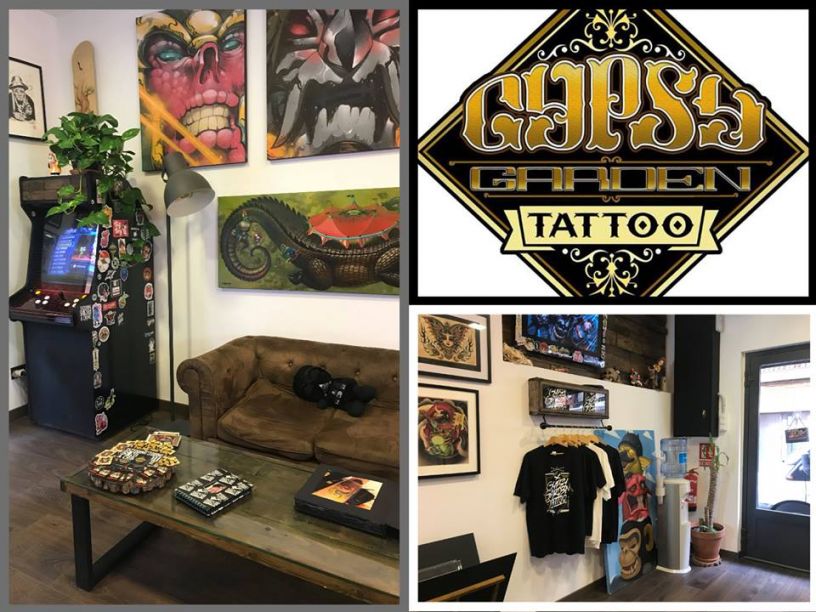 Gypsy Garden Tattoo
Old School / American Traditional
What does this tattoo style look like?
If you see a swallow or an anchor, then you can be sure that this is an Old School Tattoo... Also typical is a banner over the designs that carries a name or lettering. The design is rather simple and typical of this style are the thick black outlines and the strong colours. If you choose the most famous as well as one of the oldest styles, then you should check out the following studio in Barcelona: Family Art Tattoo.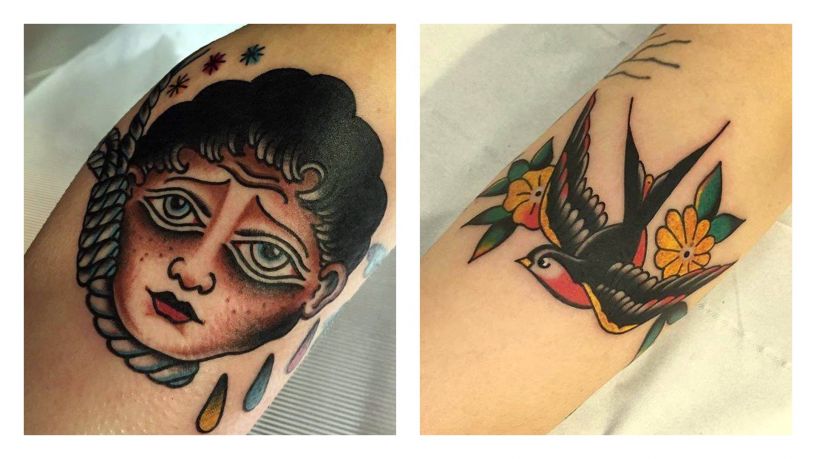 Some Oldschools made by Family Art
Family Art Tattoo Barcelona
A big studio in the centre, not far from the port. Six artists are currently working there. Everyone has their own style, of course. Artist Emerson Ventura mainly does Old School Tattoos.
You can get a tattoo there spontaneously, because walk-in's are possible. But to arrange an appointment is always better. Price starts here at 60 € (£ 53), then between 100 and 200 € (£ 88 - 176) per hour, depending on the complexity and the artist.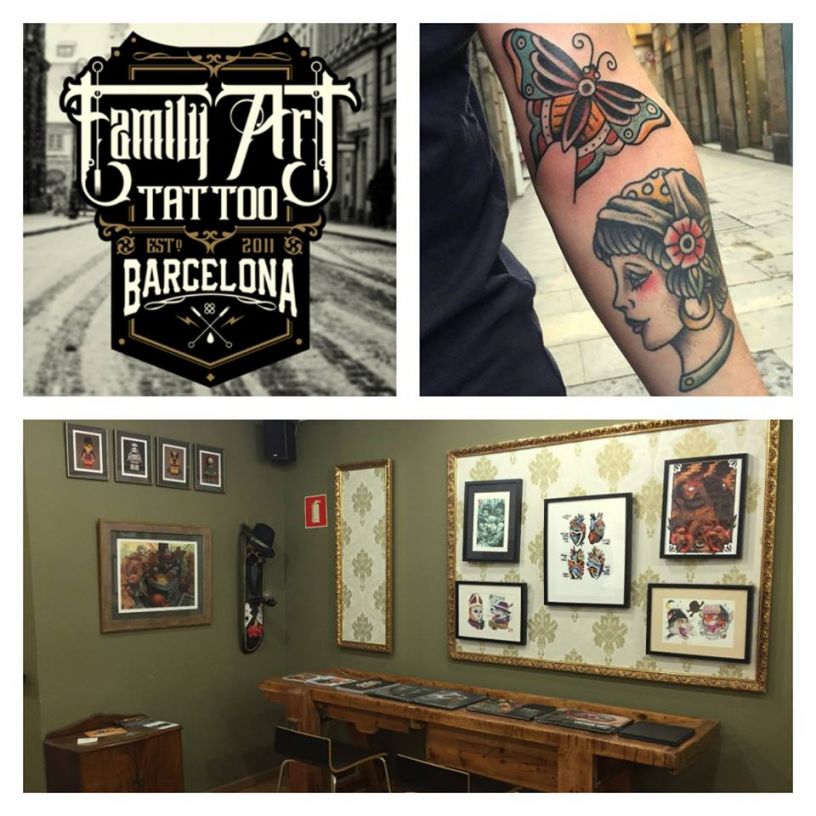 Their studio in the Gothic Quarter
Illustrative / Realistic
What does this tattoo style look like?
The objective of illustrative tattoos is that the image looks more like an illustration than a tattoo. So almost a realistic drawing on the skin.
Similar to illustrative, realistic tattoos, as the name indicates, should be as close to reality as possible. These can be portraits of humans or animals, as well as fantasy beings - the main thing is that they are 'real'.
Studio Family Art is also the right place for you.
Family Art Tattoo Barcelona
Artist Victor Chil is doing impressive Realistic Tattoos, as these examples show: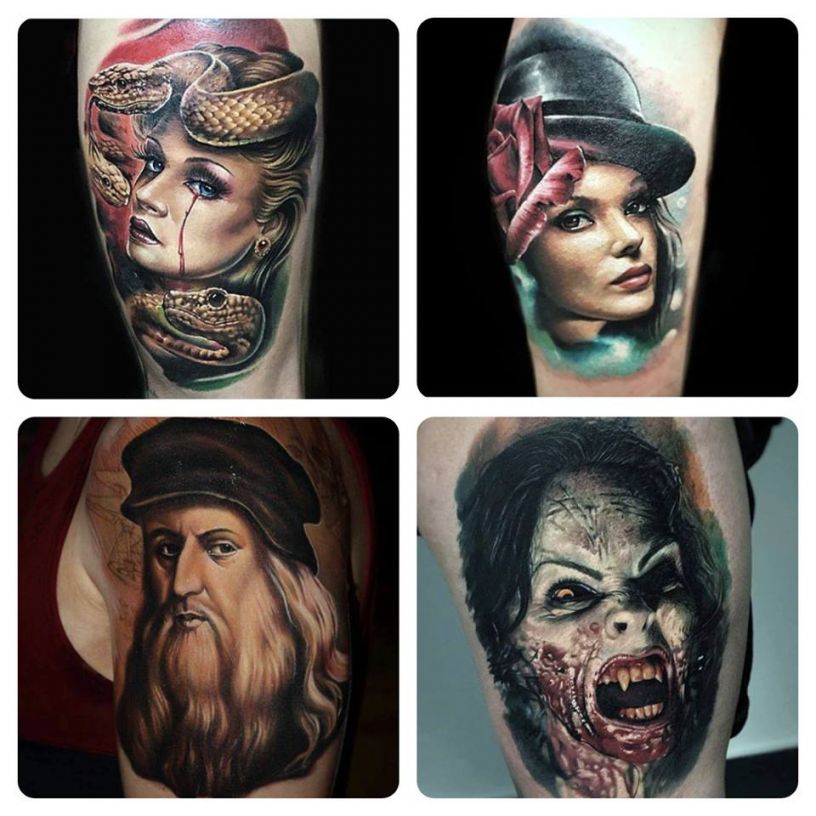 Impressive work by Family Art
What you should consider before getting a tattoo?
But before you get ahead of yourself and run directly to the nearest tattoo artist in Barcelona - think twice. Especially if it's your first. You may have heard this sentence a hundred times, but a tattoo will last a lifetime and you should be aware of that. Do you fancy walking around with a unicorn on your foot in 5 years? What would your children think?
Step 1
Have you seen a tattoo on somebody else or online that you like? Then keep it in your head and let it inspire you. How could you extend this theme to fit you and your meaning? Please do not just copy something that already exists. Let your creativity flow!
Step 2
Now that you already have a first idea of what it's going to be - think of a suitable place. Generally, you should not start with small designs on big surfaces. So you don't end up with a small, cute unicorn in the middle of your back.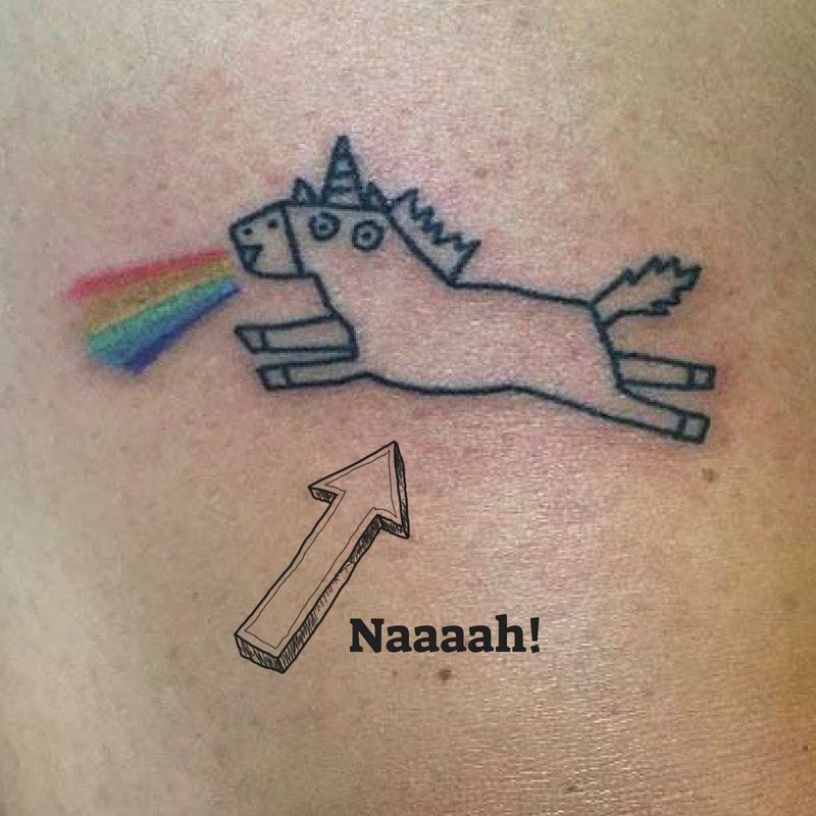 Not the smartest idea..
Step 3
Find your tattoo artist! Probably one of the biggest challenges. Thanks to the Internet, it is no longer a problem to check out the artists' galleries online. But it is better to go to a studio and take a look for yourself first, check if you feel comfortable and in safe hands. Is the studio clean? Do they pay attention to hygiene regulations? You certainly do not want an infection...
Don't be stingy! If a tattoo artist is cheap, he's usually not very good. You might as well get tattooed on the sofa by your buddy at home (this is not recommended).
Where do we go from here?
So, now that you've had your idea in your mind for a few weeks, ask yourself: Do I still want this?
For me personally, this was usually the case: My tattoo artist had waiting lists of over a year. If I still want this design after one year, then it has to be the right one! And last but not least a small piece of advice: Your first question in a studio should not be: I want to get a full-sleeve, how much does it cost?!
Barcelona Tattoo Expo
But that's not all...
Of course there are many more styles - Watercolor, Trash Polka, Sketch Style, Lettering, Tribals, Biomechanics, Stonework and many more. Everything is possible nowadays and there is something for every tattoo lover in Barcelona - for sure!
Another option is to visit the Barcelona Tattoo Expo 2018 with artists from all over the world...
Barcelona Tattoo Expo 2018

Oct

05

-

Oct

07

The body is a canvas as you'll discover at Barcelona Tattoo Expo 2018 from 5th to 7th October at Fira de Montjuïc.



Excursions in Barcelona
To make the most of Barcelona and fill your trip with unforgettable experiences and emotions, we offer you the excursions through the Catalan capital organized by our friends - the GetYourGuide team. Choose your excursion and fall in love with Barcelona:
Infographic
There are tons of crazy stories and facts about tattoos, check out 4 incredible fun facts about tattoos here! Did you know, that Lionel Messi has an intimate tattoo?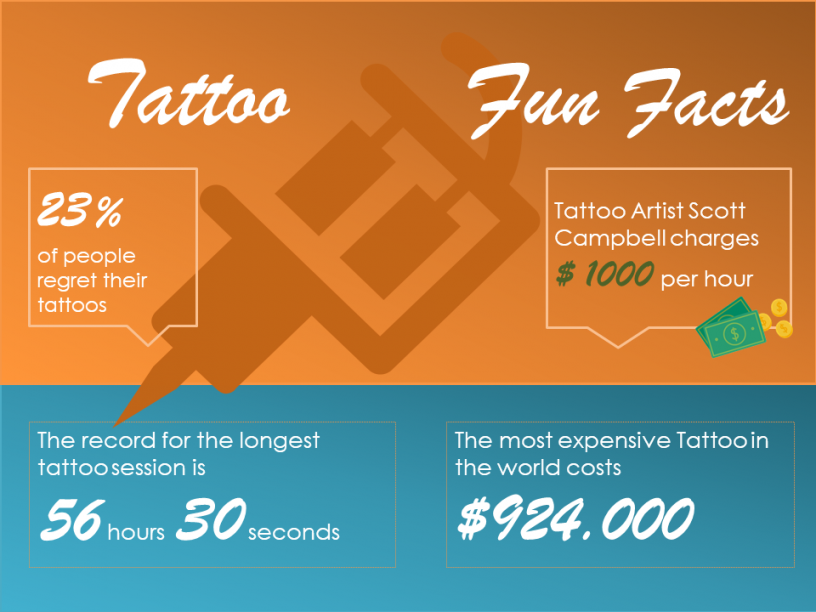 Fun Facts