1. El Paradiso

El Paradiso
El Paradiso is the new thing everyone's speaking about. Don't be fooled by its outward appearance because it's not just a sandwich joint. The real bar can be found hidden behind a door disguised as a fridge. Despite that, there's a warm atmosphere where they serve excellent cocktails. A word of advice though, it's better to go during weekdays to get the best experience. It's open from Monday to Sunday from 19:00 to 02:00.
Ask politely to the person at the door and if you receive a small wink it means you can enter El Paradiso. It's on Carrer de Riera Palau and if you need to call the number is +34 933 60 72 22.
2. SpeakEasy

Speakeasy
Dry Martini Barcelona is a cocktail bar amongst the top 50 in the world. This mythical bar hides an underground restaurant that was opened in 2002 by Javier de las Muelas. You can get there on Carrer Corsega, but you'll need a password to get in, which changes regularly. You can try asking the barman
After pushing open the backdoor you'll find the kitchens of Speakeasy. You'll feel as though you've landed in the 30s with the welcoming round dining tables, bottles all around the walls and warm dim lights. All this and whispering clientele make it a place of respite in Barcelona.
If you are coming to study in Barcelona we advise you to look at our student accommodation in Barcelona.We offer apartments of different types, renovated and well furnished in all areas of Barcelona!
3. Chi-Ton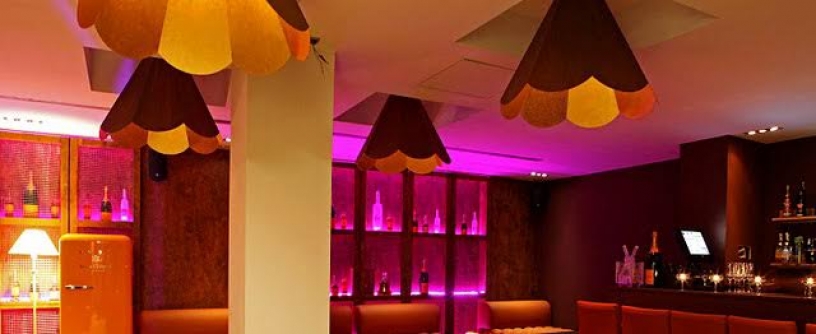 Chi-ton
Imagine you open the door to a souvenir shop and what you see is one of the trendiest restaurants in Barcelona to date. Well you won't because Chi-ton is so well hidden that you'll actually believe it's a souvenir shop even when you're inside. But opening the back door opens to an elegant modern space that offers gorgeous cocktails. You can see how the dishes are prepared that you're about to taste. The address is kind of a secret so, urm, don't tell anyone... But here you have it:
Chi-ton, Carrer Provença, 300 , +935 175 968 , Metro: Diagonal
In fact, we spoke about Chi-Ton in this article amongst other well-kept secrets about Barcelona.
4. Bar Mariatchi

Mariatchi
In the Spanish speaking world, Manu Chao is a big name, and he has a bar in Barcelona. It's named after the musical style from Mexico and you'll understand very quickly why the bar is called that way. Even upon entering you see a colourful wall with a guitar. You'll be forgiven for walking by this bar, because despite the vibrant colours it's very small and found amongst the many stores on the backstreets of the Gothic Quarter. They have a lot of jams and concerts here which brings a great vibe to the place and a mojito here costs about €7.
Mariatchi, Carrer dels Codols, 14
Speaking of mojitos, to find more places to enjoy one with check here.
5. Papillon
The hardest bar to find as its hidden up a dark street in Raval. So how do you find the best hidden bar in the city?. Here on Carrer Neu de Sant Cugat, but remember that even with the address it won't be easy. The door doesn't stand out at all, it's just your standard metal door with graffiton on the front. Don't turn up before 3AM because it'll be shut.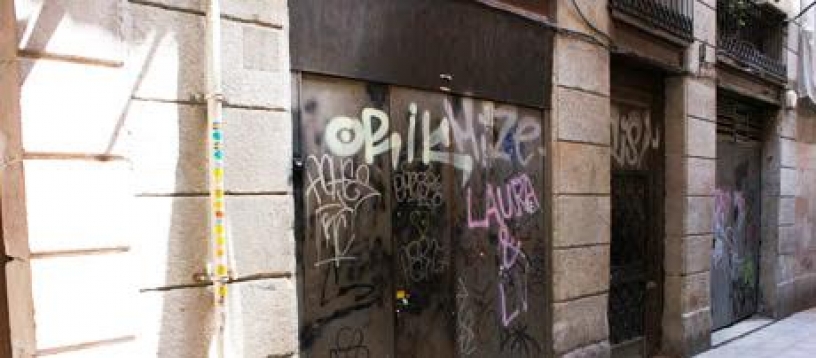 6. El Armario
This is the most mysterious of all. It's not on Facebook nor TripAdvisor. It's known amongst locals. To get there, you'll need to go through the owner's wardrobe across a whole in the wall... The downside is that there are no opening hours, it all depends on how the owner is feeling. The bar is small but charming. If you're passing through give it a go and you may have some luck to find it open.
El Armario, Carrer de la Riereta, 11
Excursions in Barcelona
To make the most of Barcelona and fill your trip with unforgettable experiences and emotions, we offer you the excursions through the Catalan capital organized by our friends - the GetYourGuide team. Choose your excursion and fall in love with Barcelona: