1. HIDDEN BARS AND RESTAURANTS
Underground clandestine bars have already found their place in other cities like London and New York, but what about Barcelona? How about having a Gin & Tonic served by a hairdresser or at a dry cleaners? Well here are some places in Barcelona that have their bars and kitchens well hidden...
Chi-Ton Souvenirs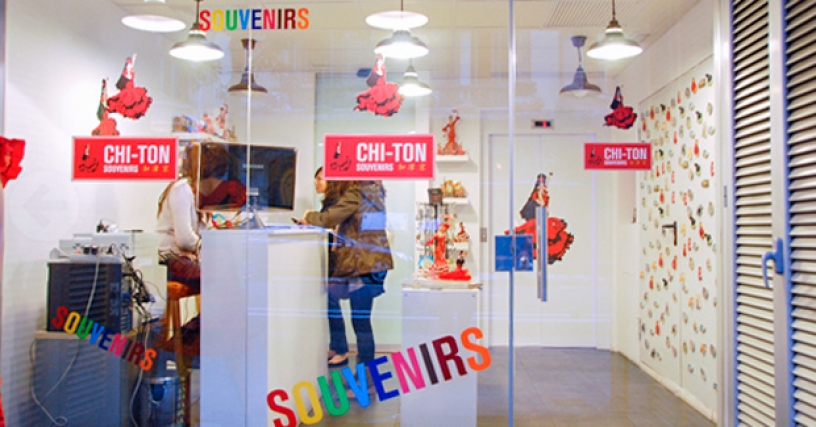 Chi Ton Souvenir Shop
Just a dull souvenir shop. You'd be forgiven for simply walking straight past, deciding not to walk through the glass doors that have nothing to hide. Except they do. This is actually a place where you can get a bite to eat. This restaurant is quite literally underground as the elevator at the back will take you down to it where you will be in awe of the kitchen at the centre of the locale. It's an unmissable culinary experience but you'll have to reserve beforehand, it's all part of keeping this unusual location secret.
Address: Carrer Provenca, 300
El Arco de la Virgen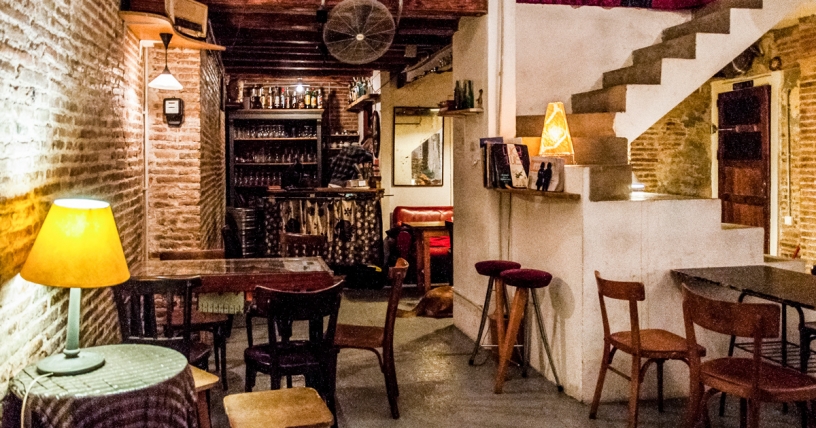 Arco de la Virgen
On the small backstreets of the Raval district is a hidden artistic space. The entrance is rather unusual, with one door that you shouldn't hesitate to push open to discover a new world. Between the concerts, theatre, and exhibits, it's a really unique bar where you will have the chance to meet new artists.
Address: Carrer Varge, 10
Price: Symbolic €1 membership
Pizzeria Saltimbocca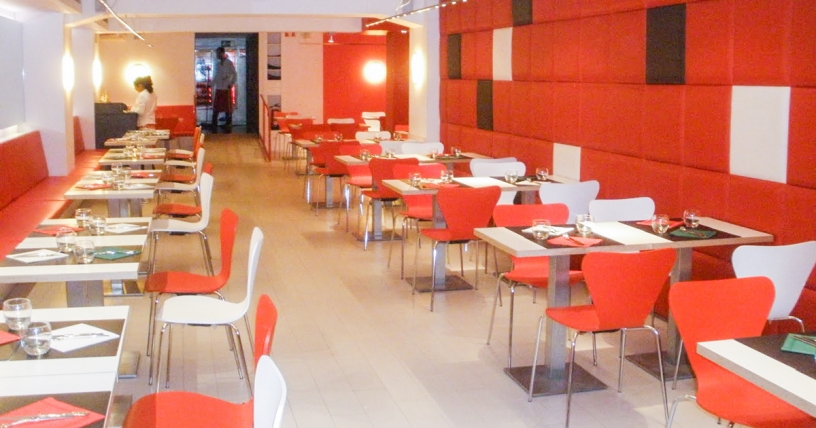 Pizzería Saltimbocca
Much more than just a simple pizzeria... Chef Jordi Vilà had other ideas. You see, it might look like a pizzeria - and it is - but at the back is an entirely different restaurant with Mediterranean cuisine. The room can be found at the end of the hall, all very secret and reserved where you can dine in a special and unique environment. This secret second restaurant has no windows, adding to the appeal of this mysterious place to eat. You'll have to book it in advance if you want to find what's in that room...
Dirección: Carrer Loreto, 22
2. STATUE OF LIBERTY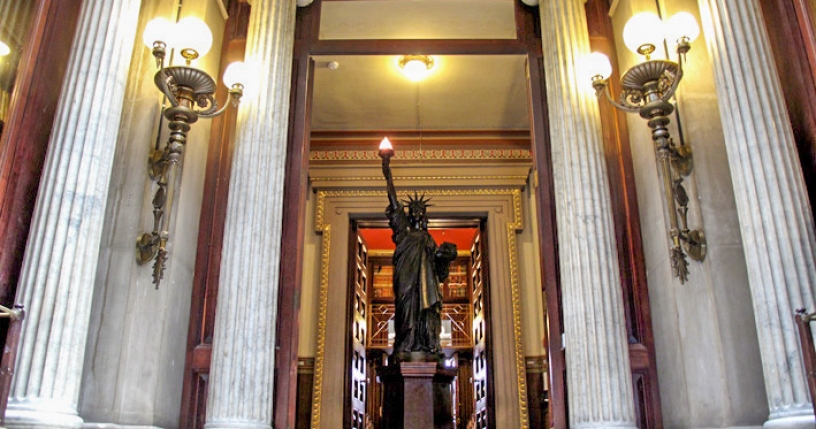 Barcelona's statue of Liberty
The celebrated New Yorker statue has sisters around the world, like the ones in Paris and Las Vegas. It's an internationally recognized symbol of liberty around the world and there's also one in Barcelona. In fact you have to look for it as it's not out in the open. Two metres in height, this statue has stood guard at the entrance of the Rossand Aris Public Library since 1894.
3. TERRACES
These little havens of peace are found throughout the city and allow you to enjoy some quiet time.
L'Antic Teatre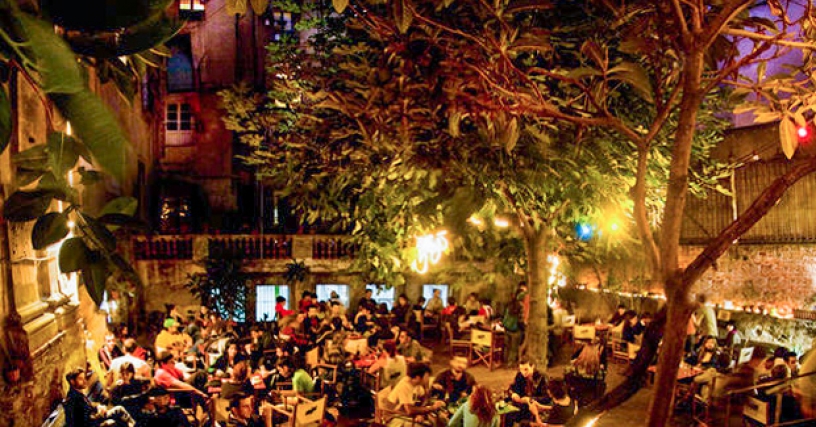 L'Antic Teatre
This hidden terrace in the Born area is simply magnificent. As its name suggests, this is an ancient outdoor theatre. This bar is simple and straightforward, but its location in such a beautiful place makes it unmissable. It has a large interior terrace with a large tree found in the middle, all surrounded by chairs and tables.
Address: Carrer de Verdaguer i Callis 12
Opening hours: Monday - Thursday 10AM - 11:30PM. Saturday 4PM - 12AM. Sunday 4PM - 11:30PM.
Price: Drinks from €1.50
Hotel Petit Palace Open Garden
A secret garden in Barcelona
Here you will find a sunny terrace and hidden within a hotel. Essentially, every great city should have a place like this. Calm and serene, it offers the perfect place to enjoy a drink with friends one evening after a busy day.
Address: Carrer de la Boqueria 10
Opening hours:Monday - Sunday 11AM - 12AM
PriceDrinks from €3
El Jardi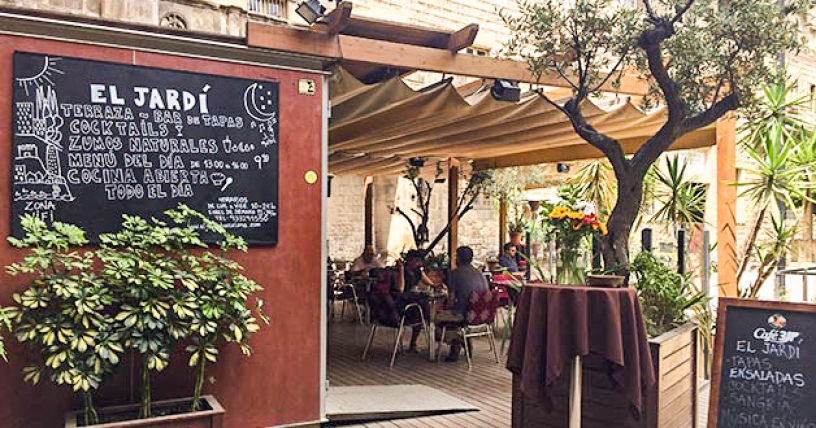 El Jardi
The name is "The Garden", so can guess that it's... Yes! A garden! An especially beautiful one though, this restaurant flanks a stunning orange tree garden and is found by Santa Crey Hospital. We love this place for its beauty and history and it holds concerts on weekends and flamenco spectacles on Tuesday and Thursday.
Address: Carrer de l'Hospital 56
Opening hours: Monday - Friday 10AM - 12AM. Weekends 12PM - 12AM
Price: Between €5 and €20
4. LABERINT D'HORTA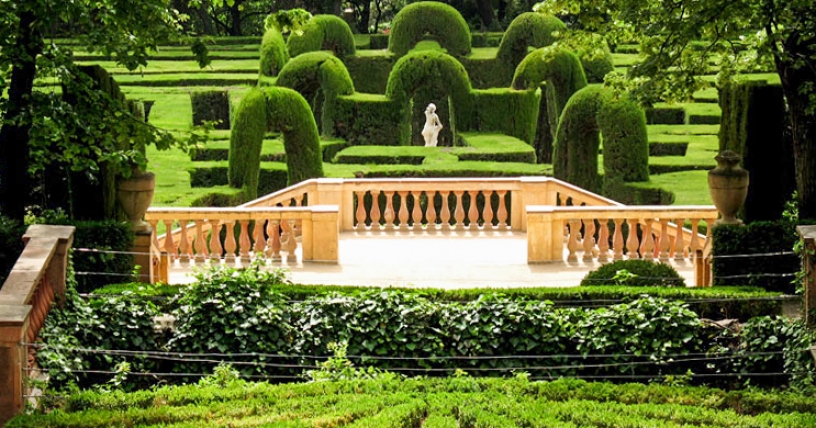 Parc Laberint d'Horta
Discovering a labyrinth maze has been one of those things that we've all wanted to do since childhood. Well Parc Laberint d'Horta in Barcelona is a not-so-well-known place where the star feature is its maze amongst its 9 hectares. At the heart of the maze is a statue of the Greek god Eros, but then you'll need to find your way out...
Address: Horta-Guinardó, Metro station Mundet (L3). Passeig de Castanyers.
Opening Hours: April (10AM-8PM), May/September (10AM-9PM), March/October (10AM-7PM), November/February (10AM-6PM)
Price: €2.50 (Free Wednesday and Sunday)
If you are coming to study in Barcelona we advise you to look at our student accommodation in Barcelona.We offer apartments of different types, renovated and well furnished in all areas of Barcelona!
5. THE BOOK CEMETERY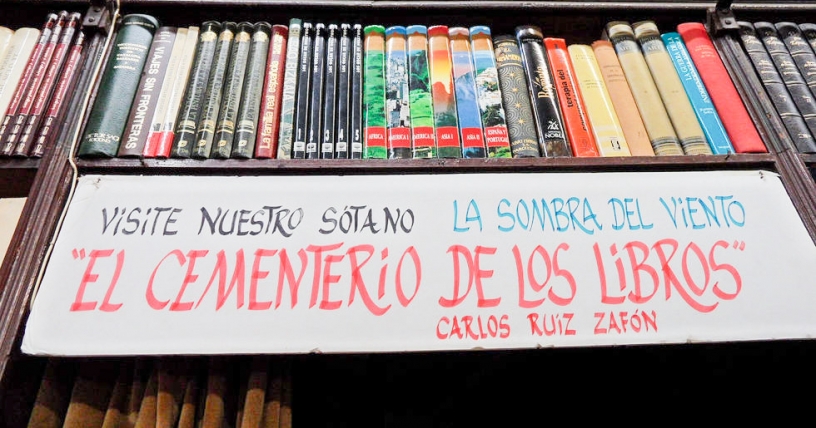 The Book Cemetery
This library founded in 1931, covers an area of 600 square metres with more than 100,000 books, which also includes rare books, first editions of local newspapers. Certainly a site for bookworms... Amid this wonderful place one can find a dark gateway covered by a curtain beyond which you will find shelves full of old books. This place is known as "The Book Cemetery" and it's a place that inspired the book "The Shadow of the Wind" by Carlos Ruiz Zafón.
Address: Sala de Arte, Librería Canuda, Carrer del Bruc
6. FLOTARIUM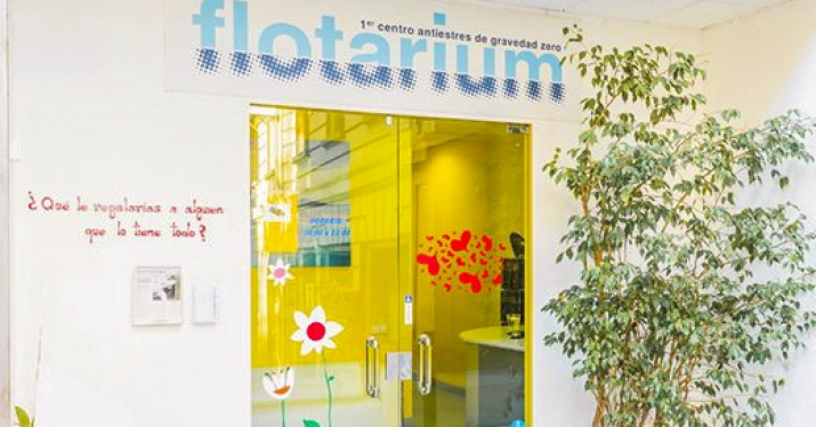 Problems float away at the Flotarium
The first of its kind this anti-stress centre in Barcelona is a very simple and unique concept. A large bathtub of 2.5m x 1.6m filled with 600 litres of water and 300kg of salts. The objective is to eliminate gravity, sound, light, and touch. This sensory deprivation invites complete relaxation for the body and mind. The beneficial effects of disconnection from stress are obvious. So get relaxed and feel liberated!
Address: Plaça de Narcís Oller, 3
Opening hours: Monday - Saturday 10AM - 9PM
Price: From €30 to €45 depending on the session
7. ESCRIBA PATISSERIE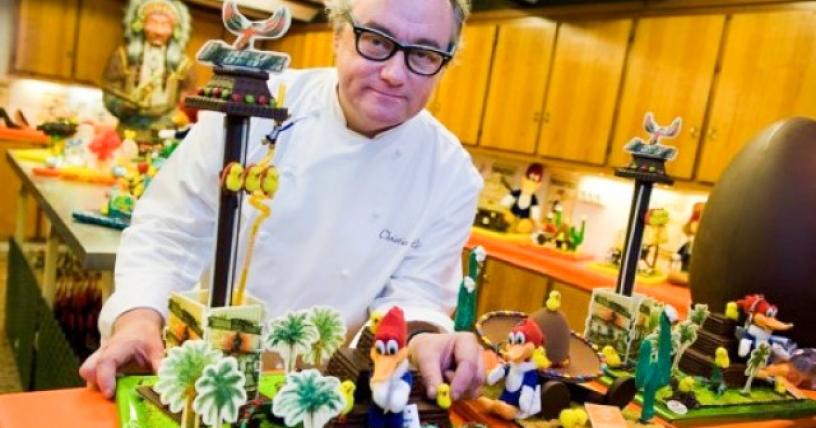 You will find amazing cakes in the Escribà ...
Remember the magical world of Charlie and the Chocolate Factory? Discover the magic of cakes in this wonderful patisserie. The secret lies in the unlimited imagination of its owner, Antonio Escribà - who started his art with bread followed by chocolates and desserts - trained by Etienne Tholoniat, a French pastry chef. He won several gold medals and high distinctions in the French community. Among his works were:
Candy jewellery
A chocolate mannequin with a skirt covered in meringue, almond paste, and chocolate.
6 metre tall cake of Woody Woodpecker, made for Portaventura.
He made Easter eggs for Picasso, Salvador Dalí, and Joan Miró.
An F1 Jaguar made from 10,000 sheets of chocolate
Address: Carrer de les Floristes de la Rambla, 33 and Gran Via de les Corts Catalanes, 546
Opening hours: Monday - Sunday 9AM - 10PM (Ramblas) and Monday - Sunday (8:30AM - 8:30PM) (Gran Vía)
For more information visit their colourful website.
8. La CASA DE LAS MUÑECAS
The Barcelona Dollhouse
Return to childhood at this dollhouse. A small treasure located between two buildings next to the Jardines Marcé Rordorera. This small house from the late nineteenth century is covered in ceramic mosaics. A true delight for small and big kids alike. It also located at a height that offers a breathtaking view of Barcelona.
Address: Carrer de la Costa
Excursions in Barcelona
To make the most of Barcelona and fill your trip with unforgettable experiences and emotions, we offer you the excursions through the Catalan capital organized by our friends - the GetYourGuide team. Choose your excursion and fall in love with Barcelona:
9. THE KAKIGORI STORE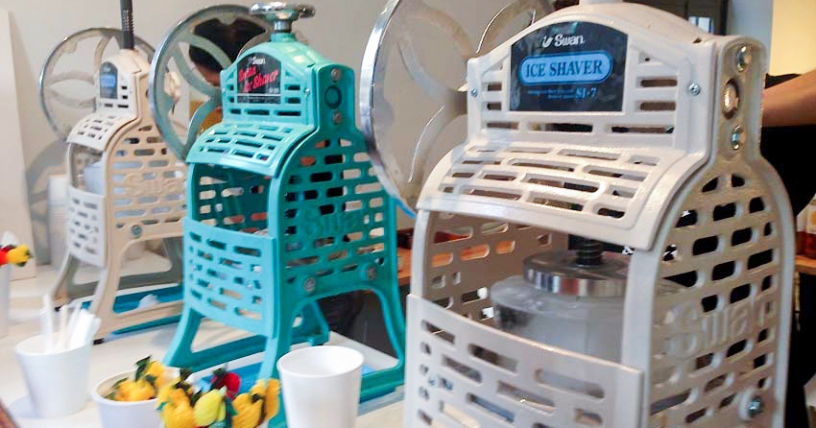 Ice cream and machinery that are a delight to behold
Kakigori offers a style of ice cream from Japan. The Australian, Martin Kunz has imported this wonderful idea directly to Barcelona. The concept is a finely chopped block of ice using a specific machine. The ice cream is made with mineral water which is then revitalized by adding fruit syrup. You can also find taiyakis - crackers shaped like fish and stuffed with bean paste.
Address: Plaça de la Vila de Gràcia, 3
Video of Kakigori in Barcelona
10. UNUSUAL BARS
Barcelona is known for a wide variety of bars and restaurants, many of them in and around Las Ramblas. However, it's also known for mass tourism... So, here are two captivating bars that aren't well known to the tourists... Or the general public...
El Mariachi Bar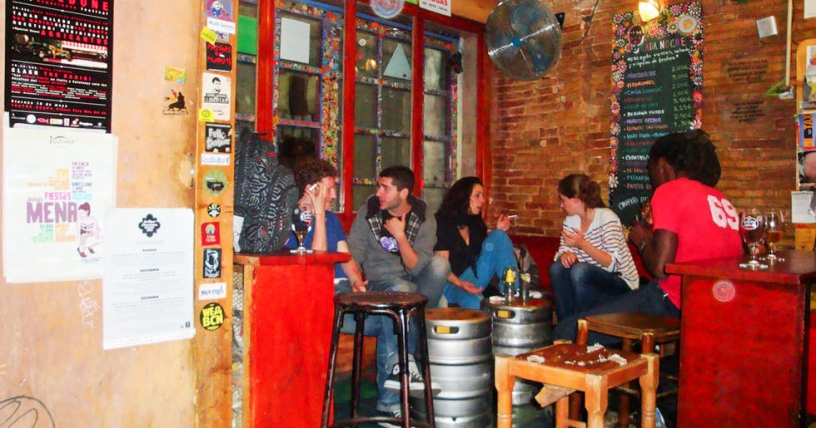 El Mariachi Bar is a good place to get a drink
Located between two streets (which admittedly at first glance does not inspire much confidence) you will find this pearl. This small and colourful bar offers a charming atmosphere and the owner of this bar is none other than the great Manu Chao - who has played Glastonbury more than once.
Address: Carrer del Godols
Opening hours: 7PM - 2:30AM
Bar Mutis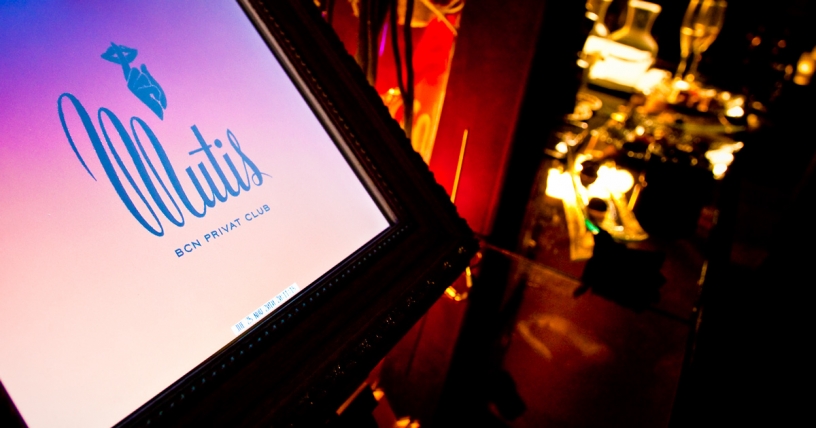 Shh... Mutis is a secret bar...
The owner - Kim Diaz - doesn't consider that its bar is secret... But you won't get in unless the owner decides you're allowed in. That makes it pretty exclusive, but it's not only for that, rather this has been judged as The Best Bar in the World by Drinks International. So what's the secret about this private club? Well, what happens in Mutis, stays in Mutis... Just like Vegas"
Address: Avinguda Diagonal, 438
Map of the secret Barcelona locations mentioned in this article