The fiesta of the defeated
If you visit Barcelona in the coming days, you're going to run into one of the most important events in Catalonia... "La Diada" or National day of Catalonia, on September 11th. It is a national holiday that was revived during the 80s and is celebrated throughout the community, commemorating the seige of Barcelona to the troops of Philip V leading to the loss of Catalonia's rights as an autonomous principality through the Nueva Planta Decrees.
Yes folks, you have read correctly, Catalans celebrate a day of defeat.... Of course, it's not a celebration in the masochistic sense, Catalans don't hate themselves. It's more in the sense of solidarity. How do we define Catalans for the average outsider? Well they're a proud bunch of citizens, marking a day in which they were defeated, just to make sure no one forgets! So a word of advice to visitors who want to get involved in heated debates on Catalan politics... Don't! Catalans know how to hold a grudge ;-)
Enough about politics though! You're here to learn how to be a good little Catalan! Don't fret! I'm here to help you integrate into society as well as possible during these days!
Step 1: Speak Catalán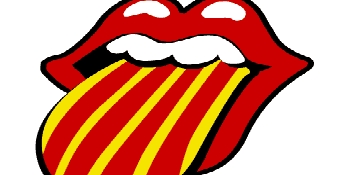 Yes tourists, this step goes out to you... Though I understand that you probably never knew Catalan was an actual thing until you read this, it's a real thing, spoken by 9.5 million people! That's almost double Danish speakers! It's not easy though, so here are some tips to fake it. Not recommended though, when you can learn Catalan for free.
If you know some Spanish: Chances are that you've already learnt some Spanish, so you're already halfway there!! All you need to do now is cut the last syllable from every word and you're one step closer to Catalan! You'll certainly be barely understood but in the very least you'll make someone cringe or laugh!
| Castellano | Castellá | Catalá |
| --- | --- | --- |
| Perdone ¿dónde está el Parque Güell? | Perdo, don es el Parq' Güell? | Perdoni, on és es el Parc Güell? |
| ¿Cuánto cuesta? | Cuant cuest? | ¿Quant costa? |
If you don't know Spanish: Just speak English with large hand movements, which is practically the second official language in Catalonia after Catalan... Though in all seriousness, locals will definitely appreciate your efforts to learn their language, even if you speak terribly.
If you want to come work or have a holiday in Barcelona but you have a small budget, it's possible! Look at our budget accomodation in Barcelona.We offer apartments of different types, renovated and well furnished in all areas of Barcelona!
Step 2: Be a fan of Barça

This is a lot easier to learn than a language. Every good Catalan is a fan of Barça, even the ones who hate football... Especially the ones that hate football, as they appreciate that Barça in fact transcend the sport. Not celebrating a Messi goal is probably forbidden by law in Barcelona, maybe? Don't risk it.
Don't forget to commit the Barcelona Anthem to memory (no need to understand the lyrics) and wear the away kit instead of the home kit, it looks like the Catalan flag so by default it's cooler.
Step 3: La Barretina AKA the Smurf Hat

This beret is a traditional cap that complements any Catalan's wardrobe. It's so cool that Papa Smurf essentially ripped it off on his 325th birthday when they were invented 225 years ago in 1789, that's a fact, look it up. These days, only the bravest Catalans wear it with pride and without prejudice. It was created as a symbol of the republic during the French Revolution. We salute you Papa Smurf, though you're essentially a king yourself, so... urm?
The hat came back into the spotlight when the famous "Jimmy Jump" sabotaged the Spanish Eurovision act back in 2010. Though you probably don't remember that.
Step 4: Dance the Sardana

The Sardana (not to be confused with Sardina, a type of fish) is the regional dance of Catalonia and Andorra. Misinformed folks will tell you that it originates from Greece, but don't be fooled by the similarities with its cousin dance, the Sirtaki (not to be confused with Shitaki, a type of mushroom).
The circle dance is popular even today. Sardanas are often performed each week in front of Barcelona Cathedral, in which professional and amateur Sardana dancers strut their stuff in public. Be a good Catalan and join in! You'll be more than welcome.
Step 5: Be a Casteller

This is really only for those who have mastered the past four steps. It requires years of training, strength, perseverance, and meditation. This tradition is not for wimps and involves building human towers out of locals. It's a true test of Catalanism, for if even one person in the tower is not Catalan enough, it will collapse.
If you're not willing to suffer the risk of getting injured, you should give up on the idea of becoming a good Catalan. Any good Catalan would willingly attempt to climb like a squirrel toward the sky using only the buttocks of their colleagues, it's in the blood. Mastering this will make you a true Catalan.
And there you have it. I hope you enjoyed reading and are eager to try some of the techniques out for yourself. Now go to the kitchen, make yourself a nice Pa amb tomàquet and prepare for your stay in Barcelona during National Day of Catalonia. If you have any experience in being Catalan or funny Catalan themed anecdotes to tell, don't hesitate to share them! You'll be entered into our draw to win some very Catalan prizes, like a weekend stay in Barcelona.
Excursions in Barcelona
To make the most of Barcelona and fill your trip with unforgettable experiences and emotions, we offer you the excursions through the Catalan capital organized by our friends - the GetYourGuide team. Choose your excursion and fall in love with Barcelona: