Festa Major de Sant Roc — Gothic Quarter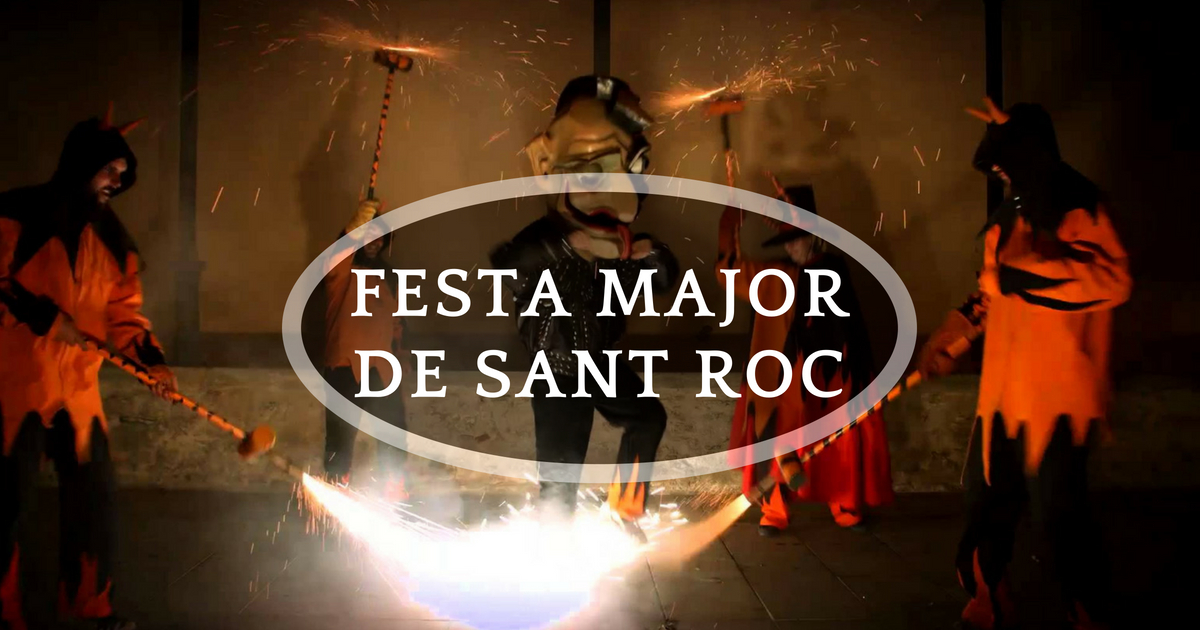 When: August 16th 2019
Where: Plaça Nova in the Gothic Quarter
Price: Free
Accommodation Nearby: Don't miss a single thing from this festival by staying in one of these apartments in the Gothic Quarter
The Gothic Quarter's annual neighbourhood celebrations called 'Festes de Sant Roc' (Festival of Saint Roch) were announced on 21 March 2017 as a 'Patrimonial Festival of National Interest'. They are the oldest celebration of their kind in Barcelona, having been going since 1589.
Video of the festival
The Festival
History of the celebration
According to the local legend, Saint Roch arrived in Barcelona and fell ill with the plague, so he sheltered himself within the Roman walls. Everyone left him, except for the neighbourhood baker's dog, who fed him every day with ' panellets ' — a catalan dessert, generally made with pine nuts. Gradually he recovered and came back alive from the city accompanied by the animal. It is said that, by not dying, he also preserved and saved the neighbourhood of the plague that ravaged the city. Since then, the vows of this saint's followers have been renewed every year on 16 August.
If you come to visit Barcelona, ​​we advise you to stay in an apartment in the Gothic Quarter of Barcelona. In this way, you will be close to everything, save and gain comfort.
The festival today
From 11 to 16 August, the Gothic Quarter fills with tradition and history. The festivities take place for the most part on Plaça Nova. Many activities mark these days and make this celebration iconic, like the raising of the heraldic flag of Sant Roc; The 'festa del gos' (festival of the dog), and drinks from an unusually long porrón (a traditional drinking vessel in Catalonia) along with the traditional panellets.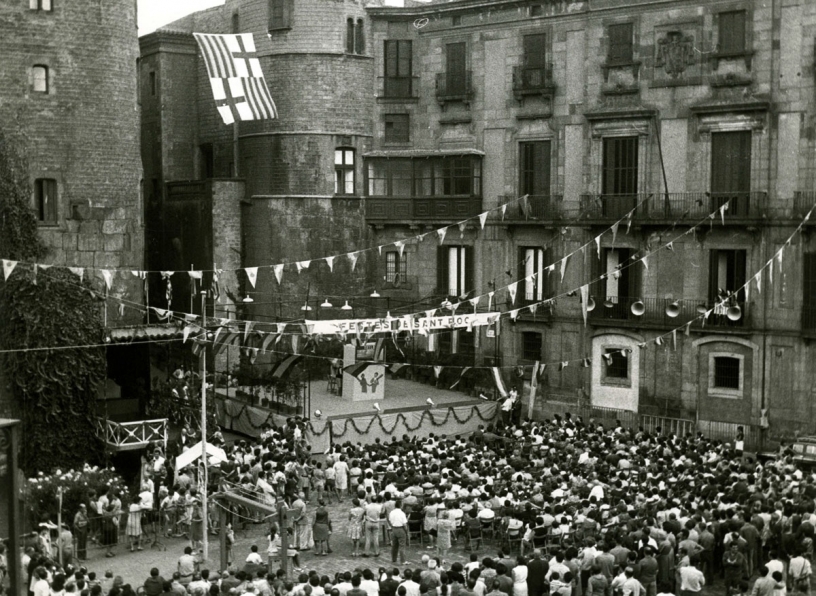 Festes de Sant Roc in history
Traditions
The Cucaña (greasy pole) of Plaça Nova
The greasy pole of Plaça Nova, might sound weird… and it is. But it's been going since 1884. It involves a trunk that children try to traverse without falling. Normally these 'Cucañas' are vertical and people try to climb to the top without sliding down, but this one is completely horizontal.
In the game of crossing the greasy trunk, a child will try to traverse the slippery horizontal slide by sitting with legs dangling as they scoot across, assisted by ropes. All the while an assistant called the cucanyaire tries to stop the trunk from spinning — because yes, it also rotates. Upon reaching the other side, the potential victor gives a small bow of the head, because it's not over yet; they must then turn around to go back again. The first to complete it receives a prize.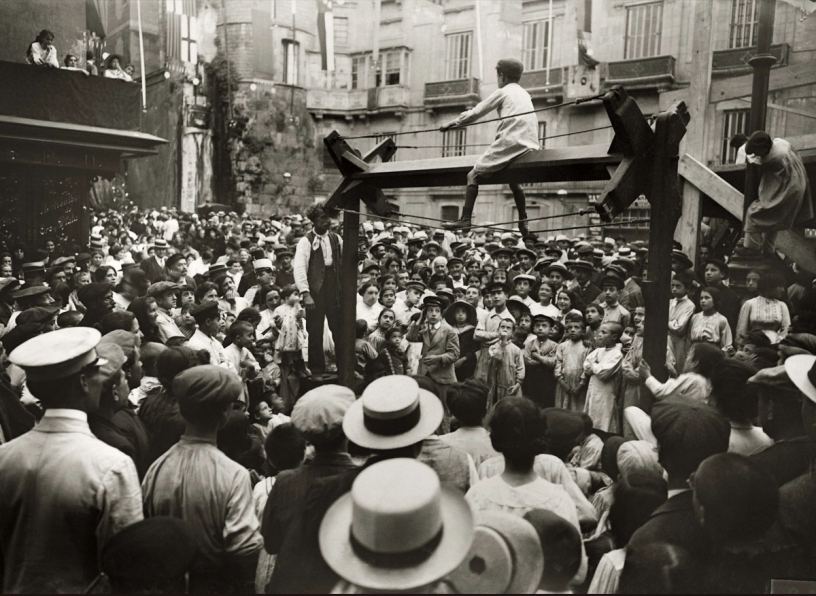 The traditional 'Greasy Pole' or Cucanya in Catalan
The Sardanas dance
This is a traditional Catalan circle dance accompanied by music. Participants hold hands, usually alternating men and women, and dance spritely light movements.
In generally it's an open dance that can vary between partners but there are some set tempos to follow. It doesn't require peak physical condition so it's really open to almost anyone as it's simple. Beginners and experts alike are welcome to join in!
The song is performed by a Cobla. A wind-band with a double bass and traditional catalan instruments like a tenora, tible, flabiol and tamboril. You can also find a trombone, trumpet and flugelhorn.
Some Sardanas have lyrics, but usually you'll find instrumentals only.
El porró llarg
This drinking vessel has a long "tube" of about 75cm that the drink travels through before free-falling a bit through the air and reaching your mouth. The picture below demonstrates it well. It was incorporated into the celebrations in 1830 when a neighbour — they say her name is Catalina — travelled to Mataró to commission this unique variation on a traditional drinking vessel at a glass factory especially for the celebrations. They also say she brought it back to Barcelona on foot so that it wouldn't break.
The tradition consists of taking out this drinking vessel on Saint Roch Day and offering a drink to anyone who wants to try. The laughter comes in bucketloads, as it's not easy to drink from, especially for newbies to this style of vessel.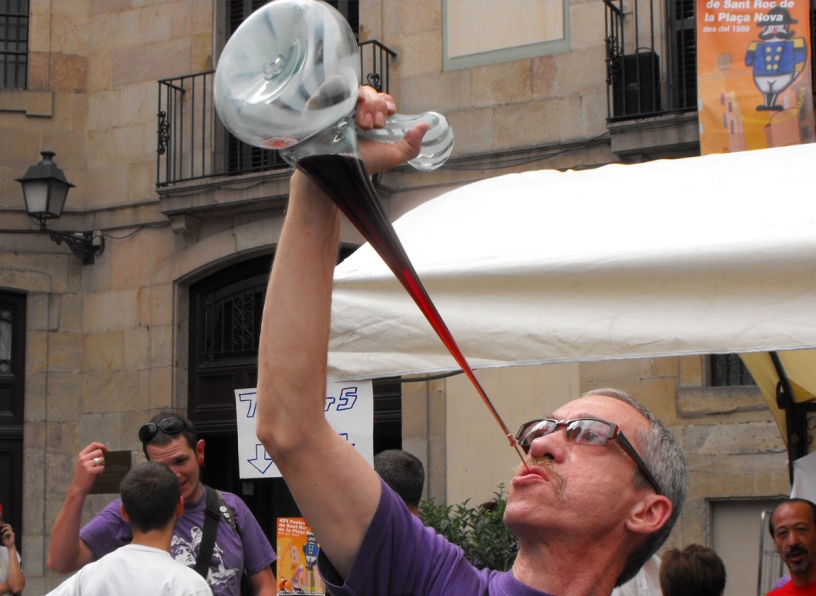 The Porró Llarg
The Festival of the Dog
This is a homage to the dog that is said to have saved Saint Roch's life. On Sunday, 13 August a canine exhibition takes place on the streets as neighbours come with their dogs to celebrate the patron saint.
The exhibition is controlled by the Catalan Capital Agility Club at 5:30PM. Straight after there will be the greeting of the Saint at 7PM. It's one of the more emblematic activities of this event.
XXXVI Meeting and Dance of the Gegants
This year will be the 36th meeting and dance of the Gegants (Giants) on Plaça Nova. Gegants are large human figures controlled by people underneath them. Usually neighbours know their gegants by name as they meet them each year. There will be a dance and parade around different parts of Barcelona and Catalonia for this particular day.
It starts at 5:30PM and parades along the streets of Plaça Nova, Arcs, Portal de l'Àngel, Canuda, Santa Anna, Comtal, Magdalenes, Ripoll, Sagristans and Capellans before coming back to Plaça Nova.
The Traditional Court of Saint Roch
This is the most traditional part of the festival. It takes place on the Saint Roch Day — 16 August — at 9:30PM. There will be various characters present, such as the fire-spitting 'Diable', eagle of the city, Lion of Barcelona, aforementioned Gegants, dwarf Cu-cut and wielders of the Patron Saint's flags… among others. They march together toward the Basilica del Pi to participate in a sung mass in honour of the saint. They will also bless the panellets that will be shared among attendants.
After, a green flag of the festival's commissioner will be hung from the balcony of the Palau of Plaça Nova and the Gegants will continue dancing with Cu-cut the dwarf and Co. Then drinks from the Porro Llarg will be shared and celebrations continue throughout the day.
Gegants on Plaça Nova, 16 August at the Festes de Sant Roc
XXXIV Correfoc
A correfoc (or firerun) plays a big part of Catalan celebrations. In this case it is a sign that the celebrations are coming to a close on 16 August at 10:30PM. Fountains of fire will be released by the Diables (devils) of the neighbourhood and people will run around and away from them. They are accompanied by percussion from a band called the Víbria de Barcelona, and people in costumes who launch fire and sparks while dancing in an attempt to scare onlookers. They will also be helped by a second troop of Diables from Cerdanyola de Mataró, so it promises to be quite spectacular.
The Correfoc runs through streets Plaça Nova, Bisbe, Santa Llúcia, Pla de la Seu, Comtes, Pietat, Bisbe, Sant Sever, Sant Felip Neri, Plaça Sant Felip Neri, Montjuïc del Bisbe and Bisbe before returning to Plaça Nova.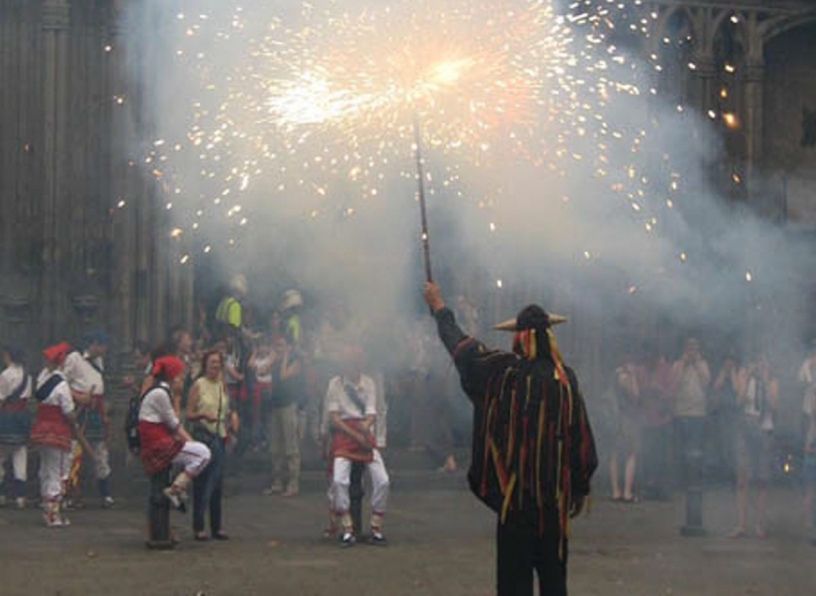 Diables at the Festes de Sant Roc
Festival Programme
There are many more traditions in addition to the ones we have mentioned. There'll also be concerts and shows.The program of events is still not available.
Other images
Do you like this post?
Click here!

5/5 - 1 vote
More events
Share your thoughts