Barcelona Bridal Week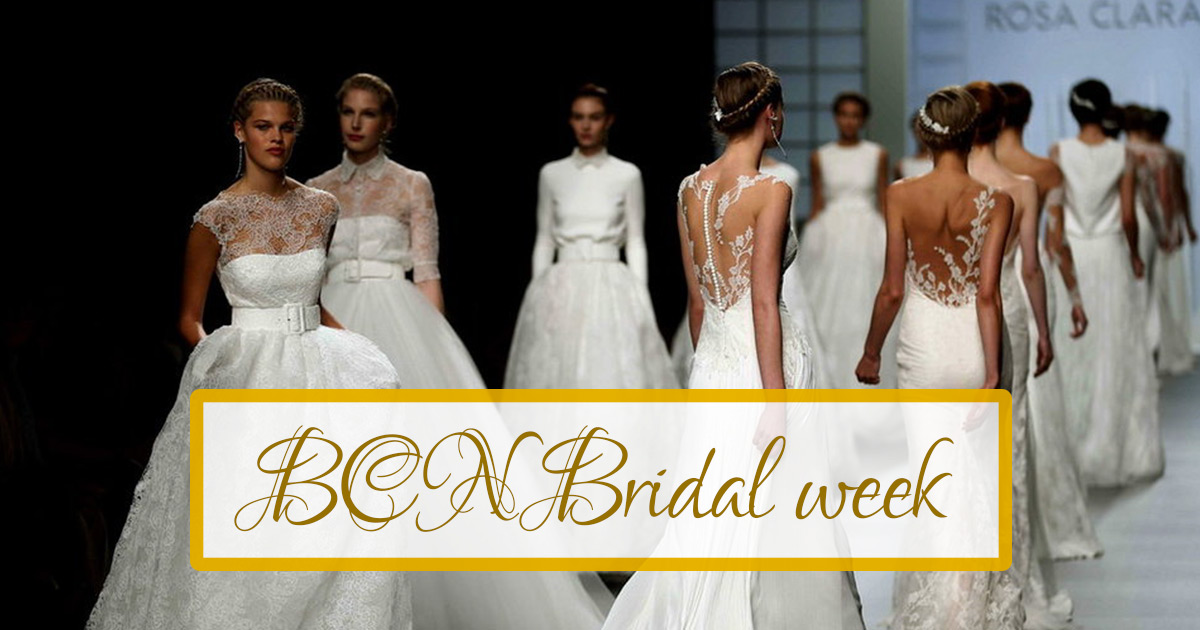 When: Fashion Shows: 23rd - 26th April, 2019 Professional Trade Fair: 26th and 27th April 10.00 am - 7.00 pm | 28th April 10.00 am - 6.00 pm
Where: Fira de Barcelona Montjüic (Palacio 8). Avinguda de la Reina Maria Cristina
Price: Trade fair access is €40 when bought online. €80 at the door. Invitation from the designer or a press pass is required to attend the fashion shows.
Buy Tickets: Get your tickets here
Elegance and Sophistication at Barcelona Bridal Week
If you come to visit the capital of Catalonia, ​​we will help you to find the best apartments for long term in Barcelona. We offer apartments of different types, renovated and well furnished in all areas of Barcelona!
Did you know that one in ten wedding dresses sold worldwide are by a Spanish designer? Bridal fashion from Spain is highly valued in other countries and Barcelona is also a leader in Europe, USA, South America, Arabia, and Asia, because Catalonia makes up approximately 50% of these companies.
It is therefore not surprising that Barcelona celebrates bridal week - a show that features more than 250 designer brands that attract more than 16,000 professionals from the sector.
The media and visitors from all over the world travel to the Catalan capital to bring the latest trends back to their country.
Bridal Week in Numbers
308 brands; 18,900 visitors; +850 key buyers from 58 countries; +25,000 gowns; 98 countries; 670 journalists
Times and Dates
Fashion Shows:
23 – 26 April 2018. The times for the fashion shows will be confirmed at a later date.
The Professional Trade Show:
Professional Trade Fair: 26th and 27th April 10.00 am - 7.00 pm | 28th April 10.00 am - 6.00 pm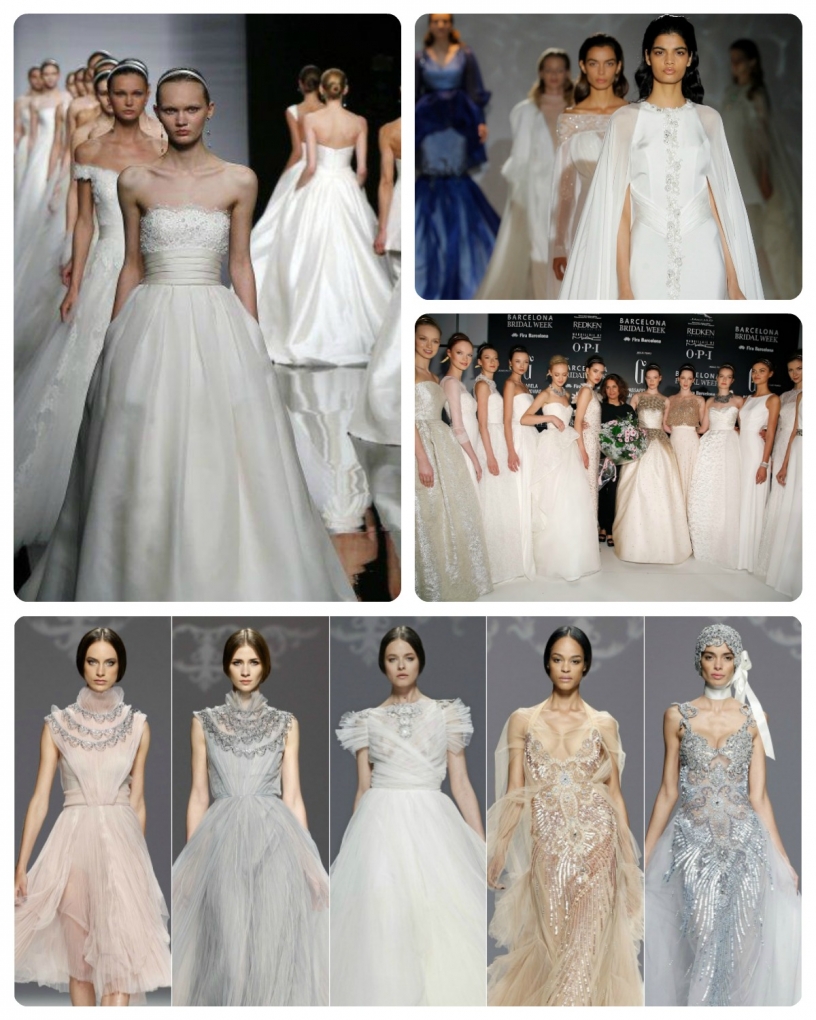 The biggest bridal event of its kind in the world
The 2019 Collections
The most innovative and personalised designs will be making an appearance on the catwalk at Barcelona Bridal Week:
Cabotine
Gema Nicolás presents classic designs which are redesigned to suit a modern and trendy bride who wants to maintain a touch of romanticism. The dresses feature large skirts and delicately crafted silhouettes in jacquard, cloqué and ottoman, white silk, Crepe and tulle which are used to create elegant wedding dresses. Typically, the dresses are simple with subtle details, straps revealing the shoulders and backs with delicate embroidery.
JP Jesus Peiro
This collection is inspired by New York City in the early 1900s. The dreamy dresses in this collection typically have a vintage style with a modern twist. They are delicate, elegant and perfect for a graceful bride on her special day.
Jordi Dalmau
Jordi Dalmau's collection is inspired by the independent women who sailed the seas hundreds of years ago. The dresses represent the courage and sensuality of these women and their seductive powers. The corsets blend in with long skirts and lots of layering to symbolise mermaids. These dresses are perfect for the feminine and adventurous bride.
Rosa Clara
Rosa Clara has designed sophisticated, romantic dresses in the new 2018 collection. Expect to see lots of delicate lace, nude tulles and pretty capes to complete the brides beauty. The dresses are light and subtly flatter women's bodies.
Pronovias
Pronovias is a global leader in the bridal industry. The stunning dresses in this collection feature lots of chiffon, soft satin, mirco-shirred gauze, organza and silk mikado. This year, it is introducing crêpe brocade, as well as crêpe with a shirred effect. The collection will also have plenty of gemstone embroidery covering the entire body.
This designer has previously had lots of success with convertible dresses and is featuring detachable cape veils and overskirts in the new collection. The dresses will primarily be white decorated with metallic and gold details, adding a touch of luxury and sophistication. The collection reflects modern elegance and are extremely comfortable to make any brides day as special as possible.
Yolan Cris
This collection is perfect for brides looking for a boho chic dress. The city of Barcelona is one of the inspirations for this collection with its lively street culture and modernist legacy. The 2018 collection draws on the folk universe and gypsy fashion of the 70s. They are lightweight, use original, handcrafted fabrics with relaxed and flattering shapes.
Some of the other brands present at the fair include:
Ana Torres, Angel Sanchez, Carla Ruiz, Cristina Tamborero, Cymbeline, Demetrios, Galia Lahav, Immaculada Garcia, Isabel Sanchis, Isabel Zapardiez, Novias, Marco & Maria, Marylise, Matilde Cano, Morilee, Raimon Bundó, Ramon Sanjurjo, Sonia Peña, Sophie Et Viola and Studio St. Patrick.
If you would like to read about all of the designers at the fair, take a look at the official website.
Why should you attend?
If we haven't already convinced you, here are seven more reasons to attend:
You will have access, to quality, exclusive dresses.
There are more than 25,000 outfits available at the fair, including bridal gowns, grooms' attire, party wear and accessories.
Discover all the new trends.
A huge range of brands will be at the show from all over the world.
Barcelona Bridal Week is the sector's key trade event for purchasing.
Barcelona Bridal Week is a great networking opportunity.
Barcelona is at the city of design, art and fashion therefore the best possible location for the event!
Excursions in Barcelona
To make the most of Barcelona and fill your trip with unforgettable experiences and emotions, we offer you the excursions through the Catalan capital organized by our friends - the GetYourGuide team. Choose your excursion and fall in love with Barcelona:
Video for Barcelona Bridal Week 2018
Do you like this post?
Click here!

4/5 - 2 votes
Share your thoughts