Esplugues de Llobregat
(Districts)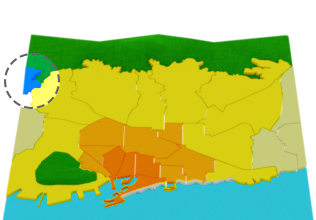 Esplugues is a municipality next to Barcelona that lies in the Baix Llobregat area.
Esplugues or Esplugues de Llobregat is a municipality that borders Barcelona. It's divided into 10 different districts and once was an industrial zone. These days though, it's a city of services and commerce with approximately 46,630 inhabitants across its 4.60km².
Why Stay Here?
Esplugues, although once a key area in the industrial revolution of Barcelona, is now one of the most green cities in the region. There are around 20 different parks in addition to a number of gardens. Esplugues has also been developing its cultural, sports, and entertainment industries for years.
The city is very well connected with Barcelona, so if you're looking to enjoy life in Catalonia but want to stay around from the crowds and property prices of Barcelona, then Esplugues is a perfect alternative as it's very easy to commute.
Attractions

Park
There are several buildings of historical and architectural value. One is the Monastery of Montsió. At first, the nuns were staying on the Rambla de Catalunya within Barcelona, but wanted to change and choose a more suitable locatio. In the end they came to live in Esplugues.
Another great place to visit isCan Vidalet Park. It is of course suitable located in the Can Vidalet neighbourhood and is a historical park where you can spend lots of time. For example, you can take a stroll and admire the old and beautiful ponds in addition to the gorgeous plantlife. If you fancy a game of table tennis there's a table you can play on and there are also play areas for children.
Don't miss the marvelous ceramics collection at Espai Baronda where there are also lots of activities.
Finally, Santa Magdalena Church is a beautiful building with a history that dates back to 1103, but was renovated in 1955 after being burnt down in the civil war. There is a wonderful classical music concert there each year
Where to Eat

Sant Just Viewpoint
There is a good choice of bars and restaurants for all tastes. Above all though is the Mirador de Sant Just. It has incredible views that span over Barcelona and the dishes are tasty, which always helps. Typical Catalan cuisine is what you can expect to find here. They pay special attention to all of their products, which means it's a little more expensive than your everyday restaurant... But sometimes you've just got to indulge ;)
El Diván de los Sentidos is found in Cornellà de Llobregat and has been open since 2007. If you're looking for healthy food that's good for your well-being without being at the expense of flavour, then it's one of the best places in the region
Shopping

El Splau
Esplugues de Llobregat has various shopping options but if you like to have everything under one rood then there are two shopping centres that you can visit. One is Llobretacentre, which is full of fashion, restaurants, services, and more. The other is Splau, which features probably one of the best cinemas in Catalonia with high definition and 3D films as well as a huge selection of shops and restaurants.
Getting Around

Tram
Thanks to the Tram, Bus, and Metro connections - getting to Barcelona from Esplugues is a breeze.
L5 - Blue Line at Can Vidalet will take you to Diagonal in Barcelona's centre or the Sagrada Familia in more or less 20 minutes.

The Tram at Ca n'Oliveres, Can Clota, Pont d'Esplugues, La Sardana, or Montesa will take you into the city in about 10 minutes. You can catch the L3 line to the city centre from there or go shopping in the Maria Cristina area.
Buses L10, L50, L51, L56, L57, L61 and many more can be caught here.
Attractions in Esplugues de Llobregat
Can Vidalet Park

Can Vidalet Park is the perfect place to hang out and cool off during the summer.
Do you like this post?
Click here!

4/5 - 2 votes
Share your thoughts
Tired of reading about Barcelona? Find an apartment and stay there!