What does the word "TAPAS" mean?
Defining exactly what a "tapa" always causes a great debate in Spain. This meal can take different forms depending on the region where you are. In general, you can consider them as small portions or appetizers.
In the north of Spain, especially in the Basque Country, tapas are called "pintxos" and are often served on tiny slices of bread. In Andalucia, tapas can also be served in larger portions called "raciones".
Despite the fact that Barcelona is not particularly known for its tapas culture, you can still find a wide range of tapas. Due to its geographical position on the Mediterranean, you will find a variety of tapas with seafood. You can also find tapas from all parts of the country. You will be able to explore all the possible combinations and unimaginable that can be found in terms of tapas.
Without further ado I will reveal the list of typical tapas you can enjoy in Barcelona!
TOP 35 Tapas in Barcelona
The essentials (according to us)
Pa amb tomàquet: The most typical tapa of Catalonia! Slices of bread rubbed with tomatoes and garlic, as well as some olive oil and salt.
Patatas Bravas: One of the most famous tapas in Spain. Potatoes cut into cubes and fries, served with a spicy tomato sauce and aioli.
Tortilla de patatas: Very popular dish in Spain! A thick omelette topped with potatoes and sometimes onion.
Croquetas: Preparation from a kind of bechamel and garnish (usually ham, fish or spinach) which is breaded and fried.
Pimientos de padrón: Perfect for a drink! A variety of green peppers fried in olive oil with salt.
Salmorejo: Thick cold soup made of bread crumbs, garlic, olive oil, vinegar, salt and tomato.
Chipirones: Small calamari found mainly in the Basque Country and Spain. They can be served fried or fresh with parsley.
Chorizo:This famous Iberian sausage is made with pork and paprika, giving it a tangy taste.
The classics
Aceitunas: Olives, sometimes stuffed.
Pimientos rellenos: Peppers stuffed with fish, usually tuna or cod.
Queso manchego: Spanish cheese with sheep's milk.
Ensaladilla rusa: Salad made with potatoes, peas, tuna, boiled eggs and possibly other vegetables, all served with mayonnaise.
Pintxo: Slice of bread to garnish.
Gazpacho: Soup of raw vegetables, mainly tomato, served cold.
The most sophisticated
Berenjenas con miel: Eggplant rings fried with honey.
Croquetas de queso: Croquette with cheese.
Espinacas con garbanzos: Spinach and chickpeas.
Espinacas con queso : Spinach and processed cheese.
Queso de cabra frito : Fried goat cheese.
Meat
Chicharrón: Diced pork rind, sometimes served hot
Jamón iberico: Famous Spanish ham also known as pata negra.
Albondigas: Meatballs.
Chorizo a la sidra: Chorizo ​​with cider.
Morcilla: Kind of black pudding.
The maritime
Boquerones en vinagre: Anchovies in vinegar.
Pulpo a la gallega: Galician marinated octopus.
Bacalao: Cod, often served fried.
Boquerones fritos: Fried anchovies.
Pescaíto frito: Small fried fish.
Chocos: Cuttlefish.
Calamares: Calamari.
Sardinas: Sardines.
Gambas al ajillo: Shrimps with garlic.
Anchoas: Anchovies served with vinegar, garlic and parsley.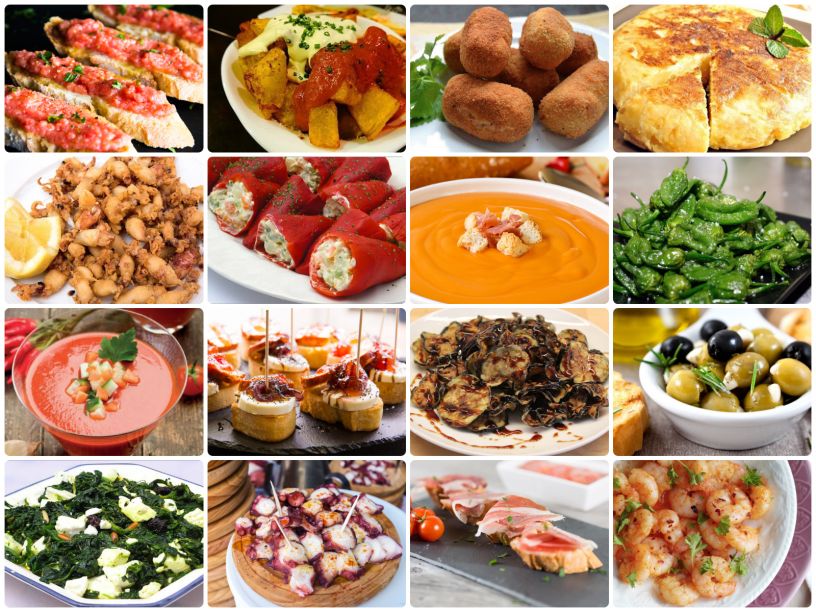 Tapas Restaurants in Barcelona
Now that you've got a glimpse of all that's waiting for you, you just have to find the perfect place to eat these succulent tapas! I leave you to read our article about the best tapas restaurants in Barcelona to find a place that you like.
If you come to visit the capital of Catalonia, ​​we will help you to find the best vacation rentals in barcelona. We offer apartments of different types, renovated and well furnished in all areas of Barcelona!
Tapas Bars in Barcelona
We have also listed the different types of tapas bars that you can find in Barcelona. So you can choose more easily which bar best suits your desires, tapas at will, cheap, Basque, vegetarian ... Make yourself happy!
Guided Tours of Tapas Bars in Barcelona
Another way to discover the world of tapas is to take part in a guided tour. Your guide will be an expert of the city and will lead you to the most typical places so that you have a glimpse of the most authentic Catalan cuisine. This will allow you to enjoy traditional tapas restaurants in optimal conditions. You just have to let yourself be guided!
Here are some organizations offering guided tours allowing you to taste tapas all along your route:
Excursions in Barcelona
To make the most of Barcelona and fill your trip with unforgettable experiences and emotions, we offer you the excursions through the Catalan capital organized by our friends - the GetYourGuide team. Choose your excursion and fall in love with Barcelona: