Cheap Tapas Bars
The cheap tapas bars are perfect for anyone who wants to taste different types of tapas without breaking the bank. You will be able to order a large number of tapas without being hampered by the price. It can be a good option if you want to discover all the variety of tapas in one evening. However do not expect to enjoy high quality tapas. You will have a glimpse of all the existing tapas but not the best quality that these dishes have to offer.
La Xampanyeria
It may be the least expensive way to drink and fill your stomach with the whole city. It is a small shop next to Port Vell that serves greasy rolls garnished with chorizo, black pudding, ham, butifarra and other local specialties with cava bottles ridiculously at a ridiculously low price.
Adress: Carrer de la Reina Cristina, 7, 08003 Barcelona (Barceloneta)
Mosquito
If you are looking for an alternative to traditional tapas, Mosquito is a restaurant offering Asian tapas. Instead of croquetas, chorizo or ham Serrano, you will find a wide choice of Asian dishes in their menu. The prices for tapas vary between 3-5 € and the portions are quite large. Try not to order too much at once! The restaurant fills up quickly, after 8 pm there is always a long line outside. So come before 8pm or be ready to queue, it's definitely worth the wait.
Adress: Carrer dels Carders, 46, 08003 Barcelona (El Born)
Colmado
Colmado is a great place for a drink and a few tapas before going out to a disco. This charming corner restaurant is popular with locals and you may need to wait for a table for a few minutes. A glass of vermouth costs € 2.2, and with tapas from € 2.5.
Adress: Calle Provenca 236, 08008 Barcelona (Eixample)
La Jai-Ca
They are specialized in fried squid, mussels au gratin and other classics of the sea dipped in olive oil. The atmosphere is strong, vibrant and intoxicating. If you are looking for a lively experience and authentic Catalan tapas, this is the place to be.
Adress: Carrer de Ginebra, 13, 08003 Barcelone (Barceloneta)
Carrer Blai
Let yourself be guided by your senses and intuitions. Carrer Blai is a street lined with restaurants and bars. Most of them serve pinchos, a type of tapas that are usually served on a piece of bread. All pincho places are self-service, you just get an empty plate that you can fill with your favorite choices. Prices per pincho start at € 1 and on Fridays, some restaurants offer a beer and a picnic for € 2. If you do not want to wait, go to 19h.
Adress: Carrer Blai, 08004 Barcelone (Poble sec)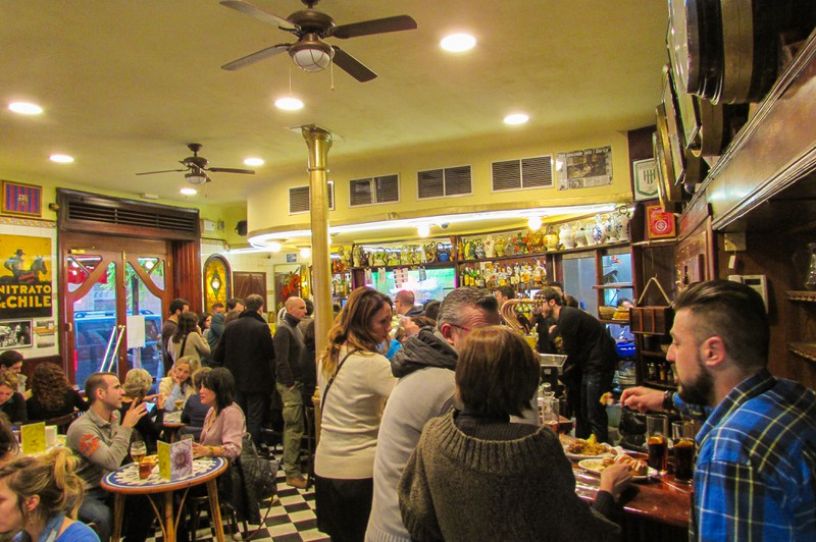 La Jai-Cai interior
Self-serve Tapas Bars
This category of tapas bar is reserved for big gourmands. Those who want to make sure not to stay hungry and to be fully satisfied. You can choose from a multitude of tapas from which you can choose the quantity you want. Just like for cheap tapas bars, do not expect to eat very good tapas. The quantity will be privileged to quality.
Tapas Royale
This restaurant offers you a € 15 formula including unlimited tapas, a plate of paella and a dessert. In the heart of Barcelona, we found Tapas Royale, a modern and comfortable restaurant dedicated to the fusion of tapas, all prepared to order with fresh products. It's the perfect place to start an evening with friends having a drink. They have large rooms ideal for groups.
Adress: Calle Escudellers 19, 08002 Barcelone (Gotico)
Aitor Restaurant
This Basque restaurant, located next to the Sagrada Familia, will suit you perfectly if you want to eat cheap grilled meat, pintxos and traditional dishes. You will find a wide choice of pintxos, this famous Basque specialty very present in Barcelona. Book one of their group menus and go with your friends to eat or dine at this tavern-restaurant, or just book a table for lunch or dinner à la carte!
Adress: Carrer de Sardenya, 324, 08025 Barcelone (Eixample)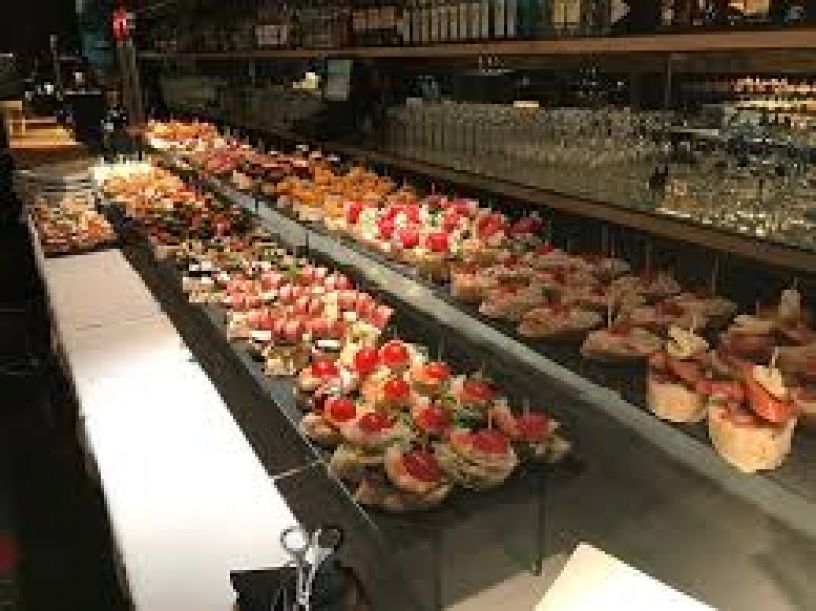 Self-serve Tapas at Tapas Royale
If you want to come work or have a holiday in Barcelona but you have a small budget, it's possible! Look at our cheap accommodations in Barcelona.We offer apartments of different types, renovated and well furnished in all areas of Barcelona!
Bars Free Tapas with a Drink
Still a small budget category. The tapas bars offering a free tapas for the purchase of a drink will satisfy you if you have a dip. This will also give you the opportunity to taste a tapas at a lower cost. Let yourself be guided by your curiosity and choose a delicious tapas to accompany your drink.
Ca'l Chusco
It is located in the heart of the district of Barceloneta. With each drink, you will receive a tapa of your choice such as their famous bombas (potato dumplings) and fried fish! This tapas bar also offers "raciones" and larger portions, as well as a full menu for those who would like to feast even more with these snacks.
Adresse : Carrer de l'Almirall Aixada, 5, 08003 Barcelone (Barceloneta)
Pappa e Citti
This Italian bistro serves free tapas with every drink ordered between 6pm and 9pm, making it a great option for those starting their night tour. With drinks ranging from € 1.80 to € 5, you can not go wrong. The combination of affordable prices and delicious bites in the beautiful Grácia district makes it a must!
Adresse : Calle de la Encarnación, 38, 08024 Barcelone (Grácia)
El Capritxo
If you like fish, go to this tapas bar, open since 2009. A plate of fish-based tapas (fried fish, squid, anchovies and many others) will be served for every beer ordered (2 €). Only 5 minutes walk from the metro station, this is a place not to be missed!
Adresse : Carrer de Melcior de Palau, 73, 08028 Barcelone (Sants)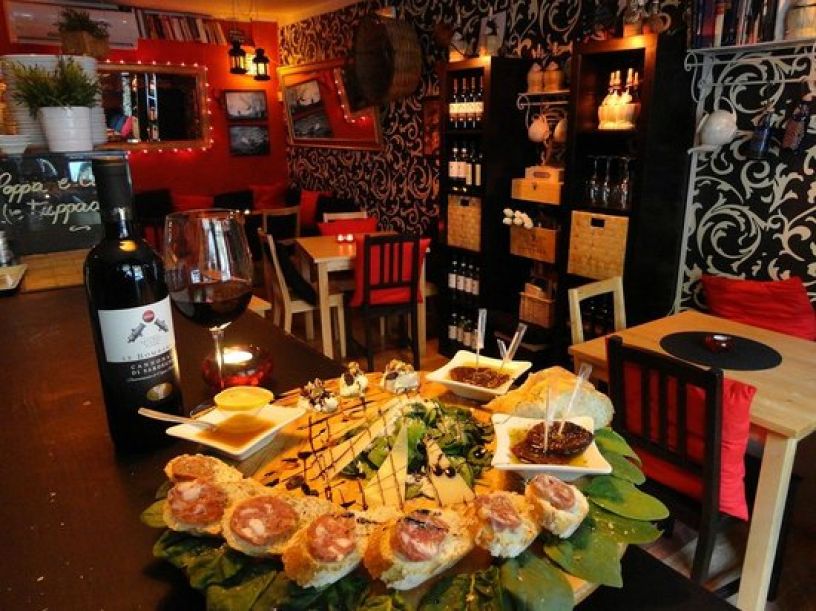 Tapas at Pappa e Citti
Basque Tapas Bars
This style of tapas originates from the Basque Country and Navarre, but that does not mean that Barcelona offers very good. From the classics to the most creative, the pintxos are small pieces of bread with a garnish over them. At the end of the meal, you will be charged according to the number of pintxos you have eaten. Enjoy!
Irati
Irati, a famous name in the pintxos industry where you will be able to enjoy undeniably delicious miniature tapas dishes. After 15 years of business, you know that you are in the hands of professionals with years of experience in creating perfect tapas combinations. Each of their pintxos includes at least four fillings, the flavors of each ingredient complement each other perfectly. At only € 1.95 per pintxo you can enjoy a nice and affordable evening here.
Adress: Carrer del Cardenal Casañas, 17, 08002 Barcelone (Gotico)
Maitea
To impress, this Barcelona tapas bar offers a range of over 100 hot and cold pintxos combining Catalan and Basque cuisine. Basing their food on "simplicity, originality and quality", you know you can expect the best here. It can be very crowded, so the best time to get up is before 9 pm before everyone who is there in the name of boiling comes.
Adress: Carrer de Casanova, 155, 08036 Barcelone (Eixample Esquerra)
Golf de Bizkaia
This place of charm is a must if you are in the district of Born. Whether for breakfast, lunch, a snack or an informal dinner, there is always a reason to indulge in the pintxos of this restaurant. With all the tapas of this bar barcelon based on seasonal products, the rumor has spread about this place, so during peak hours, you may have to fight for a table. But with the pintxos, it's really worth it.
Adress: Carrer de la Vidrieria, 12, 08003 Barcelone (El Born)
Euskal Etxea
This traditional bar in the old town is Barcelona's answer to gourmet pintxos. The place itself is divided into two sections: a lively bar for punters and a more civilized dining room for those who eat outside. As a Basque cultural center, Euskal Etxea offers some of the best "tapas on a toothpick" available in the city. And besides, each pintxo only costs you € 1,20.
Adress: Placeta de Montcada, 1, 08003 Barcelone (El Born)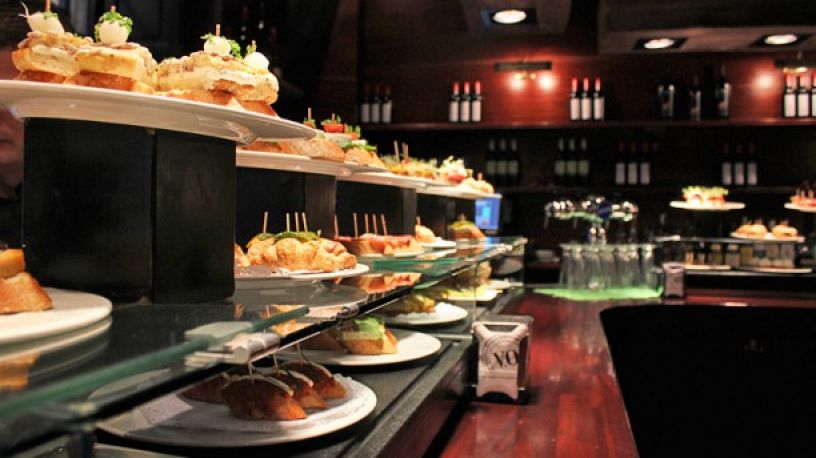 Pintxos at Euskal Etxea
Vegetarian / Vegan Tapas Bars
When it comes to vegetarian cooking, it's best to go to a bar with many vegetarian or vegan options. This will avoid frustration when you find yourself in front of the map. With these tapas bars you can reconcile all your desires, you will find a wider choice of vegetarian tapas than in a traditional tapas bar.
Cometa Pla
They use fresh and local ingredients and the menu has plenty of choices for gluten-free and vegetarian. There are many food choices for those who want to taste tapas and do not usually have the opportunity in traditional tapas bars. The card should please you so much that it will take you a moment to decide your order!
Adress: Carrer del Cometa, 5, 08002 Barcelone (Gotico)
Sésamo
This offbeat vegetarian restaurant in Raval is renowned for its seven-course tasting menu, which costs just € 25 per person, and also includes two drinks. The selection of dishes varies with the seasonal specialties, although remain some of the classics of the house. Not surprisingly, meat eaters will also like to come to this address.
Adress: Carrer de Sant Antoni Abat, 52, 08001 Barcelone (El Raval)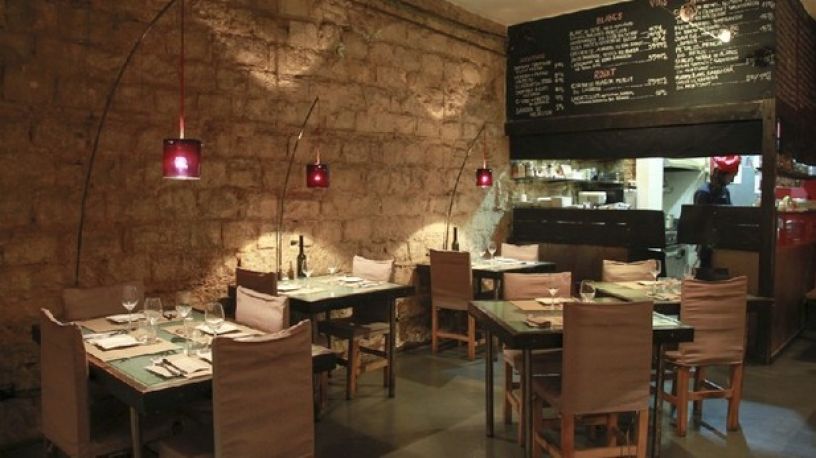 Sésamo interior
Excursions in Barcelona
To make the most of Barcelona and fill your trip with unforgettable experiences and emotions, we offer you the excursions through the Catalan capital organized by our friends - the GetYourGuide team. Choose your excursion and fall in love with Barcelona: